This post may contain affiliate links. As an Amazon Associate I earn from qualifying purchases. Please read our disclosure policy.
Today we are exploring a Norwegian comfort recipe, Rømmegrøt. If you haven't heard of it before, that is ok, but you need to give this treat a try! If you know what it is, I bet you are already with me on how great it is and this recipe will help you recreate it. Perhaps your grandmother made Rømmegrøt for you or it was a Christmas tradition for your family. Whether you are searching for a comfort recipe for yourself or looking to bring a new tradition to your family, consider this warm, delicious, and simple Rømmegrøt recipe.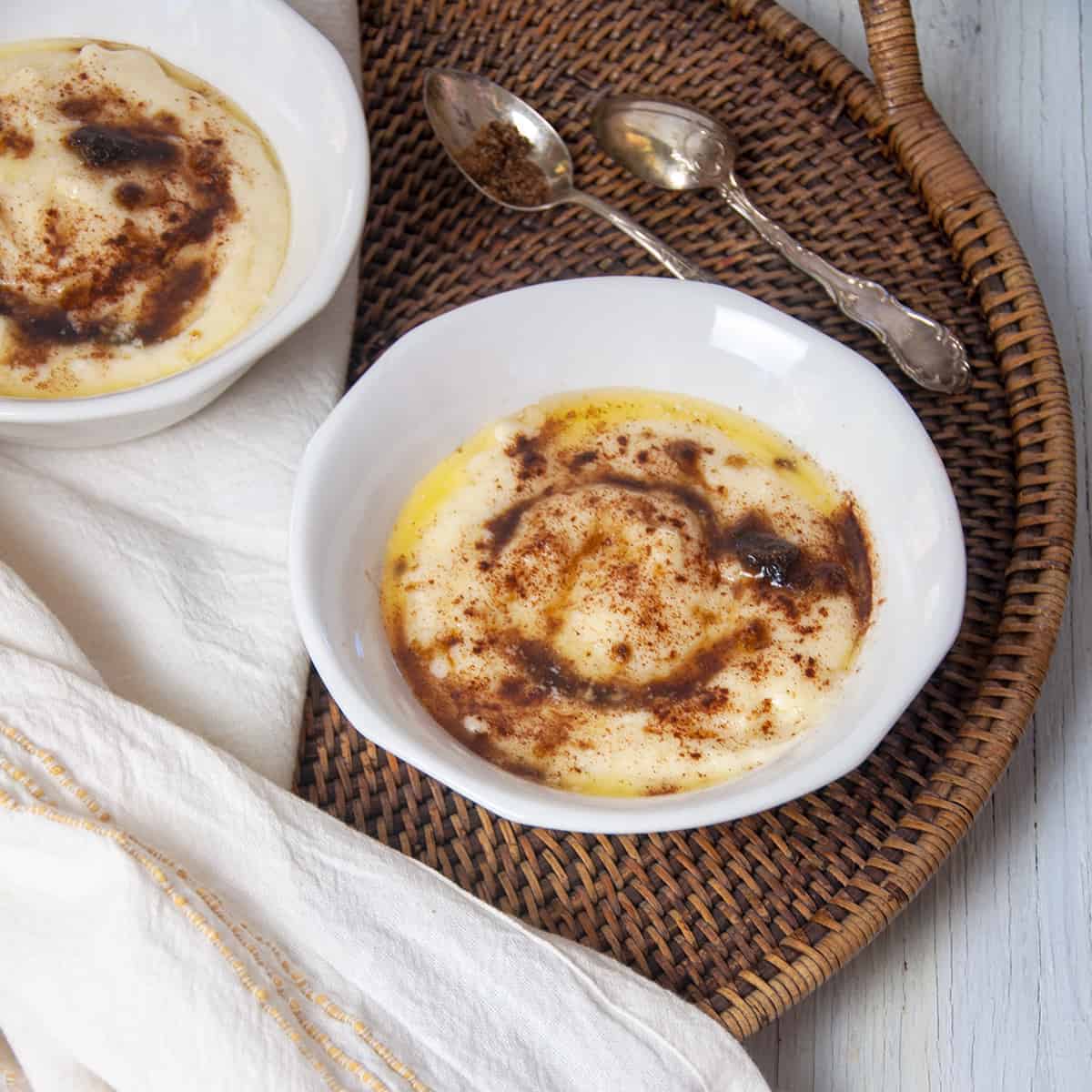 Rømmegrøt Summary
At its core, this is a porridge that is made from flour, fresh sour cream, sugar, milk, and flavorings. Literally, Rømmegrøt translates into two parts. Rømme translates from Norwegian as 'sour cream.' Grøt translates to porridge.
To make our Rømmegrøt, we heat our homemade sour cream or heavy cream and allow to simmer for 5 minutes. Then we add in the rest of the ingredients and the final result will be a sweet and rich breakfast or treat.
Often, this is topped with melted butter, sugar, and cinnamon. I love it with brown sugar, cinnamon, and a healthy dose of melted butter. This can be cooked very quickly and is a tasty, comforting dish that can either be a great breakfast or a special treat.
What Is The Deal With Sour Cream?
The name of the recipe literally translates to Sour Cream Porridge and that is what I am going to bring you. That said, there are many recipes that do not use sour cream, but heavy cream. Often, this comes down to what a family tradition is. If you use heavy cream, there is nothing wrong with that. I would urge you to try the sour cream, if possible.
As a general philosophy in my cooking… if it tastes good, it's probably ok. My general feel is to use fresh sour cream if you can and I am providing you with my homemade sour cream recipe. If you choose to do that, great. If not, heavy cream is great, too.
What I can't advocate is buying your typical store-bought sour cream and using that. I would prefer you use heavy cream over store-bought sour cream. Store-bought sour cream is not the same as freshly made sour cream. The consistency and flavor just is not the same. Use either homemade sour cream or heavy cream.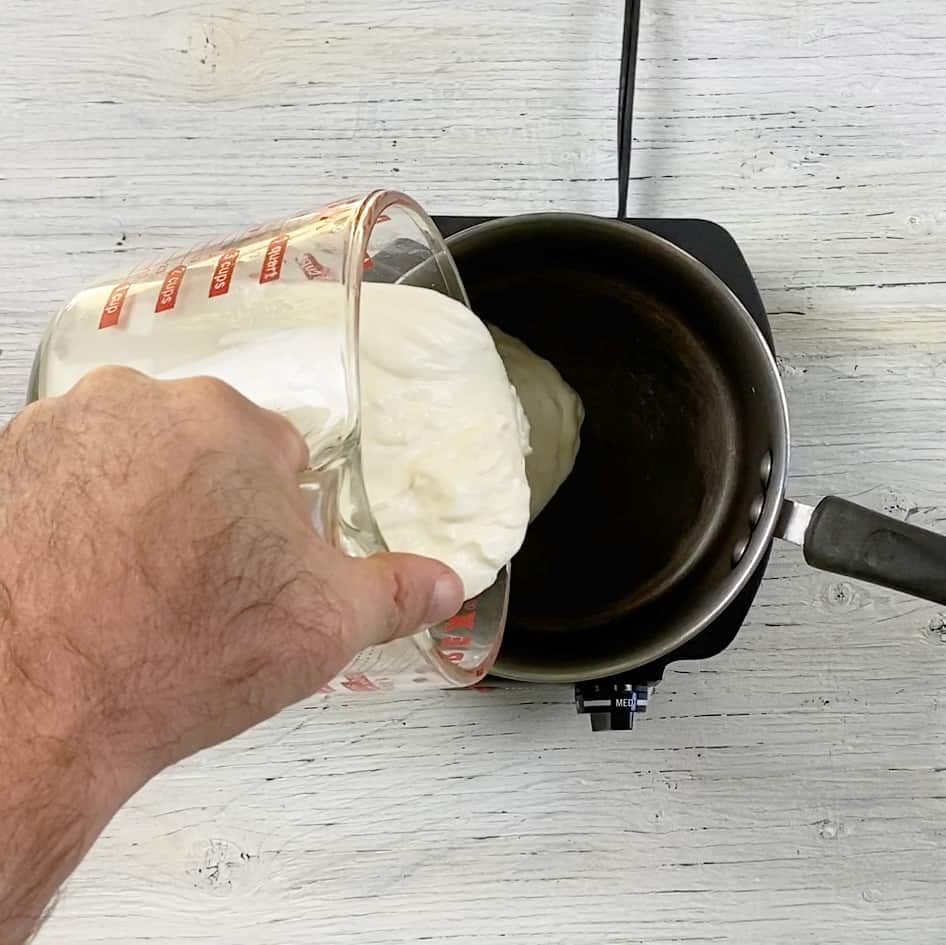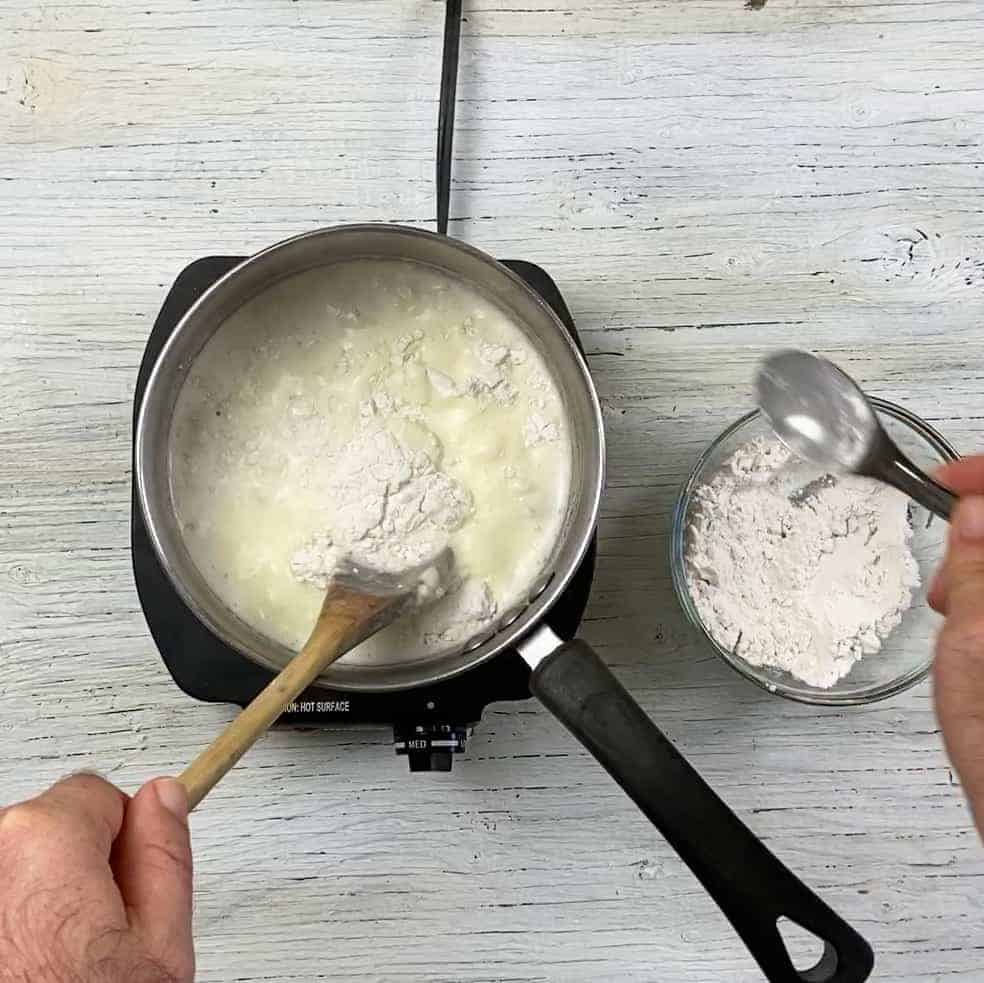 Toppings for Rømmegrøt
There are many options for this, but I think the only one that is a must-have topping is melted butter. It really adds a delicious flavor to our porridge and make a great base for any other toppings you might use.
Other obvious choices would be sugar, cinnamon, or brown sugar. Any combination of these are going to only add to the flavor and richness of our recipe. I mean, we are talking about cream and butter. It is hard to mess that up!
Some of the less traditional toppings, but still delicious, could include fruits like blueberries, bananas, or raspberries. How about some nuts or maybe a sprinkling of nutmeg? There are many options to help make this a delicious recipe for you.
History of Rømmegrøt
Porridge goes back in time a very long time. The history of this dish is intertwined with a basic porridge, which can be as simple as grain and hot water. In fact, that is likely where the history of Rømmegrøt started.
While basic porridge was likely a common sustaining meal for many Norwegians, as well as folks all over the world, there were special occasions and times that called for special meals. Adding cream, butter, and sugar to a simple porridge transforms it into something that is really special.
While I cannot find the exact origin of this recipe, I feel like the progression is fairly easy to see.
A daily meal of sustenance, like a basic porridge, turns into something special when you have more decadent ingredients like sweetener and cream.
Tips For Making This Recipe
Make your own homemade sour cream for the best results.
If you cannot use sour cream, use heavy whipping cream instead. This is substituted on a 1:1 basis.
Try different toppings. Anything that would go good with oatmeal would likely be good with this.
Melted butter is the only must-have topping!
If you make your own sour cream, do NOT use ultra-pasteurized cream.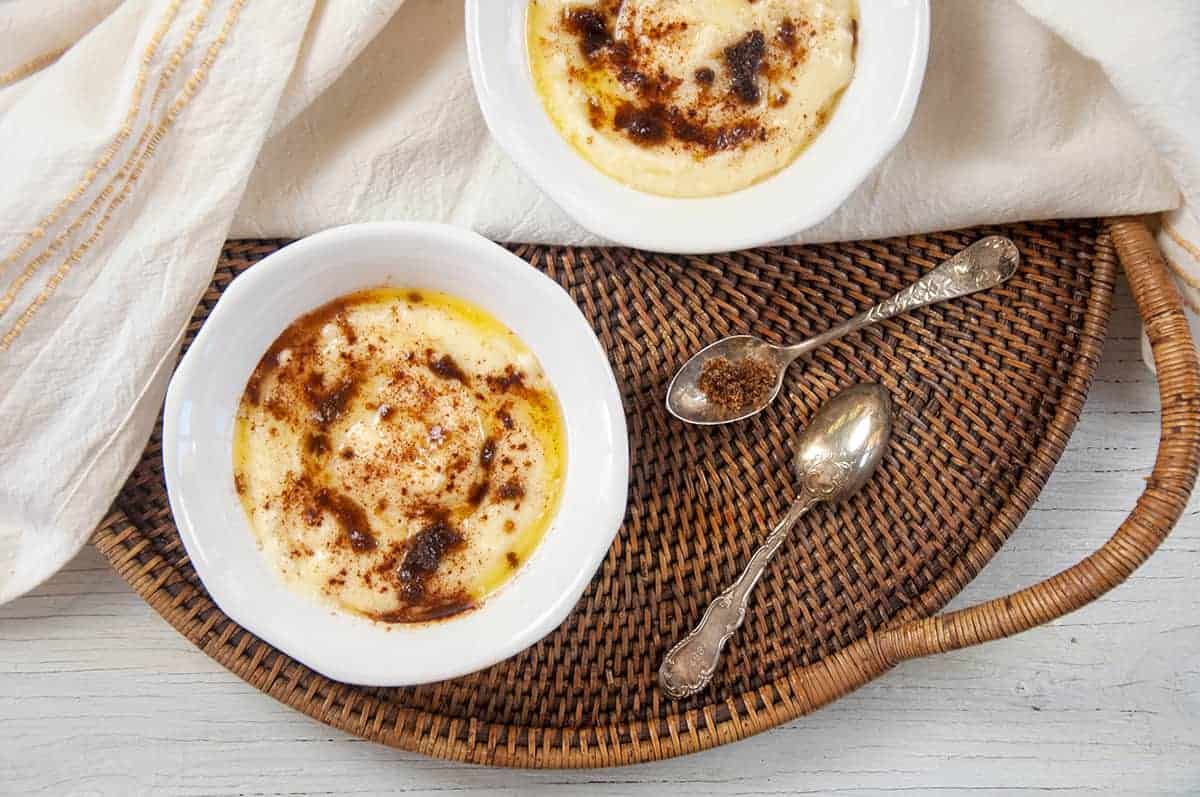 Products Used In This Recipe
Did You Try This Rømmegrøt Recipe?
Awesome! Let me know how it went in the comments area below. If you liked it, leave a rating so that others can see you liked it. I would love for you to share this on Pinterest and Facebook so that your circle of friends can also see this recipe. This really is a special Norwegian treat and I really appreciate you taking the time to give it a try! You can see other Norwegian recipes here and you have a great day!
Print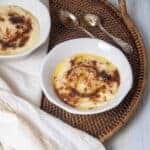 Rømmegrøt Recipe
Author:

Ben Myhre

Prep Time:

5 minutes

Cook Time:

20 minutes

Total Time:

25 minutes

Yield:

4

dishes

1

x

Category:

Dessert

Method:

Stovetop

Cuisine:

Norwegian
---
Description
Rømmegrøt is a wonderful Norwegian classic dish that is warming, rich, and delicious. A rustic porridge recipe that is amped up with great ingredients like cream, sugar, butter, and flavor!
---
2 cups

homemade sour cream (see notes) alternatively 2 cups heavy cream.

1 cup

whole milk

1/2 cup

flour

2 Tablespoons

sugar

1 teaspoon

salt
Melted butter, for topping
Sugar, for topping
Cinnamon, for topping
---
Instructions
Heat milk just to a boil and then remove from heat. Stir to make sure milk does not scald.
While doing this, add sour cream to medium saucepan and bring to a simmer. Stir continually to ensure the dairy does not scald.
Allow to simmer while stirring for 5 minutes.
Slowly add flour to sour cream and stir in with fork. Add about 2 Tablespoons at a time
Once flour is fully incorporated, add 2 Tablespoons of sugar, salt, and stir in.
Slowly add in hot milk and stir at the same time until evenly mixed.
Put in dish, top with butter, sugar, and cinnamon. Serve.
Notes
To make homemade sour cream, add 4 teaspoons of lemon juice to 2 cups of heavy whipping cream in a mason jar or other dish. Add an additional 1/2 cup of whole milk and stir. Cover with a paper towel and secure with rubber band for a minimum of 8 and a maximum of 24 hours. Mix, remove and refrigerate.
If you can't make the homemade sour cream, I would recommend using heavy whipping cream instead of store-bought sour cream. Real sour cream tends to be different than store-bought. Get the full homemade sour cream recipe here.
Scalding cream and milk is something to watch for on this recipe. What does that mean? Stir your dairy to ensure it does not scald!
Our calorie count accounts for 1 tbsp of melted butter and 1 tbsp sugar for the topping, per serving
---
Nutrition
Serving Size:

1/4 total

Calories:

667 Calories

Sugar:

22 g

Sodium:

649 mg

Fat:

62 g

Saturated Fat:

36 g

Unsaturated Fat:

26 g

Carbohydrates:

36 g

Fiber:

1 g

Protein:

4 g

Cholesterol:

197 mg