Let's make a great drink! We have looked at the history of the Old Fashioned and the elements that make this great cocktail. Today, we are going to construct the best damn possible bourbon Old Fashioned recipe. Click here to go straight to recipe.
Ingredient choices in this bourbon Old Fashioned recipe
As discussed in our previous posts, this classic cocktail has taken many turns and evolutions that have resulted in a variety of recipes. Each may be an Old Fashioned, but I am going to get a little opinionated about the kind of drink I want to make for my traditional Old Fashioned.
The Old Fashioned roots go back to the early 1800s and the Whiskey cocktail, but my drink is going to steal mostly from the era of the late 1800s. We are using raw sugar, block ice, and muddling in the glass. And as far as fruit goes, a simple lemon peel squeezed over the top and placed in the drink.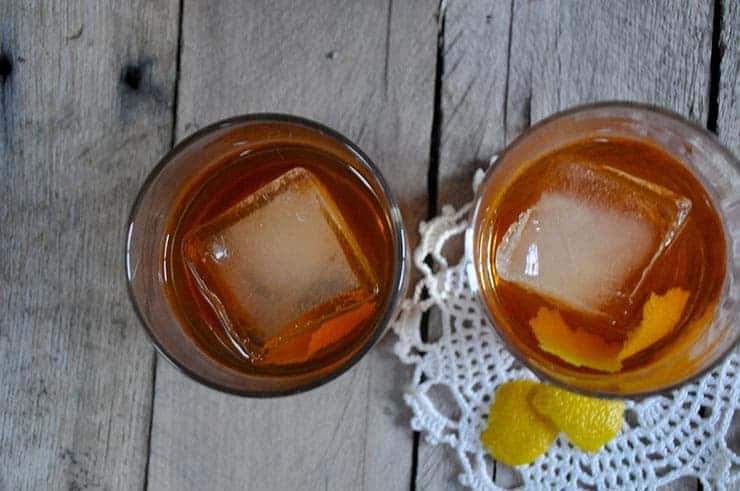 I really have had a fun time looking into the Old Fashioned cocktail. There is such a rich and interesting history that not only speaks to the drink, but is a reflection of American history. I hope you enjoy my take on a traditional Old Fashioned!
Traditional Bourbon Old Fashioned Cocktail Recipe
Print Recipe
Ingredients
2 oz bourbon

1 splash of water

1 Sugar cube (made here)

3 dashes Angostora bitters

1 slice lemon peel

1 large ice cube

1 Old Fashioned or Lowball glass
Instructions
1
Add sugar cube to Old Fashioned glass
2
Add bitters, directly on sugar cube
8
Lightly twist lemon peel over drink to add zest
9
Garnish with same lemon peel