This post may contain affiliate links. As an Amazon Associate I earn from qualifying purchases. Please read our disclosure policy.
Is it Meatless Monday or you just want to get some vegetarian Asian food? This Vegetarian Chow Mein with Fried Honey Tofu is a great way to get your veggie fix in with some great flavors!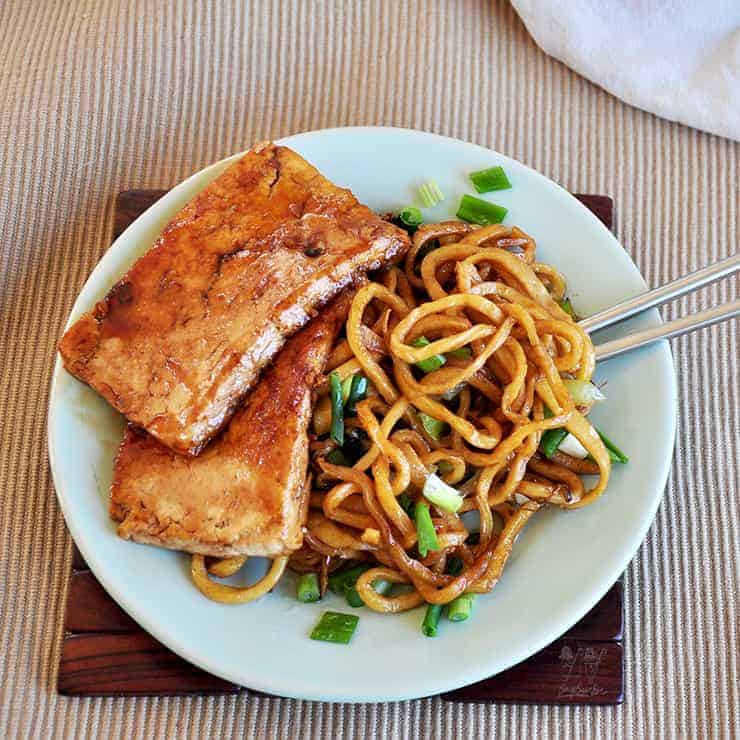 We have already made a simple Chow Mein noodle dish in our Chow Mein deep dive series. In that post, we really spent some time talking about the noodles, making fresh noodles, and how the noodles are the star of the Chow Mein. Today, we are going to explore a vegetarian option a bit further and make a great Vegetarian Chow Mein. Additionally, we are going to add some flair to the dish by including some fried and seasoned tofu. Enjoy our Vegetarian Chow Mein With Fried Honey Tofu.
Cooking Everything Separately
Many times, people look at a wok as a way to cook everything at once. Yes, this can make for some fun and quick dishes, when done appropriately. It can also make for dishes that have undercooked or overcooked elements. I like to look at wok cooking a bit differently. I often cook my individual ingredients in the wok and then combine them at the end. This gives me complete control over the doneness of the individual elements.
Vegetables In Our Vegetarian Chow Mein
The star of Chow Mein is the noodle and if you are making your noodles from scratch, you should celebrate them. We are going to include some vegetables in this dish, but not many. I think we are already stretching the limits a bit in terms of turning our simple classic into something much more complicated. For our dish, we are going to use garlic, baby bok choy, sprouts, and green onions as the only vegetables.
Unthickened Sauce
In our other versions of Chow Mein, we thicken the sauce. This really is a personal preference and not always the case with Chow Mein. Since we are going to be including a fried tofu element, I thought it would be better to make this sauce very simply and with no need to thicken it. The noodles in this version will be the simplest, but have the added pop of a highly flavored tofu.
Tofu Fun
A more unique element of this recipe is the fried tofu. Fried tofu is a great way to add different flavors in textures to any Asian dish, but has a particularly good place in a vegetarian's culinary repertoire. Our goal with this tofu is NOT to make it the star of the dish, but a hard accent that makes this version stand out. So, we are not going to incorporate the tofu in chunks, but more like patties that have been fried in a soy and honey mixture. As a note, the honey pictured below has crystalized a bit if mine looks different than yours. If yours does the same thing, that is ok. Once it is added to the wok, it will incorporate fully.
Also, in between cooking the tofu and the noodles, I took a quick second to clean up my wok. If you have two woks or cooking utensils, that would work as well. As long as I kept the tofu covered and cleaned up my wok quickly, everything works out fine in terms of heat.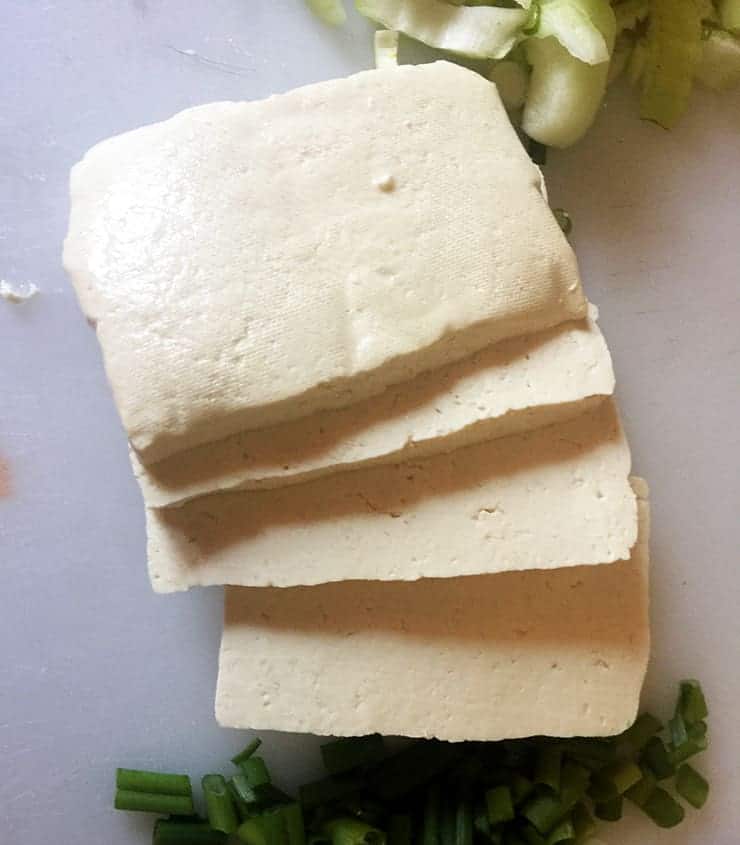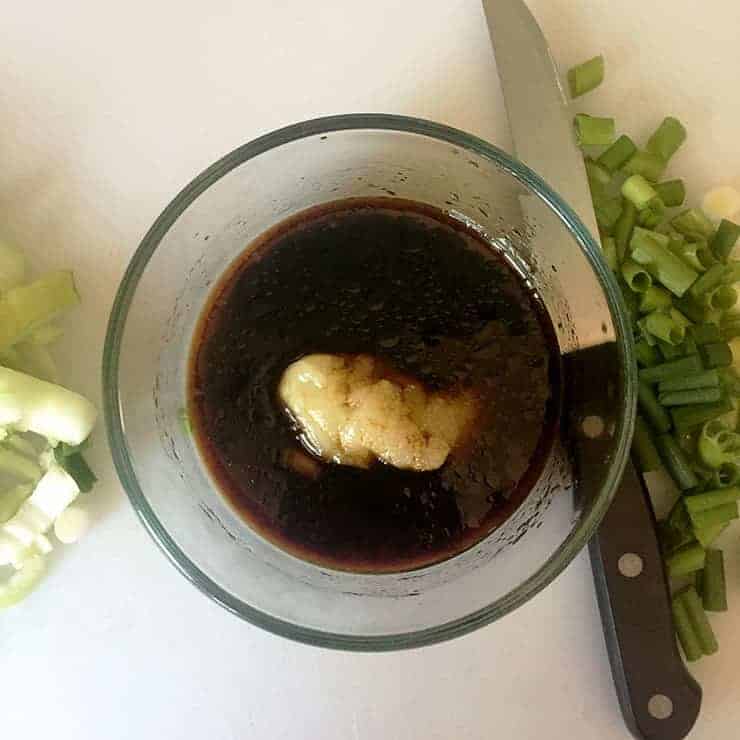 Products Used For This Recipe
Print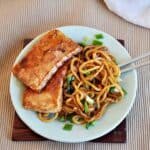 Vegetarian Chow Mein with Fried Honey Tofu
Author:

Ben Myhre

Prep Time:

1 Hour 30 Minutes

Cook Time:

20 Minutes

Total Time:

1 Hour 50 Minutes

Yield:

2

Servings

1

x

Category:

Vegetarian

Method:

Stir Fry

Cuisine:

Asian
---
Description
This Vegetarian Chow Mein with Fried Honey Tofu takes a bit of time and patience but will knock your socks off.
---
Noodles
156 grams

Bread Flour

1/4 teaspoon

of salt

1

eggs

78 grams

water

¼ cup

oil For Frying
Vegetables
1 tablespoons

peanut oil

2

green onions

1 Cup

Bean Sprouts

1

Baby Bok Choy, chopped

2

–

3

cloves of garlic, minced
TOFU
2 tablespoons

Peanut oil or other oil appropriate for high heat

1

block extra firm tofu, cut lengthwise into

4

ths

3 Tablespoons

light soy sauce

2 Tablespoons

thick soy sauce

1 Tablespoon

honey
Noodle Sauce
2 Tablespoons

Soy Sauce

2 Tablespoons

Thick Soy Sauce

1 Tablespoon

Sesame Oil
---
Instructions
Raw Homemade Chinese Noodles (steps 1-11 are the raw noodle recipe from the base Noodle Recipe, prior to frying
In large bowl, mix flour and salt
In separate bowl, add egg and water to make a total weight of 78g
Beat the eggs and water
Slowly mix egg/water mixture into flour
Once mixed, knead for 5 minutes (do not add water) in the bowl
Leave bowl, loosely covered and let sit for 30 Minutes
Knead for an additional minute and should be a smooth ball at this point
Sprinkle flour onto rolling mat and use rolling pin to roll out dough to 1mm to 2 mm thick. BE PATIENT
Cut thinly with knife. In the video, she folds the dough, but I just roll it and cut the individual noodles.
Once all noodles are cut, they are ready for a boil
Add to Boiling water for 2-3 minutes and then strain.
Add 1 Tablespoon peanut oil to wok and heat
Add baby bock choy and allow to cook for 30 seconds to 1 minute or until cooked through
Add green onion, bean sprouts, and garlic.
Stir-fry for another 3o seconds to 1 minute
Remove and set aside
Add 2 Tablespoons oil to wok and turn to high
While heating, cut tofu lengthwise into fourths
Add soy sauces, oil, and honey to bowl and mix
Once wok is heated add tofu to wok and allow to fri for 2-3 minutes or until bottom is golden brown and then flip – be sure to use a spatula to ensure tofu does not stick
Allow tofu to fry for 2-3 more minutes
Add sauce and allow to to cook down while flipping tofu so the sauce coats
Remove tofu, pour any remaining sauce on top, and set aside in a covered container to keep warm
Clean up wok and add ¼ cup oil to wok
Heat
Once heated, add Noodles and fry for approximately 2 minutes or until noodles are crispy. The goal here is NOT to make them crispy like the 'from a can' variation, but noodles that have been fried enough so they are crispy on the outside, but still noodle-like.
Once noodles are crispy, add noodle sauce and allow to cook down.
Re-add all vegetables to walk and incorporate everything
Plate and add tofu on the side.
---
Keywords: Vegetarian Chow Mein