This post may contain affiliate links. As an Amazon Associate I earn from qualifying purchases. Please read our disclosure policy.
This Spicy BBQ Sauce with Fireball Whisky sauce is a quick, easy, and tasty condiment for your next cookout or barbecue need. Besides being so darn simple, it really is a unique recipe that adds exciting and fun flavors to your next grilling experience. Give this spicy BBQ Sauce a try!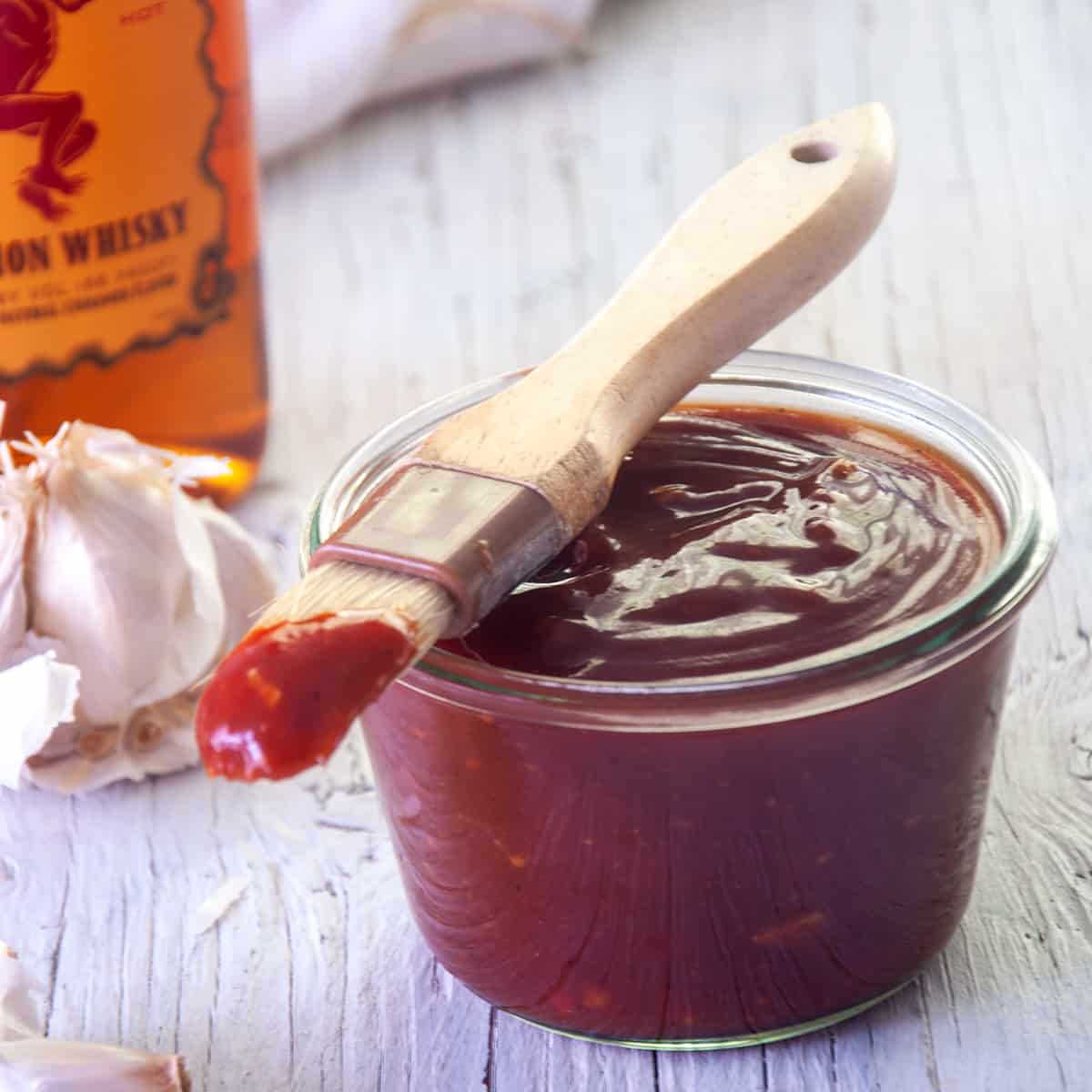 🌶️ What makes this recipe special?
The best thing about this sauce is that it is easy to make! Just 10 minutes on your stovetop is all it takes to make your own BBQ sauce. With a ketchup base, it gives us a headstart in making our barbecue sauce.
Secondly, the flavor profile is super fun and unique. We add a few Thai chilis to the mix, giving our sauce a bit of zing. Then, Fireball whisky! This adds notes of cinnamon and that whisky flavor.
It is easy to make, fun, and perfect for barbecue condiments or basting. We made this specifically to go along with a whole BBQ chicken, but his Fireball Whiskey BBQ Sauce would be great one for several recipes.
A great topping, perfect for beef ribs, as well as our chicken. It would be a good BBQ substitute on this Blackberry BBQ chicken thigh recipe or check out our How To Grill Porkchops Like a Boss recipe.
🥃 Ingredients
With the exception of a few ingredients, most of these are fairly typical for a quick and easy BBQ sauce.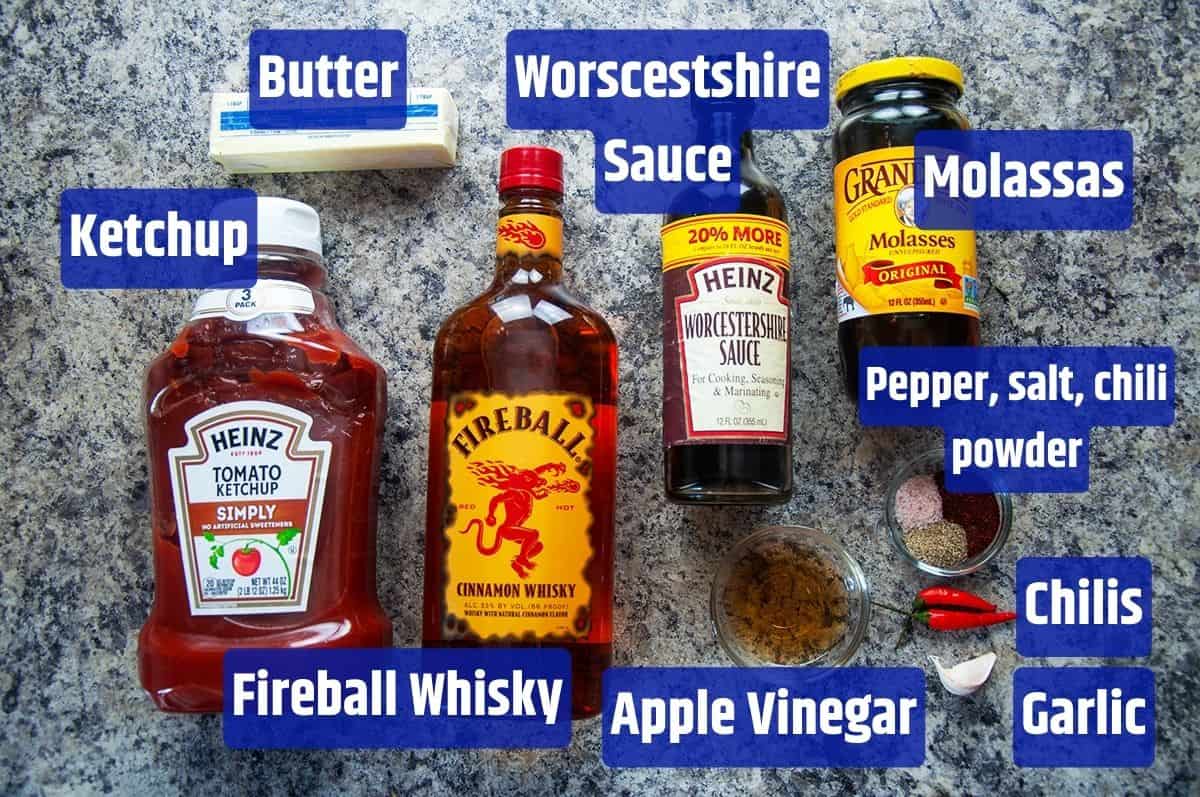 butter
garlic
Thai chilis
Ketchup
Salt
Black pepper
chili powder
Vinegar cider
Worcestershire Sauce
Molasses
The two really unique ingredients in this barbecue sauce are the whiskey and the Thai Chilis. Both of these should be widely available. If not, other peppers or whiskey would work well. Heck, you could even omit them and still have a solid DIY barbecue sauce.
See the recipe card for quantities.
🍲 Instructions
There isn't much to this Spicy BBQ Sauce with Fireball whisky recipe. It is as simple as softening the chili and garlic in a bit of butter, adding the rest of the ingredients, and then simmering for about five minutes.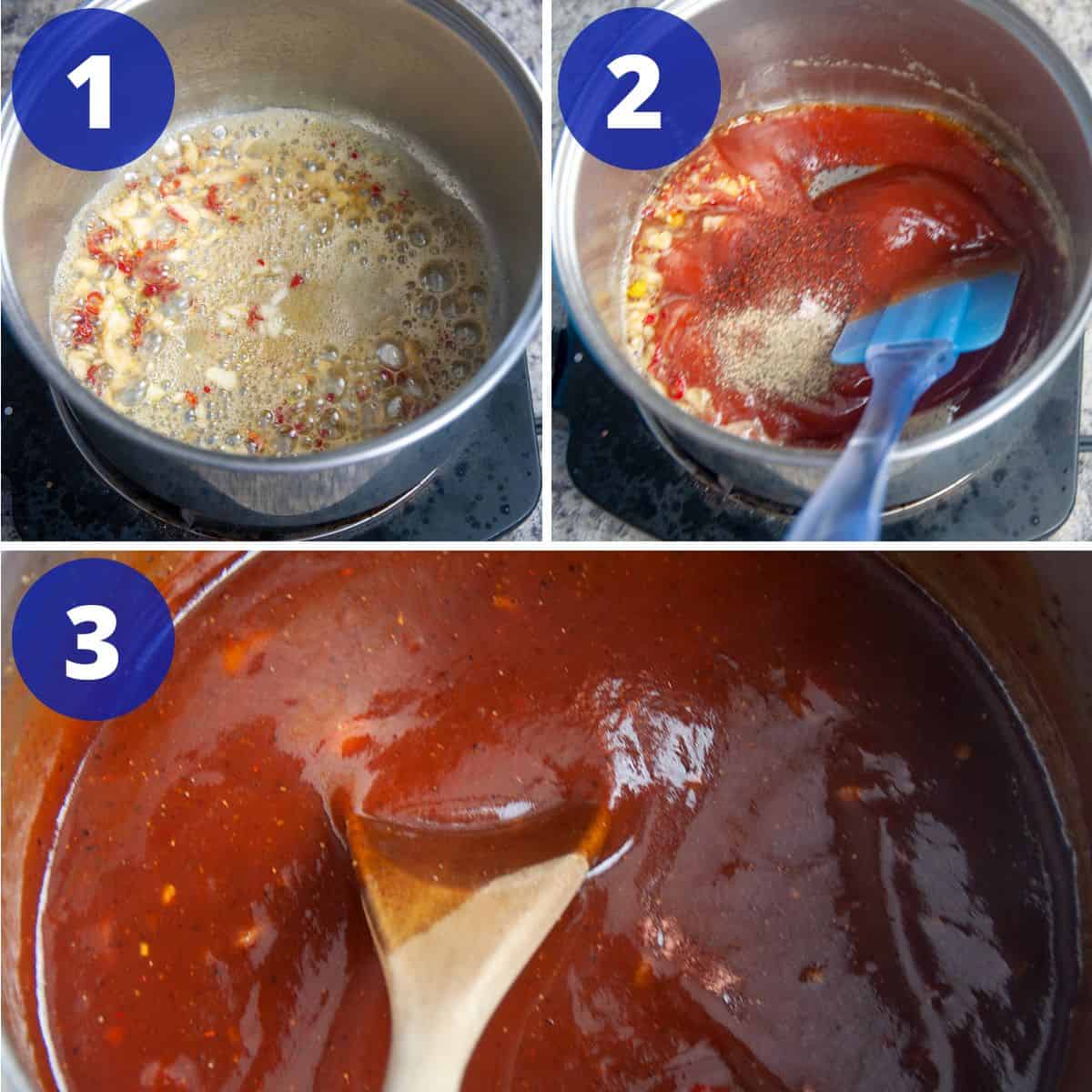 🤷 Substitutions and variations
The two main unique ingredients of this barbecue sauce have the most potential for substitutions and variations.
Fireball Whiskey – I think this adds an interesting flavor, but any whiskey could work for this recipe. Jim Beam or Jack Daniels would be great substitutes. You could even omit this ingredient.
Thai Chilis – Use your discretion on chilis. You can spice it up by adding a bit more or use less to make the sauce a bit milder and tone it down. You could also omit this ingredient and the BBQ sauce would still taste good.
Spices – If there is a spice you don't like or one you might want to try, go for it!
Vinegar – I use apple cider vinegar, but most vinegar would work. The point is to get a touch of that vinegary test in the sauce.
Like with all of my recipes, eat what you like! While I have tested this recipe as-is, I fully encourage experimentation in your kitchen!
📦 Storage
While I would not suggest freezing this recipe, this will keep well in the fridge for a few weeks. Place in a covered container and store in your refrigerator for up to two weeks.
🎓 History tidbit
I think grilling is such a neat subject, as cooking over bare fire or charcoals is probably one of the oldest methods of cooking known to humankind. I wrote a whole article on the history of grilling that you can check out!
❓ FAQ
What can I add to BBQ sauce to make it spicy?
Peppers, hot sauce, and cayenne powder are all good ways to make your barbecue sauce more spicy.
What is the spiciest BBQ Sauce?
If you want to make a really spicy BBQ sauce, consider making a regular recipe and adding Carolina Reaper hot sauce or Ghost Pepper hot sauce. That would make it very spicy.
📝 Tips and tricks
The sauce can be made ahead of time or on the same day that you cook the chicken.
I use Fireball whiskey, but really any whiskey would work fine.
Use enough Thai chili for your taste.
Other chilis should be fine to use, per your liking, but make sure they are minced.
I don't use brown sugar in this recipe, as there is plenty of sugar in the ketchup and brown sugar is just molasses and sugar. We have both of these
🛠 Products used in this recipe
😋 Did you make this recipe?
Thank you so much for giving this Best Spicy BBQ Sauce with Fireball Whisky recipe a try! I appreciate you allowing my recipe onto your grill and table. Could you do me a favor by leaving a review in the comments area below? This helps me know how I am doing and helps others decide if this is their recipe. Most of all, thanks for visiting Ramshackle Pantry!
Print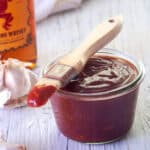 Spicy BBQ Sauce with Fireball Whisky
Author:

Ben

Prep Time:

5 minutes

Cook Time:

10 minutes

Total Time:

15 minutes

Yield:

1 ½ cup

1

x

Category:

Sauce

Method:

Stovetop

Cuisine:

American
---
Description
This Spicy BBQ Sauce with Fireball Whisky is easy to make, tasty, tangy, and has a whole lot of zing. A perfect condiment or for when you grill chicken, brisket, or it would also be great on wings!
---
1 tablespoon

butter

1

garlic clove, minced

2

Thai chilis minced

1 ½ cup

, Ketchup

½ teaspoon

, Salt

½ teaspoon

, ground, Black pepper

1 teaspoon

chili powder

2 Tablespoons

Vinegar cider

1 Tablespoon

Worcestershire Sauce

2 Tablespoons

, Molasses

½

cup Fireball Whiskey
---
Instructions
Melt butter in a medium saucepan ever medium heat.
Add Thai chili and Garlic.
Cook until softened.
Add rest of the sauce ingredients and stir.
Bring to a simmer and simmer for 5 minutes.
Remove from heat and allow to cool for 15 minutes.
Either use or store in refrigerator.
Notes
The sauce can be made ahead of time or on the same day that you cook the chicken.
I use Fireball whiskey, but really any whiskey would work fine.
Use enough Thai chili for your taste. Other chilis should be fine to use, per your liking, but make sure they are minced.
I don't use brown sugar in this recipe, as there is plenty of sugar in the ketchup and brown sugar is just molasses and sugar. We have both of these
Keywords: spicy BBQ sauce