You haven't seen a Dorito casserole like this! We make a tater tot pie crust and then fill it with delicious beefy Dorito flavors. If you show your family love through food, this is love in a pie pan.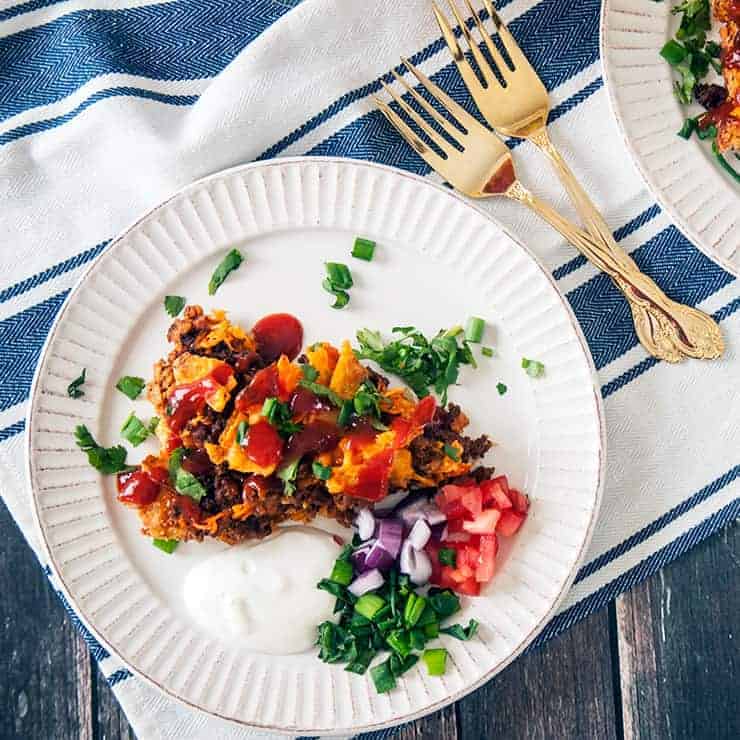 I probably have far too many food weaknesses and Doritos are definitely one of them. Sometimes it is healthy to just give into some weaknesses and today we are going to celebrate Doritos with my Cheesy Dorito Casserole With Tater Tot Crust recipe. Isn't it fun to give in to temptation and treat yourself with comfort flavors that you love? Of course it is! As part of our taco series, we are going to do that with this fun and tasty Cheesy Dorito Casserole With Tater Tot Crust.
Dorito Casserole with Tater Tot Crust Basics
When I decided to do a taco series, I knew I wanted to do something with Doritos. I love a good Velveeta Queso with Doritos and I have a crush on Taco Bell's Dorito Tacos. You see where I am going with this, right? I know Doritos are not the best for my waistline, but I think they taste more than fine and I want all the Doritos to be mine oh mine.
I also wanted to do something a little different, as a Dorito Casserole isn't really earth-shattering stuff and other folks have made similar recipes. Since this isn't one of our classic dishes, I thought it would be fun to throw another comfort food into the mix by adding tater tots. We previously made a Tater Tot Hotdish and even made some tater tots from scratch, so I am familiar with the product, but today we use them in a slightly different way.
Tater Tot Pie Crust
I wondered if I could turn tater tots into a crust and, sure enough, you can. I dethaw my tater tots and mix them with eggs and flour. Then, I line a pie pan with them and cook our Dorito Casserole in this.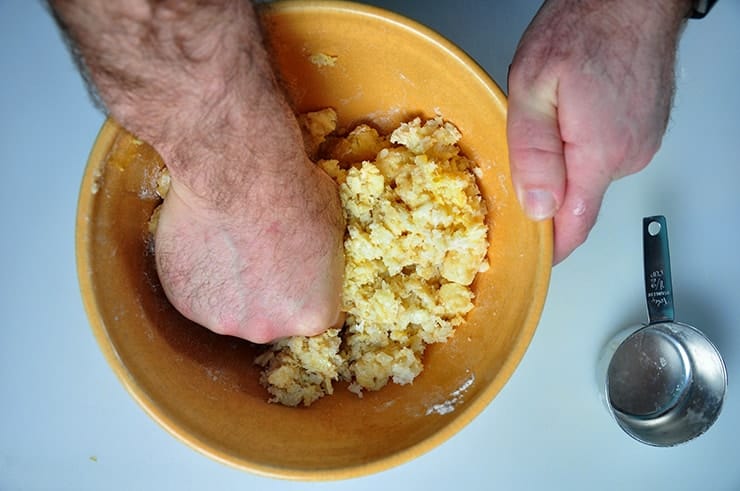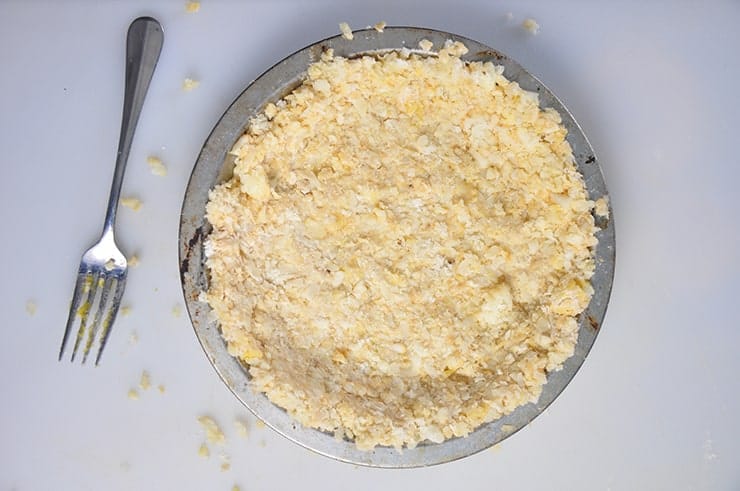 Why Prebake the Tater Tot Pie Crust?
Originally, I had just cooked the entire dish and I found it to be a big mushy mess. That is not what I am going for. I want a nice crispy crust with a cheesy, beefy filling. After some experimentation, I found that baking the crust separately for a while works great. It allows the final product to have a bit more of a crunch to it, which is what I am looking for.
Why Extra Ingredients in Tater Tot Pie Crust?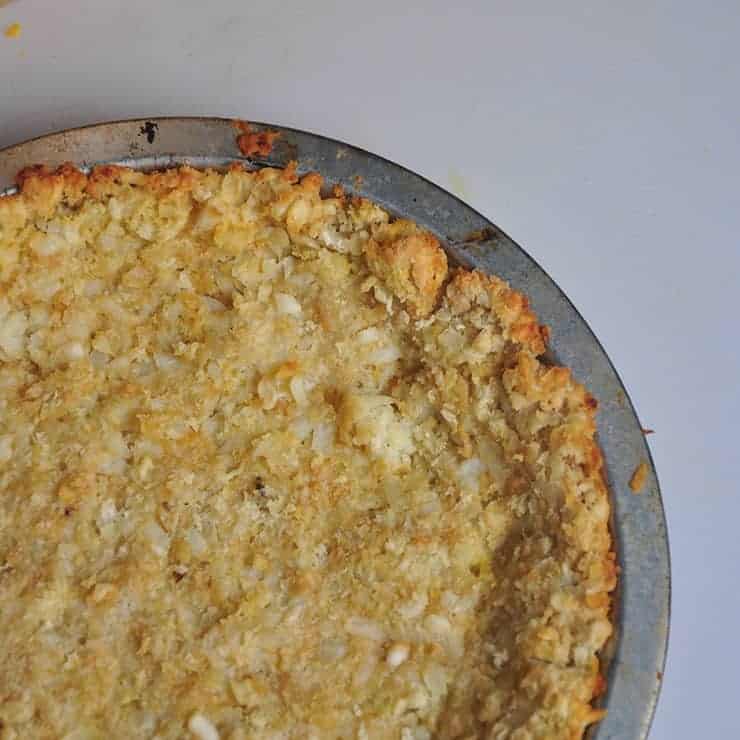 With the help of the egg and flour, we make something that binds together in a way that helps everything stick together. With the addition of prebaking the crust, these extra binders help keep everything together and give us a sort of potato dough to work with.
But It Is A Pie Dish. Why Call It A Casserole?
As we learned in our post about the difference between hotdish and casserole, a casserole is defined by the dish you are using. In this recipe, we are using a pie pan. What gives, Ben? While this is in a pie pan, I really feel it carries the spirit of a casserole. So, technically, I don't think this is a casserole, but I am going to go with my gut and call it that.
Can I Use Other Dorito Flavors?
Absolutely. Take note, however, that I only tested this recipe with the standard Cheesy Nacho flavor. In my life-long Dorito tasting research, I have found that some of the flavors tend to have slightly different chip textures, which leads me to believe that they are not all the same formula. Since we are only using Doritos as a filling and topping, I can't imagine that Jacked or Cool Ranch are going to be that much different.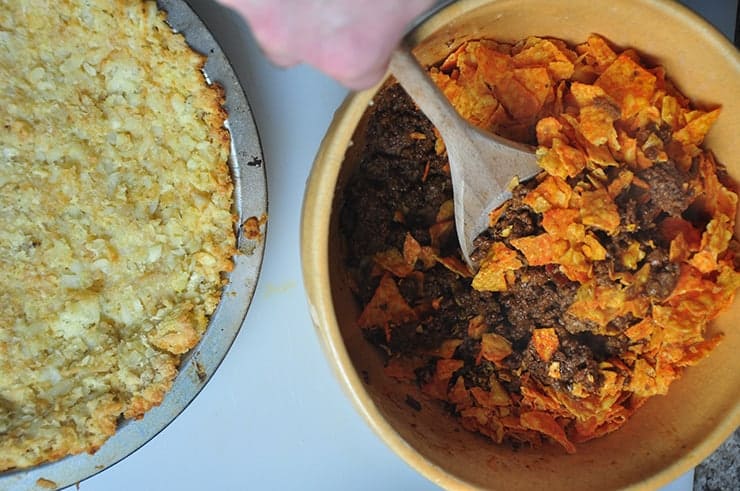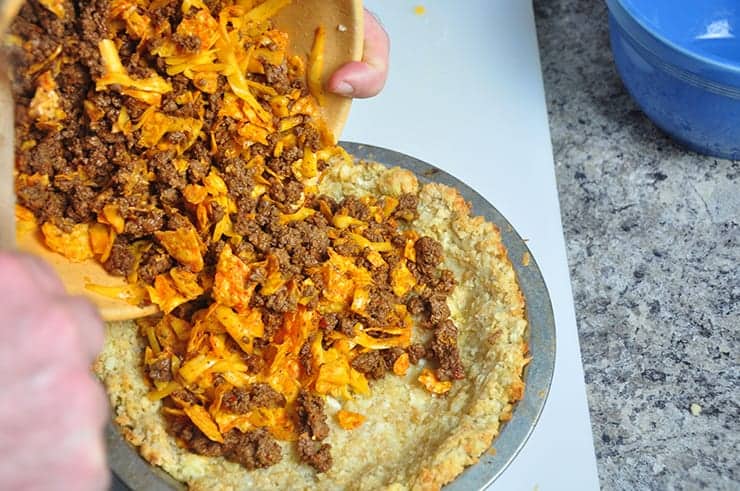 I have to be honest that this was a really fun one to work on and test. My life-long love of Doritos gave me an excuse to take a few weeks and eat way too many! If you like this Dorito Casserole with Tater Tot Crust recipe, please make sure to let me know! It always helps if you Pin this on Pinterest and we sure would love to have you subscribe to our email newsletter.
Products I Use In This Recipe
Print
📖 Recipe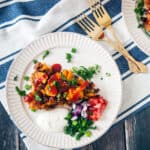 Cheesy Dorito Casserole With Tater Tot Crust
Author:

Homemade Salsa Recipe

Prep Time:

15 minutes

Cook Time:

45 minutes

Total Time:

1 hour

Yield:

6

servings

1

x

Category:

Casserole

Method:

Bake

Cuisine:

Mexican
---
Description
This Cheesy Dorito Casserole has a special surprise with its tater tot pie crust. There is a lot of comfort going on in this comfort taco dish and you should be making it today!
---
4

servings of tater tots

1

egg

½ cup

flour

1

Pound of Ground Burger

1

Packet of Taco Seasoning or One Serving of Homemade Taco Seasoning

4

Servings of Doritos, crushing with hand.

2 Cups

Shredded Cheddar Cheese
---
Instructions
Thaw tater tots in a microwave or let them sit in the fridge overnight
Preheat oven to 425° Fahrenheit
In a large bowl, hand mix tots, egg, and flour until completely combined
Add to a 9-inch pie pan and use your hand to flatten tater tot mixture down and edges until it forms like a pie crust
Bake crust for 20 minutes
While crust is baking, cook ground beef, and add taco seasoning per instructions.
Mix beef, ¾ Doritos, and 1 ½ cups of cheese.
After 20 minutes, remove crust and put filling in
Bake another 20 minutes
Remove and add final ¼ Doritos and ½ cup of cheese as a topping
Bake for 5 more minutes to melt cheese.
Remove and serve!
---
Notes
Top With any taco like ingredients you like. Green onion, taco sauce, and sour cream are featured.
Keywords: dorito casserole