A Classic Upper Midwest recipe right here. Comfort food all the way. This Chicken Chow Mein Hotdish Recipe is sure to make your family happy and maybe give you a glimpse into what they thought Chinese food sort-of kind-of is, but suburban Minnesota style. It really is tasty and you should give it a try!
While we are in the midst of our hotdish series, I wanted to share another common hotdish recipe that is made throughout the Midwest. We have already made the first hotdish recipe, a from scratch hotdish, and now we are going to make a chicken chow mein hotdish.
Why Chicken Chow Mein?
We have made plenty of ground beef versions of a hotdish and the dish is just much more versatile than this. As we talked about in our post that defines hotdish, a defining component is a protein. That doesn't need to be hamburger and can absolutely be chicken. That is what we are going to do!
Inspired By A Church Cookbook
Well, I already knew that this is a pretty common hotdish to make, but I did not have an exact recipe. I mean, the just of it is pretty simple… cream o' stuff soups, chicken, rice, chow mein noodles. To zero in on the recipe I wanted to feature, I pulled out the ol' 1984 Our Savior's Lutheran Church cookbook (75th Anniversary Edition). This cookbook is from Colfax, ND and where my father-in-law was born and raised. He also lived there with his wife until they moved to Fargo in the 80s. In fact, the cookbook has a recipe from my mother-in-law printed in it! She is church famous!
So, there is a hamburger chow mein hotdish in this cookbook that I used as my inspiration for my chicken chow mein hotdish. The original recipe uses hamburger and I already decided that was going to be changed out. Also, I am going to change up the amounts of the veggies.
Is This Chicken Chow Mein Recipe a Hotdish?
Well, as we defined previously, to be a hotdish, the ingredients must meet some criteria:
Cream of something soup OR, less commonly, you may see a tomato base
Some kind of protein, with hamburger being the most common.
Vegetables, but they should be sized to fit into a single bite
A starch, generally pasta or potato. Also, sized to fit into a single bite
A crispy topping. Tots, chips, or even chow mein noodles.
Optionally, cheese
Our chicken chow mein recipe definitely meets all of these criteria. There is starch in both the rice and the chow mein topping. It has the soup, the veggies, and a crispy topping. Like a casserole, it is cooked in one dish.
After having developed this recipe, I can say that I really like it! This is one tasty hotdish.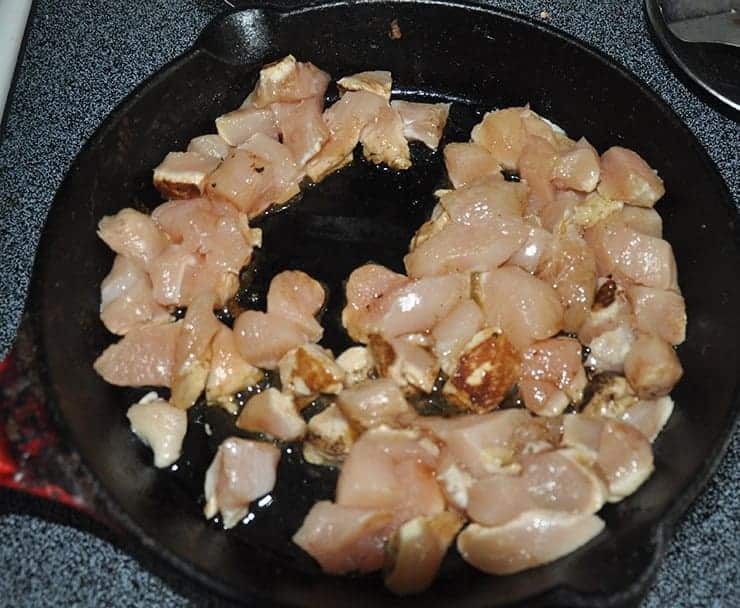 Is this Asian food?
No.
Hey! If you like what we are doing here, please follow me on Pinterest and Instagram!
Print
📖 Recipe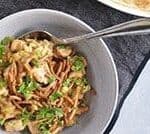 Chicken Chow Mein Hotdish Recipe
Author:

Ben

Prep Time:

30 Minutes

Cook Time:

1 Hour

Total Time:

90 Minutes

Yield:

4

Servings

1

x

Category:

Dinner

Method:

Baking

Cuisine:

Chinese
---
Description
This Chicken Chow Mein Hotdish is an excellent comfort food that is easy to make and really tasty! Serve this one to your family for an easy and great dinner.
---
1 tablespoon

olive oil

1

pound chicken breast, roughly chopped

½ cup

onions, chopped

½ cup

celery, chopped

1

can chicken rice soup

1

can condensed cream of mushroom soup

½

can water

2 cups

Dried Chow Mein Noodles
---
Instructions
Preheat oven to 350° Fahrenheit
Add olive oil to pan and heat to medium
Add chicken breast
Cook until chicken is about half done and add onions and celery
Cook until chicken is done
In 1 ½ Quart Casserole dish, add all ingredients
Mix
Cover and bake for 30 minutes.
Remove cover and bake for an additional 30 minutes
Remove from oven and optionally top with more chow mein noodles
Serve
---
Keywords: chow mein hotdish