This post may contain affiliate links. As an Amazon Associate I earn from qualifying purchases. Please read our disclosure policy.
Potato Pancakes are a simple old-fashioned spud recipe that tastes great. A perfect light dinner, savory side dish, or breakfast. Serve this classic German recipe with sour cream and green onion or as a sweet side with applesauce or jam.
No matter when you serve this or how you serve it, this German Potato Pancakes recipe is reachable for everybody and just tastes good. Give it a try!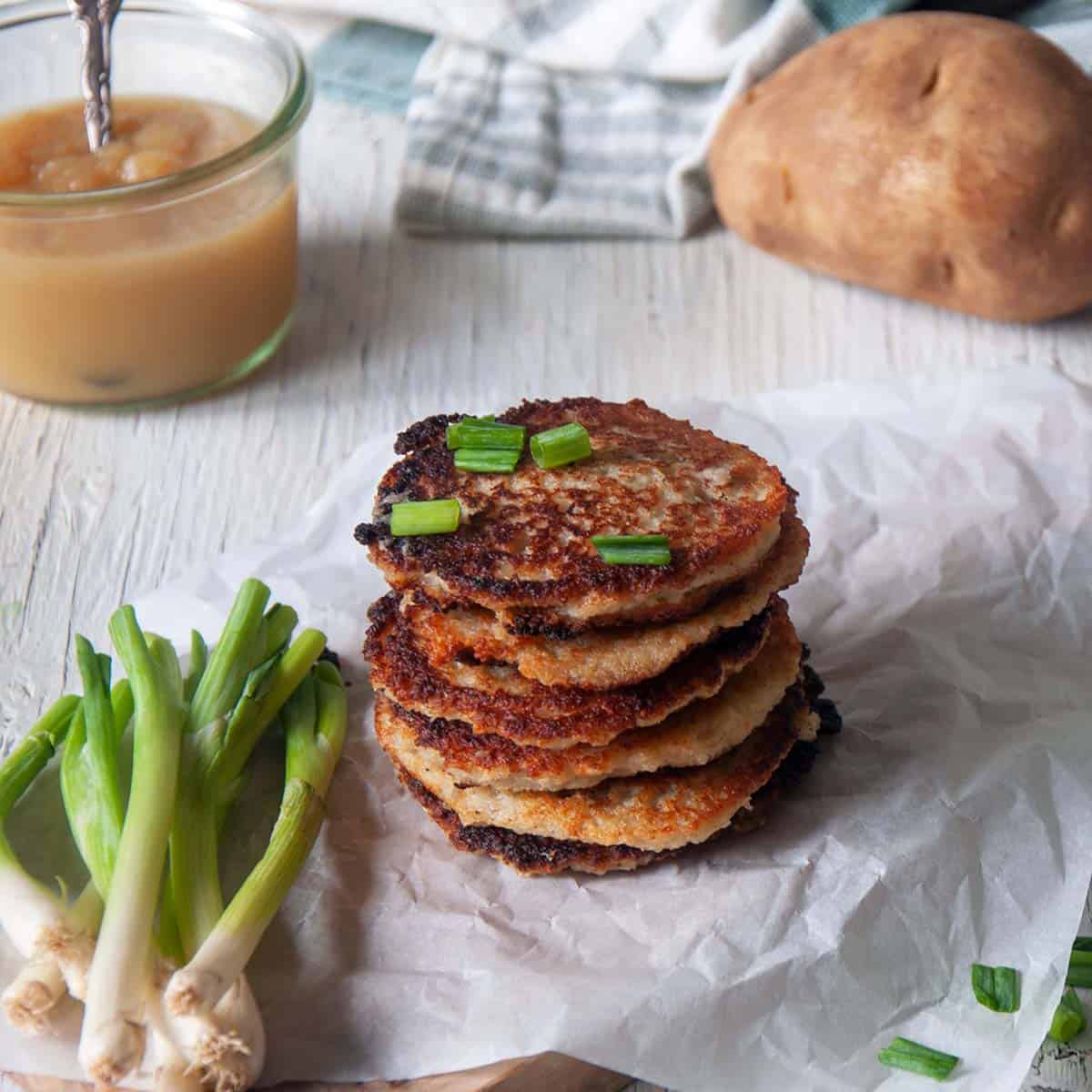 🇩🇪🥞 What makes this recipe special?
What sets these Classic German Potato Pancakes apart? It's all in the details and the little twists that transform the ordinary into the extraordinary. Let's get into the nitty-gritty of what makes this dish a standout!
The choice of russet potatoes is a game-changer. Why russet? Because their starchiness is key to achieving that golden, crispy exterior while keeping the inside deliciously soft. It's about texture, and these potatoes have it in spades. And the onions? We're not just chopping them; we're processing them until smooth. This little step infuses every pancake with a subtle yet rich, oniony essence.
Now, let's talk technique. We're not taking shortcuts here. Squeezing the moisture out of the potatoes with a cheesecloth (and a strainer for the overachievers) ensures that each pancake crisps up just right.
In short, what makes this recipe special? It's the attention to detail, the perfect balance of flavors and textures, and the little twists that turn a simple potato pancake into a culinary delight. It's not just food; it's a testament to the joy of cooking and the magic of a well-crafted recipe.
If you are looking for a different, unique pancake recipe, check out our Swedish Pancakes recipe. Or if German food is your thing, give this Easy Pork Schnitzel recipe a try or this German Spaetzle. No matter what you make, make sure to treat yourself.
🥔 Ingredients
Well, potatoes. It does take a bit more than that, however. Here is what you will need:
Russet potatoes
Onion
Salt & Pepper
Eggs
All-purpose flour
Green onions
Sour cream
Apple sauce
See the recipe card for quantities.
🍲 Instructions
Start off by simply grating potatoes in your food processor, if you have one. If not, do it the old-fashioned way with a fine grater. Do the same with an onion.
Strain the moisture from your potatoes and mix with onion, egg, flour, salt, and pepper. Then, you will have a batter that resembles a traditional buttermilk pancake.
In a skillet with some frying oil, fry on medium-high until each side is golden brown. Once all of your pancakes are done, you can serve plain or with many different sides. Mainly if you use a food processor, this can be done in no time and is very easy to make.
Extract Water from Potatoes
An essential part of making this potato pancake recipe is straining water from the processed potatoes. There are probably a few different ways to do this, but I am sharing what I recommend. I use cheesecloth and a fine wire strainer.
Once I process the potatoes, I add them to a double-layered cheesecloth in a fine wire strainer. Wrapping the potatoes in cheesecloth like a ball and gently squeezing, I extract as much water as possible. It takes a few minutes and a little patience, but it is simple.
Another option, if you don't have a cheesecloth, is to squeeze the potatoes with your hands. You will need a fine wire mesh strainer for this, though. Cup your potatoes like a baseball and squeeze.
Frying The Potato Pancakes
Once you combine all of the ingredients, it is as simple as frying the batter. A few things to keep in mind as you are cooking these cakes up.
First, choose your oil wisely. A high smoke point oil is appropriate for this. I use sunflower oil, which reduces the fry smell in my house. Still, vegetable oil, canola oil, or avocado oil would all work well.
Don't Crowd Your Pan
The batter is a bit mushy, so if they are too close to each other, they might start to bleed together. You can avoid this by just making sure you leave plenty of room in your pan or skillet.
I only cook three at a time in my 10 ¼-inch cast iron pan. I could cook as many as four, but three feels right to me. In addition to preventing crowding, use some common sense on timing.
Watch For Golden Brown
The goal is to have a nice fried golden brown color on each side. This could change based on your pan, the amount of oil in the pan, or just differences in stovetops. For me, it takes about 1 ½ to 2 minutes for each side. Cook until golden brown on each side.
🤷 Substitutions and variations
The simplest method for this recipe is to use a food processor to cut the potatoes. It takes just 10-20 seconds, and you get a well-processed batch of potatoes that are ready to strain.
An alternative is a shredding box or a very fine cheese grater. I did this, as well. The potatoes were not as finely grated, and it was more work. The end product ends up fine, but I recommend using a food processor.
📦 Storage
Got leftovers? No problem! These potato pancakes store like a charm. Just let them cool down completely first. Once they're at room temperature, you can stack them with a piece of parchment paper between each pancake. This little trick keeps them from sticking together.
For short-term storage, pop them in an airtight container and slide them into the fridge. They'll stay happy there for about 3 to 4 days. Looking to keep them longer? The freezer is your friend! Wrapped well, they can chill out in the freezer for up to a month. Just make sure to seal them tightly to fend off freezer burn.
When you're ready to enjoy them again, reheat them in the oven or on the stovetop until they're warm and crispy. They'll be almost as good as when you first made them!
🎓 History tidbit
As already mentioned, potato pancakes have origins all across the globe. This is a peasant food that has roots anywhere where potatoes have been domestically farmed.
Potatoes could be stored in root cellars, and well into Winter could be preserved when other food sources were not readily available. You often find potato pancake recipes in Northern European countries, as potatoes could easily be grown and stored for the colder seasons.
❓ FAQ
What is the difference between a potato pancake and a latke?
For many, Latkes are potato pancakes, but there is a difference. Latkes generally have larger potato shreds, while potato pancakes are finely shredded and look closer to a batter rather than shredded potatoes.
What ethnicity are potato pancakes?
For me, these are German, but they are not exclusive to German heritage. Anywhere where potatoes are grown might have a version of potato pancakes. The thing about this dish is that it does not require many ingredients, and also, the ingredients are cheap.

Because it is so simple, it should be no surprise that potato pancakes have heritage worldwide, including England, Ireland, Iran, and even Korea. This is a global recipe that goes as far back as domestic potato farming.
Can I Use Left Over Mashed Potatoes?
Yes, you can use leftover mashed potatoes for this recipe. You will want to take special care in straining the liquid out of these potatoes, as additional liquids might be added. Often, milk and butter are added to mashed potatoes that increase the liquid content. Also, if you are interested in some great mashed potato recipes, check out my Sous Vide Mashed potatoes recipe and our Cheesy Mashed Potatoes recipe.
Can I use different types of potatoes for this recipe?
Absolutely! While russet potatoes are ideal for their starch content, which gives a crispy texture, you can experiment with other varieties. Yukon Gold or even a mix of different potatoes can offer a unique taste and texture.
Is there a gluten-free option for the flour in the recipe?
Yes, you can substitute all-purpose flour with a gluten-free flour blend. Just ensure it's a 1:1 replacement to maintain the consistency of the batter.
Can I make these pancakes ahead of time for an event?
Definitely. You can prepare and cook the pancakes in advance. Just reheat them in the oven at a low temperature to maintain their crispiness before serving.
what are the best toppings for German Potato Pancakes?
Traditional toppings include applesauce and sour cream, but feel free to get creative! Some enjoy a savory twist with smoked salmon and cream cheese, or a fresh salad on the side.
Can I bake these pancakes instead of frying?
Frying gives the best texture, but for a healthier option, you can bake them. Just brush each side with oil and bake in a preheated oven until golden and crisp. The texture might be slightly different, but they'll still be tasty.
How do I ensure my potato pancakes are crispy?
The key is removing as much moisture as possible from the grated potatoes. Also, make sure your oil is hot enough before frying each batch, and don't overcrowd the pan.
📝 Tips and tricks
Use cheesecloth to strain your potatoes
I use sunflower oil because it reduces smell, but any high smoke point oil will work.
Do not crowd your skillet
Use as much oil as is needed!
🛠 Products used in this recipe
😋 Did you make this recipe?
That is awesome, and thank you so much for giving this German Potato Pancakes recipe a try. If you could leave a rating in the comment area below, it would be greatly appreciated. This lets me know how I am doing and also helps others decide if they want to make this recipe. Most of all, thanks for visiting Ramshackle Pantry.
Print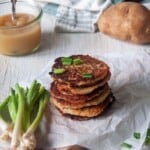 German Potato Pancakes
Author:

Ben

Prep Time:

15 minutes

Cook Time:

30 minutes

Total Time:

45 minutes

Yield:

4

Servings

1

x

Category:

Breakfast

Method:

Frying

Cuisine:

German
---
Description
Potato Pancakes are a delicious side dish, a great breakfast, or just a great meal. Get your potatoes out and learn how to make potato pancakes with this delicious classic German recipe.
---
2

pounds

russet potatoes, peeled and chopped

1

large onion, peeled and chopped

2 teaspoons

salt

1/2 teaspoon

pepper

2

egg

1/4

cup

all purpose flour
Green onions (optional)
Sour cream (optional)
Apple sauce (optional)
---
Instructions
Add potatoes to food processor and process until smooth
Remove from processor and use cheesecloth to squeeze moisture out of potatoes. I also use a fine metal strainer underneath the cheesecloth, but that is optional. The point is to remove water from the potatoes.
While potatoes continue to drain, add onion to food processor and run until smooth
In a large bowl, add potatoes, onion (juices and all), salt, pepper, flour, and eggs
Mix well
Add two tablespoons of oil to nonstick skillet or pan and allow to heat to medium-high
Add ¼ cup of batter, forming into a pancake shape and making sure not to crowd. I cook three at a time.
Cook for 1 ½ – 3 minutes on each side, until golden brown
Repeat until batter is gone, adding more oil as needed. I use approximately 5 tablespoons for the entire batch.
Set aside on paper towel-lined plate until all are done, or optionally just serve
Serve with sour cream and green onions or applesauce.
Notes
Use cheesecloth to strain your potatoes
I use sunflower oil because it reduces smell, but any high smoke point oil will work.
Do not crowd your skillet
Use as much oil as is needed! For me, I add a tablespoon approximately after every batch and allow to reheat for a moment.
Nutrition
Serving Size:

3 Pancakes

Calories:

264 calores

Sugar:

3 g

Sodium:

1200 mg

Fat:

3 g

Saturated Fat:

1 g

Unsaturated Fat:

2 g

Carbohydrates:

49 g

Fiber:

4 g

Protein:

9 g

Cholesterol:

93 mg
Keywords: potato pancakes