Do you host family events and find yourself running out of stovetop space to make your meals? These Make Ahead Sous Vide Mashed Potatoes are the answer for you. This is a delicious and fluffy mashed potato recipe and then I show you how to keep them for up to a day so it seems like they were just cooked.
Whether it is Easter, Thanksgiving, or Christmas, this recipe will help you manage your time, space, and the best part is that they taste delicious! Try out this Make Ahead Sous Vide Mashed Potato recipe and don't look back.
Make Ahead Sous Vide Mashed Potatoes Summary
When I use this potato recipe, it is usually because I am cooking a big meal and want to save on burner space. It absolutely is a time saver and I went from trying to cook potatoes while juggling all the other elements of my meal, to making these potatoes first thing in the morning. The mashed potato recipe without the sous vide is a solid classic, but the sous vide makes this recipe a game-changer.
We cook the potatoes similar to many classic mashed potato recipes, but I will give some tools and tips so that you make sure you get fluffy, tasty potatoes every time. Have you ever made mashed potatoes and realized that they looked a bit off or like paste? They tasted just slightly different than when grandma made them?
I have the answers so that you don't have to ever get that again. My simple mashed potato tips and tools will have you making great taters every time.
Cooking the Mashed Potatoes
I am a little particular on how I cook my mashed potatoes, but that is only because I want them to taste great every time. Follow these instructions and you will have nice, fluffy potatoes every time.
Kind Of Potato
The mighty Russet Potato is what I recommend for mashed potatoes. For one, they are economical, which is always a great thing, right? They are light on the pocketbook and really are great for mashed potatoes.
There are other potatoes at your grocery store and even a few strains of potato that work well for mashed potato, but the Russet is the most commonly available and it works great, so I am going to stick with that. The Russet has a high starch content and helps make sure your end product is nice and fluffy.
If you really wanted to get fancy, you could use half Yukon Gold and half Russet. Yukon Gold is a tasty and flavorful potato that I enjoy for roasting purposes. If I am going to cook mashed potatoes with Yukon, I use both Russet and Yukon.
Peeling and Rinsing them Potatoes
Part of making super fluffy mashed potatoes is starch management and that starts with the cutting of your potatoes. Too much starch in your end product can give you that gluey texture in your potatoes, but there are few tips at the beginning of the process you can take to avoid this.
Peel and loosely chop your potatoes into about 1-inch chunks before you add them to boiling water. Before adding to the boiling water, we also rinse the potatoes under cold water and this will help wick away some of the starch. The smaller chunks will expose more starch to rinse away.
Once boiled and cooked until tender, we will rinse again, but this time I want to use really hot water. The water to rinse these potatoes should be about as hot as your sink faucet goes. If, however, you are serving these immediately and not using the sous vide, consider skipping this step OR make sure you are rinsing them with ultra hot water.
Ricing your Potatoes
Do not use a food processor or hand blender to get great potatoes. The ultra-fast processing power of these tools combines with the gluten to give a pasty, gluey texture that we don't want in a fluffy mashed potato. Either use a hand masher or a ricer.
I use a potato ricer [Affiliate link]. It provides a sure-fire way to make sure there are no lumps in your mashed potatoes and does not work the potato as heavily as a food processor. A hand masher works great, as well, but a ricer is the most surefire way to make consistent potatoes. Besides, we have a ricer for other recipes, like our Lefse, so we might as well use it.
Warming Butter and Milk
Because we are briefly rinsing our cooked potatoes under hot water, it is possible that our temperature will be impacted, particularly if we add cold butter and milk. For this reason, I use both room temperature butter and milk when incorporating them into the potatoes.
It is not quite as important if we are not serving immediately and using the Sous Vide, as the machine will warm it back up, but if you are serving these potatoes immediately, it is a must.
Sous Vide Machine
Sous Vide is a method of cooking where you immerse your covered food in a hot water bath and then cook it for long periods of time. The machine has exact temperature control and cycles water through it to ensure that it remains the same temperature all the time.
It is an excellent tool for cooking steaks and I have made some of the best steaks of my life with this machine, but I found another great use for it in these Make Ahead Sous Vide Mashed Potatoes.
I cook my potatoes as outlined in the recipe, but then I just put them in a bag and let them sit in the water bath at 150° Farenheight until I am ready to serve. They taste just as do if they were straight off the oven. This method is way superior to warming in the over or in a crock-pot.
If you are reading this, it is because you already have a sous vide machine or you are interested. Here is a link to the Sous Vide Machine I use [Affiliate Link] and if you are looking for a useful and fun kitchen tool, consider ordering one today. They are excellent for these potatoes and awesome for meals like steak.
Other Tools
Yes, there are containers[affiliate link] and bags[affiliate link] meant specifically for sous vide machines. I use a large stockpot, freezer bags, and clothespins to warm my potatoes. Use your own discretion and I follow the premise that it is safe to roll with the tools you might already have.
Removing Air From Bag
One concern about using a sous vide for mashed potatoes is that we are also adding dairy to the product. Is milk supposed to sit at room temperature for long periods? Not ideally and room temperature is where many bacteria grow. In fact, the temperature danger zone for food safety is between 41° and 140° Fahrenheit. Fortunately, we are keeping this at a temperature of 150° Fahrenheit.
One aspect of bacteria growth is exposure to air. You can help mitigate this by removing as much air out of the bag of mashed potatoes as possible.
How Far Ahead Can I Make This?
I never let this sit in the sous vide bath for more than 10 or so hours, but I would imagine that this should be good for up to one full day.
My Thanksgiving Timeline
For me, the biggest strain on my stovetop is during the last few hours of cooking, right at the time when most people are also making mashed potatoes. That is why these Make Ahead Sous Vide Mashed Potatoes are perfect.
The first thing I do in the morning when I get up is make this recipe and sit it in my sous vide bath. I literally don't have to do another thing with them until I am ready to serve them!
Serving Size and Planning
When planning for mashed potatoes, you can plan for about ½ pound of potatoes per person. This recipe calls for 2 ½ lbs, so 5 servings. I am not going to lie. Mashed potatoes are my favorite part of most holidays, so if you are inviting me or anyone like me over, maybe plan for a little bit more. 🙂
This recipe is tried and true for me at 2 ½ pounds, but also doubling the recipe at 5 lbs. The only difference I have at 5 pounds is that I use two bags in the sous vide machine. I am not even sure that is necessary, but I like to keep the bags somewhat light to ensure that my clips hold it on my stockpot.
Make Ahead Sous Vide Mashed Potato Process Photos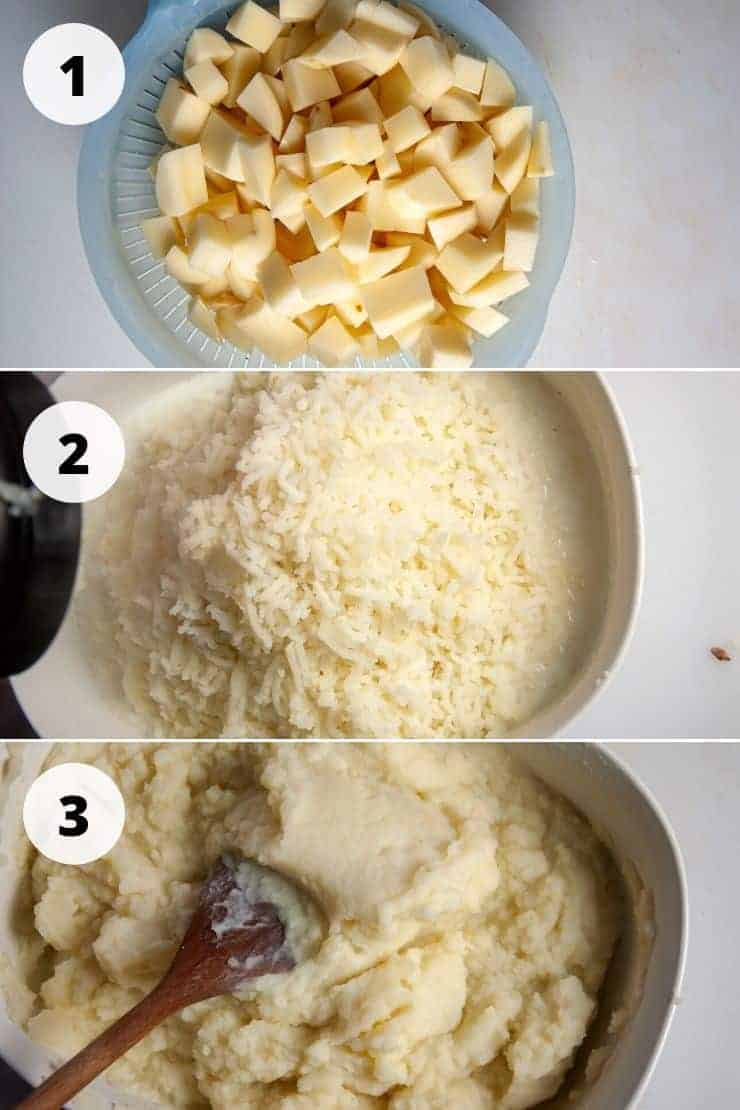 Just a shot of the cut potatoes so you can see about what size I cook them as.
I use a potato ricer and here you can see what a great job it does of making potatoes. You can also use a manual masher and that will work well.
Mixing in them potatoes.
Down below, we have a shot of the Sous Vide Machine at work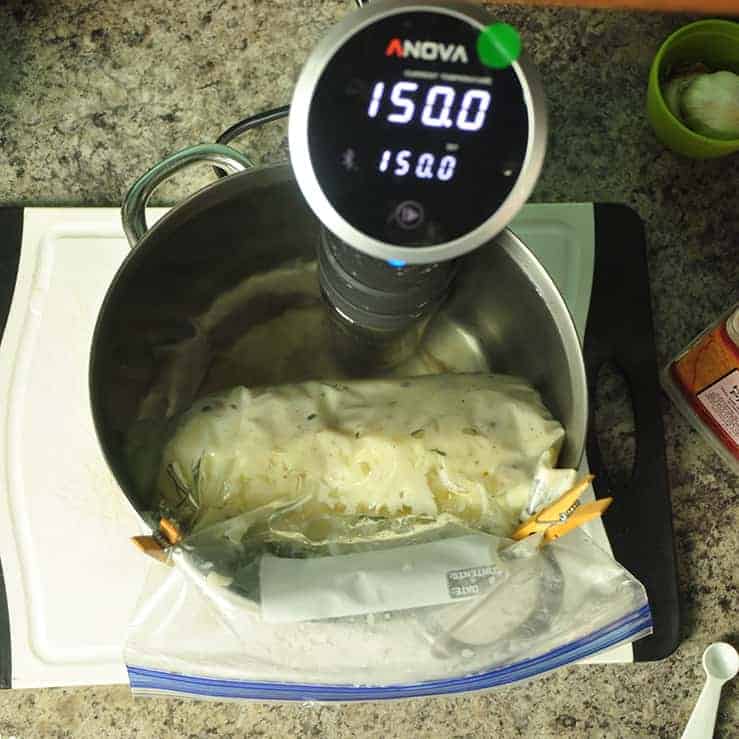 Make Ahead Sous Vide Mashed Potatoes Tips
Use Russet Potatoes
Make sure you are rinsing the potatoes
Use room temperature milk and butter to ensure potatoes remain hot
This recipe can be made without the sous vide. Just serve immediately
Use clothespins or chip clips to keep top of sous vide freezer bag out of water
Equipment Used In This Recipe
Did you Make This Recipe?
Awesome! Thank you so much for trying it! I hope you were able to save some time for your holiday meal. These taters are something else and if you liked them, it would be great if you let me know in the comments section below. Also, if you shared this recipe on your Facebook or Pinterest, it would be super helpful to me. Once again, thank you so much for trying it and I hope you enjoyed this recipe.
Print
Make Ahead Sous Vide Mashed Potatoes
Author:

Ben Myhre

Prep Time:

10 minutes

Cook Time:

20 Minutes

Total Time:

30 Minutes

Yield:

5

servings

1

x

Category:

Holiday

Method:

Sous Vide

Cuisine:

Traditional
---
Description
Mashed potatoes are an important part of any holiday meal, but sometimes it is hard to manage those burners to get everything done on time. These Make Ahead Sous Vide mashed potatoes don't lack in flavor, free up your burners, and let you make these taters well ahead of time.
---
2 ½

pounds Russet potatoes, peeled and cut into approximately 1 inch squares

1 ½ cups

whole milk, room temperature

4 tablespoons

salted butter, room temperature chopped into

1

" pats

1 teaspoons

salt

½ teaspoon

pepper
---
Instructions
Fill Large Stock Put full of Water and set Sous Vide to 150° Fahrenheit.
In separate large pot, heat water to a boil
Rinse peeled and cut potato under cold water
Add potatoes to water and cook until tender (approximately 10-15 minutes)
Remove and strain in a colander. (Next part is OPTIONAL)Rinse potatoes under very hot water. If you can't do this with very hot water and are serving immediately, skip.
In a separate dish, add room-temperature milk, butter, salt and pepper.
Rice potatoes into dish and gently fold with spatula or wooden spoon to mix all ingredients and melt butter
Add potatoes to a freezer bag or sous vide bag.
Remove as much air as possible and seal.
Submerge bag in water, using clips or clothespins to keep top out of water
Up to one day, keep running. Remove potatoes and put in serving dish immediately before serving.
---
Notes
Use Russet Potatoes
Make sure you are rinsing the potatoes, but if you can't do so with really hot water AND if you are serving immediately, skip this step.
Use room temperature milk and butter to ensure potatoes remain hot
This recipe can be made without the sous vide. Just serve immediately instead of warming with sous vide.
Use clothespins or chip clips to keep top of sous vide freezer bag out of water
---
Nutrition
Serving Size:

½ lb

Calories:

278 calories

Sugar:

8 g

Sodium:

498 mg

Fat:

12 g

Saturated Fat:

7 g

Unsaturated Fat:

3 g

Trans Fat:

0 g

Carbohydrates:

43 g

Fiber:

5 g

Protein:

8 g

Cholesterol:

32 mg
Keywords: sous vide mashed potatoes