This essential early Spring recipe is a simple, easy, and fresh Creamy Asparagus Soup. When you let the flavors of fresh, in-season vegetables shine, it is like Mother Nature kissing your soup bowl.
The best part of this delicious soup is that it is about as easy as it gets, and you can have this Creamy Asparagus Soup Recipe on your table in less than 45 minutes.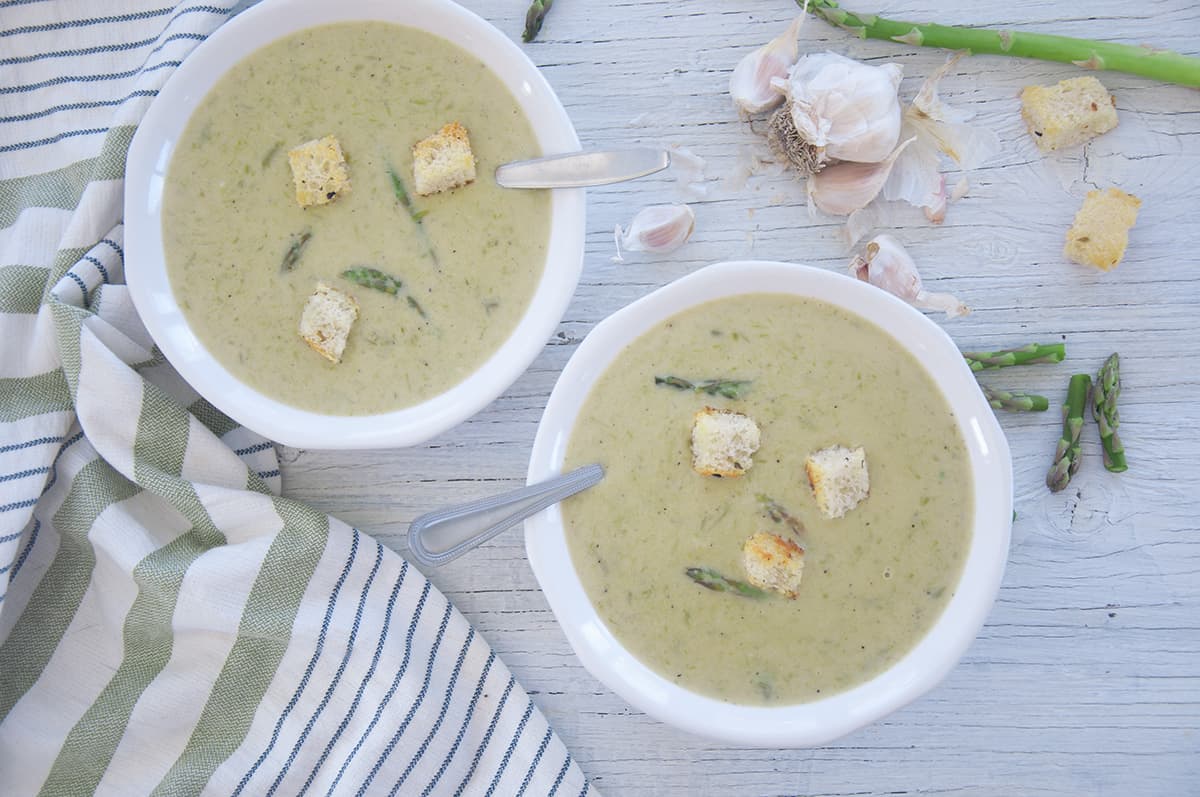 🌿 What makes this recipe special?
This is a simple soup recipe to make and tastes so hearty and nourishing. It is similar to our homemade Cream of Mushroom soup recipe but with asparagus.
This perfect Spring soup brings great flavors to your table while you ponder what you might plant in your garden or what household projects might lie ahead. Or, of course, just eat the dang soup!
This is a great soup and would make a great side for this Grilled Chicken Legs with Yogurt Mint Marinade recipe. Or if you are looking for a different asparagus recipe, check out this Pancetta Wrapped Asparagus with Orange Glaze recipe.
Rhubarb is ripe about the same time, and maybe follow up with a delicious Rhubarb Pie. No matter what you make, make sure to treat yourself!
Jump to:
🥛 Ingredients
Asparagus is the star of this recipe, but a few other ingredients pull it together for something special. Here is what you will need:
Butter
Asparagus
Onion
Garlic cloves
All-purpose flour
Vegetable stock
Salt, or to taste
Black pepper, or to taste
Heavy cream
See the recipe card for quantities.
A note on shopping for asparagus
When shopping for asparagus, I tend to prefer bunches with smaller stalks. If you see short, thick, and stubby spears, I tend to pass on those, particularly if the root end is white and the entire stalk appears grainy.
Asparagus size isn't really the whole story, though. Look at the leaf ends, how the asparagus is stored in the store, and just how healthy (and green) the entire bunch looks. Here is a great video about picking the right asparagus from your local grocery store.
🍲 Instructions
This soup is a simple recipe with out-of-this-world flavor. First, clean some fresh asparagus. Separate the individual stalks into tips, stalks, and roots. Discard the asparagus root ends, then simmer the rest and sweat the stalks with butter and onion.
Once this all seems tender, add a bit of flour that will become a thickener. Cup by cup, add in vegetable stock, and mix. Then, allow the soup to cook for a while longer.

Blend everything with an immersion blender and finish it off and create a creamy texter. Finally, add some seasoning and heavy cream.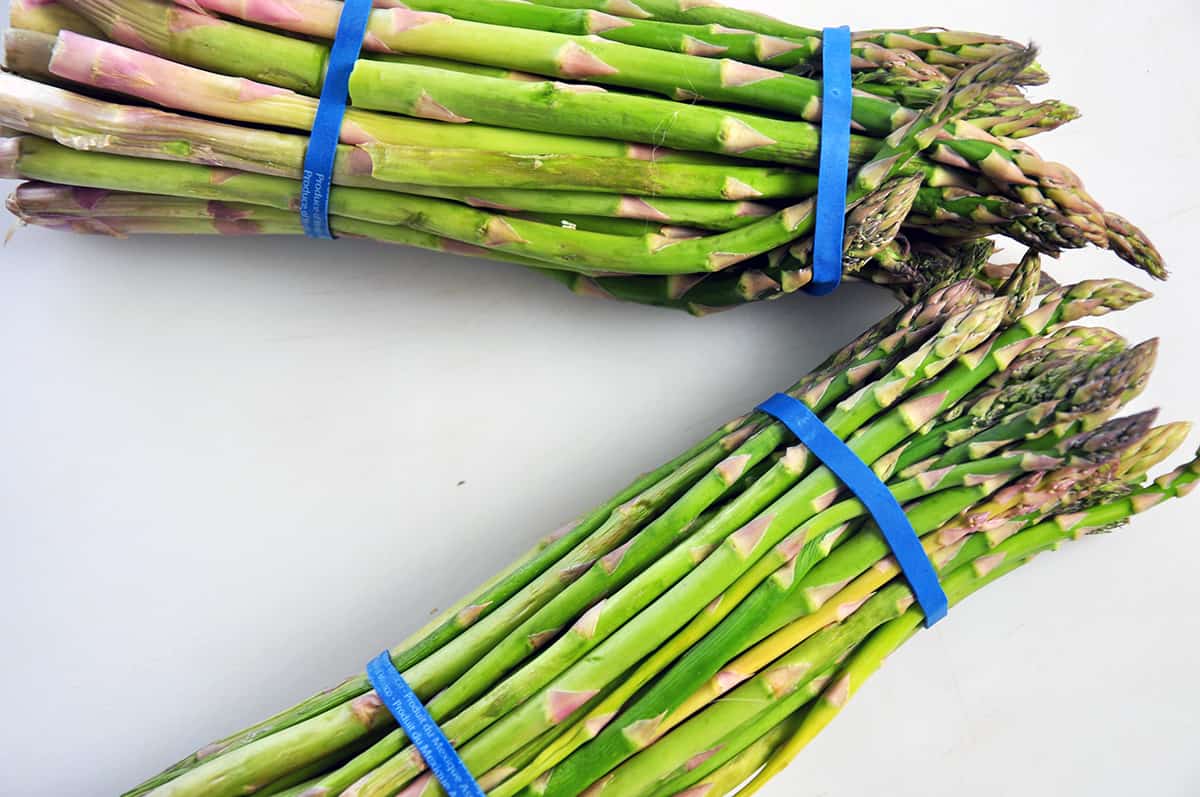 Cleaning asparagus and the anatomy of asparagi
Did you know that the plural of asparagus is asparagi? Well, you shouldn't, because it isn't.
I really wanted this to be the plural form of the word, and some Latin roots point to it, it isn't real. The plural of asparagus is asparagus.
When talking about them, we might say 'a bunch of asparagus.' Asparagi isn't a thing. That is ok. I will still use the word because I like saying 'asparagi'. This is a small guide to properly make chopped asparagus.
All of the parts
We have already covered the plurality of asparagus. If you take one asparagus out of a bunch of asparagus, you can examine each asparagus spear individually. An asparagus spear is separated into three main parts.
We have the tip, which is the very leafy end of an individual spear. Then, we have the stalk, which is clearly different than the tip and the largest part of a stalk.
Finally, we have the root, which oftentimes changes into more of a white color than the healthy, green stalk. It is often the thickest part of an asparagus spear and is difficult to eat, as it is woody and grainy.
Remove the terrible root ends
Have you ever bitten into asparagus and found yourself gnawing on a woody end that is difficult to chew? Likely, it wasn't cleaned appropriately. Today, we are going to help you clean your asparagi so you can enjoy them better.
Take an individual asparagus spear and hold it between your two hands at the bottom of the spear. Bend the bottom third until the spear snaps. This is a pretty good approximation to where the less desirable root end and the stalk separates.
While you can do this with every single spear, that individual spear is likely a pretty good indicator of what the rest of the bunch will be like. Take a chef's knife and just lop the rest off using that first spear as my guide. The root ends can be discarded.
Asparagus tips
You should be able to see the separation between the very leafy tip and the stalk. The tips are going to be used later, so save them in a separate dish. I estimate where the tips end for the whole bunch and lop off the end. I then put these aside.
Stalks
Only the stalks remain. This is the majority of an asparagus spear and will make up the bulk of this soup. Take the cleaned asparagus and loosely chop them into 1-inch to 3-inch sections.
Using a blender instead of an Immersion Blender
If you don't have an immersion blender [affiliate link], consider buying one. They can really make so many jobs more manageable. When it comes to vegetable soups, an immersion blender is really a valuable tool. If, however, that isn't an option, you should be able to use your regular kitchen blender.
You know your kitchen tools better than I do, so I recommend using your blender instructions and common sense when blending hot liquids.
After simmering the asparagus stocks in vegetable stock for a while, blend the soup. A standard blender is your choice if you don't have an immersion blender.
Be careful when dealing with hot liquids in your blender. Don't fill your blender more than about half full when dealing with hot liquids.
Use a kitchen towel when holding the top of your blender when dealing with hot liquids. Blend in batches. These are the basics of blending hot liquids in your blender, but the most important thing is to be safe and not burn yourself!
Really, though, immersion blenders are awesome. As a person who does not like too many kitchen gadgets, I feel like this one is worth it!
🤷 Substitutions and variations
There are a few ways that this can be changed up.
Dairy - So, my recipe calls for heavy cream because heavy cream is delicious. I put no warranties on the end product, but you should be able to substitute whole, 2%, or skim to lighten the load on calories and fat. Heck, you could even use sour cream.
Butter -I also start off with four tablespoons of butter. I think you could probably get away with two. I am not saying that the skim milk, 2 Tablespoons butter version of this soup is going to be as good as the full-fat recipe, but I get it. Sometimes, you just gotta watch them calories. Not me. Not today.
Vegan option - Use Olive Oil instead of butter and non-dairy milk instead of cream.
Vegetable Broth - You could use chicken stock or chicken broth instead. Also, for a low-sodium option, use low sodium broth or homemade broth to control the salt intake.
📦 Storage
Before storing the soup, you should allow it to cool down to room temperature to prevent the formation of condensation inside the container. Once the soup has cooled, transfer it to an airtight container. Glass or plastic containers with tight-fitting lids are ideal for storing soup.
If you plan on refrigerating the soup, it should be consumed within 3-4 days. Creamy soups are perishable and can spoil quickly.
However, if you plan on freezing the soup, you can extend its shelf life for 2-3 months. When freezing the soup, leave some space at the top of the container, as the soup will expand as it freezes. Storing the soup in smaller portions is also a good idea to make defrosting and reheating easier.
To thaw frozen asparagus soup, transfer it to the refrigerator and let it defrost overnight. Once the soup has defrosted, you can reheat it on the stovetop or in the microwave.
When reheating the soup, be sure to stir it occasionally to ensure that it heats evenly. If the soup seems too thick, you can add a splash of milk or broth to thin it out. Finally, check the soup for any signs of spoilage before consuming it, such as a sour smell or a change in texture.
🎓 History tidbit
Asparagus is believed to have originated in the eastern Mediterranean and Asia Minor regions, and has been cultivated for thousands of years.
The ancient Egyptians, Greeks, and Romans all enjoyed asparagus, and the vegetable was considered a delicacy during the Middle Ages.
In fact, the Romans were particularly fond of asparagus, and they even had special ships designed to transport the vegetable from the eastern Mediterranean to Rome. During the Renaissance period, asparagus became very popular in France and England.
King Louis XIV of France was a big fan of asparagus, and he had special greenhouses built to grow the vegetable year-round. Asparagus made its way to North America in the 1700s, and it was grown commercially in the United States by the mid-1800s. Today, asparagus is grown in many countries around the world and is enjoyed by people of all ages.
❓ FAQ
What are some good toppings to serve with creamy asparagus soup?
Some popular toppings for creamy asparagus soup include croutons, grated Parmesan cheese, chopped fresh herbs (such as parsley or chives), and a drizzle of olive oil.
Is asparagus soup healthy?
Asparagus is a nutrient-dense vegetable that is low in calories and high in fiber, vitamins, and minerals. However, the nutritional content of asparagus soup may vary depending on the recipe and ingredients used. Creamy versions of asparagus soup may contain more calories and fat than broth-based versions.
📝 Tips and tricks
Use an immersion blender [affiliate link] for best results, but you can also do this in small batches in your blender.
Buy fresh asparagus and I would suggest going for smaller spears.
To lighten the recipe, you could substitute whole, 2%, or skim milk for the heavy cream.
Use fresh asparagus for the best results.
🛠 Products used in this recipe
😋 Did you make this recipe?
That is awesome, and thank you so much for giving this Creamy Asparagus Recipe a try. If you could leave a rating in the comment area below, it would be greatly appreciated. This lets me know how I am doing and also helps others decide if they want to make this recipe. Most of all, thanks for visiting Ramshackle Pantry.
Print
📖 Recipe
Easy and Fresh Creamy Asparagus Soup
Author:

Ben Myhre

Prep Time:

5 minutes

Cook Time:

35 minutes

Total Time:

40 minutes

Yield:

4

bowls

1

x

Category:

Soup

Method:

Stove Top

Cuisine:

French
---
Description
A Simple and Fresh Creamy Asparagus Soup. It is easy to make and tastes absolutely delicious. There really isn't much to this recipe, but it tastes like a worldclass chef put it together.
---
4 tablespoons

unsalted butter

2

pounds

fresh asparagus

1

cup

onion, chopped

3

garlic cloves, minced

¼

cup

flour

6

cups

vegetable stock

2 teaspoons

salt, or to taste

1 teaspoon

pepper, or to taste

1

cup

, heavy cream
---
Instructions
Clean asparagus and separate tips. Set aside.
Remove bases and then cut asparagus into 2-3 inch sections
In large pot, put butter onion, garlic, salt. and asparagus bases into pot on medium heat, covered
Allow to cook for about 10 minutes
Add flour and stir
Add stock 2 cups at a time and stir to mix well
Bring to a boil at medium-high heat and cook for 15 minutes
Use immersion blender (or blender) to blend soup
Add tips, pepper and cook for five more minutes
Add cream and serve
Notes
Use an immersion blender for best results, but you can also do this in small batches in your blender.
Buy fresh asparagus and I would suggest going for smaller spears.
To lighten the recipe, you could substitute whole, 2%, or skim milk for the heavy cream.
Use fresh asparagus for the best results.
Use homemade or low sodium vegetable broth to reduce salt.
Nutrition
Serving Size:

1 Bowl (¼ of total)

Calories:

350 calories

Sugar:

7 g

Sodium:

1399mg

Fat:

30 g

Saturated Fat:

7 g

Unsaturated Fat:

4 g

Trans Fat:

0 g

Carbohydrates:

13 g

Fiber:

5 g

Protein:

5 g

Cholesterol:

31 mg
Keywords: creamy asparagus soup