This post may contain affiliate links. As an Amazon Associate I earn from qualifying purchases. Please read our disclosure policy.
This Easy Taco Soup recipe is so simple and quick! A perfect weeknight meal that doesn't skimp on flavor but gives you extra time to do other awesome stuff.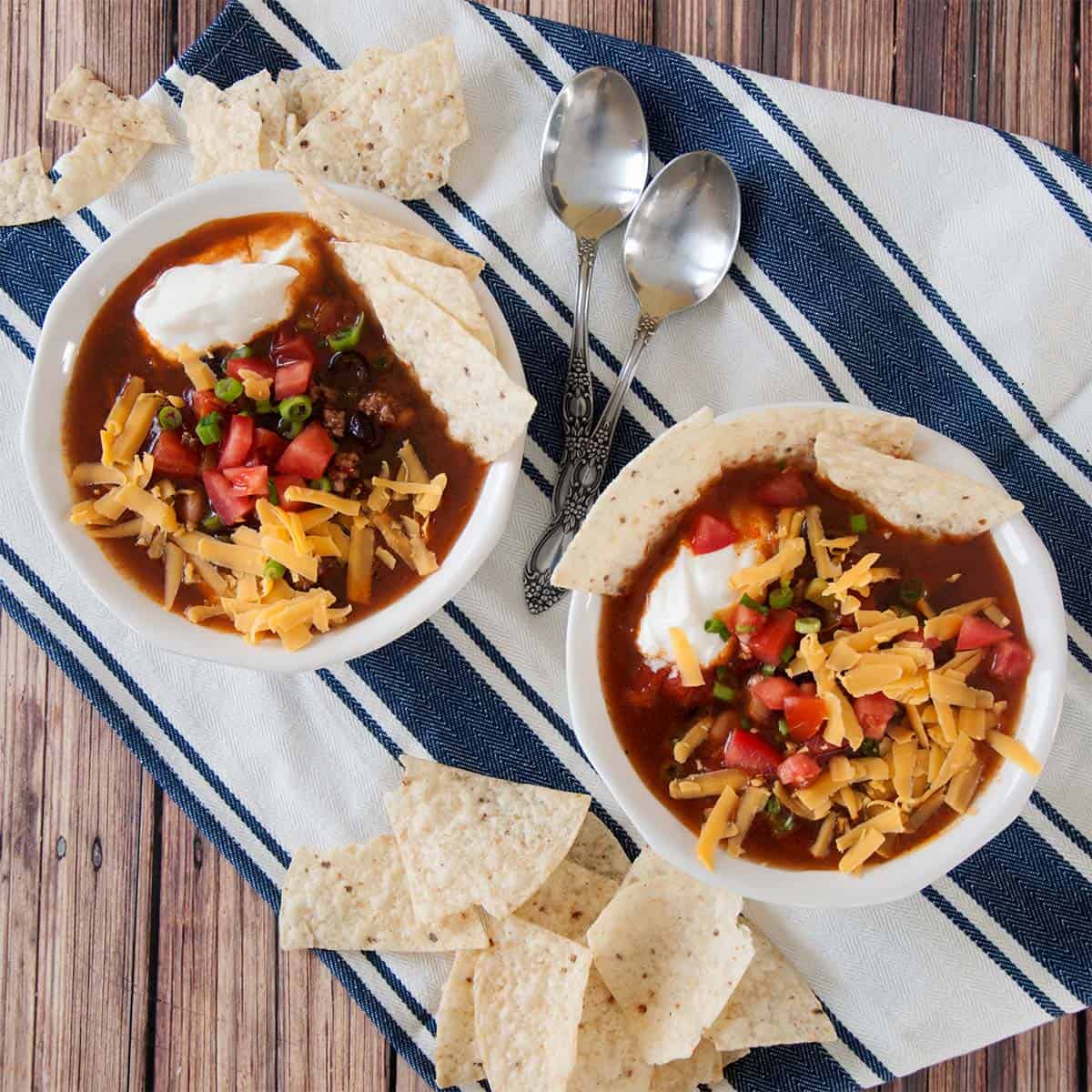 🌮 What makes this recipe special?
This Easy Taco Soup Recipe is everything a family wants in a quick weeknight dinner. Preparation is super simple, and it is done in half hour. We are cooking this in one pot so clean-up is super easy!
The best part is that it tastes absolutely fabulous. If you want to try out a Mexican recipe that is a bit more involved, you should check out this cheesy Caldo de Queso recipe.
Some of our other favorite soups are Knoephla Soup or Julia Child's Garlic Soup. No matter what, make sure to treat yourself a bit!
🥣 Taco Soup Ingredients
One of the great things about this recipe is how little it takes to make such a big-tasting meal.
Ground Beef
Taco Seasoning
Beef stock
Rotel Diced Tomatoes with Green Chilis
Black beans
Pinto beans
Black olives
Green chilis
Toppings
See the recipe card for quantities.
Taco Soup Toppings
When I think of a modern taco, I think primarily of the taco shell and the seasoned meat, but that is not all there is to a taco. It is common to find cheese, tomatoes, sour cream, peppers, or lettuce on them, as well.
You can incorporate these flavors into this soup! Just serve them as a garnish and you will be good to go. I only include tortilla chips as an essential ingredient for my recipe and counting calories.
Beyond that, I think you should go wild. I encourage you to have fun with it and help create that distinct taco flavor. If you think it belongs in a taco, try adding it as a topping.
🍲 Instructions
This recipe is as easy as cooking the ground beef and then adding the rest of the ingredients! That is it. Cooking the ground beef first is essential, however.

Then, top off each bowl with your favorite taco flavors.
🤷 Substitutions and variations
This taco soup is so versatile and open to so many changes. Use your common sense, dietary needs, and what you have to make something.
Beans – I use a can of pinto beans and black beans. You can really mix this up to whatever beans are appropriate for a Mexican dish or what you might see on a taco.
Meat – This is a taco soup with Ground Beef, but you could use other meats. Ground turkey could look good. Venison, sausage, or even leave the meat out! Want to try a fun vegetarian version, jackfruit might work great as well.
Toppings – So many toppings you could use for this. I call for chips, but you can use almost anything that would go on a taco.
Cook This in a Crock Pot or Slow Cooker – Cook the ground burger as you usually would on the stovetop, but instead of cooking the soup in a pot, add to your slow cooker. Four hours on high or six to eight on low.
Eat what you like. Change out what you need to!
📦 Storage
This soup is good for storing in either the fridge or the freezer. In the refrigerator, this soup should last several days if you keep it covered. In the freezer, it should last about six months.
🎓 History tidbit
Tacos are so versatile and have such a long history. They go back thousands of years! Here is an entire article on the history of the taco.
🫘 Chili Vs Taco Soup
One of the struggles I had when first thinking about this dish is how to separate it from chili. Chili has many of the same seasonings and ingredients. They are very similar. I don't, however, think them to be the same. Here is my Chili Con Carne recipe.
My taco soup is different from chili in two different ways. First, there is broth. When I think of chili, I think of a thick, hearty bean and beef stew with many chili flavorings. This is more of a beef taco soup.
With our taco soup, we are striving to make it more of a broth-based soup. So, while we are still using beans and chili powder (from the taco seasoning), it has a beef broth that separates it from chili.
Second, I am trying to closely imitate taco flavors with this taco soup. While tacos and chili share many ingredients, tacos still taste distinctly different than chili.
My ratios of seasonings are different in my chili and I don't use my homemade taco seasoning in my chili. I also encourage you to put toppings on this taco soup that make it feel more like a taco.
❓ FAQ
Can you freeze taco soup?
Yes, this works really well as a frozen soup. Just thaw and heat when you want to use it.
What meat goes with taco soup?
Ground beef is perfect, but ground turkey, pork, or venison would work great, as well!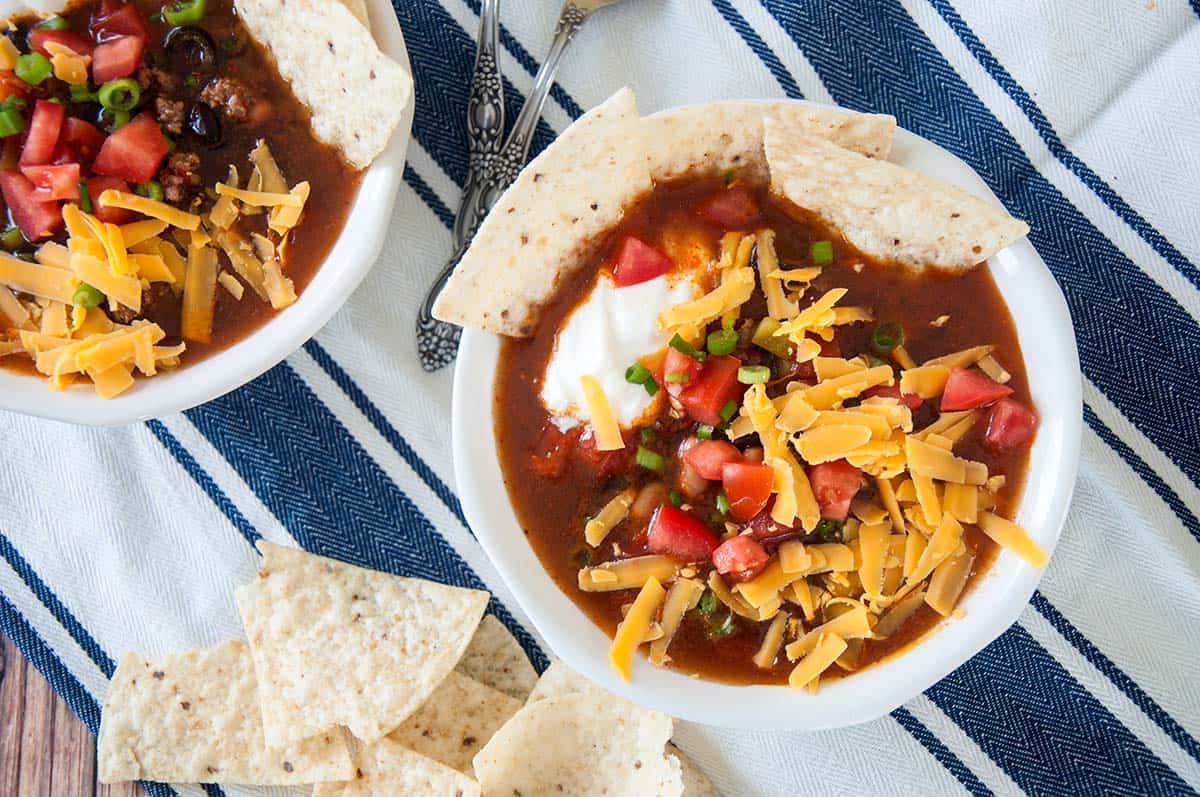 📝 Tips and tricks
Options for other toppings include shredded cheese, avocado, lettuce, peppers, or sour cream
🛠 Products used in this recipe
😋 Did you make this recipe?
That is awesome, and thank you so much for giving this Taco Soup recipe a try. If you could leave a rating in the comment area below, it would be greatly appreciated. This lets me know how I am doing and also helps others decide if they want to make this recipe. Most of all, thanks for visiting Ramshackle Pantry.
Print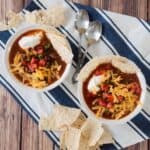 Easy Taco Soup Recipe
Author:

Ben Myhre

Prep Time:

5 minutes

Cook Time:

25 minutes

Total Time:

30 Minutes

Yield:

6

Bowls of Soup

1

x

Category:

Soup

Method:

One Pot

Cuisine:

Mexican
---
Description
This simple one-pot Easy Taco Soup Recipe might just become a family favorite. It is a quick and tasty meal that has barely any cleanup! The best part is that it tastes great.
---
1

Pound 80/20 ground beef

1

Packet taco Seasoning or Homemade Taco Seasoning.

32 Ounces

beef stock

10 Ounces

Rotel Diced tomatoes with Green Chilis

1

15 Ounce Can drained black beans

1

15 Ounce Can drained pinto beans

1

2 ¼ Ounce can sliced black olives, drained

4 Ounce

can diced green chilis

12

tortilla chips (optional)
Other toppings
---
Instructions
Add beef to Large Soup Pot over medium-high heat
Cook and stir 5-7 minutes until crumbly and brown.
While browning, open all cans and containers.
Add taco seasoning per packet instructions or use homemade taco seasoning instructions.
Add Beef stock and stir
Add rest of ingredients, minus tortilla chips.
Simmer for 15 minutes to a half hour.
Garnish with tortilla chips, any other toppings, and serve!
---
Notes
Options for other toppings include shredded cheese, avocado, lettuce, peppers, or sour cream