Can you grill carrots? Of course you can, and that is just what I share with you today. This Grilled Carrots with Honey Mustard Glaze is surprisingly easy and a great way to use your garden bounty.
Sweet flavors caramelize on the grill to provide a wonderful flavor, texture, and a touch of crunch. The homemade honey mustard in this recipe is super simple and has a great glaze that is brushed on this grilled veggie.
If you want something unique, memorable, and tasty, try these Grilled Carrots with Honey Mustard Glaze today.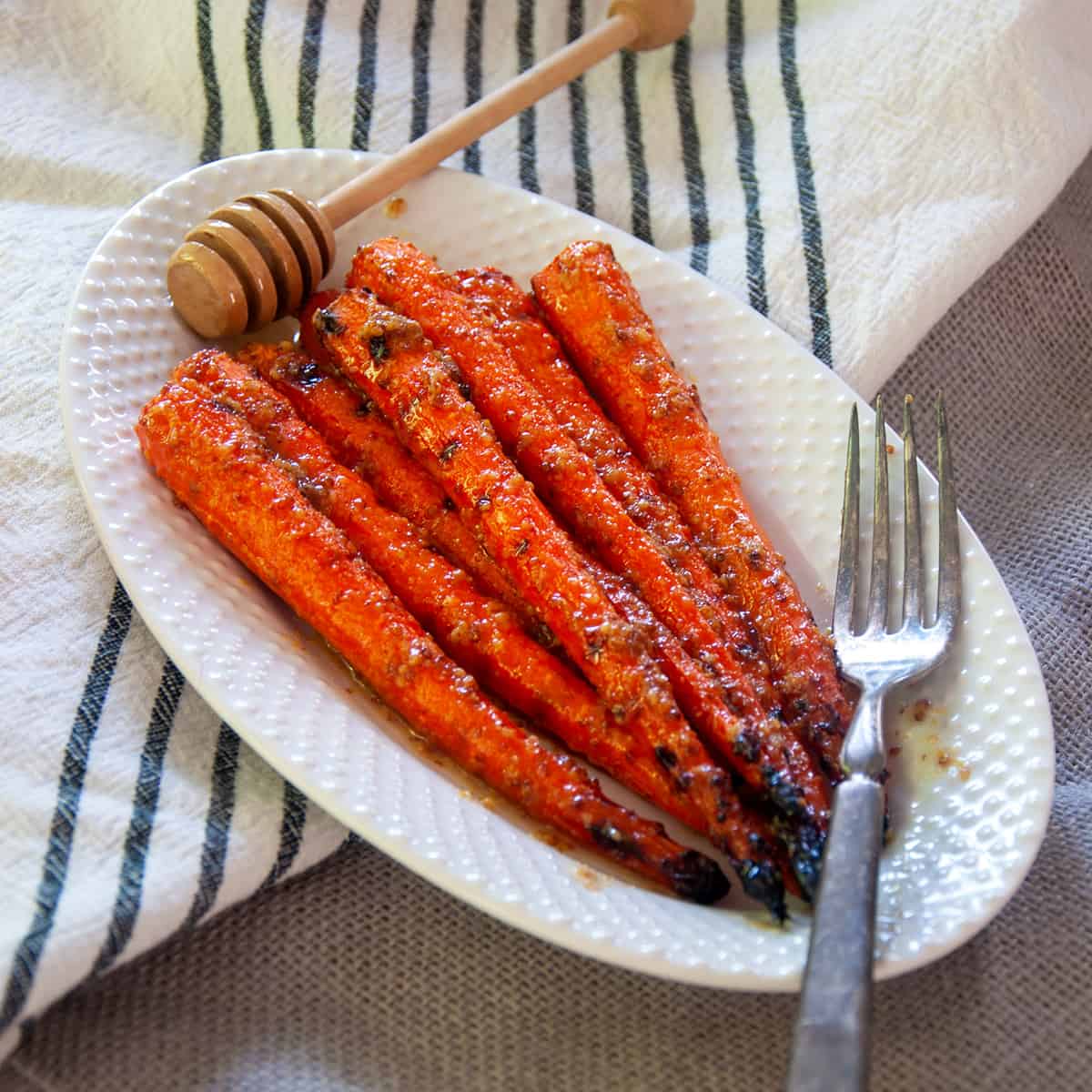 🥕 What makes this recipe special?
This Grilled Carrots with Honey Mustard Glaze recipe is really something unique. Why? Because we're taking carrots - yes, those everyday veggies - and giving them a whole new life on the grill.
Most of us eat carrots raw in salads or cooked in soups, but grilling them? That's not so common. This recipe lets the humble carrot shine.
Now, let's talk about that honey mustard glaze. It's a combo of tangy Dijon mustard and sweet honey that we brush on the carrots. This blend brings out a wonderfully sweet and savory flavor, adding a whole new dimension to the carrots.
The heat from the grill then caramelizes the sugars in both the glaze and the carrots, creating a delicious, slightly smoky, and crispy exterior. This is a great recipe that combines well with a tasty Sirloin Burger, a Grilled Lamb Burger, or Grilled Pork Chops.
Jump to:
🍯 Ingredients
Carrots are the star of this, but a few other ingredients come together to make this special.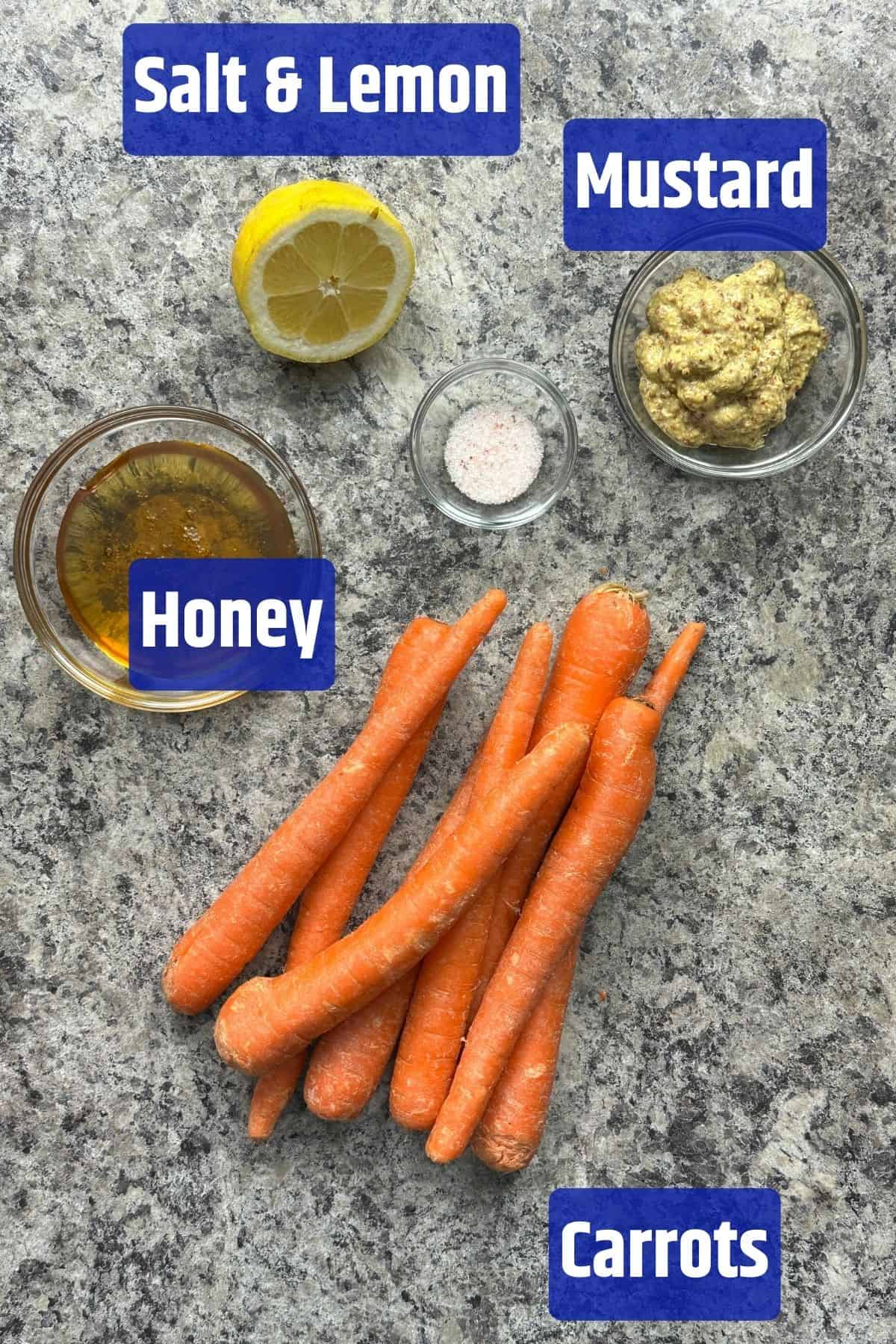 8 carrots
Dijon mustard
Honey
Lemon juice
Salt
See the recipe card for quantities.
🍲 Instructions
Getting these Grilled Carrots with Honey Mustard Glaze begins with creating a simple yet flavor-packed glaze. Dijon mustard, honey, lemon juice, and salt are combined to create a tangy-sweet sauce perfect for brushing onto carrots.
Next is the grilling stage. The grill should be set to medium-high heat. The carrots are cooked over indirect heat, meaning not directly over the flames. It's important to position the fatter parts of the carrots closer to the direct heat. This method helps the carrots cook evenly, as the thicker parts require more time to cook.
During grilling, the glaze is continually brushed onto the carrots. Turning them every so often is crucial to ensure an even cook. The goal is to grill them for about 30 to 40 minutes.
The finished carrots should be tender enough to easily sink a fork into but still firm enough to hold their shape. And with that, the Grilled Carrots with Honey Mustard Glaze are ready to enjoy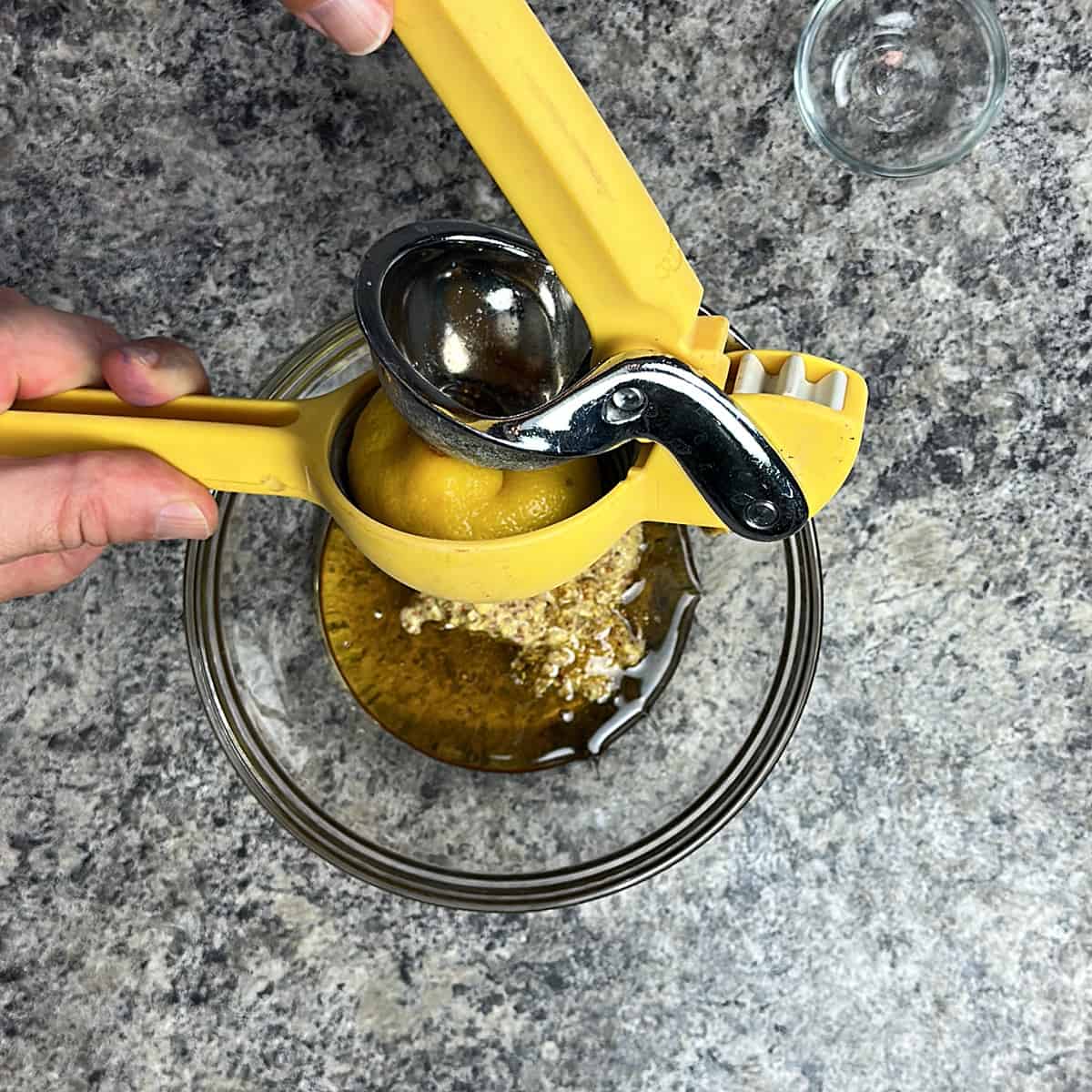 🤷 Substitutions and variations
Even though this recipe is simple and straightforward, there's room for customization. For those who want to mix things up, here are a few ideas:
If you don't have Dijon mustard on hand, another type of mustard can take its place. Grainy mustard or even regular yellow mustard could work in a pinch. Keep in mind that the flavor might change slightly, but that's the fun of experimenting!
For a vegan version, swap out the honey for a plant-based sweetener. Maple syrup could make a good substitute. It has a similar thickness to honey, and it caramelizes beautifully on the grill. Just remember, the flavor will be a bit different but still delicious!
If you're looking to add a little extra kick, consider adding some spices to the glaze. A bit of cayenne pepper or smoked paprika could give a nice heat and smoky depth. Or maybe some garlic powder for a savory touch. Feel free to get creative and make it your own!
📦 Storage
Once you've enjoyed your Grilled Carrots with Honey Mustard Glaze, you might find yourself with some leftovers. Don't worry. These can be easily stored for later enjoyment!
Cool the grilled carrots completely before storing them. Then place them in an airtight container and put them in the refrigerator. They should stay good for up to 3 to 4 days.
When you're ready to enjoy them again, you can reheat the carrots in the microwave for a quick option. If you prefer, you can also warm them up in the oven to help maintain their texture. Just set the oven to low heat, around 300°F, and warm the carrots until they're heated through.
Remember, though, that the texture of the carrots might change slightly after storage and reheating. But rest assured, they'll still taste great!
🎓 History tidbit
The carrot has a long and colorful history that's as vibrant as its orange hue. Believe it or not, carrots weren't always orange! The first carrots, which originated over 5000 years ago in areas like Iran and Afghanistan, were actually purple or yellow. These early varieties were quite different from what we know today - they were often thin and tough.
The sweet, orange carrot we know and love today didn't come into the picture until around the 17th century. In the Netherlands, plant breeders cultivated these orange carrots as a tribute to William of Orange, or at least that is one take on the carrot's history. It quickly became popular due to its sweet flavor and high beta-carotene content.
Now, carrots are enjoyed all over the world in a variety of colors, including orange, purple, red, white, and yellow. From raw snacks and cake to juices and now grilled dishes, it's impressive to see how this versatile root vegetable has grown in popularity through the ages!
❓ FAQ
What vegetables can I grill?
There are a wide variety of vegetables that taste great when grilled. Some popular ones include corn, zucchini, bell peppers, onions, asparagus, and eggplant.
How do I know when my grilled vegetables are done?
The vegetables should be tender and have nice grill marks on them. The specific cooking time can vary depending on the type and size of the vegetable, so it's a good idea to keep a close eye on them.
Can I make my own honey mustard?
Yes, you can! Simply combine equal parts honey and mustard. You can adjust the ratios to taste. For a creamier version, you can also add some mayonnaise.
Can I use baby carrots for grilling?
Yes, baby carrots can be used for grilling. However, keep in mind that they might cook faster than regular carrots due to their smaller size.
What are the health benefits of carrots?
Carrots are a great source of beta carotene, fiber, vitamin K1, potassium, and antioxidants. Carrots are a weight-loss-friendly food.
📝 Tips and tricks
Smaller carrots that are equal in size and as uniform as possible are best for this recipe
Charcoal is great for this, as the flavors imparted on the vegetable because of the amount of time it is on the grill.
Place the larger end of the carrots closer to the direct heat.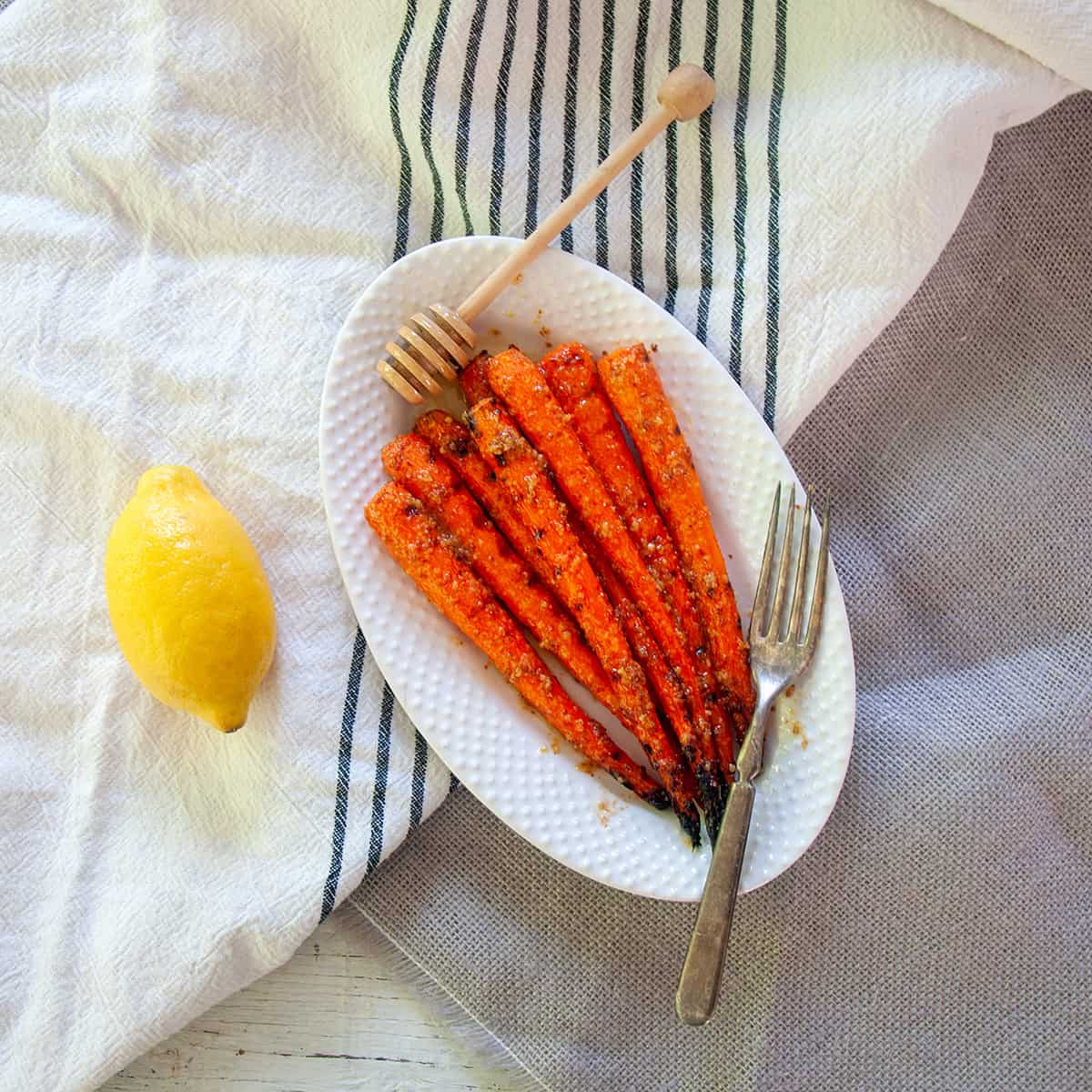 🛠 Products used in this recipe
😋 Did you make this recipe?
That is awesome, and thank you so much for giving this Grilled Carrots with Honey Mustard Glaze recipe a try. If you could leave a rating in the comment area below, it would be greatly appreciated. This lets me know how I am doing and also helps others decide if they want to make this recipe. Most of all, thanks for visiting Ramshackle Pantry.
Print
📖 Recipe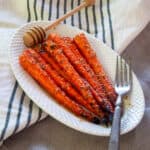 Grilled Carrots with Honey Mustard Glaze
Author:

Ben

Prep Time:

10 minutes

Cook Time:

40 minutes

Total Time:

50 minutes

Yield:

4

Servings

1

x

Category:

Side Dish

Method:

Grill

Cuisine:

American
---
Description
Step up your grilling game with these Honey Mustard Glazed Grilled Carrots! They're easy to make, loaded with flavor, and perfect for summertime cookouts. Get the recipe now!
---
8

carrots (2 carrots per serving), peeled

¼

cup

dijon mustard

¼

cup

honey

½

lemon, juiced

½ teaspoon

salt
---
Instructions
Mix mustard, honey, juice, and salt
Add to dish that carrots can fit in
Add carrots to same dish and spoon or brush glaze over carrots
With grill on medium-high heat, cook over indirect heat with fatter part of carrots closer to the direct heat.
Every so often, brush more of the glaze onto the carrots
Turn at about 20 minutes
Cook 30-40 minutes or until carrots are tender to the fork. They should still be firm, but you can sink the fork into them.
---
Notes
Smaller carrots that are equal in sized and as uniform as possible are best for this recipe
Charcoal is great for this, as the flavors impart on the vegetable because of the amount of time it is on the grill.
Place the larger end of the carrots closer to the direct heat.
Keywords: grilled carrots