One of the most identifying and unique elements of enchiladas (and much of traditional Mexican food) is the corn tortilla. Corn tortillas separate burritos from enchiladas. More importantly, they represent a long tradition of Mexican and South American foods that goes back thousands of years. In our last post, we made crockpot shredded beef. Today, we are going to make our own homemade corn tortillas for our enchiladas. Click here to go straight to the recipe.
Masa Harina and homemade corn tortillas
When I started down this recipe path, I wondered if I could just mill some popcorn I already have to make a corn tortilla. I mean, one might think that homemade corn tortillas are made from corn flour. WRONG! Well, sort of wrong. There is a difference corn flour and the flour we use to make corn tortillas. Masa Harina is the flour that we use in this recipe. It is different because the corn is soaked in a lime mixture and then ground to flour. Corn flour is just finely milled corn.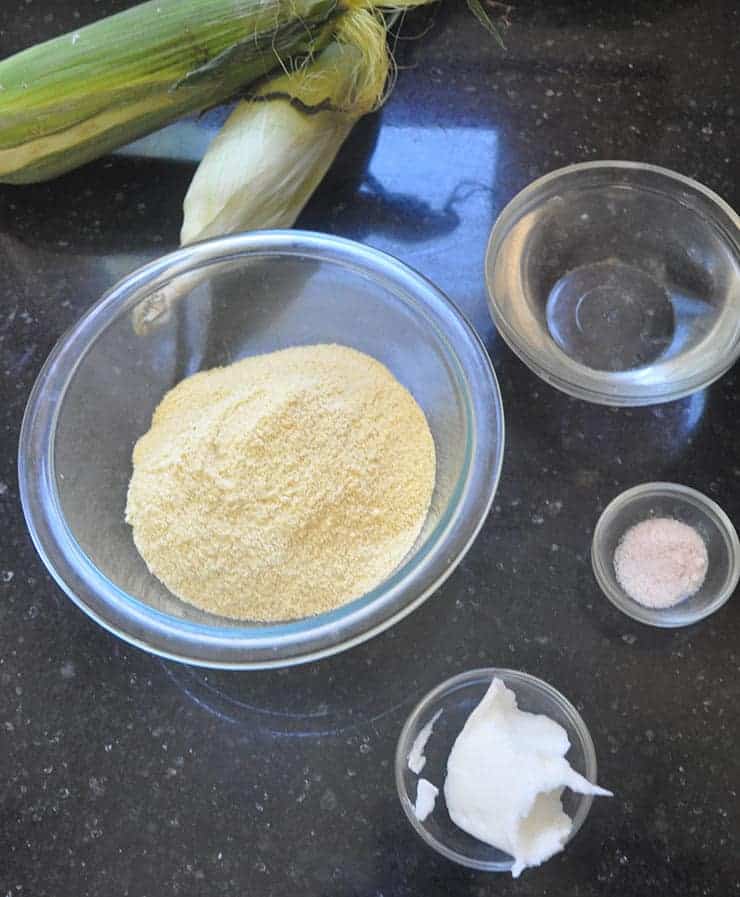 Incidentally, the only difference between corn meal and corn flour is how well it is milled. Corn meal has a bit more weight to it and is… well, you know… mealy.
Tortilla press
I am sure this would have been a much easier process with a tortilla press. I, however, decided not to purchase one (although a Victoria 8 inch Cast Iron Tortilla Press
can be found on Amazon). Instead, I just used a roller and it worked out well.
The end product may not have been quite as perfectly round had I used a tortilla press, but they were still great.
Practice makes perfect
I have been making my own flour tortillas for quite some time, so cooking these were not that much different. I will say, however, is that this can require a little bit of practice. If you allow them to cook too long, you can end up with a stiff board that tastes a bit more like a chip than a homemade corn tortilla.
My recommendation would be that practice makes perfect. After a few at the right heat, I was making some great little tortillas for my enchiladas. Look for the brown spots and don't let them cook too long.
Additionally, I used a cast iron for this and I feel this is the preferential cooking pan. Additionally, I used a thinner metal spatula to handle the tortillas. Like many households, we have a handful of plastic ones. They just seemed too thick and made it difficult to handle these fragile little flowers.
Overall, I really loved making these and pretty proud with how they came out. This recipe will make 12, but I may experiment with size to make them a little bit bigger. I made a great little homemade corn tortilla in much the same fashion that people did thousands of years ago.
Print
Homemade corn tortillas from scratch
Author:

Prep Time:

1 hour

Cook Time:

30 Minutes

Total Time:

1 Hour 30 Minutes

Yield:

12 tortillas

Category:

DIY

Method:

Skillet

Cuisine:

Mexican
---
Description
Makin your own homemade corn tortillas is both gratifying and makes for an excellent meal. This recipe is simple and really only needs a few ingredients.
---
Ingredients
1.5 cups masa harina
2 tbsp shortening or lard
1 cup water
Flour for kneading
Plastic wrap
---
Instructions
Add masa harina to large mixing bowl
Add salt
Add Shortening
Mix with hand. While mixing, slowly pour in water and continue to mix until consistent
Lightly flour kneading board
Knead for two minutes
Wrap in plastic wrap and place in fridge for half hour
Measure weight of entire mass and divide by 12
Separate dough into 12 equally weighted balls. roll in hands until it looks like a nice, even sphere and set all aside
Heat seasoned cast iron to medium – if using other pan, make sure there is a small amount of oil coating pan
For each of the 12 balls do the following:
Place ball between two sheets of plastic wrap
Use large can (I used a San Marzano 28 oz) to press ball down into something resembling a patty.
Using rolling pin, evenly roll out the patty until it is as thin as you can make it. This was a bit delicate.
How I did it was lightly roll and then twist the plastic wrapped dough 1/8 of a turn and lightly roll again until it was the desired thickness.
Gently pull away from plastic wrap and don't be afraid to ball it up and start over.
Place on cast iron and cook 1-2 minutes on each side.
There should be light brown marking spotting on the tortilla and it should not be stiff.
While one tortilla is cooking, I started rolling the next.
Gently stack into a large cloth and let cool (or eat)
Keywords: DIY Corn Tortillas