This Homemade Salsa Recipe brings your favorite Mexican restaurant's salsa into your dining room. Whether you need some tasty salsa for your tacos or just something to dip some chips, this simple salsa recipe from fresh tomatoes is one you should check out.
We have been spending a lot of time on the taco lately and we haven't even covered salsa! Today that changes with our best Homemade Salsa Recipe. To be completely honest, this is my wife's recipe. She is sharing it because it is yum yum good. While I do the majority of the cooking in our house, salsa has become sort of her realm. So, enjoy Ashley's Homemade Salsa Recipe!
The Benefit of Cooked Salsa
There are so many ways to cook salsa. Fresh, uncooked salsa can be terrific, but there is something special about restaurant-style salsa. The biggest benefit is that cooking the salsa helps to blends the flavors together.
Instead of sort of a salsa salad, cooking the ingredients gives a full-bodied complete mixture of ingredients. Sure, it does have it's individual components, but when this recipe stews, it helps all the flavors marry together. When you scoop up a bit of that salsa, you are guaranteed a bit of all the flavors.
Also, if you like blended salsas instead of chunky, stewing the ingredients helps make this more possible. Ashley is a big fan of the restaurant style salsa and this is a great homemade version of that. Cooking the salsa makes it possible.
Kind of Tomato to Use In Salsa
During the summer, it is a no brainer for us. We pick whatever we have in the garden and can it or use it. We do end up making salsa throughout the winter, however, when tomatoes cannot be found in the garden... at least in the tundra of North Dakota. So, we go to the store and pick them out.
Big vs Small Tomatoes
We chose to include some of the tomato varieties that are more common among sauces. Roma tomatoes are widely available and often times are very economical. While they tend to be a variety that is used in tomato sauce or chunky fresh salsas, they also add some thickness to our salsas. We call for 4.5 pounds of tomatoes and about half of them are Roma.
The downside of using all Roma tomatoes is that the salsa starts to taste dry. So, we add some of the bigger varieties like Big Boy and Celebrity tomatoes. About half of our salsa is of these other varieties. The other downside of Roma Tomatoes is that they are a bit smaller and tend to be a little more work in peeling.
Blanching Tomatoes
The purpose of blanching tomatoes for this homemade salsa recipe is to remove the skin. Putting tomatoes in boiling water for a brief period of time helps loosen the skin and makes it easy to peel. For many recipes, it is desirable to put the tomatoes directly into an ice bath to stop the cooking, but we are not going to do that for this recipe.
We are just going to end up chopping them and putting them right back in a pot to cook. If you feel more comfortable putting them in an ice bath and are just used to it, feel free. Handling hot tomatoes right after blanching can be a bit uncomfortable, but I find that they cool down relatively quickly.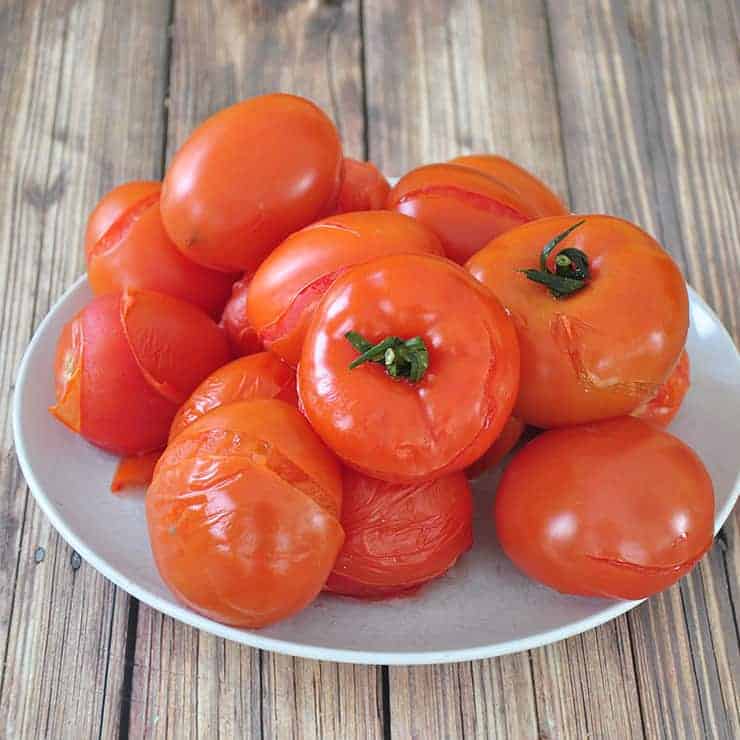 Changing up the Salsa Ingredients
If you don't like an ingredient in our recipe, don't add it. If you like more of something, add some more of that ingredient. There is so much leeway for your own personal tastes in this recipe. For example, we use jalapeno in this recipe, but I have been known to dabble in Carolina Reaper peppers. If you like that or Habenero peppers or whatever hot pepper, use that. Just make sure you know what you are getting into with some of the hot ones.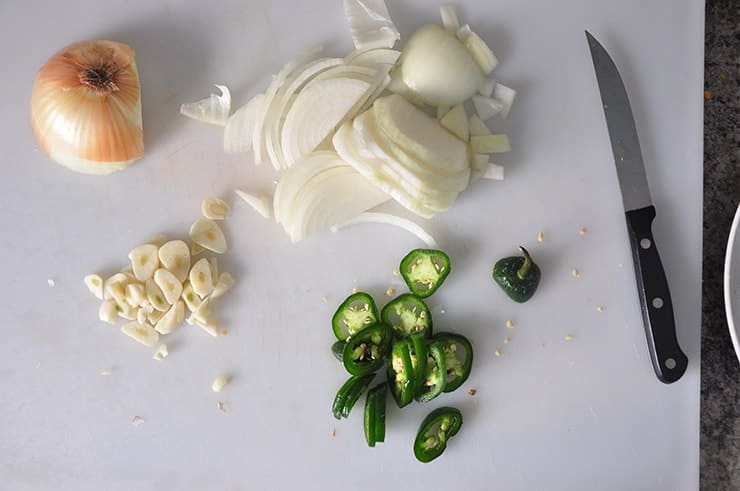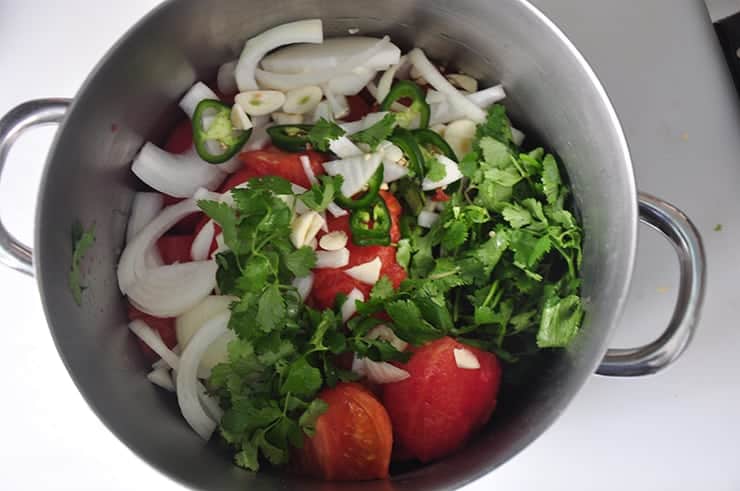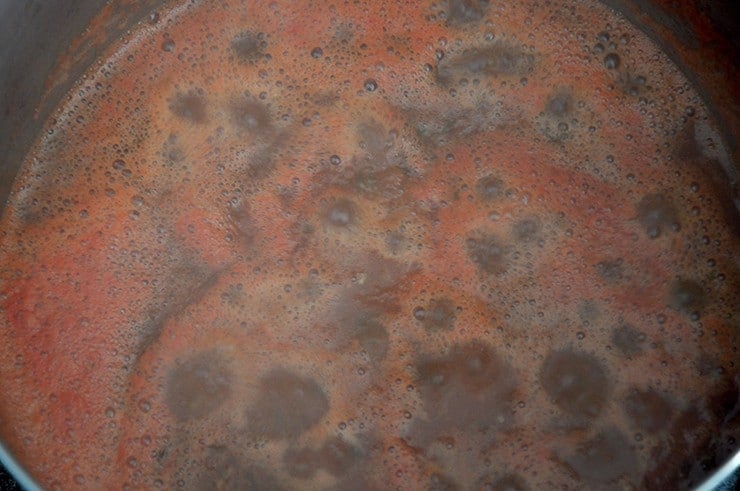 Tips For Making This Salsa
Blanch tomatoes by dipping in boiling water for 30 seconds to one minute. Remove with metal spoon and allow to cool. The skin should be loose and peelable.
We use about ½ Roma Tomatoes and ½ Big Boy, but the kind of tomato is a bit lenient. Use what you have or what you like!
Like it spicier? Use more pepper or a hotter pepper. A Habenero is always nice for a hot sauce.
We freeze this salsa and it turns out great.
Products Used In Recipe
Did you Try This Salsa Recipe?
Awesome! Thank you so much for trusting me (and Ashley) enough to let this recipe into your kitchen. Let me know how it went in the comment section below and a rating would be greatly appreciated. If you share this on Pinterest or Facebook, it would be greatly appreciated.
Print
Ashley's Homemade Salsa Recipe
Author:

Homemade Salsa Recipe

Prep Time:

15 minutes

Cook Time:

30 minutes

Total Time:

45 minutes

Yield:

2 quarts

1

x

Category:

Salsa

Method:

Stewed

Cuisine:

Mexican
---
Description
This restaurant-style Homemade Salsa Recipe is one for the books. It is easy to make and is super delicious. This salsa is a go-to in our house and now it can be the same in yours!
---
4 ½

Pounds Peeled, cored, and quartered Tomatoes (

½

roma 

½

celebrity or big boy)*

¾

Onion, Chopped

4

Garlic Cloves, peeled

¼ cup

jalapeno, chopped

¼ cup

cilantro, chopped

½ teaspoon

salt

½ teaspoon

sugar

½ teaspoon

cumin
---
Instructions
Add all ingredients to large pot
Bring to simmer and cook on medium low for 15 minutes
Use Hand Blender to blend
Simmer for another 15 minutes
Allow to cool and serve
---
Notes
*  Blanch tomatoes by dipping in boiling water for 30 seconds to one minute. Remove with metal spoon and allow to cool. The skin should be loose and peelable.
---
Nutrition
Serving Size:

½ cup

Calories:

26 Calories

Sugar:

4 g

Sodium:

81 mg

Fat:

0 g

Saturated Fat:

0 g

Unsaturated Fat:

0 g

Trans Fat:

0 g

Carbohydrates:

5 g

Fiber:

2 g

Protein:

1 g

Cholesterol:

0 mg
Keywords: Homemade Salsa Recipe