This post may contain affiliate links. As an Amazon Associate I earn from qualifying purchases. Please read our disclosure policy.
Gather 'round, citrus enthusiasts and party goers! Tailgaters and birthday boys. Zesty lemon meets chilled vodka with this Lemon Drop Shot recipe.
This isn't just a drink; it's a sensory experience. One that we love sharing and savoring together. When shots are called for, this drink is perfect for everyone.
A burst of refreshing flavors but also the joy of connection and shared moments. It's a drink, a memory, a toast to us all enjoying a sport, a party, or a moment with your friends. Dive in and make memories, one Lemon Drop shot at a time!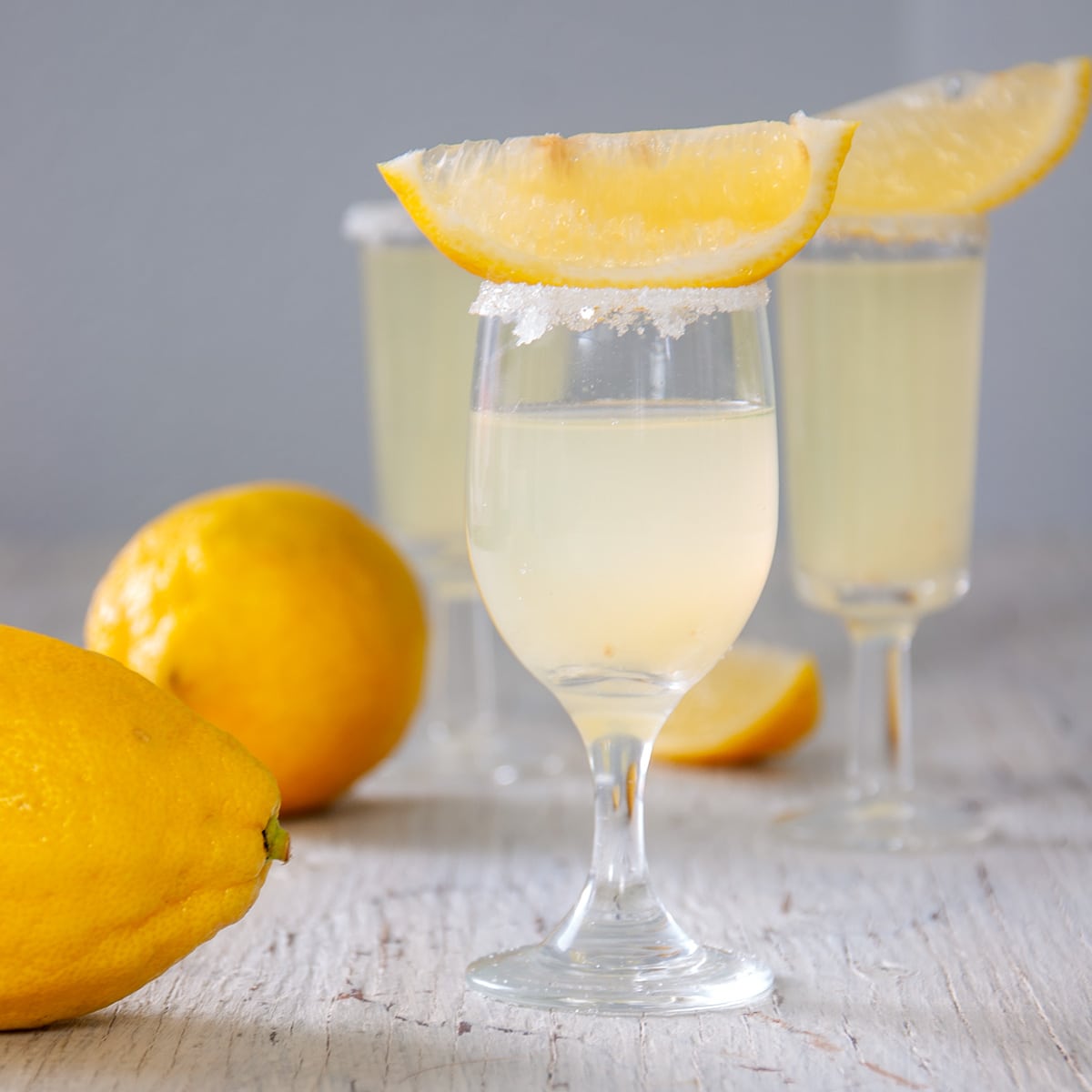 🍋 What makes this recipe special?
Ah, the Lemon Drop Shot – it's not just another drink on the menu. Its beautiful balance of zesty lemon and cool, smooth vodka sets it apart. A sugar rim tames the tartness in this drink. This delightful trio dances on the palate, creating an invigorating and comforting taste.
But it's not just about flavor; it's about moments. Every sugared rim and tangy sip is an invitation to share, laugh, and connect. In a world of complex drinks, our Lemon Drop stands as a testament to the beauty of simplicity and shared experiences.

Looking for other shot recipes? Give this Total Yodel shot a try or maybe our Moscow Mule Jell-O Shots recipe. If you are looking for a cocktail, think about checking out this tasty, fruity Appletini cocktail recipe.
🍸 Ingredients
Well, I mean… lemon. But there is another ingredient or two. Here is what you need.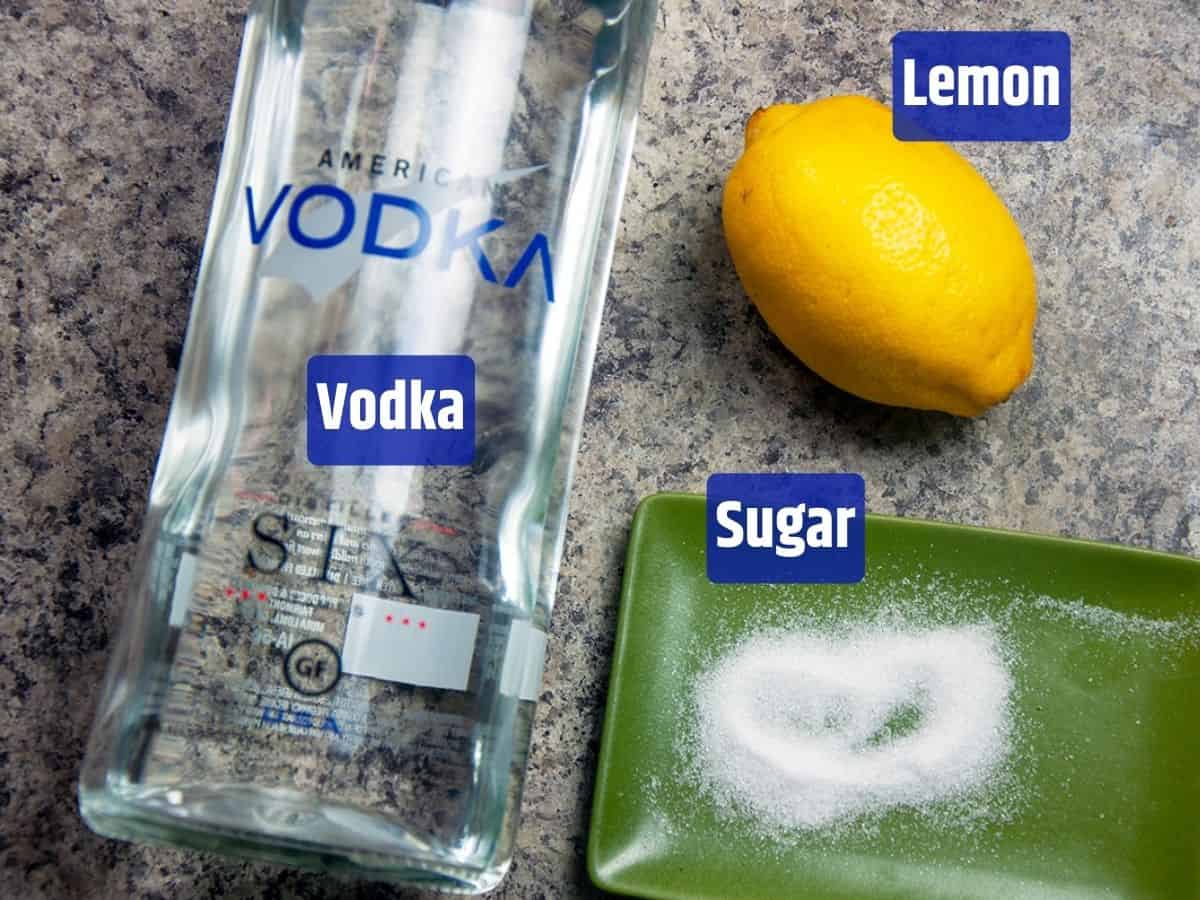 Vodka
Lemon juice
Lemon wedge
White sugar
See the recipe card for quantities.
🍲 Instructions
Let's kick things off with that sun-kissed lemon wedge. Gently roll it in sugar, ensuring every bit is coated. This step sets the stage for the tangy-sweet magic that's about to unfold.
Now, take your shot glass and moisten the rim. Rim it with sugar to get that sparkly, sweet edge. With this, you're not just prepping a glass, you're setting the scene for a memorable sip.
Lastly, pour your chilled vodka and fresh lemon juice into that awaiting glass. It's a mix that promises pure, unadulterated zest and kick. And just like that, you're ready to take the Lemon Drop plunge!
Drink the drink and then suck on the sugar-coated lemon. Do it with your friends for a better-tasting drink.
🤷 Substitutions and variations
Prefer this as a martini? Instead of a 1:1 ratio of vodka, I would recommend 2 ounces of vodka, 1 ounce of lemon juice, and ½ ounce of simple syrup. Still, rim your martini glass with sugar.
Got no vodka in the house? No worries! Swap it out for white rum or gin; each brings a unique twist, but the lemony goodness remains constant.
Want to make this in bulk? It is a 1:1 vodka to lemon juice ratio. You can premix that and then pour into individually rimmed shot glasses and sugared lemon wedges.
🎓 History tidbit
In its cocktail form, the Lemon Drop history its origins back to the 1970s in the heart of California. Specifically, it was the brainchild of a bartender named Norman Jay Hobday, who served it up at Henry Africa's bar in San Francisco. This delightful concoction was inspired by the tangy lemon-flavored candy, aiming to bring those childhood memories into a grown-up setting.
As the drink's popularity soared, bartenders began crafting it into a shot, encapsulating that burst of citrusy sweetness in a exhilarating sip. Today, it's not just a drink; it's a nod to nostalgia, a bridge between the playful past and the spirited present.
From a bar in San Francisco to shot glasses worldwide, the Lemon Drop Shot remains a testament to innovation, reminding us that sometimes, the best inspirations come from the simplest of places: our memories.
❓ FAQ
What kind of vodka is best for a Lemon Drop Shot?
While any vodka works, many prefer a premium, smooth vodka for a refined taste. Some also enjoy citrus-infused vodkas to amplify the lemony kick!
Can I use bottled lemon juice instead of fresh?
Fresh lemon juice is the gold standard for its vibrant and authentic flavor. However, bottled lemon juice can be a substitute if you're in a pinch. Just be mindful of preservatives and potential added sugars.
How can I make my Lemon Drop Shot less sweet or more tart?
The beauty of this shot is its adaptability! For a less sweet version, reduce the sugar or skip the sugar rim. For a more tart kick, increase the lemon juice slightly or add a touch of lemon zest.
What's the difference between a Lemon Drop Shot and a Lemon Drop Martini?
Both drinks share similar core ingredients, but the martini is typically larger and served in a martini glass, often with added sweeteners like triple sec or simple syrup.
Why is the sugar rim important?
The sugar rim adds a delightful contrast to the tartness of the lemon. It elevates the sensory experience, balancing the sharpness of the lemon and vodka.
📝 Tips and tricks
You can use bottled lemon juice, but fresh is best.
The brand of vodka is not that important for this recipe, but the better the vodka, the better the drink.
Make sure your shot glasses are at least 2 ounces
You can make multiple shots at once by premixing the lemon juice and vodka, but make sure to stir before pouring.
🛠 Products used in this recipe
😋 Did you make this recipe?
That is awesome, and thank you so much for giving this Lemon Drop Shot recipe a try. If you could leave a rating in the comment area below, it would be greatly appreciated. This lets me know how I am doing and also helps others decide if they want to make this recipe. Most of all, thanks for visiting Ramshackle Pantry.
Print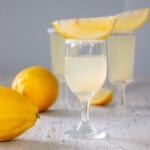 Lemon Drop Shot Recipe
Author:

Ben

Prep Time:

2 minutes

Cook Time:

2 minutes

Total Time:

4 minutes

Yield:

1

shot

1

x

Category:

Cocktail

Method:

Mix

Cuisine:

American
---
Description
Unveil the ultimate Lemon Drop Shot recipe! Crafted with crisp vodka and zesty lemon, this tantalizing drink is perfect for any gathering. With its sweet sugar rim and invigorating citrus burst, it's a top choice for cocktail enthusiasts. Elevate your drink repertoire and enjoy the perfect blend of sweet and tangy in one sip. Ideal for sharing, reminiscing, and making memories!
---
1 ounce

vodka, chilled

1 ounce

lemon juice

1

lemon wedge

1 teaspoon

white sugar, approximately
---
Instructions
Roll lemon wedge in sugar to coat.
Moisten shot glass and rim with sugar.
Add vodka and lemon juice to shot glass.
Drink and then immediately suck on lemon wedge.
---
Notes
You can use bottled lemon juice, but fresh is best.
The brand of vodka is not that important for this recipe, but the better the vodka, the better the drink.
Make sure your shot glasses are at least 2 ounces
You can make multiple shots at once by premixing the lemon juice and vodka, but make sure to stir before pouring.
Keywords: lemon drop shot