We are going to have some fun today with our first ever shot recipe. In our tradition of keeping it a bit weird at Ramshackle Pantry, we are coming up with a shot recipe based around Yodeling. Stick with me and this tasty, herbal, and spicy shooter recipe will have you yodeling with delight.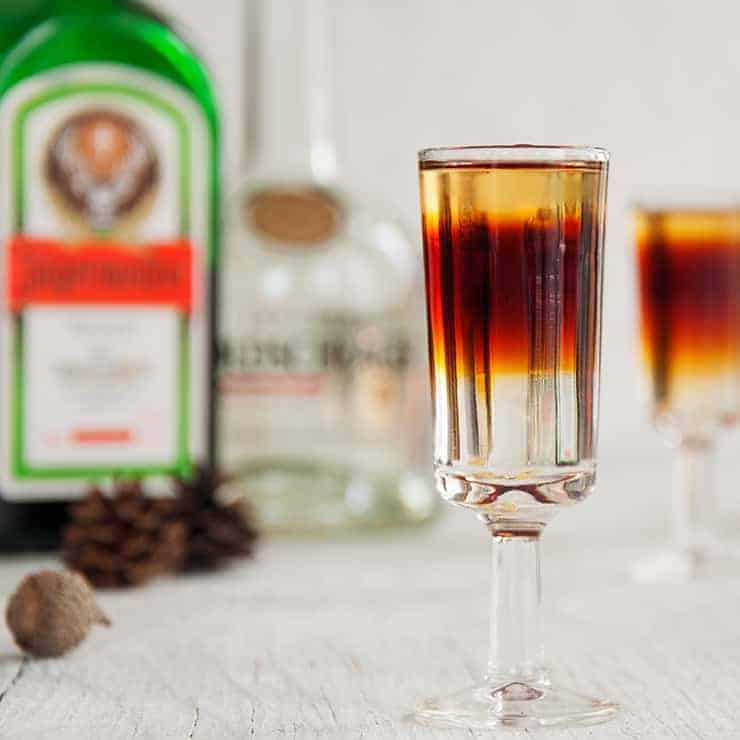 About The Total Yodel Shot Recipe
We recently made a traditional Norweigan drink recipe named Glogg that uses Norweigan Aquavit and I wanted to continue with the Aquavit theme. How else could I use this spirit? Well, I have been sipping it straight and that is pretty good, if the bottle is stored in the freezer. I thought combining spirits that share something with Aquavit could make for a great shooter. Norway has plenty of mountains. Add in some Jägermeister from mountainous Germany and Goldschläger from Switzerland ... BLAMMO, a new shot recipe!
It seems like such a great combination, as they all have a great complimentary flavor when mixed. All of these spirits involved come from that Northern European region and all of the countries are known for having an alpine, mountainous, climate. Also, there is a tradition of Yodeling in all of these countries.
History of Yodeling
I am not going to dive too deep into the history of Yodeling, but Wikipedia indicates that this practice likely originated from alpine communities communicating with each other and it's own population.
In the context of this drink, I hope to share two things with you in terms of yodeling. First, all of the spirits involved come from countries that have a tradition of Yodeling, even if it is called Kulning in Norway. Second, once you have a shot of this drink, I hope to have you yodeling!
This shot does have the sweetness of Goldschläger layered on the bottom, then a layer of Jagermeister, and the light Aquavit on top. As you can tell from the images, it can layer out quite nicely.
The Temperature of Spirits in The Total Yodel
All three of these spirits can be stored in the freezer and that is how I recommend serving them in this shot. It will be absolutely fine if you don't store in the freezer, but expect the taste to be just a bit harsher.
Layering Shots
It is not that difficult to layer shots as long as your ingredients are of different weights. It really comes down to the weight of the liquid when it comes to layering. Here is a quick tutorial on the subject of shot layering and this is a great chart on the Specific Gravity (or weight) of various spirits. When I layer in a regular shot glass, just a normal spoon works well for adding liquors gently to your masterpiece.
Total Yodel Tips Summary
Store all of the spirits in the freezer. It makes for a better shot.
Use a spoon to layer the alcohol.
Aquavit is a Scandanavian spirit that is great for recipes like this, Glogg, and for sipping alone.
I tend to use Linie for my Aquavit, but don't forget your local distillers. Particularly if you are from an area with a Scandanavian background, you might have a local distiller. Here in Fargo, we have Proof Distillery, which makes a full line of spirits... including Aquavit! Show your local distillers some love.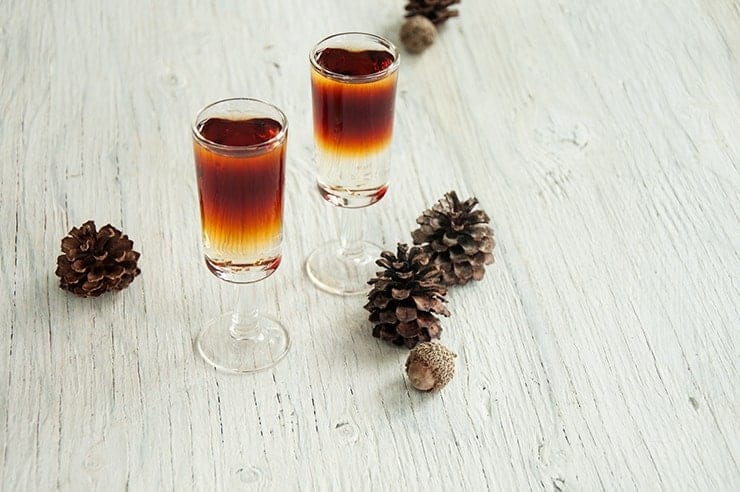 Products I Used In This Recipe
Did you Make The Total Yodel Recipe?
Awesome! Thanks for giving it a try. You can always help me out by leaving a comment or sharing this recipe on Pinterest or Facebook. Of course, I would LOVE for you to subscribe to my email list so I can send you new recipes on occasion!
Print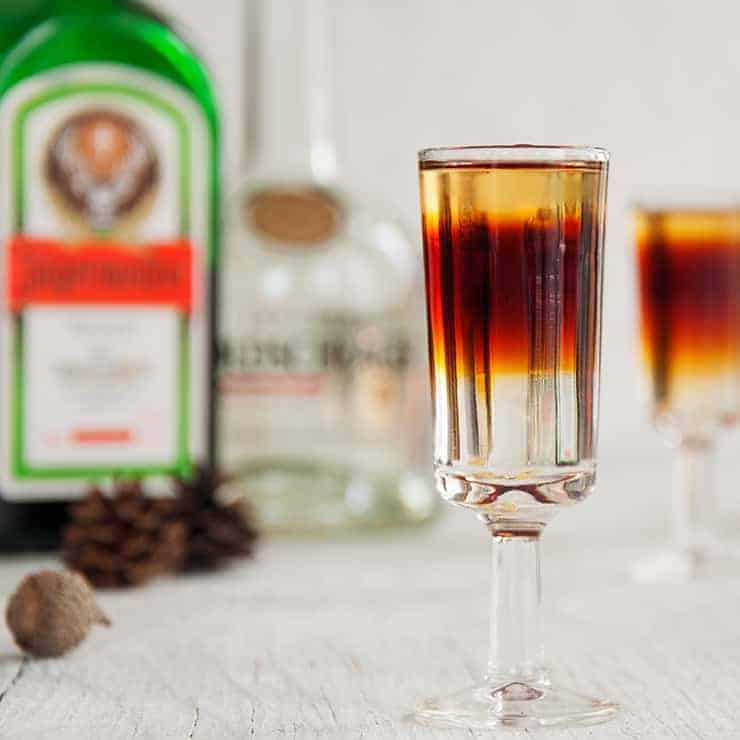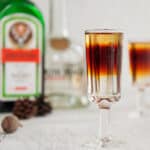 The Total Yodel - An Alpine Inspired Shot Recipe
---
Author:

Ben Myhre

Prep Time:

1 minute

Cook Time:

2 minutes

Total Time:

3 minutes

Yield:

1

Shot

1

x
Description
This shot recipe is spicy, herbal, and a tour through European alpine community. The Total Yodel combines aquavit, Goldschlager, and Jagermeister to make a delicious drink.
---
½ Ounce

Goldschlager

½ Ounce

Jagermeister

½ Ounce

Aquavit
---
Instructions
Add Goldschlager to shot glass
This is a layered drink, so you will want to use a spoon to layer the Jagermeister on top of the Goldschlager.
Using spoon, layer Aquavit on top.
Category:

Shot

Method:

Layer

Cuisine:

European
Nutrition
Serving Size:

1.5 Ounces

Calories:

119 Calories

Sugar:

7g

Sodium:

0 g

Fat:

0

Saturated Fat:

0

Unsaturated Fat:

0

Trans Fat:

0

Carbohydrates:

9 g

Fiber:

0 g

Protein:

0 g

Cholesterol:

0 mg