The Grasshopper Cocktail is a sweet, minty, chocolatey, and creamy adult drink. It is colorful and has a ton of flavor to match.
If you are looking for a fun, green drink that might be just as close to a dessert as a cocktail, the Grasshopper is for you. A perfect St. Patrick's Day drink or just if you are looking for boozy dessert-like cocktails. Give this dessert cocktail a try today!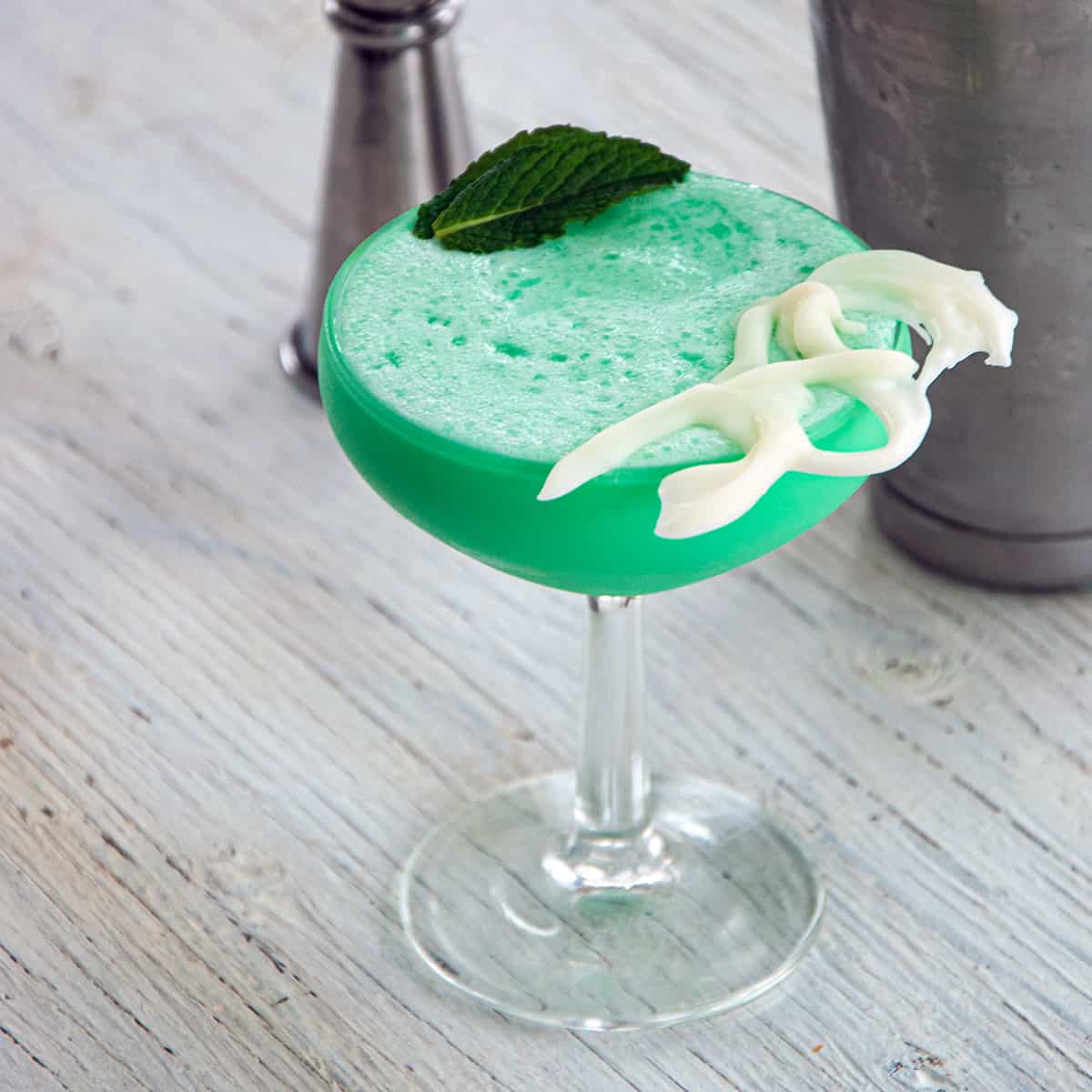 🍸 What makes this recipe special?
This is a simple drink but has such comforting flavors with mint and chocolate. It is almost like a candy bar in a cocktail glass.
This is a classic recipe and stays true to its classic cocktail roots. Get out your chilled martini glass, your sweet tooth, and make this lovely Grasshopper drink recipe today.
Check out this RumChatatini, Appletini, or the Classic French Martini for some other sweet novelty cocktails. No matter what you make, make sure to treat yourself.
Jump to:
🌿🍫 Ingredients
There isn't much to this cocktail, and the flavor is bigger than the simple ingredients suggest. Here is what you will need: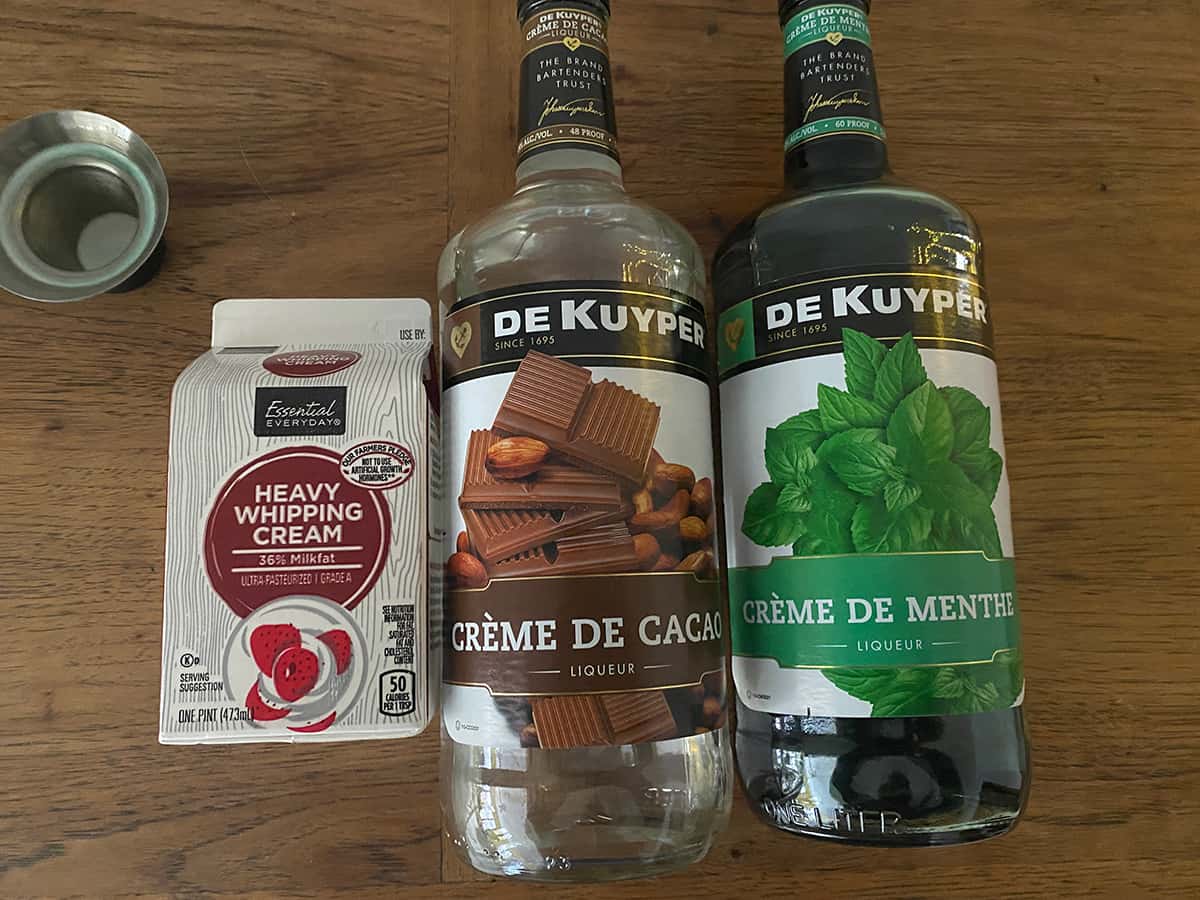 Crème de Menthe
Crème de Cacao
Heavy whipping cream
Chocolate or Mint garnish (optional)
See the recipe card for quantities.
Crème de Cacao
This chocolate-flavored liquor has been around as far back as the 1600s. There are a few different versions of this cocktail, however. It comes in a dark variety and a light variety. For this drink, use the light stuff, sometimes called white Crème de Cacao, as it will help give it a better grasshopper green color.
Crème de Menthe
This liquor has been around for a very long time and has a French origin. While this is the younger of the two liquors (the late 1800s), it tastes great alone. However, combine it with the rest of this cocktail's ingredients, and we have something special.
What Kind of Dairy To Use
I call for heavy whipping cream because I don't skimp when it comes to cream. The reality is. However, you can use what you have. If you only have 2% or light cream, use that. Whole milk? Use that. Skim? Those might be some fighting words, but you could use that. Use heavy whipping cream for the best cocktail.
🍲 Instructions
Just put some clear Crème de Cacao, dark Crème de Menthe, and heavy cream into a cocktail shaker with ice. Give that combination a good shake and pour it into a coupe glass, cocktail glass, or martini glass. Maybe you garnish it with mint, chocolate, or even both!
If you want to push things over the top, use some chocolate syrup in the martini glass before you pour from the shaker to the glass. This gives a cute look and adds some extra chocolate flavor.
🤷 Substitutions and variations
There are a few ways that this can be changed up.
Chocolate and Mint Garnish - You could substitute several things for garnish. Basically, try anything that works well with minty chocolate and is appropriate for a martini glass. Anything from chocolate shavings, to mint leaves, or as you can see we used a white chocolate garnish.
De Kuyper - This is the brand I use for my liqueur, but you really could use your favorite brand or what you have on hand.
Use Irish Cream - Want to kick it up a notch? Try using Baily's Irish Cream instead of heavy cream.
📦 Storage
This is not really a drink meant for storage. One could, however, mix equal parts Crème de Cacao, dark Crème de Menthe, and heavy cream to a medium beverage container that has a cap.
Store in the refrigerator and then shake when ready to serve. Pour it over ice OR shake in a shaker and strain.
I would not recommend having these mixed for more than a day. Think this would best work if you are having a small gathering the same evening and wanting to prepare a beverage that can be easily poured into a shaker glass.
🎓 History Tidbit
As we already noted, Crème de Cacao has a long history and Crème de Menthe goes back to the late 1800s. The Grasshopper Cocktail, however, has a New Orleans origin from around 1918.
Actually, the legend is that it was a New Orleans bar owner, Philip Guichet (sometimes named as Philibert Guichet), who entered into a cocktail competition in New York City. The result ended up being the Grasshopper Cocktail.
Even though it only won second place, it won first place in the hearts of many. The restaurant and bar in question is still in business and can be visited today.
Philip Guichet was the proprietor of Tujague's. They have a history that goes back over 160 years. One piece of their legacy is claiming the Grasshopper Cocktail as their creation.
I searched general media to see if I could better corroborate that history. Still, I could only find a printed record of the Grasshopper going back to a 1950 Town and Country magazine. In the 50s and 60s, this drink gained popularity, and I understand why. It is delicious.
We are no stranger to New Orleans drinks (check out our Sazerac recipe) or dishes (check out our Baked Shrimp Po' Boy recipe), and now the Grasshopper cocktail is part of our knowledge!
❓ FAQ
What is a Grasshopper cocktail?
The Grasshopper is a sweet, mint-flavored cocktail that is typically made with equal parts green crème de menthe, white crème de cacao, and heavy cream. It is often served in a cocktail glass and garnished with a sprig of fresh mint.
What is the flavor of a Grasshopper cocktail?
The Grasshopper is a sweet, creamy cocktail with a strong mint flavor and a subtle chocolate undertone.
What food goes well with a Grasshopper cocktail?
The Grasshopper is a dessert cocktail, so it pairs well with sweet, chocolatey desserts like cake, brownies, or ice cream. It could also be served as a digestif after a meal.
📝 Tips and tricks
Use light Creme de cocoa to get the best color.
I use a coupe glass, but you can use a rocks glass or a martini glass if it works better for you
A little chocolate goes great with this.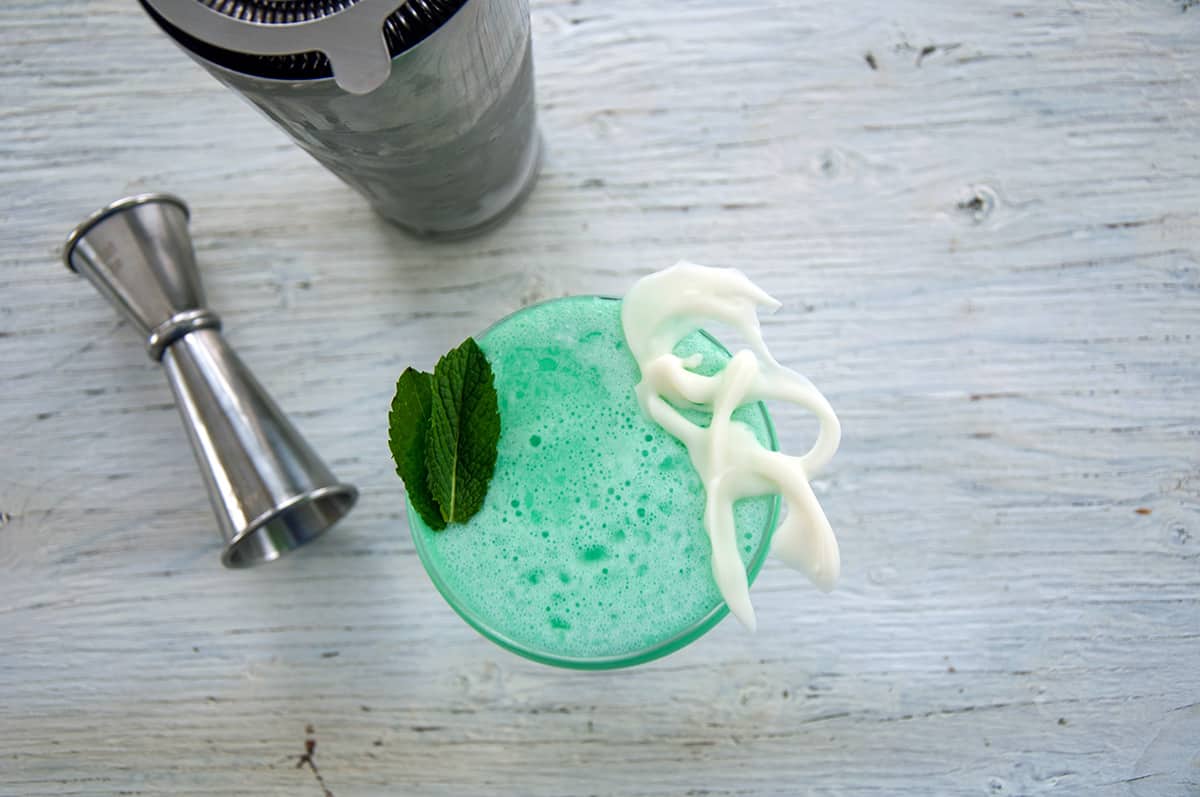 🛠 Products used in this recipe
😋 Did you make this recipe?
That is awesome, and thank you so much for giving this Grasshopper cocktail recipe a try. If you could leave a rating in the comment area below, it would be greatly appreciated. This lets me know how I am doing and also helps others decide if they want to make this recipe. Most of all, thanks for visiting Ramshackle Pantry.
Print
📖 Recipe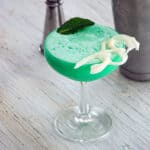 Grasshopper Cocktail Recipe
Author:

Ben

Prep Time:

2 minutes

Cook Time:

3 minutes

Total Time:

5 minutes

Yield:

1

cocktail

1

x

Category:

Cocktails

Method:

Shaker

Cuisine:

American
---
Description
The classic Grasshopper cocktail is easy to make and a delicious drink. Chocolate, mint, and cream come together to make this wonderful sweet drink. Dessert in a coupe glass.
---
1 ½

ounce

dark Crème de Menthe

1 ½

ounce

light Crème de Cacao

1 ½

ounce

heavy whipping cream
ice
Chocolate, for garnish (optional)
Mint, for garnish (optional)
---
Instructions
Add all ingredients to a shaker
Shake for a good 15 seconds
Strain into a coupe glass or martini glass
Notes
I use a coupe glass, but a martini glass or rocks glass would work, as well
While I use DeKuyper® Cordials & Liqueurs for the Crème de Menthe and Crème de Cacao, use the brand that you like.
I make opinions about dark/light versions of the drinks. This mostly impact
---
Nutrition
Serving Size:

1 drink

Calories:

411

Sugar:

24 g

Fat:

18 g

Saturated Fat:

11 g

Unsaturated Fat:

7 g

Carbohydrates:

35 g

Cholesterol:

60 mg
Keywords: Grasshopper Cocktail