This post may contain affiliate links. As an Amazon Associate I earn from qualifying purchases. Please read our disclosure policy.
This Paloma Cocktail recipe is refreshing, easy, and a great way to celebrate one of the best citrus fruits available. Move over margaritas because this simple tequila recipe can be put together in just minutes and will knock your socks off with its exquisite flavor. Try this classic drink today.
🍹 What makes this recipe special?
The Paloma cocktail is a refreshing, light, delicious cocktail. Perfect for a warm day that calls for an easy-to-drink cocktail.
Using fresh grapefruit for this Mexican cocktail really lifts it up. Great fresh grapefruit adds a citrusy flavor and color that just can't be matched with bottled grapefruit juice or a grapefruit soda.
Overall, using fresh grapefruit juice in a Paloma recipe elevates the drink's flavor, quality, and presentation, making it a memorable and delicious cocktail to enjoy.
Other colorful Mexican recipe I would encourage you to check out is this Mangonada Frozen drink, Grilled Shrimp Tacos with Creamy Cilantro Chili sauce, or heat your cocktail glass up with this Spicy Margarita. No matter what you make, make sure to treat yourself!
🍊 Ingredients
This is a Grapefruit and Tequila cocktail, so they are the stars of this drink. A few other ingredients go into making this a great drink. Here is what you will need:
Tequila Blanco
Grapefruit Juice
Lime Juice
Simple Syrup
Grapefruit or lime peel for garnish (optional)
Soda Water or club soda(optional)
See the recipe card for quantities.
What kind of tequila should I use?
Whatever you have! That being said, some tequilas are more appropriate, and I would look to a young Blanco tequila to do the job for this drink. The good news is that some great Blanco tequilas are available at great prices.
We tend to keep a bottle of Espelon on hand for tequila drinks, and if you are building a home bar, consider them your staple Blanco tequila.
What kind of grapefruit should I use?
Generally, Pink or Ruby Red are great bets for this Paloma cocktail recipe. Still, really any grapefruit works well. Several varieties can vary in tartness.
Because we add sweetener to this cocktail, we will tend to neutralize any pucker from the fruit. Use what you can find, but sweet grapefruits work well in cocktails.
Making your own simple syrup
Making simple syrup is really as easy as adding equal parts heated water and white sugar and mixing until sugar is dissolved into the drink. Put it into a sealable container and keep it in the fridge.
At your local liquor store, you would probably be able to find simple syrup on the shelves, but this is one of those things you can make at home, and it is really easy.
Topping with soda water is optional
The origin of this drink is with grapefruit soda or, probably, more likely Squirt. A simple Squirt and tequila recipe might fall under the umbrella of Paloma cocktails and, not gonna lie, would probably taste great.
We, however, are making ours with fresh grapefruit, and while I don't feel this needs soda water, nor do I use it in mine, you can top off my recipe with it. Topping off this cocktail with soda water adds a bit of carbonation and gives it a 'soda' feel.
🍲 Instructions
There really isn't much to this drink. Mix up grapefruit juice, a little lime, and some sweetener, and optionally top it off with a bit of soda water. There you have it.
We previously spent a lot of time covering the Greyhound cocktail, and this close cousin is just as good. I guess I am trying to say that I like grapefruit and booze. If we are kindred spirits and you have the ingredients on hand, this can be yours to make. If you are looking for something a bit hotter, check out this Spicy Margarita with Jalapeno recipe.
🤷 Substitutions and variations
There are a few ways that this can be changed up.
Type of grapefruit – Many different varieties of grapefruit can impact the flavor and color of this classic drink.
Tequila – You can change this up a bit, both in style and brand, to make this cocktail your own.
Simple syrup – Many ways this can be changed up. You could substitute honey or agave syrup in your simple syrup. You could use store-bought simple syrup or make your own. Heck, you could really just use granulated white sugar and make sure to combine it well.
Rim the glass – you could try rimming the glass with a pinch of salt, sugar, or maybe even some combination mixed with Tajin.
🎓 History tidbit
I love digging into the history of cocktails and I was going to spend some time on this one, but I found a great page that really digs deep into the history of this drink with multiple sources, including references to the esteemed David Wondrich. Alcademics really puts it together with this Paloma history article I suggest you check out.
Like much in the cocktail and food history realm, there is limited history and many people give bad information! Looking through the article, it looks like there are some references to grapefruit and tequila drinks throughout the latter half of the 20th century. Printed recipes didn't start really coming around until the very late 1990s, and definitive recipes in the 2000 time frame.
❓ FAQ
Can I make a Paloma cocktail without tequila?
Technically, you could make a Paloma cocktail without tequila, but it would no longer be a Paloma. Tequila is a key ingredient in this cocktail and gives it its unique flavor. If you're looking for a non-alcoholic version, you could try substituting the tequila with club soda or sparkling water.
Can I use grapefruit juice instead of grapefruit soda in a Paloma cocktail?
Yes, you can use fresh grapefruit juice instead of grapefruit soda in a Paloma cocktail. However, the flavor and sweetness level may be different, so you may need to adjust the amount of lime juice and sweetener used.
What is the best type of tequila to use in a Paloma cocktail?
The best type of tequila to use in a Paloma cocktail is a high-quality blanco or reposado tequila. These types of tequila have a smooth and crisp flavor that pairs well with the other ingredients in the cocktail.
What type of glass should I serve a Paloma cocktail in?
Traditionally, a Paloma cocktail is served in a tall, narrow glass like a Collins glass or highball glass. However, you can also serve it in a short glass like a rocks glass if you prefer.
📝 Tips and tricks
Use what you have for grapefruit, but Pink Grapefruit or Ruby Red Grapefruit Work great!
Make your own simple syrup to save money. It is SUPER easy.
Blanco Tequila for the win.
🛠 Products used in this recipe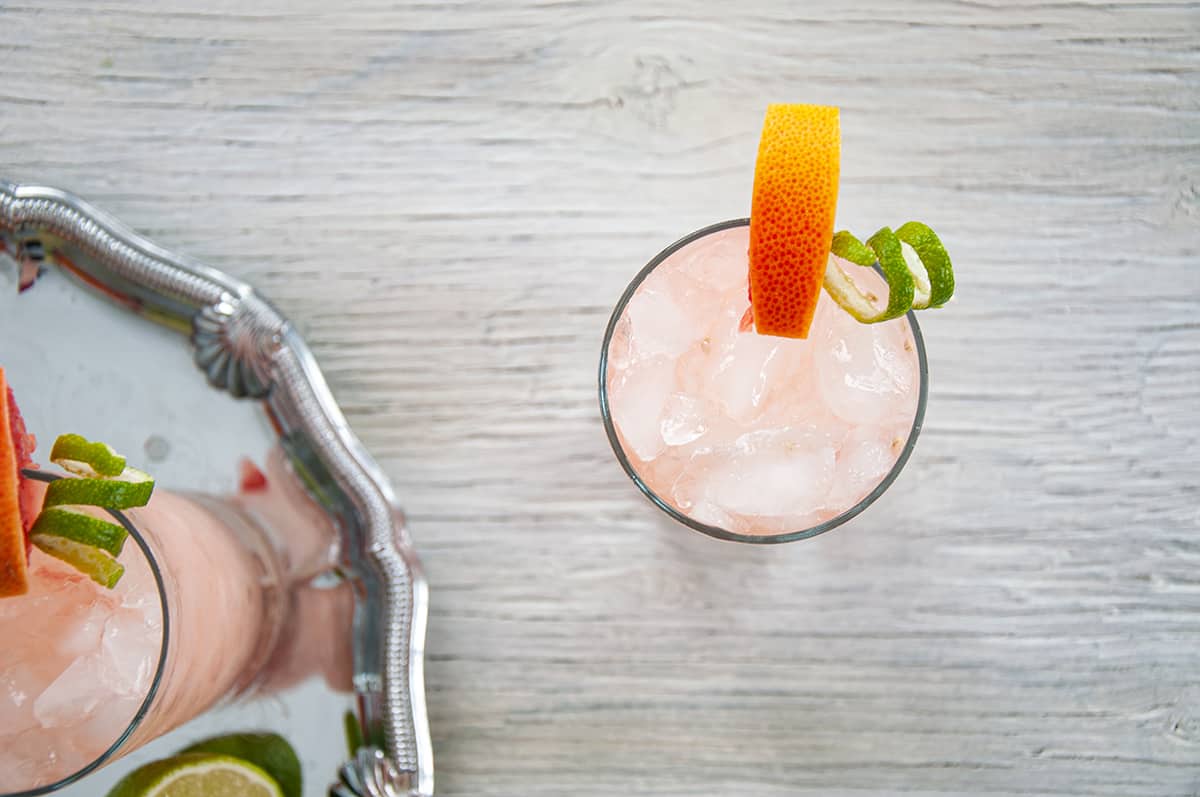 😋 Did you make this recipe?
That is awesome, and thank you so much for giving this Paloma Cocktail recipe with fresh grapefruit a try. If you could leave a rating in the comment area below, it would be greatly appreciated. This lets me know how I am doing and also helps others decide if they want to make this recipe. Most of all, thanks for visiting Ramshackle Pantry.
Print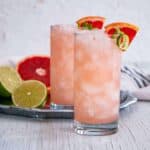 Paloma Cocktail Recipe with Fresh Grapefruit
Author:

Ben Myhre

Prep Time:

2 minutes

Cook Time:

2 minutes

Total Time:

4 minutes

Yield:

1

cocktail

1

x

Category:

Cocktail

Method:

Stir

Cuisine:

Mexican
---
Description
A simple and tasty tequila recipe that highlights grapefruit. This Paloma classic cocktail hits the spot whether you are drinking it in the Winter when grapefruit is in season, or trying to find a unique Summertime sipper.
---
2

ounces

Blanco Tequila

4

ounces

fresh Grapefruit Juice

1 1/2

ounces

fresh Lime Juice

1

ounce

Simple Syrup
Grapefruit wedge, lime wedge, grapefruit peel, or lime peel for garnish (optional)
Soda Water or club soda, to top (optional)
---
Instructions
Add all ingredients (minus garnish) to an ice filled shaker.
Mix with mixing spoon for 15 seconds.
Strain into ice-filled highball glass
If needed, top off with soda water.
Garnish with Grapefruit or lime peel.
---
Notes
Use what you have for grapefruit, but Pink Grapefruit or Ruby Red Grapefruit Work great!
Make your own simple syrup to save money. It is SUPER easy.
Blanco Tequila for the win.
Nutrition
Serving Size:

1 Drink

Calories:

259 Calories

Sugar:

32 g

Sodium:

10 mg

Fat:

0 g

Saturated Fat:

0g

Unsaturated Fat:

0 g

Trans Fat:

0 g

Carbohydrates:

32 g

Fiber:

0 g

Protein:

1 g

Cholesterol:

0 mg