This post may contain affiliate links. As an Amazon Associate I earn from qualifying purchases. Please read our disclosure policy.
This is a Classic Panzerotti recipe. Some will notice that it really is just a homemade Hot Pocket called by its Italian name. A Panzerotti is a handheld, snack-sized, deep-fried Italian turnover stuffed with traditional pizza ingredients and it tastes so wonderful.
Some might be tempted to call it a homemade pizza pocket, but it is much more. Our from-scratch dough and simple filling will make this Panzerotti recipe a hit in your house!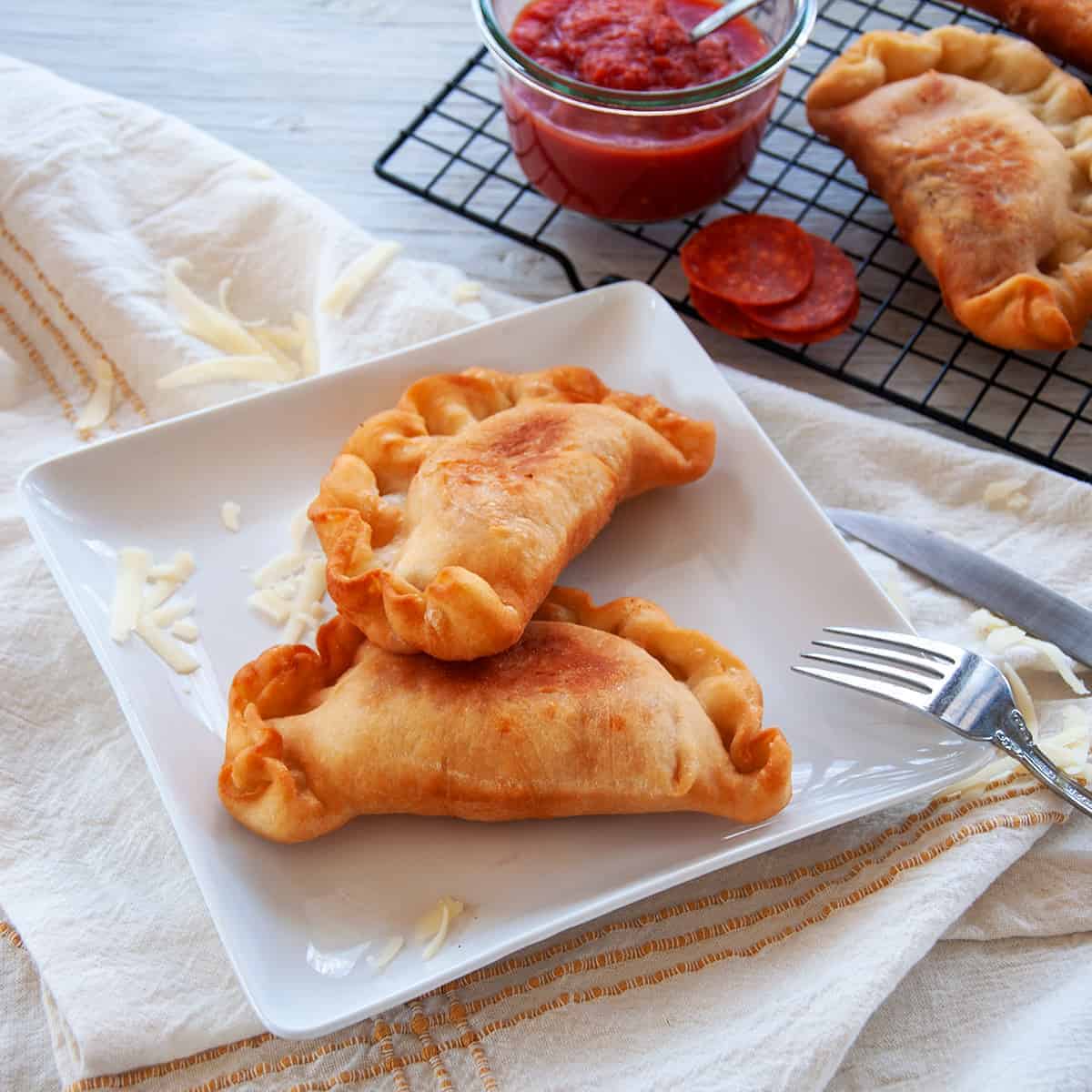 🍕 What makes this recipe special?
This Panzerotti recipe is made with homemade risen dough and fried to perfection. They are easy to make and will put what you find in the freezer aisle at your supermarket to shame.
Also, if you are into food prep, these are perfect for freezing and zapping in the microwave when you are ready to eat them. These homemade hot pockets are a great quick lunch.
I love pizza and this is a great handheld pizza perfect for a good lunch or snack. If you want some other pizza inspired recipes, check out this Chicago Deep Dish Recipe, our Detroit Style Pizza or our Grilled Weber Pizza.
🥟 Ingredients
This has many of the same ingredients as a traditional pizza, but add in some extra oil for frying. Check out the recipe card for quantities and more detail, but here ingredients we use for this recipe.
Risen Dough ingredients
Vegetable Oil
Mozzarella cheese
Crushed tomato
Oregano
Pepperoni
Salt & Pepper
🍲 Instructions
This is similar to making a pizza or a calzone up until cook time. Make this homemade hot pocket dough recipe into small balls, as these are individual servings.
Approach this Panzerotti dough much like you might approach making pizza dough, but maybe on a smaller scale. Much like our Classic Chicago Style pizza, we let our dough rise for a while. Portion them out into 6 small dough balls and allow them to rise individually.
Once the dough has risen, stretch out the pizza dough like little mini pizzas, as Panzerotti are much smaller than either a normal pizza or calzone. Then, lay some pepperoni down onto the dough and place filling on it, making sure not to overstuff these tasty treats.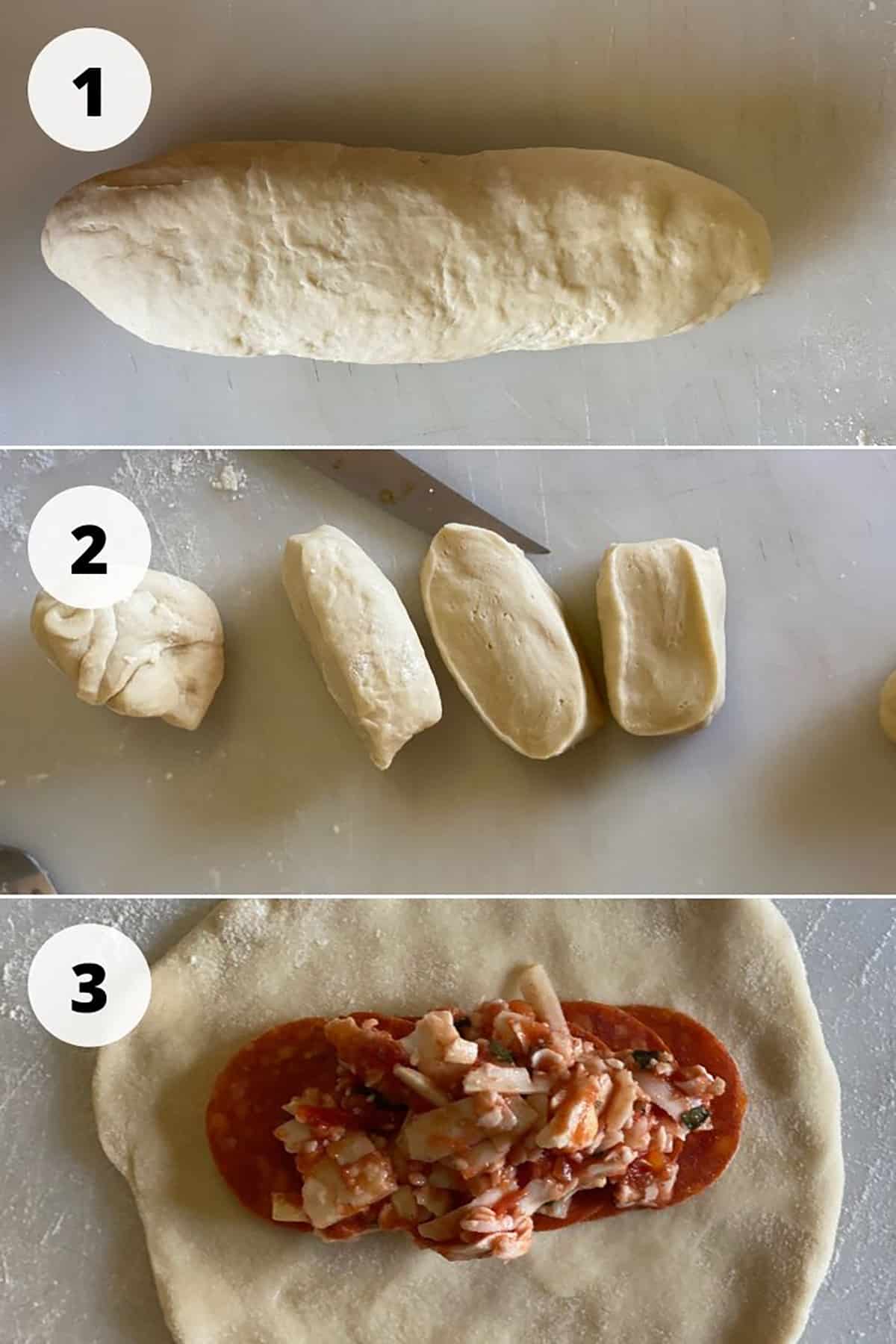 Much like a turnover, we fold our little pizza pockets in half and crimp the edges. This is much like we did with our Apple Hand Pie recipe. The idea is to seal our Panzerotti and prepare it for cooking.
For the cooking, we deep fry these in about an inch of high-heat cooking oil, such as vegetable oil. These should only take about 3 or 4 minutes to cook and you know they are done when both sides are golden brown.
Once you have hit that color, remove and allow to drain on a paper-towel-lined plate for a few minutes and then eat!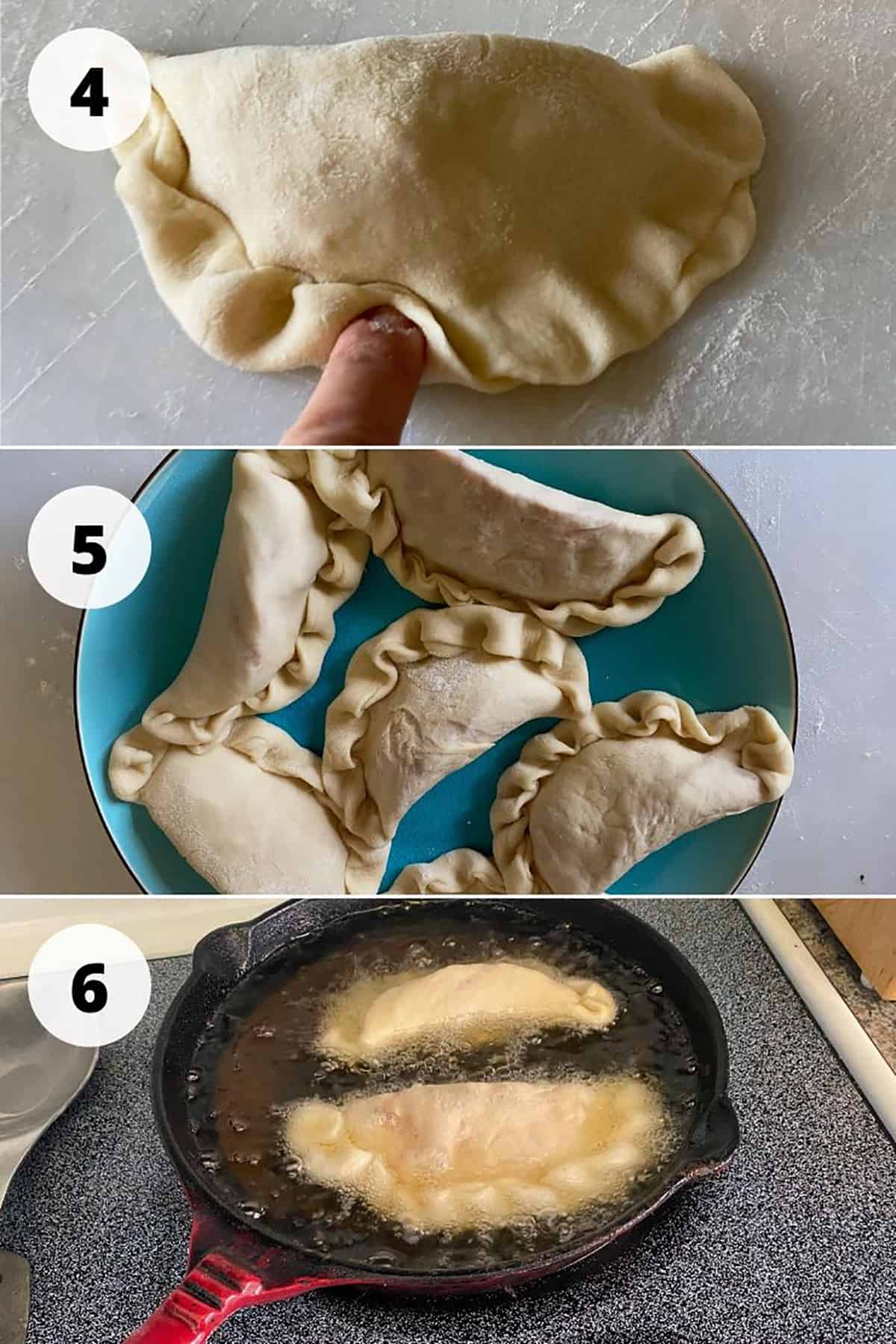 🤷 Substitutions and variations
There is a lot of room to substitute and vary this recipe. The main concern is overstuffing your ingredients. Don't do that.
Pepperoni – You can really use any other ingredients you might use in pizza. As long as the ingredients are chopped small enough, and you don't go overboard with the filling. Be careful with raw meats, however, as you still need to make sure they are cooked to a safe temp.
Dough Rising – I recommend allowing your dough to rise, but you could skip that step in a pinch.
Vegetarian – Leave the pepperoni out or use vegetarian pepperoni. You could use pineapple tidbits or green pepper or any other topping appropriate for pizza.
📦 Storage
Once you have these fully cooked, you can either keep them in the refrigerator for up to 3 days and reheat or freeze.
🎓 History tidbit
This dish came from the southern region of Apulia in Italy and was a tasty way to use the leftover dough. It made its way to America like many foods did through immigration and have propagated all over North America. Many may know this as a pizza pocket. However, comparing the Panzerotti to pizza pockets is not really fair, as what you might pick up in a grocery store frozen section isn't fried like we will make today.
Rarely outside of the east coast, do you find a traditional fried Panzerotti like we are making today. If interested, this is a pretty detailed look into the American history of the Panzerotti.
❓ FAQ
What temperature should I cook Panzerotti?
Fry Panzerotti at 350° Fahrenheit with a high heat oil.
What's the difference between a calzone and a panzerotti?
Panzerotti are smaller than a calzone and also are deep fried instead of baked.
Are Panzerotti fried or baked?
Panzerotti is a fried dish.
What is a Hot Pocket vs a Calzone?
A Hot Pocket is a commercial version of a fried panzerotti, but a Calzone is a baked and folded pizza.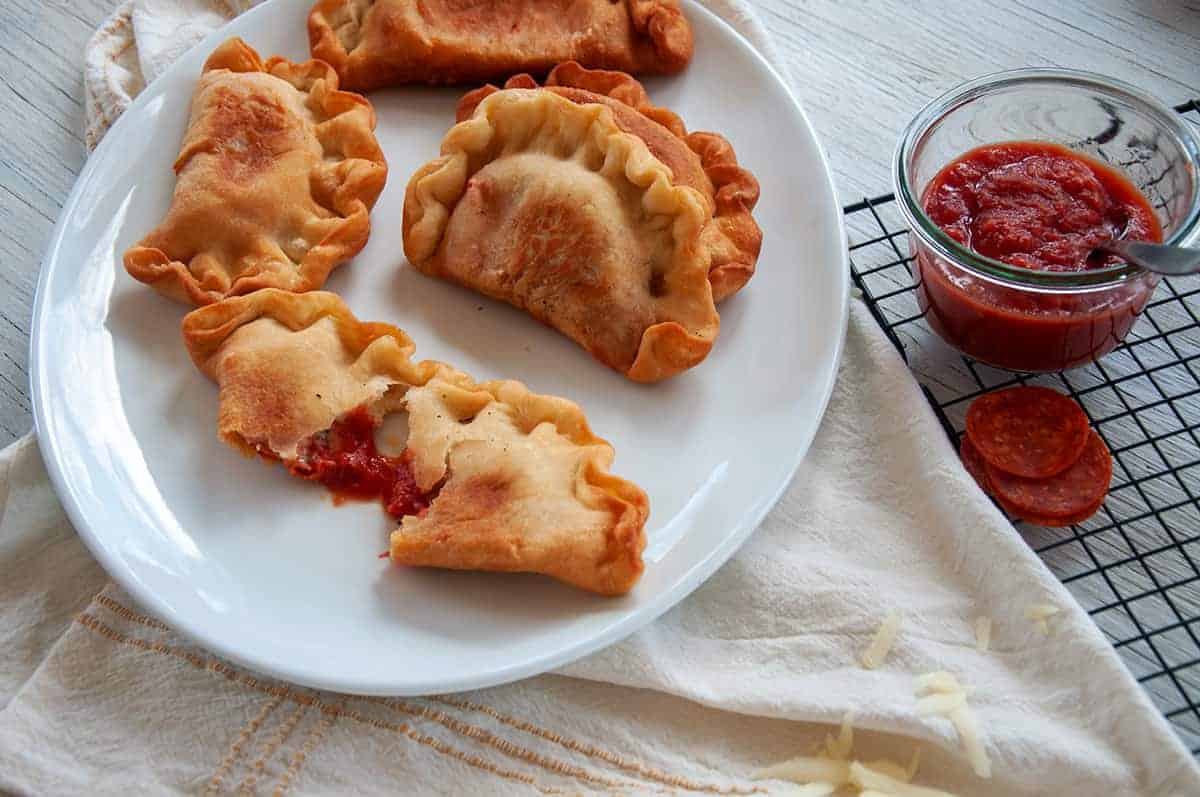 📝 Tips and tricks
Allow your dough to rise for the best results, but you can always roll these out immediately in a pinch
Don't overstuff your panzerotti
Keep your oil temperature at 350° Farenheight when cooking.
Cook two at a time, but use your best judgment. If one fits in your pan, cook one.
🛠 Products used in this recipe
😋 Did you make this recipe?
That is awesome, and thank you so much for giving this Panzerotti recipe a try. If you could leave a rating in the comment area below, it would be greatly appreciated. This lets me know how I am doing and also helps others decide if they want to make this homemade hot pocket recipe. Most of all, thanks for visiting Ramshackle Pantry.
Print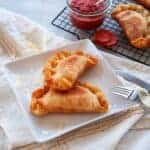 Classic Italian Panzerotti
Author:

Ben Myhre

Prep Time:

90 minutes

Cook Time:

30 minutes

Total Time:

2 hours

Yield:

6

1

x

Category:

Dinner

Method:

Fry

Cuisine:

Italian
---
Description
These classic Italian treats are delicious. Panzerotti are not quite a pizza and not quite a calzone, but many of the same flavors in a fried turnover.
---
For Dough:
1 teaspoon

white granulated sugar +

1 Tablespoon

sugar

1/2

cup

warm water

1/2

pack of yeast (

3.5 grams

)

1 1/2

cups

bread flour

1/2 teaspoon

salt

2 tablespoon

vegetable oil, plus more for frying and coating
For Filling:
4 1/2

ounce

per thing of mozzarella cheese, grated

3/4

cup

crushed tomato

1 teaspoons

dried oregano

1/4 teaspoon

salt

1/4 teaspoon

pepper

42

small pepperoni
---
Instructions
Add 1 teaspoon sugar and warm water in bowl
Sprinkle yeast on top
Allow to sit for 5 minutes
While yeast is sitting, mix flour, remaining sugar, salt
Add the water/yeast/sugar mixture and 2 Tbsp oil
Mix until well combined and then knead on a floured surface for a good 5 minutes until dough looks consistent.
Cut into 6 equal pieces. Should be about 2 ounces
Form each into round balls
Put on a lightly oiled baking pan and loosely cover in a warm spot (I use my oven with light on and a dish of hot water)
Let rise for 1 ½ hours
While the dough is rising, mix filling tomatoes, cheese, salt, pepper, and oregano.
After 1 ½ hours, stretch out each ball into 6-inch disks
Place 7 small pepperoni out and add 1-2 heaping tablespoons of filling on top.
Lightly brush edges of dough with water and fold the dough over to create a semi-circle
Using your thumb, crimp dough down evenly creating a sealed pocket. Go back through and perform a second crimping.
Set aside and repeat with each of the doughs.
Fill heavy frying pan (such as a cast iron) with 1 inch of oil and heat to 350° Farhenheit.
Add 2 panzerotti at a time and use tongs to flip every 45 seconds until crust on both sides is a golden brown. This should take about 3 minutes total.
Once golden brown, rest on a paper-towel-lined plate and repeat until all panzerotti are cooked.
Serve! Add extra tomato sauce to the side for dipping.
---
Notes
Calories are estimated and it is particularly difficult to estimate the amount of oil from frying absorbed into panzerotti.
Allow your dough to rise for the best results, but you can always roll these out immediately in a pinch
Don't overstuff your panzerotti
Keep your oil temperature at 350° Farenheight when cooking.
Cook two at a time, but use your best judgment. If one fits in your pan, cook one.
---
Nutrition
Serving Size:

1 Panzerotti

Calories:

466 calories

Sugar:

5 g

Sodium:

538 mg

Fat:

36 g

Saturated Fat:

10 g

Unsaturated Fat:

20 g

Trans Fat:

0 g

Carbohydrates:

27 g

Fiber:

1 g

Protein:

11 g

Cholesterol:

33 mg