This post may contain affiliate links. As an Amazon Associate I earn from qualifying purchases. Please read our disclosure policy.
Portable Apple pie sounds like a really good thing, doesn't it? These Tasty Apple Hand Pies live up to the expectation and a great way to make some delicious snacks for the family.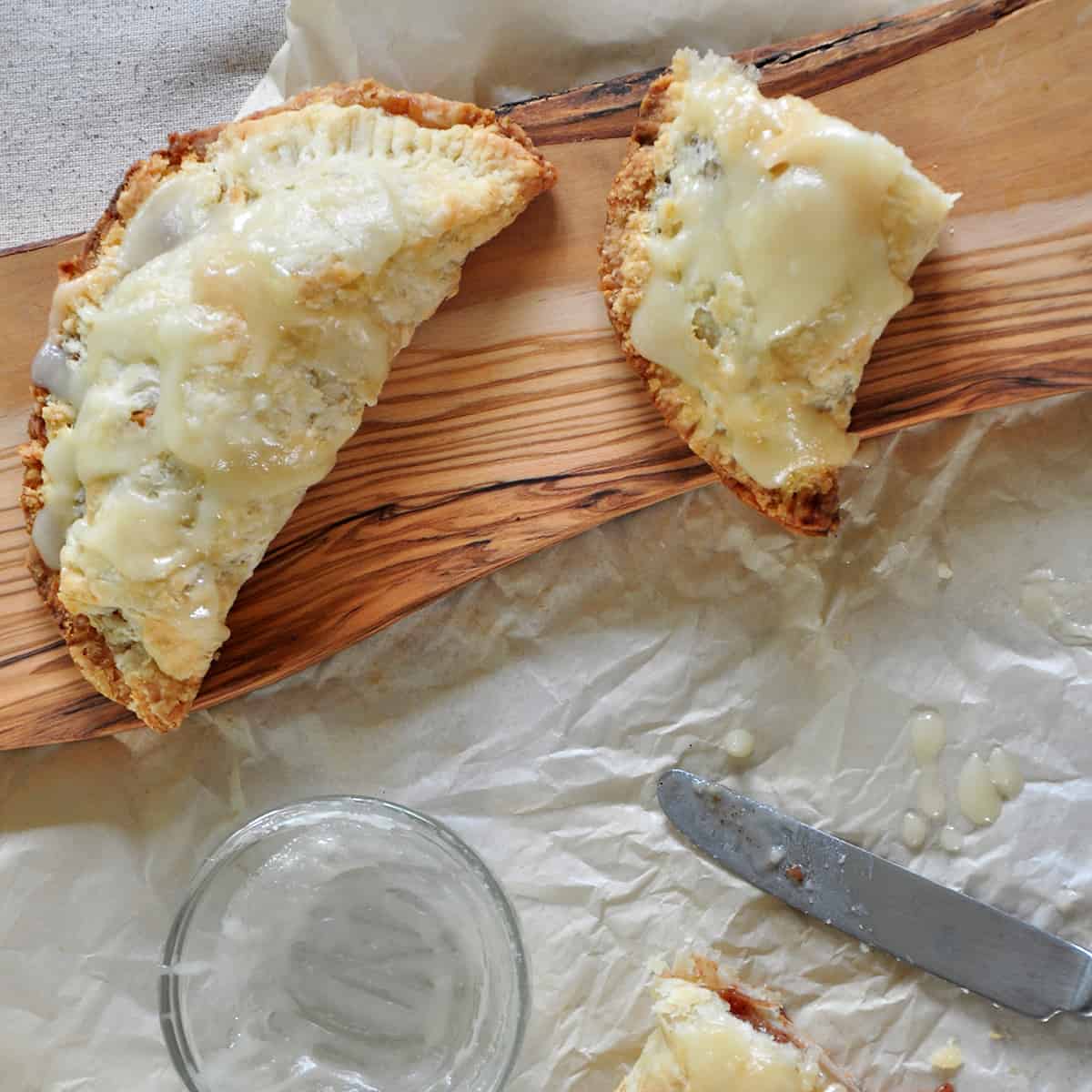 Ladies and gents, we now have been spending a while in our apple pie series and really have made some delicious recipes. Not only have we made a traditional apple pie, but a few different variations and today we are going to continue that trend.
These Tasty Apple Hand Pies are delicious, portable, and have an awesome glaze on top that makes the whole treat pop. This is a great little recipe with some great comfort in portable pastries. Join us, as we embark on this adventure of making, and sharing, our Tasty Apple Hand Pies.
What is Great About Hand Pies?
Well, that is a terrible question. If you like fruit pies, you are bound to love these apple hand pies. Really, they are a great way to share some apple pie goodness with the whole family. Not only do they taste really good, but there are some really great advantages to hand pies over a traditional apple pie.
These Apple Hand Pies are Portable
Look at them. These little dandies were just meant to be carried around. Unlike a traditional apple pie that is really meant to be eaten on a plate, these hand pies were meant to be handled. The crust is all-encompassing and helps make this a spectacular treat when you (or your kids) are on the go.
Single Serving
These are meant to be served individually. Not only do the containers (the cust) make it portable, it is packaged up into one nice little package for one person. Now, don't be afraid to cut the apple pie in half and share. Despite what Mr. Rogers says, sometimes I don't want to share, particularly when it comes to dessert.
More Easily Freezable
We have frozen a few of these to see how they would turn out. I will say that fresh is better, but they do freeze well. What does that mean for you? Well, you can make several at a time, plop them in the freezer, and let the family enjoy whenever they want a treat. However, be prepared for them to go quickly, anyways.
That Apple Pie Crust
We are using the same from-scratch pie crust that we used in our traditional Apple Pie. This butter pie crust is really flaky and super tasty. The only difference is that we only use enough dough that would be one disk in a traditional pie crust. We then divide that into two and roll them out separately.
Unlike my pies, where I fit the crusts into the pan and then cut them to fit, I precut these so they are even. I was taking a pyrex bowl and placing the opening on the dough. Using a knife, I then cut them out to be almost perfect circles. While perfect circles, we still have that great butter dotting of our pie crust that can make for such a flaky and tasty crust!
Don't Over Stuff Your Apple Hand Pies
I struggled with this one, a bit. Don't fit too many apples into your apple hand pies. The deal is that if they are overstuffed, they become difficult to close and work with. For two hand pies, I only used one large Braeburn Apple.
Really, I didn't need quite that many apples and a few hunks ended going into my mouth rather than the baked apple pie. A medium apple is better for these purposes. Between the apples, the sugar glaze, and flour/sugar mixture on the inside, there is enough flavor in these apple hand pies. No need to make things difficult for yourself by overstuffing.
The Sugar Glaze
What a tasty little treat. It is so simple to make this glaze but does require just a tad of attention. The amount of milk I use in my recipe is half of a teaspoon, but I suggest mixing all of the other ingredients, first.
Then, slowly add the milk just a very little at a time and mixing. Eventually, and it might be before the ½ teaspoon, you will get to a very nice, thick sugar glaze for your apple pie. Also, don't add the sugar glaze until your pie has cooled.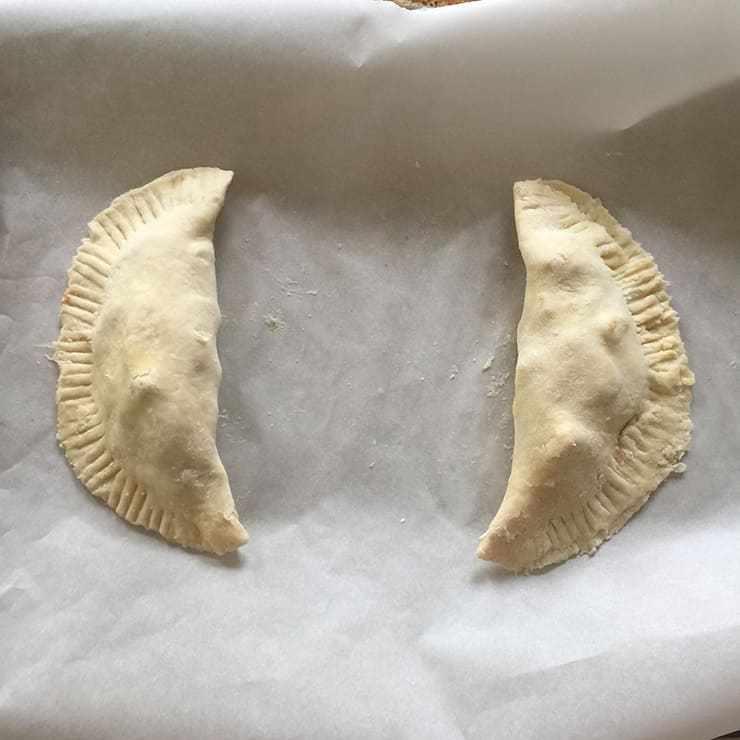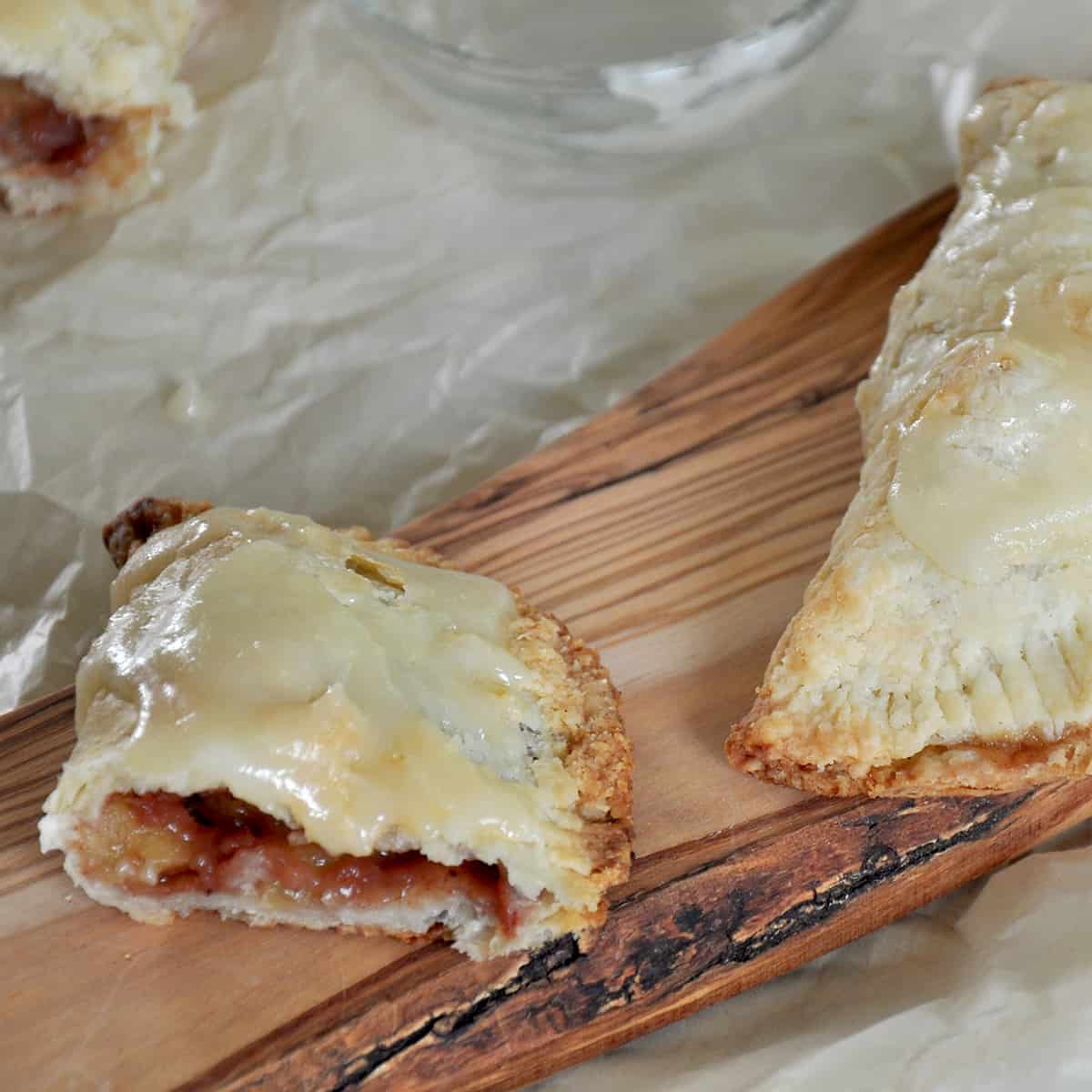 There we have it! We have the recipe for our Tasty Apple Hand Pies. Give this recipe a try and let me know what you think in the comments section below. Also, be sure to subscribe to get updates via email and follow me on the Instagram.
Products We Used In This Recipe
Print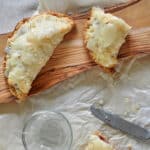 Tasty Apple Hand Pies
Author:

Ben Myhre

Prep Time:

1 hour

Cook Time:

30 minutes

Total Time:

1 hour 30 minutes

Yield:

2

hand pies

1

x

Category:

Dessert

Method:

Baking

Cuisine:

Pastry
---
Description
These Apple Hand Pies are a great snack or dessert that gives you a portable pocket of delicious apple flavors. The sugar glaze just adds a bit of extra awesome.
---
For Hand Pie Crust:
1

sticks of unsalted butter

1 ¼ cups

white all-purpose flour

½ tablespoon

sugar

½ teaspoon

salt

¼ cup

ice cold water (approximately)
For Apple Hand Pie Filling
1

medium apple, chopped

1 tablespoon

flour

¼ cup

sugar

½ teaspoon

cinnamon

½ teaspoon

nutmeg

1 tablespoon

butter
For Sugar Glaze
¼ cup

powdered sugar

½ tablespoon

softened butter

1 teaspoon

vanilla

½ teaspoon

milk
---
Instructions
Cut 1 stick of butter into ½ inch cubes
Place into freezer for 20 minutes
Place 1 ¼ cups flour, ½ tablespoon sugar, and salt in food processor and pulse a few times to mix.
After butter has been in the freezer for 20 minutes, add to food processor and pulse 5-6 times. The goal is to mix the butter into the flour. The cubes of butter should be no smaller than peas.
Move flour mixture to large bowl
Add water to flour 1 tablespoons at a time. Toss with fork. We want to get to the point when you take your hand squeeze a handful of flour, it should stick together. If you need more, use more.
Once this is done, divide it into two. Work each half until it sticks together somewhat well and is in a disk. We don't want the butter to fully incorporate. If you need to add more water, you can, but do so only very sparingly.
Tightly wrap in plastic wrap and place in freezer for 20 minutes
Add 1 tablespoon flour, ¼ cup sugar, ½ teaspoon cinnamon, ½ teaspoon nutmeg to medium mixing bowl
Peel, core, and loosely chop the apple.
Add apple to flour mixture and mix.
Take dough out of freezer and unwrap
Preheat oven to 425° Fahrenheit
Get to your zen place. Roll out the dough into 2 separate disks.
Using top large bowl (7 ¼ inches), place on top of dough cut to make good circle for hand pies
Place parchment paper on cookie sheet and put crust disks on top.
Place ½ the apple mixture into each respective crusts.
Chop 1 tablespoon of butter and place on top of apple mixture.
Carefully fold dough over to enclose apples.
Use a fork to crimp the edges.
Use a knife to poke a few small holes in the top of crust to ensure the crust does not inflate in weird and not-fun ways.
Place in oven for 20 minutes. Check to see if crust is a nice golden brown. If it is, remove. If not, wait another 5 minutes and check again.
Allow the pies to rest for 2 hours
For Frosting:
Add all ingredients except milk into small dish and mix.
Slowly add milk to mixture and stir after every few drops.
Mix until it is a nice, thick, white, glaze.
Spread or drip frosting on apple hand pies and allow to set for an additional hour.
Serve and enjoy.
---
Notes
I slightly reduced the calories based on there being 20% waste in the dough, as some will be cut away and some of the sugar glazes will drip off the hand pie.
Check out our traditional apple pie recipe for more commentary and pics on making our butter crust. Note, this is a smaller portion size, but the techniques really are the same.