This post may contain affiliate links. As an Amazon Associate I earn from qualifying purchases. Please read our disclosure policy.
Just when I think I have tried all the pasta, the ancient and unique and tasty Testaroli shows up on my radar. This is a super special Italian pasta that is unlike any other you have had before. Think, half crepe or pancake and half pasta. This is what we are making today, folks. The ancient Tuscan dish, Testaroli with Pesto Sauce.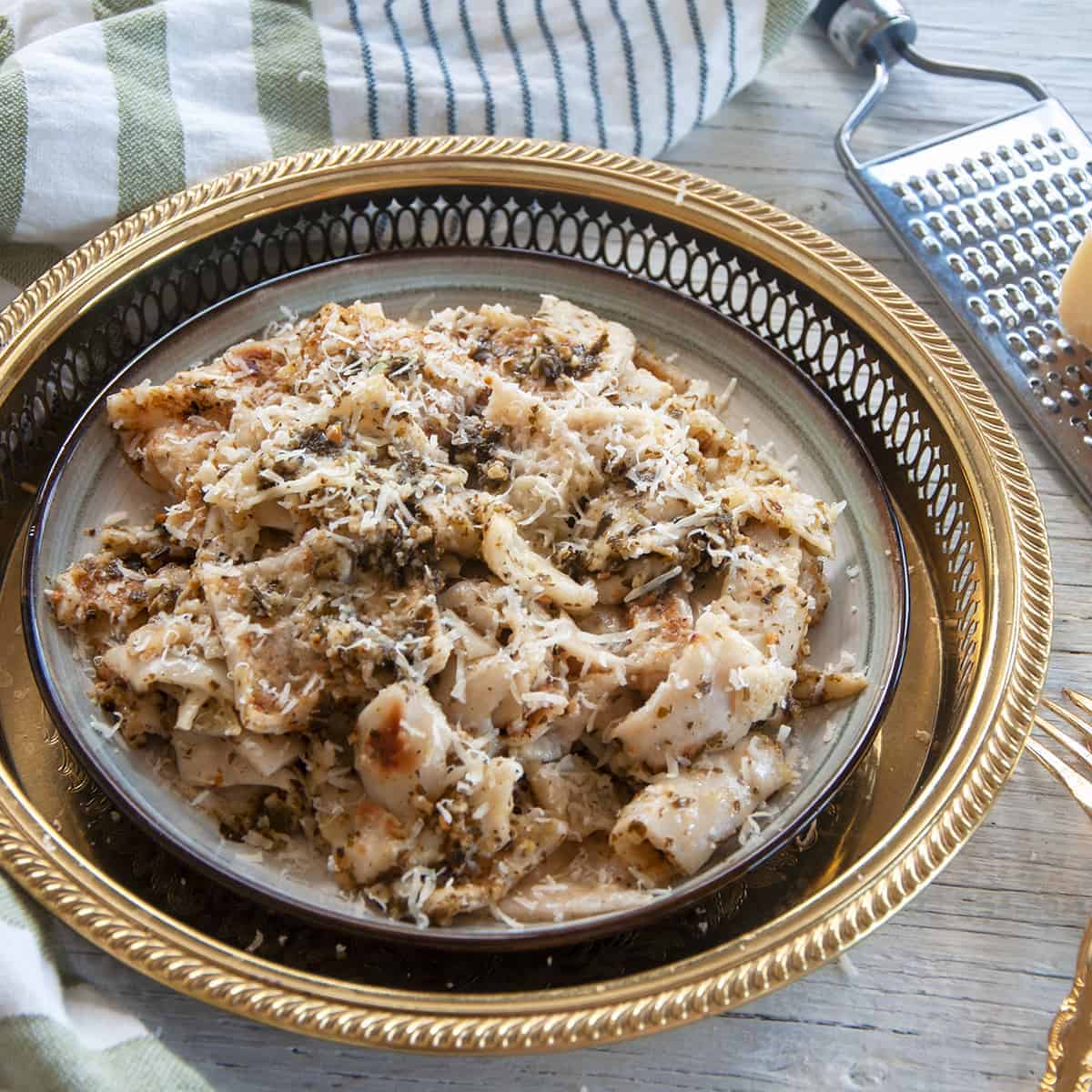 Testaroli Summary
So, strap in, as this one might blow your mind. Testaroli is made from a thin batter that is fried on a hot surface like a pancake or a crepe. Then, once cooked on the stovetop, we cut our crepes into diamond shapes and put them in hot water for just a short while. After draining them, we toss them with traditional Italian pesto.
We have made some pretty awesome pasta dishes, such as our Traditional Spaghetti, Creamy Lemon Butter Sauce Over Farfalle Pasta, and Pasta Al Forno – Baked Pasta with Penne. Testaroli is definitely one of the more unique pastas and absolutely worth a try!
About This Unique Pasta
Some say Testaroli is the earliest recorded pasta. While I am not certain that is the case, it sure makes sense. The ingredients in the pasta are super basic and it would make sense that this kind of recipe would have created early on. It is a mixture of flour, water, and salt.
The pasta really is that simple. Because the ingredients are so simple, it makes sense to me that this is one of the earliest kinds of pasta. No matter when it actually came from, it is most closely associated as being native to the regions of Tuscany and Liguria.
Even though we use cast iron in this recipe, the traditional Italian process involves a special terra cotta cooking surface called a testo. They cook the pasta in testos over a wood fire. It is really interesting. I found a YouTube that shows how they traditionally make testaroli. It is in Italian, but you really don't need the words to see what is going on and watch how they make this cool pasta.
About the Testaroli Batter and Cooking
We, of course, don't have access to a testo but many of us do have cast iron skillets, so that is what we use. Perhaps if you have a good flat skillet or a crepe maker, that would work as well.
Mixing the Batter
I use two parts flour and three parts water with just a bit of salt. The consistency of my batter is very light. It is not like a normal pancake batter consistency, but much more viscous. It almost spoons like a thick water, and really that is what it is.
If I were to compare the batter to other things I have cooked, I would say it is the lightest batter I have used. More watery than either a traditional pancake, the Swedish pancakes found on Ramshackle Pantry, or crepes. It is not a thick batter.
Frying the Batter
After mixing the batter and allowing my 11-inch cast iron to heat to medium temperature for a good 10 minutes, I start cooking. Each testaroli sheet is ½ cup of batter that I pour directly in the middle of my well seasoned and oiled pan.
After pouring, I pick up the cast iron and swirl around the batter to coat the bottom of the cast iron. If it doesn't fully cover the bottom, that is ok. Perhaps you are using a different pan or have a different size. Sometimes, the batter just doesn't want to spread that far out and that is ok, too. Just try and spread it out.
It cooks for four minutes on one side. At this time, you should be able to use a thin metal spatula to creep under that crepe and flip it. I would advise using a nice thin metal spatula [AFFILIATE LINK] for this, as we are dealing with a thin cake that might be a little hard to sneak under. Once flipped, cook it for one more minute.
Remove each testaroli and allow it to sit, unstacked, until you are ready to cut and put these in water. Each side of a fried testaroli will have a distinct texture. One side might be cratered a little and have a unique texture. The other side will likely be flatter, almost like a tortilla
Cook each one individually and with our recipe, you should end up with about seven discs. We let each disc sit for about 20 minutes before we start cutting and boiling them.
Cutting the Testaroli
The traditional way to serve these is in medium-sized diamond shapes. Each of the Testaroli discs is cut so that you can get as many uniform diamond-shaped pasta as possible. They might not all be perfect and that is ok. We will use them all.
You can use a knife to cut these, but I liked using a Pizza Cutter [Affiliate Link]. It made things easy and it was kind of fun to cut these little suckers.
Steeping the Testaroli
One of the defining characteristic of the structure of this pasta is just how fragile it is. It doesn't start off that way. After it is cooked on the skillet, it is a relatively sturdy disk that resembles a pancake or crepe. From there, however, we cut it up and dip it in hot water. This is what makes it fragile.
I tried boiling the testaroli and they tended to fall apart from the vigorous boiling. After a lot of experimentation, I found my recipe just needs a brief dip in hot water. I bring the water to a boil and then remove it from the heat. After all of the 'boil' is out of the water, I dump all of our cut testaroli in.
I do not let them sit in the water long. Just a brief visit is enough, so I immediately drain the testaroli. At this point, I can toss them with my pesto, sprinkle with cheese, and serve.
As a note, the testaroli are still fragile, so take care when you are tossing the pasta.
Pesto
This dish is traditionally served with pesto. While you can always use a jarred pesto, this is a special dish. I would use a nice, traditional Pesto like my friend over at Berly's Kitchen makes. Ready in just 10 minutes, you can make this while your testaroli is sitting and waiting for the water bath.
Testaroli Process Pictures and Tips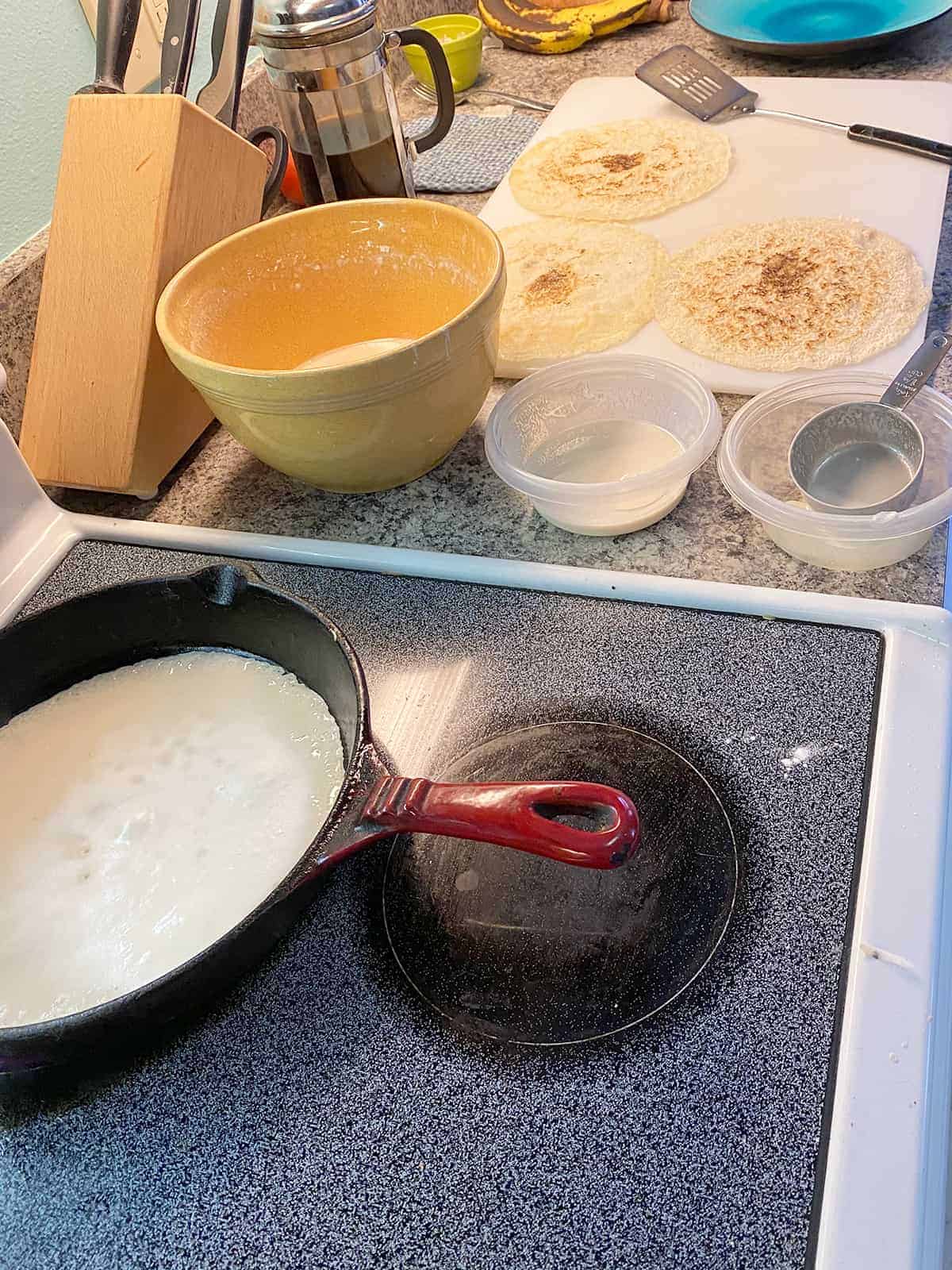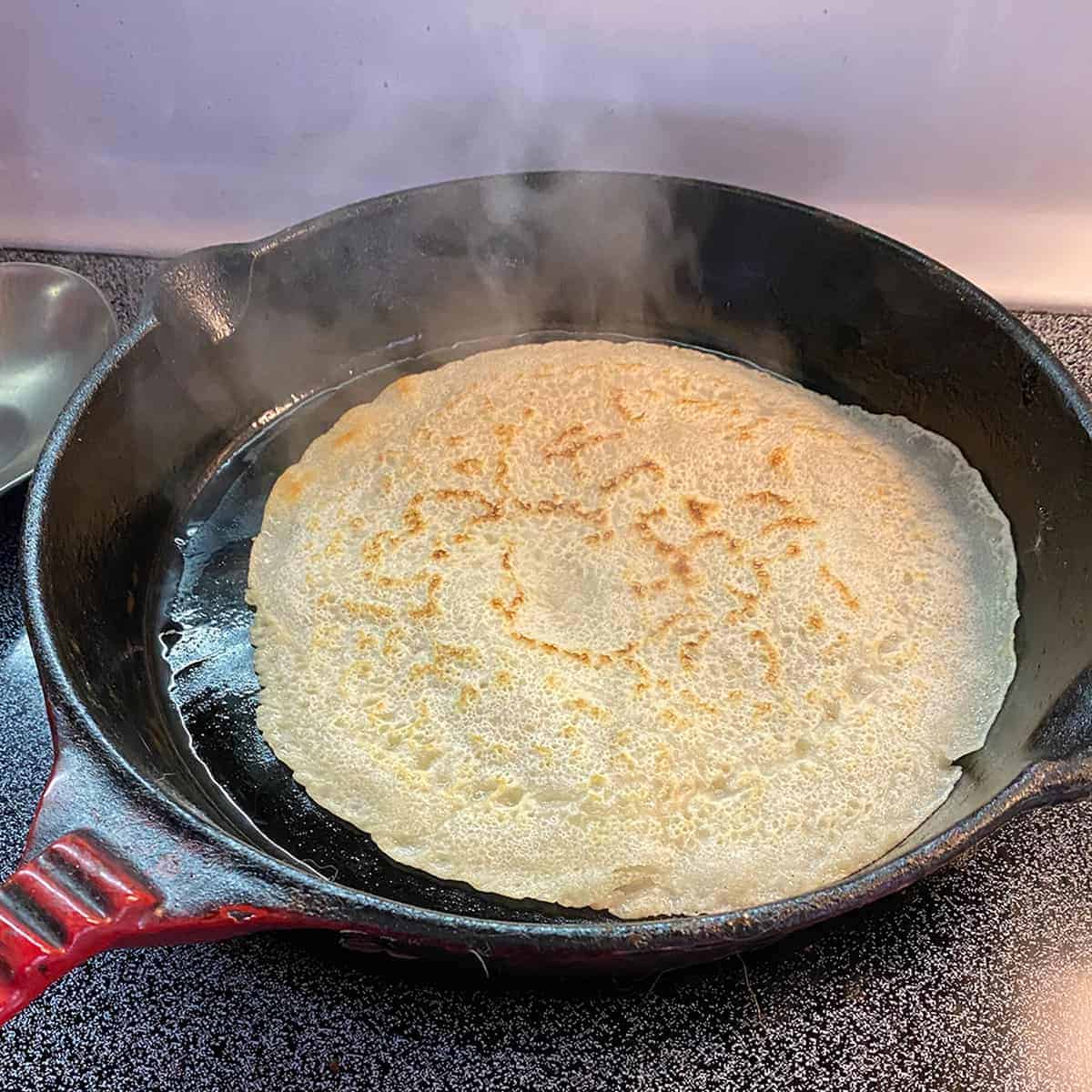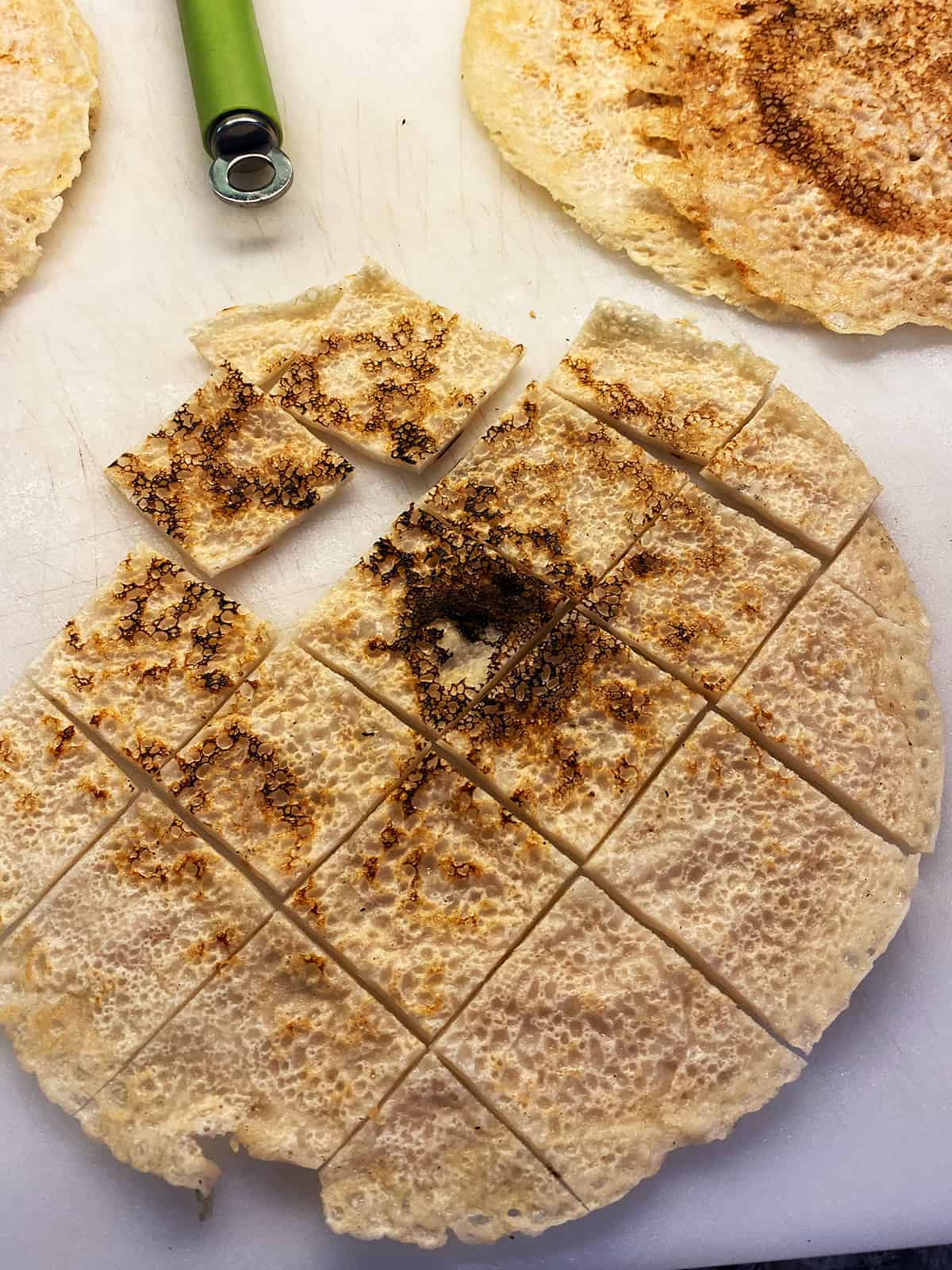 Making Testaroli Tips
Use fresh Pesto if you can, but jarred works, too.
This is a fragile pasta. Make sure you are handling it as such.
Use a Pizza cutter to cut your dough.
Products I Used In this Recipe
Did You Make This Recipe?
You are a bold home cook! I want to hear how it went. Did you like it? Let me know how everything went in the comments section below. If you liked it, I would be super grateful if you left a rating and shared this on Facebook or Pinterest. This helps me spread the word about Ramshackle Pantry and also helps your friends find my recipes. Have a great one!
Print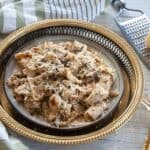 Classic Testaroli Pasta
Author:

Ben Myhre

Prep Time:

15 minutes

Cook Time:

1 hour

Total Time:

1 hour 15 minutes

Yield:

4

servings

1

x

Category:

Traditional

Method:

Fry

Cuisine:

Italian
---
Description
Testaroli are a unique, tasty, and ancient Italian pasta. Serve up this heritage pasta with some simple pesto and you are going to have a great dinner that celebrates Italian heritage and flavors.
---
2 cups

all purpose flour

3 cups

water

1 teaspoon

salt

½ cup

pesto
Parmesan cheese to top

1 Tablespoon

olive oil for cast iron
---
Instructions
Whisk flour, water, and salt together. Whisk well to aerate the mixture and mix well
Turn well-seasoned cast iron or 11-inch fry pan onto medium and allow to heat for 10 minutes
add ½ teaspoon of olive oil and cover evenly
Use ½ cup ladle or measuring cup to pour batter into cast iron.
Swirl batter around to try and cover as much as possible.
Cook for 4 minutes
Use a thin metal spatula to flip
cook for one more minute.
Set aside and do not stack
repeat step 4-9 until all batter is gone
Let them sit for 20 minutes and at about 10 minutes bring a large pot of water to a boil
While water is heating, cut dough into small diamond shapes, as tradition calls for
Once boiling, remove water from heat.
As soon as boiling stops, drop the testaroli in the hot water and then immediately drain.
Either gently toss with pesto and top with parmesan cheese or serve with dollop of pesto on top.
---
Notes
Use fresh Pesto if you can, but jarred works, too.
This is a fragile pasta. Make sure you are handling it as such.
Use a Pizza cutter to cut your dough.
Calories will be dependent on the pesto sauce you use.
---
Nutrition
Serving Size:

1/4 Amount

Calories:

410 kcal

Sugar:

0 g

Sodium:

791 mg

Fat:

19 g

Saturated Fat:

0 g

Unsaturated Fat:

4 g

Trans Fat:

0 g

Carbohydrates:

46 g

Fiber:

2 g

Protein:

11 g

Cholesterol:

12 mg