This Rhubarb Syrup is Springtime in a bottle! It brings a bit of Spring flavor to any cocktail or recipe. Easy, delicious, and a great way to use up some of that Rhubarb.
When rhubarb comes in, it comes in groves. This syrup is a great way to make use of your rhubarb bounty and level up your cocktail game!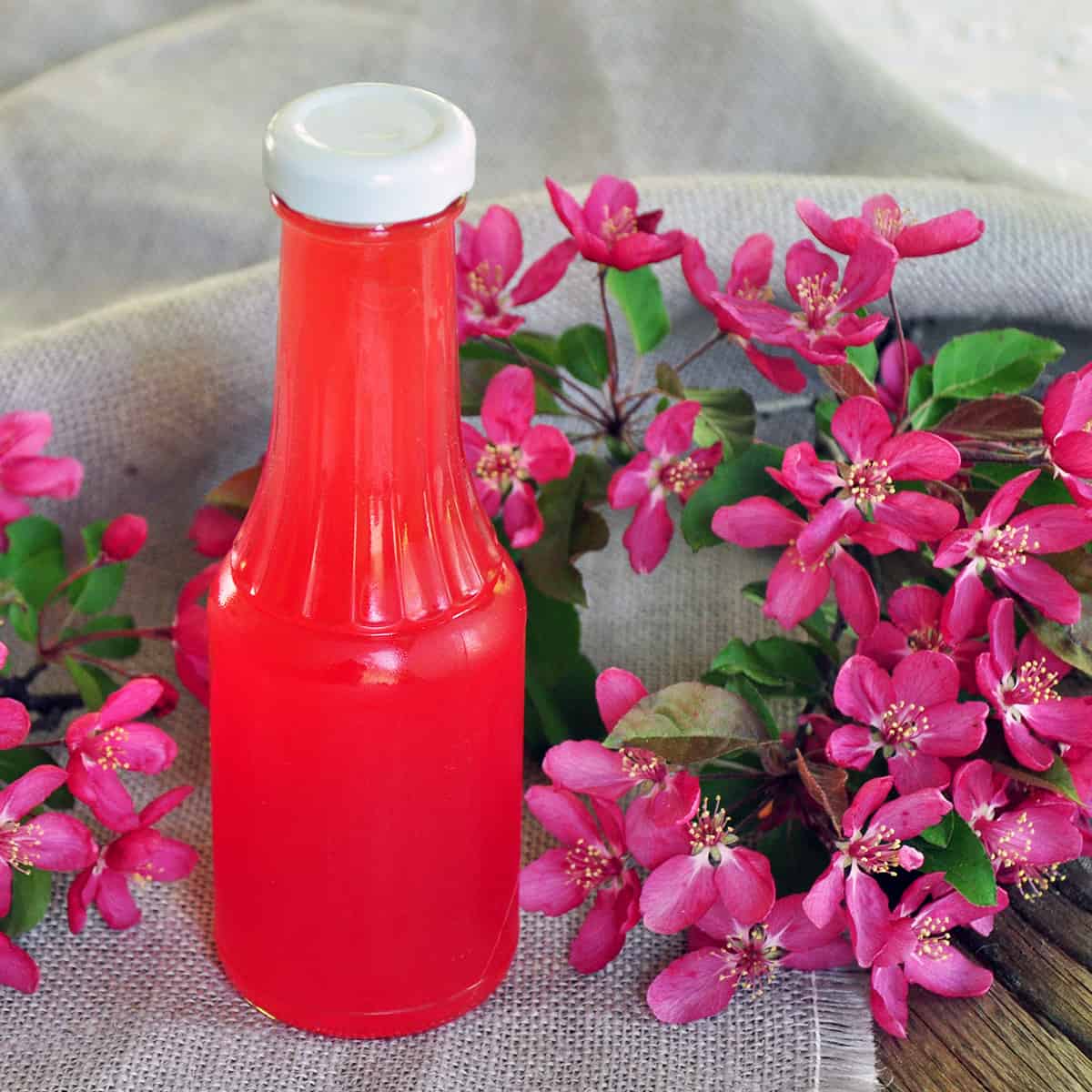 🌺 What makes this recipe special?
Spring is upon us, and that means it is Rhubarb season is here! And when it rains, it pours in the world of Rhubarb.
If you have plants in your garden or just love some rhubarb, this Rhubarb Syrup might be just what the doctor ordered! This simple syrup recipe is for cocktails, but can be used for other things. Perfect as a sweetener for tea or oatmeal.
Inspired by our Limoncello and Rhubarb Cocktail, but would be a great addition to a classic Old Fashioned cocktail. Or if dessert is your thing, check out this Rhubarb Pie or this Strawberry Rhubarb Cobbler recipe. No matter what you make, make sure to treat yourself.
Jump to:
🍹 Ingredients
Not much to this recipe at all. Here is what you will need:
Chopped rhubarb
Sugar
Water
See the recipe card for quantities.
🍲 Instructions
Take this vegetable (because rhubarb is a vegetable) and infuse it into sugar water. It is as simple as that.
A few things to consider when making this simple syrup are how thick you want the syrup and how much of a rhubarb flavor you want. Simmering this longer than the recipe recommends will give you a thicker syrup.
The syrup might not show its full thickness until it has cooled down. Right off of the stovetop, the liquid will be a bit more fluid and as it cools down, the true viscosity will be known.
Of course, you can simmer it a second time to make it thicker AND give it a more concentrated rhubarb flavor. You could add more rhubarb to the mix, but our recipe provides an outstanding balance of flavor, sweetness, and viscosity for a great cocktail mixer.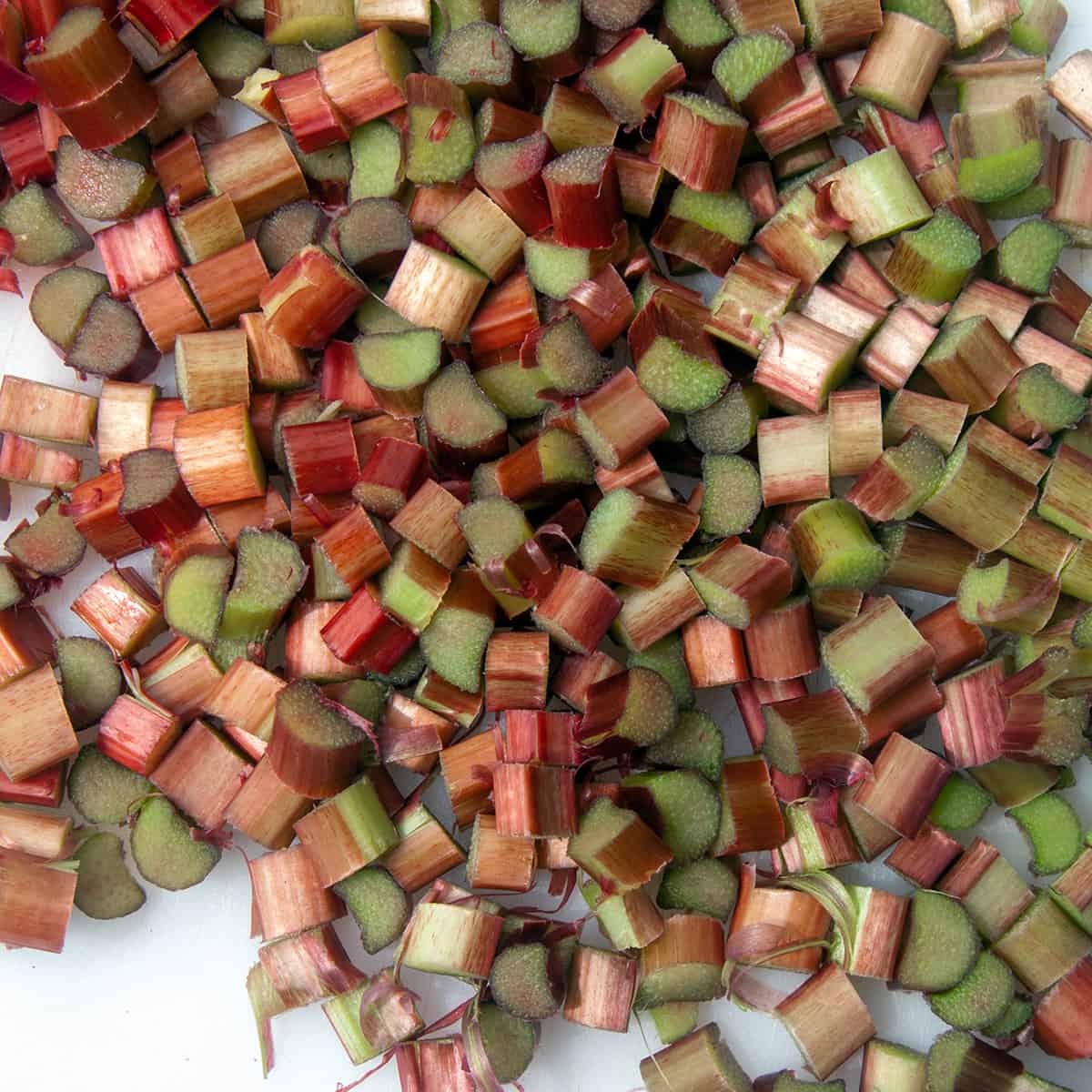 🤷 Substitutions and variations
You can change this recipe up in a few ways:
Herbs - Consider adding some herbs to the boil. A pinch of rosemary or thyme would be great
Strawberry - Strawberry is a natural companion to rhubarb, and adding some strawberry rhubarb syrup is very tasty!
Sweetener - Try honey or maple syrup to make this an even more interesting syrup.
📦 Storage
After straining the rhubarb syrup, it should be put into a sealed container, stored in the fridge, and used within a month. It's important to cool the syrup before sealing the container and storing it.
🎓 Rhubarb history tidbit
Rhubarb has a long and fascinating history. It is believed to have originated in China thousands of years ago and was highly valued for its medicinal properties. Rhubarb made its way to Europe in the 14th century and became a popular ingredient in desserts and jams.
Rhubarb became a major export crop for Britain, and rhubarb cultivation became an important industry in the West Yorkshire region. Today, rhubarb is enjoyed worldwide, and its tart, tangy flavor is a favorite in pies, sauces, and cocktails.
❓ FAQ
What does rhubarb syrup taste like?
Rhubarb syrup has a sweet and tangy flavor with a hint of sourness. It's often used in cocktails to add a unique twist to classic recipes.
Can I use frozen rhubarb to make syrup?
Yes, frozen rhubarb can be used to make syrup. It may take longer to simmer down to the desired thickness.
Can I substitute honey or maple syrup for sugar in the recipe?
Yes, you can substitute honey or maple syrup for sugar in the recipe. However, keep in mind that this will change the flavor and sweetness of the syrup.
Can I use rhubarb syrup in non-alcoholic drinks?
Yes, rhubarb syrup can be used in non-alcoholic drinks such as lemonade, iced tea, or sparkling water. It adds a sweet and tangy flavor that complements these beverages well.
How long does rhubarb syrup last in the fridge?
Rhubarb syrup can be stored in the fridge in a sealed container for up to a month. However, if you notice any signs of spoilage such as mold, off flavors, or odors, it's best to discard the syrup.
📝 Tips and tricks
Fresh rhubarb works great, but frozen rhubarb would also work for this.
Rinse off your fresh rhubarb to remove any dirt or critters from the rhubarb stalks.
🛠 Products used in this recipe
😋 Did you make this recipe?
That is awesome, and thank you so much for giving this Rhubarb Syrup recipe a try. If you could leave a rating in the comment area below, it would be greatly appreciated. This lets me know how I am doing and also helps others decide if they want to make this recipe. Most of all, thanks for visiting Ramshackle Pantry.
Print
📖 Recipe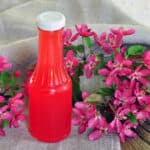 Rhubarb Syrup for Cocktails
Author:

Ben Myhre

Prep Time:

20 minutes

Cook Time:

1 hour

Total Time:

1 hour 20 minutes

Yield:

32 Ounces

1

x

Category:

Cocktails

Method:

Simmer

Cuisine:

American
---
Description
This Rhubarb Syrup is a great sweetener for drinks, cocktails, or really anything that needs a bit of Springtime flavor!
---
6

cups

chopped fresh rhubarb

2 ¼

cups

sugar

2 ¼

cups

water
---
Instructions
Add all ingredients to pot and bring to a boil
Reduce to simmer for 50 minutes
Remove from heat and allow to cool
Strain and allow to cool to room temperature
Put into sealed container, store in fridge, and use within a month.
---
Notes
Fresh rhubarb works great, but frozen rhubarb would also work for this.
Rinse off your fresh rhubarb to remove any dirt or critters from the rhubarb stalks.