Cream, sausage, butter, and knoephla dumplings make up this luxuriously guilty pleasure. Sauerkraut and Sausage Knoephla Skillet Dish is serious German comfort food and a great single skillet dish for a weekday night or when you want something a bit special.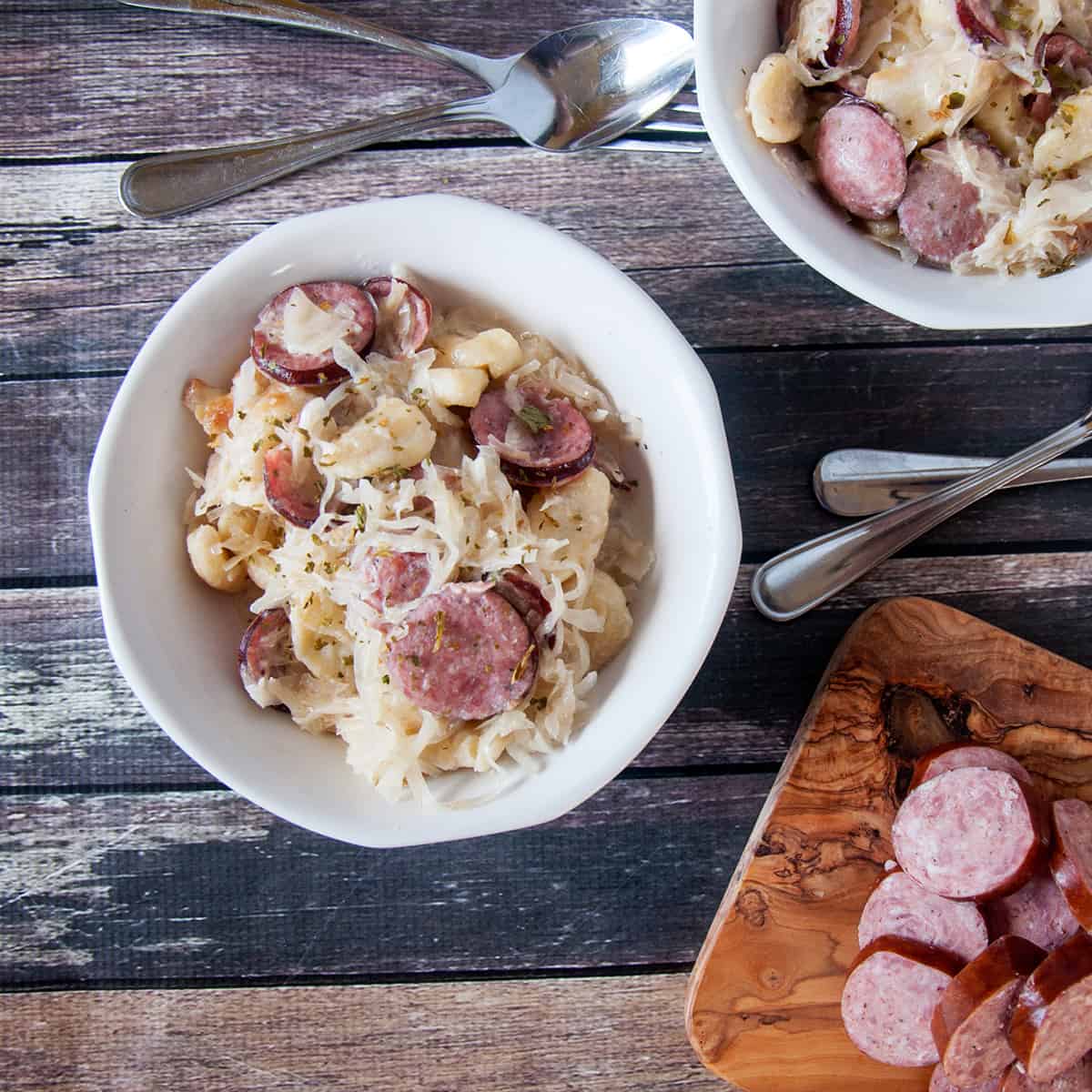 In our exploration of Knoephla soup and my traditional Knoephla soup recipe, I found a German Knoephla recipe that I have fallen in love with. It is not a soup, but a skillet dish that has knoephla dumplings, sauerkraut, and sausage.
This Knoephla Sauerkraut and Sausage recipe still has the creamy, buttery feel of the soup I make, but adds some other excellent German flavors. This is an easy-to-make meal and if you already love sauerkraut, this skillet dinner is totally worth a try. Enjoy our Knoephla Sauerkraut and Sausage recipe.
Knoephla Sauerkraut and Sausage Overview
Growing up, I only knew knoephla as a soup recipe, but have since learned that it really is just the dumpling. While it is the awesome soup I know and love, there is more to these little buttons than meets the eye. There are many recipes that can be made with knoephla dumplings, and it only makes sense. The dumplings themselves are tasty and can take on the flavor of whatever surrounds them.
This nice, creamy skillet dish with dumplings, sauerkraut, and cream. It is faintly reminiscent of a creamed corned beef recipe that my aunt used to feed me. No, it isn't Irish, but there is a cabbage element with the sauerkraut. Yes, we use sausage instead of corned beef, which makes it different, but still lends to a comforting meat flavor.
Basically, we are taking some of the tasty elements of the soup I know and moving them to a skillet. Then, adding some more traditional German flavors. Oh, and butter. More butter. mmmm.
Are the Dumplings the Same As The Ones From Soup?
The dumplings in this recipe have the same ingredients from the ones we used in our traditional knoephla recipe, but I did slightly change up how they were cut. I am ok with having some fairly large dumplings in the soup, but it didn't feel right in this recipe. I cut the dumplings quite a bit smaller to about half an inch.
Frying Knoephla Dumplings
One noticeable difference between the soup and this skillet dish is how we treat the dumplings. Instead of just boiling the dumplings, we are going to fry our dumplings in butter.
We still boil them, but then also fry them to add a bit of crispness to the dumplings. The idea here is that we will get some of the little hard fry bits on the outer crust of the dumplings. I think there can be a fine line here between a nice crust and burning. Make sure to mix up your dumplings when they are frying and if it starts to get too brown, perhaps it is time to add the cream.
Can I Substitute Other Sausages for German Smoked Sausage
Yes. I would say that almost any cured sausage would be a good substitute for a package labeled as 'German Smoked Sausage'. Sausage, in general, is pretty awesome and would be good in a kraut, cream, butter, and dumpling mix.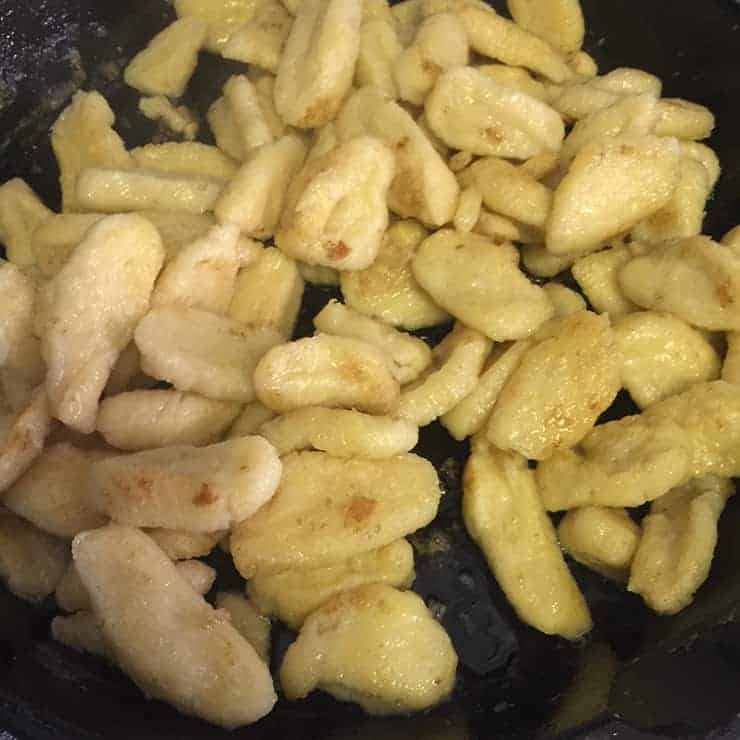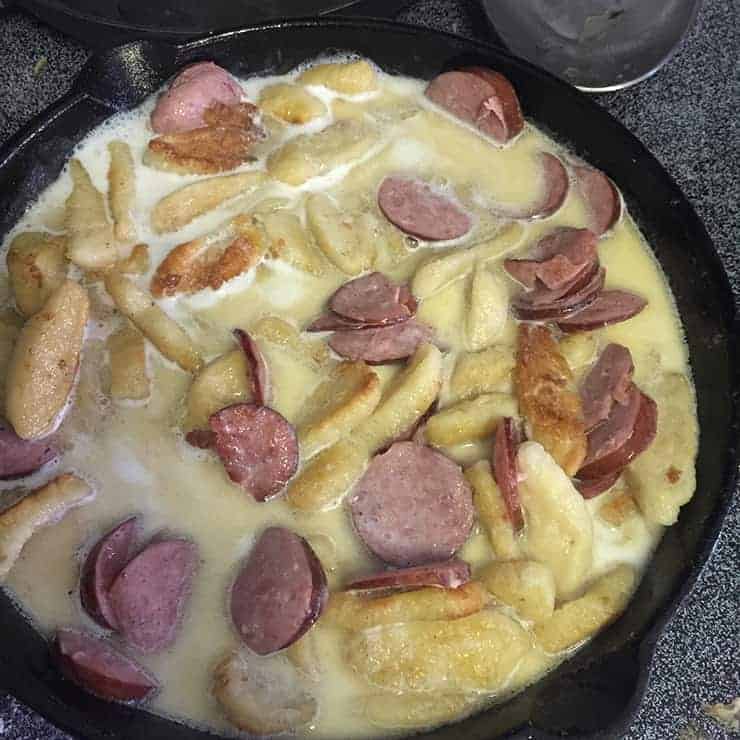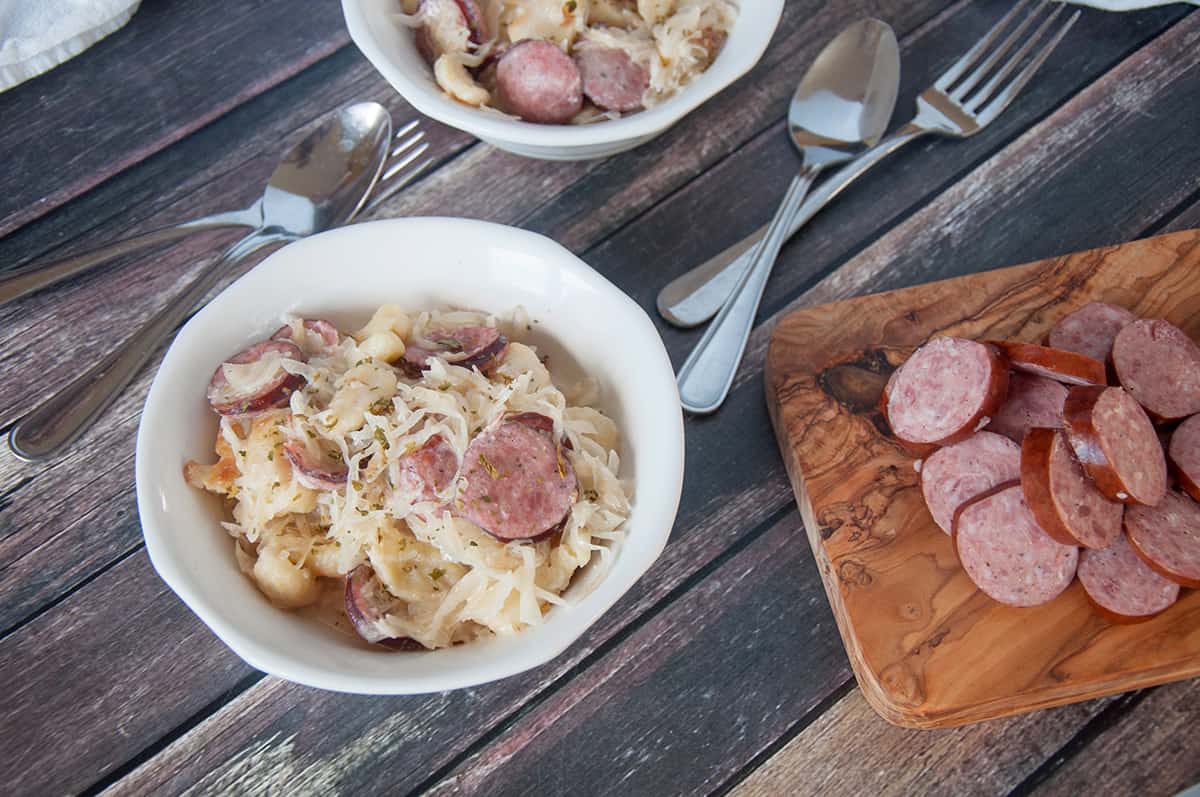 Honestly, this was an unexpected delight in this series and I found a new appreciation for both knoephla and for sauerkraut. This is an easy recipe that can be made fairly quickly. Most importantly, it is yummy as heck. So, eat up aspiring German eater… make this Knoephla Sauerkraut and Sausage Skillet Dish today!
Products I Used In This Recipe
Recipe Tips
You can really use any cured sausage in this dish.
I use a cast iron skillet, but any sizable pan should work.
Did You Make This Recipe?
Spectacular! I love that you gave it a try and if you liked it, let me know. You can leave a comment and rating below to let me know how it worked for you. If you could share this on your Facebook or Pinterest, it would be greatly appreciated. If you like what we are doing here, please subscribe to get updates via email, follow me on Instagram, and follow me on Pinterest.
Print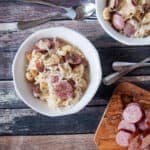 Sauerkraut and Sausage Knoephla Skillet Dish
Author:

Ben Myhre

Prep Time:

15 minutes

Cook Time:

30 minutes

Total Time:

45 Minutes

Yield:

4

servings

1

x

Category:

Dumplings

Method:

Fry

Cuisine:

German
---
Description
This dish is so German and so tasty. Sauerkraut and sausage are all that we really need to say, but then add in knoephla dumplings, cream, and butter. Heaven in a skillet. So much flavor going on in this dish.
---
For Dumplings:
2

eggs

½ cup

milk

1 teaspoon

salt

2 cups

flour
For Skillet:
4 Tablespoons

Butter
All of the Dumplings

8 Ounces

German smoked sausage, sliced into

½

sections or chopped

2 cups

whole milk

2 cups

sauerkraut, drained
---
Instructions
For Dumplings:
Mix all dumpling ingredients in a bowl and combine well
Divide into two pieces just to make easier to work with
On a lightly floured surface, roll each piece out with your hand so it is approximately ½ inch in diameter and like a rope
If needed sprinkle with flour to make easier to work with
Cut into ½ inch dumpling pieces and set aside.
Add water to a large pot, salt, and heat to high
Allow to boil 3-5 minutes or until all dumplings are floating at top
Strain and set aside
For Skillet:
Add butter to large frying pan and turn to medium high
Once butter is melted, add dumplings and fry for about five minutes or until a golden brown crust starts to develop on dumplings. Make sure to mix with a spatula regularly.
Add sausage and cook for another 5 minutes or until sausage is warmed
Add milk and allow to simmer for 15 minutes
add salt and pepper to taste
Add sauerkraut and cook until warmed.
Serve
---
Notes
You can really use any cured sausage in this dish.
I use a cast iron skillet, but any sizable pan should work.
Nutrition
Serving Size:

¼ skillet

Calories:

599

Sugar:

9g

Sodium:

1659 mg

Fat:

30 g

Saturated Fat:

15 g

Unsaturated Fat:

15 g

Carbohydrates:

55 g

Fiber:

4 g

Protein:

23 g

Cholesterol:

171 mg
Keywords: sauerkraut and sausage