This is an easy, hardy, flavorful Baked Pork Chops recipe with little mess and will make everyone in the family happy. The rice and apple medley adds an unforgettable sweetness for a perfect weeknight dinner or is even great for something special.
This dinner has it all! Not only the chops, but a starch, veggies, and fruit to make this a well-balanced meal. Try this Baked Pork Chops and Rice with Apples recipe today.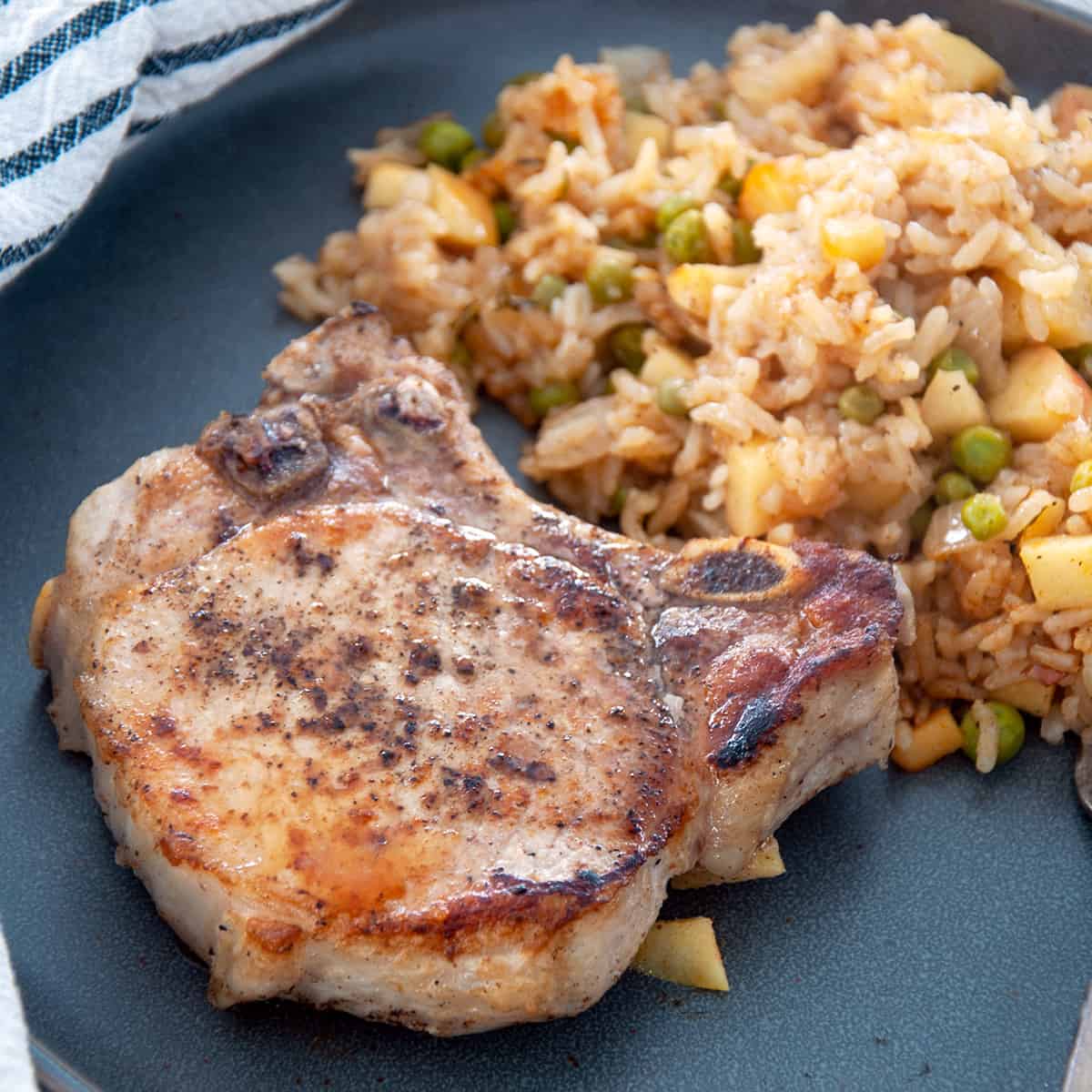 🍎 What makes this recipe special?
This dinner has a lot going on that makes it unique. The pork chops are juicy and tender. Of course, we want the star of this recipe to be excellent, right?
It ticks off all the checkmarks of a great recipe if you are trying to feed a family. It doesn't require too many dishes, which is great! One pan to sear your chops and another to bake all the ingredients. Not quite a one-pot meal, but close.
Nutritionally, it fits the bill. It has plenty of vegetables to ensure your family gets all the good stuff. You get your starches with the rice, protein with the chops and veggies. Even fruit is in this!
The apple kiss on this recipe gives it something special. We bake the pork chops on a rice medley with apples and apple juice. The pork chops taste good, but the apples, when combined with pork, veggies, and seasonings, make this a keeper.
A few other easy and hardy recipes I recommend are this Baked Italian Chicken Thigh recipe, an easy taco soup recipe, or maybe give this slow cooker chili con carne recipe a try!
Jump to:
🍖 Ingredients
Don't forget the pork chops! Of course you wont, as that is why you are here, right? There are a few other ingredients that come together to make this awesome.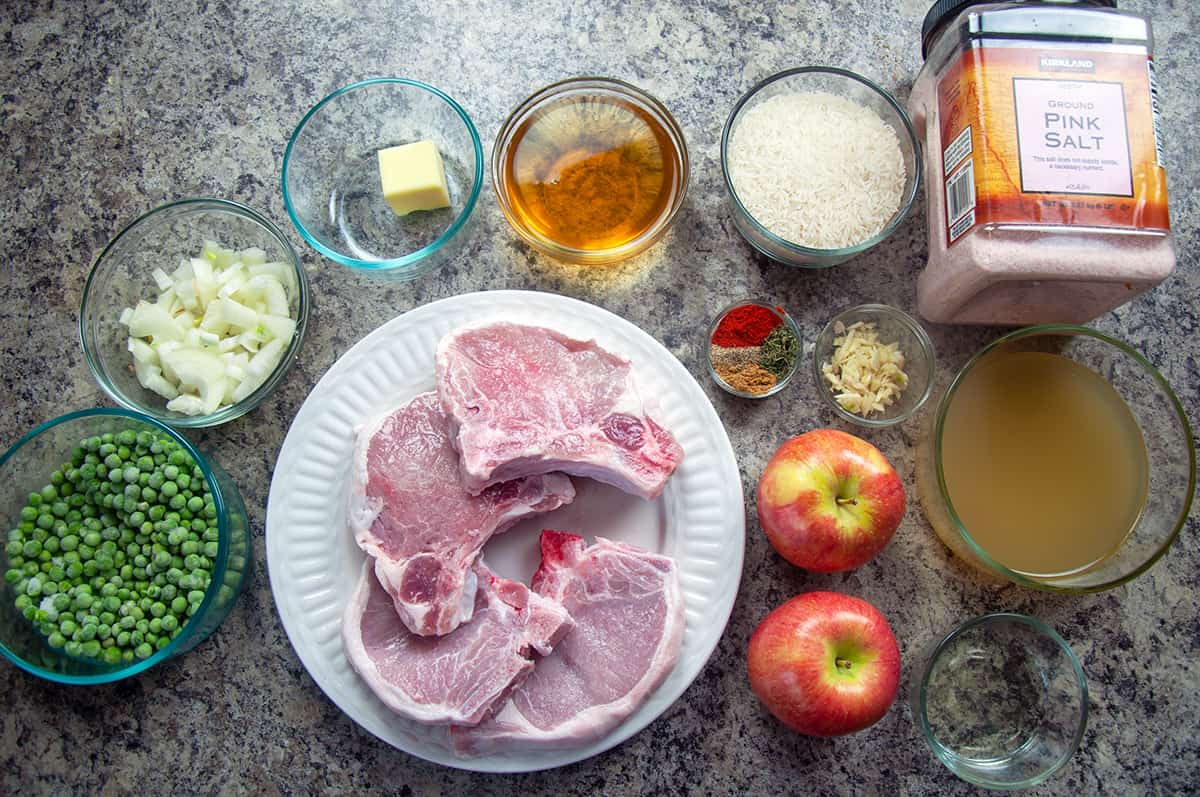 Pork chops
Braeburn apples
Butter
Frozen peas
Onion
Garlic
Rice
Chicken stock - Make your own Chicken stock with this recipe if you want to go all out.
Apple Cider
Canola or high-heat oil
Salt
Pepper
Thyme
Paprika
Cumin
See the recipe card for quantities.
Choosing Pork Chops
For this recipe, I like to use bone-in pork chops that are 1 ½-inch thick. This should be available at most grocery stores, but your butcher will undoubtedly have them.
🍲 Instructions
This recipe gets divided into two different stages. First, the searing and part that happens in the pan. The second is the baking portion of the recipe.
Searing and Pan Frying
In a pan, sear the pork chops in a tad of oil and with some salt and pepper. I use my cast iron pan, but any good pan with a decent size should work fine.
Searing helps give the pork chops a bit of a desirable crust and puts some seasoning right into the chop. Additionally, it adds little bits of flavor to the pan.
After searing, add a bit of butter to the pan. This helps get the little left over pork chop bits off the pan. Add onions and garlic. Cook until glassy.
Then add the rice and cook for a minute or so. Add peas, salt, pepper, thyme, paprika, and cumin. Stir and cook for an additional minute.
Baking the Pork Chops
Now, you are ready to bake! Add the mixture from the pan into a 9 by 13 baking pan (I use a Pyrex) and spread evenly. Put diced apples on top and spread evenly.
Pour in your apple cider and chicken stock. Place the pork chops right on top. Bake at 350° Fahrenheit until the pork chops hit 145° Fahrenheit and then remove. This should take about 45 minutes, but use your meat thermometer to remove them when they hit the magic temperature of 145°.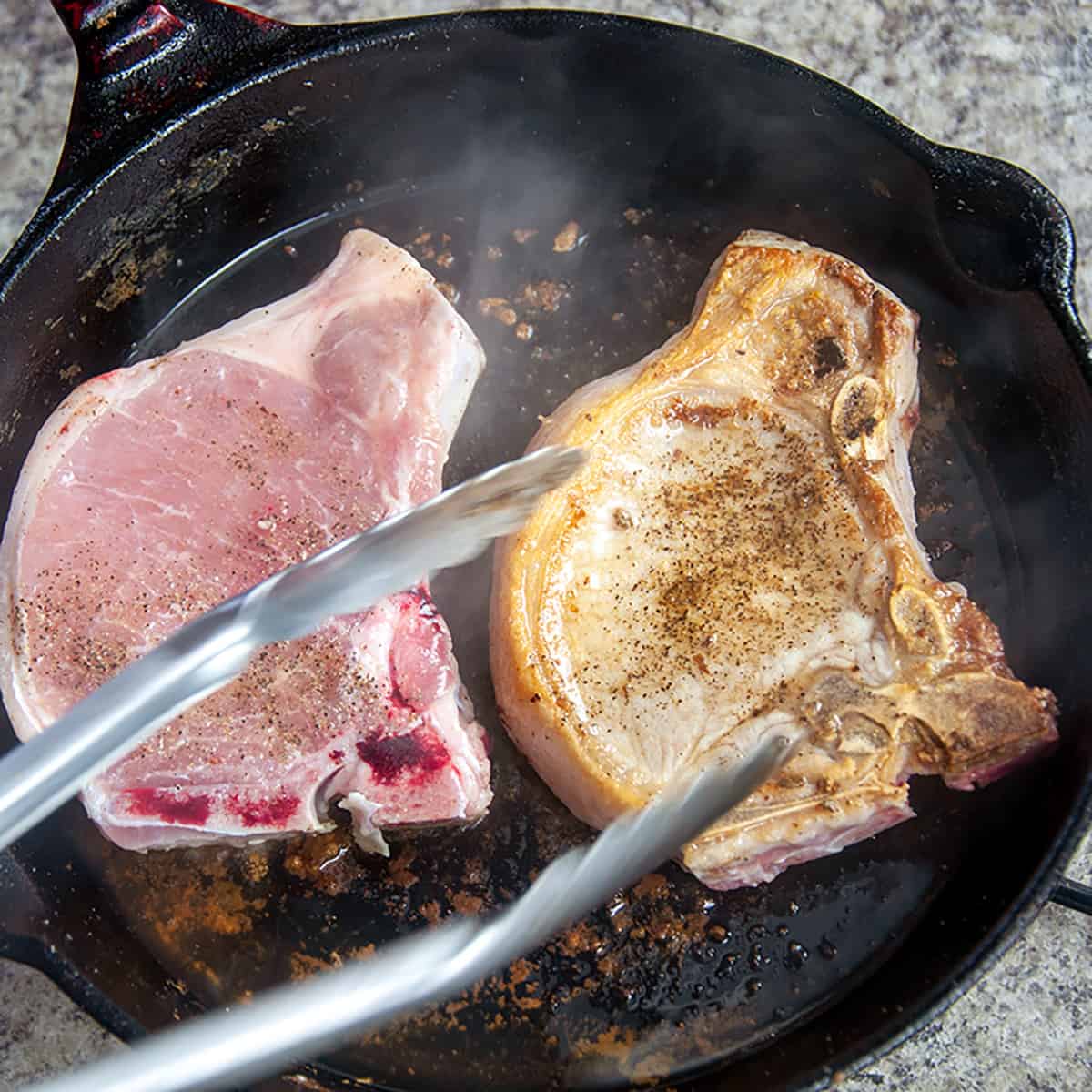 Brining pork chops
I made this without brining the pork chops as well and it ends up great, but brining can add a bit more juiciness to the mix. This is optional and adds more time to the recipe, but does enhance the flavors.
To brine, add ¼ cup of salt to 1 quart of water in a shallow baking dish and stir. Submerge the pork chops in the water, cover, and put in the fridge for one to four hours prior to starting the recipe.
I have allowed pork chops to brine up to a day before and it comes out great. One to four hours of brining gives the maximum benefit.
🤷 Substitutions and variations
There are a few ways that this can be changed up.
Pork Chops - I use 1 ½ inch bone-in chops, but really any kind of pork chops will do.
Rice - I am using Jasmine rice, as that is what we keep around mostly, but really any dry long grain rice should work well for
Chicken Stock - Chicken broth works fine too.
Peas - Unless I have fresh shell peas, I prefer frozen. Canned could also work for this.
Apple Cider - Apple cider, apple juice. You could also just use more chicken stock, but the apple cider really helped make this special.
Seasoning - I think thyme works spectacularly for this recipe, but use what you want.
📦 Storage
This recipe stores really well in the refrigerator for up to three days in a covered container. When ready to eat, just reheat in the microwave or bake at 350° until warm.
❓ FAQ
What temperature is best to bake pork chops?
350° Fahrenheit is perfect for pork chops. The lower temperature helps retain the juiciness and still gets it to a safe temperature.
Why do apples go well with pork?
Apples are often used as a flavor pairing with pork because the sweetness and tanginess of the fruit helps to balance out the richness and savoriness of the meat.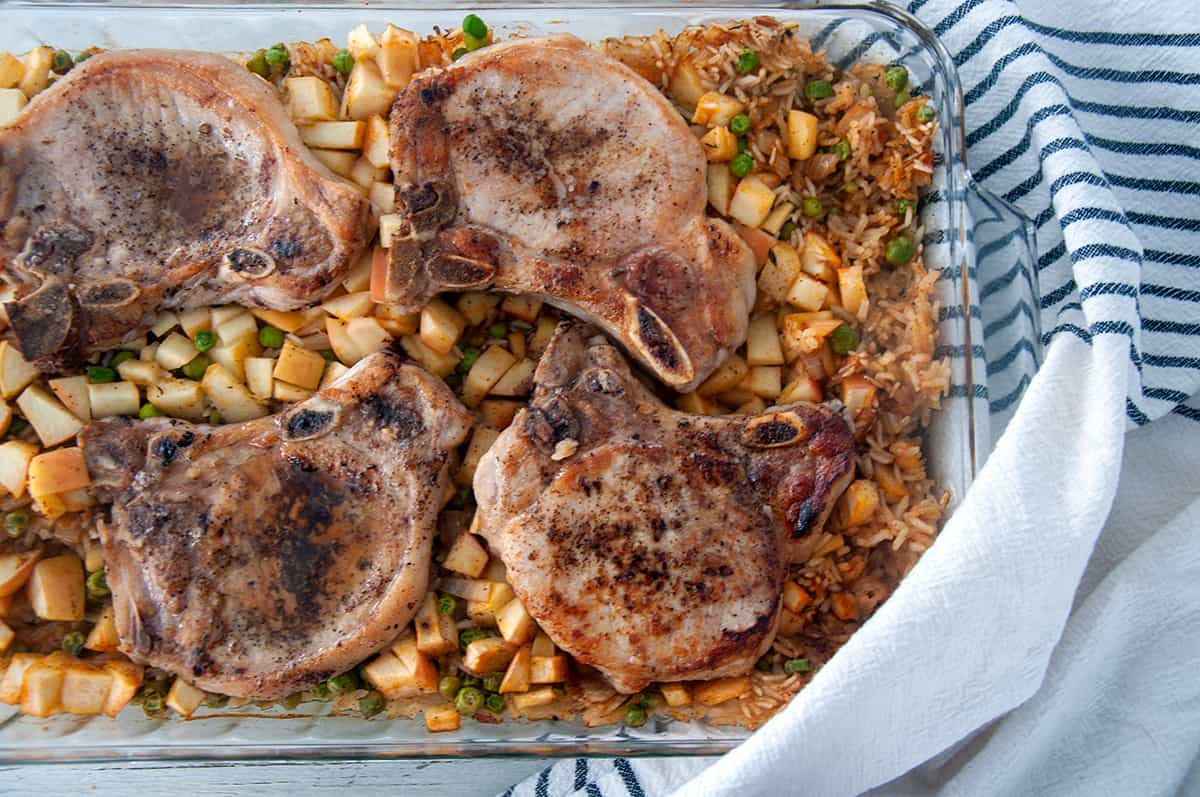 📝 Tips and tricks
A meat thermometer is a great way to get the juiciest pork chops. Hit that 145° Fahrenheit temperature and remove.
Brine your pork chops in salt water for maximum juiciness, but this is absolutely optional.
I presume a 6-ounce portion of meat from the pork chop, but this may vary.
🛠 Products used in this recipe
😋 Did you make this recipe?
That is awesome, and thank you so much for giving this Baked Pork Chops with Rice and Apples recipe a try. If you could leave a rating in the comment area below, it would be greatly appreciated. This lets me know how I am doing and also helps others decide if they want to make this recipe. Most of all, thanks for visiting Ramshackle Pantry.
Print
📖 Recipe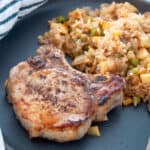 Baked Pork Chops and Rice With Apples
Author:

Ben Myhre

Prep Time:

15 minutes

Cook Time:

1 hour

Total Time:

1 hour 15 minutes

Yield:

4

servings

1

x

Category:

Dinner

Method:

Baking

Cuisine:

American
---
Description
These baked pork chops are a great, filling dinner that feeds the entire family. Baked right with a rice and apples medley, this one-pot baked dish will make everybody happy. It tastes great, is nutritious, and done in just about an hour.
---
4

pork chops

2 tablespoons

canola oil (or other high heat oil)

2

Braeburn apples, peeled, cored, and diced

2

cups

of frozen peas

1

medium onion, chopped

2

cloves of garlic, minced

1 ½

cups

of dry rice

2

cup

chicken stock

1

cup

cider

2 teaspoons

salt (+

1 tsp

seasoning for frying - or to taste)

2 teaspoons

dry thyme

1 teaspoon

smoked paprika

½ teaspoon

cumin

1 teaspoon

pepper + ½ teaspoon for frying (or to taste)
---
Instructions
Preheat oven to 350° Farenheight
Pat pork chops dry and salt and pepper each side.
On high, add 1 Tablespoon of oil and sear each side of 2 chops for 2 minutes per side then set aside
Repeat steps two and three with another tbsp oil for last two chops
Turn temp down to medium-low and add 2 Tablespoons butter
Add onions and garlic. Cook until glassy.
Add rice and cook for a minute
Add peas, salt, pepper, thyme, paprika, and cumin.
Add all ingredients from pan to deep 9 by 13 baking dish and spread evenly
Spread apples evenly over the top and then pour in chicken stock and apple cider.
Place pork chops on top so that each is right on the apples.
Bake for 45 minutes or until the internal temperature of the pork chops hit 145° Fahrenheit.
Serve
Notes
A meat thermometer is a great way to get the juiciest pork chops. Hit that 145° Fahrenheit temperature and remove.
Brine your pork chops in salt water for maximum juiciness, but this is absolutely optional.
I presume a 6-ounce portion of meat from the pork chop, but this may vary.
Keywords: baked pork chops