We are living in a time when stretching your dollars and pantry staples is important, so I am going to share some delicious cooking basics. This Homemade Skillet Tuna Helper recipe is an easy way to make a quick dinner that is has all of the basics… vegetables, protein, and starches. Not only is this a well-defined recipe, but it will also give you limitless options for do-it-yourself dinners with things that you have right around your house!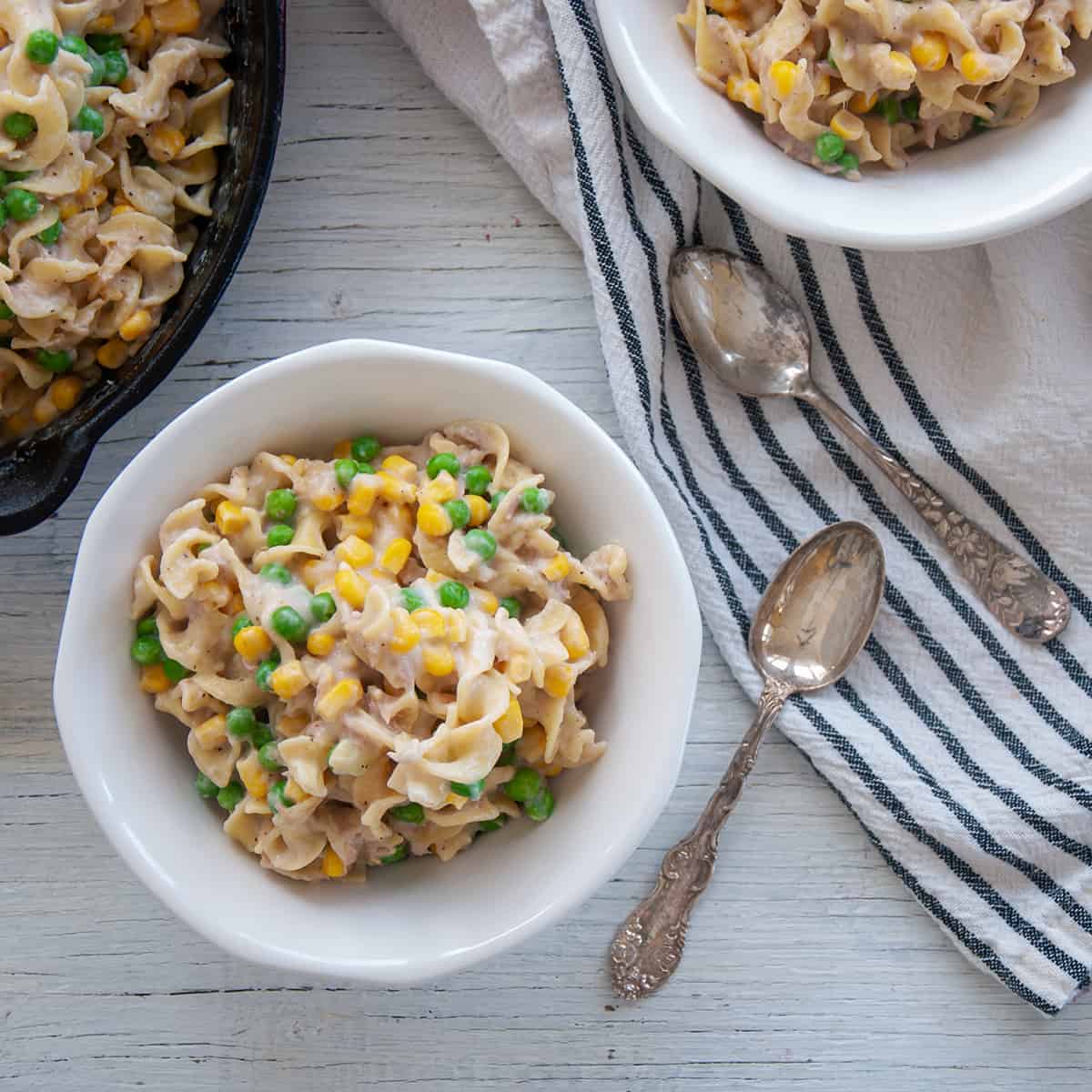 Homemade Skillet Tuna Helper Summary
This is some basic cooking 101 action, but you will not be disappointed. We are going to turn butter, flour, and milk into a delicious sauce in just minutes. Then, once our sauce thickens a little, we are going to add the veggies, cooked noodles, and canned tuna. BAM! A bunch of normal ingredients in your pantry will become so much more and feed your family.
Hang on though! This recipe is so much more. We are going to walk through a choose-your-adventure of recipe building that can empower you to make all sorts of delicious recipes with items you have in your pantry, fridge, or freezer.
What Noodles to Use?
The recipe I am making today uses wide egg noodles. You know the ones, right? The wavy ones that come in a bigger bag rather than a box or tight package. I feel these noodles are great for skillet dishes and they are tasty. You have some other options.
Really, any noodle will do. Even rice works. If you read enough of this post, you might learn how to make a full-fledge macaroni and cheese with almost the same instructions I use to make my Homemade Skillet Tuna Helper.
Noodles are something that you can make right away, as once we start on the sauce, you will only need to dump everything in and make sure it is cooked through. Making noodles is the first step in this recipe.
If you are looking to make this lower calorie, rice is probably the way to go, as most rice has about 160 kcals per serving (¼ cup uncooked), while egg noodles tend to be about 210 kcals per serving. Calories aren't everything, though. Make what you like or use the noodles you have in your pantry!
How About The Meat?
I am choosing canned tuna. To be honest, I rarely use canned tuna, but we have a few cans in our cupboard. I chose this, as it is easy and already cooked, but you can use any meat really…. Or heck, go vegetarian and use no meat.
Chicken, pork, hamburger, beef, or extra veggies can all work for a dish like this. The key is to have them cooked before you start your skillet dish. Since you are cooking noodles anyways, just cook your meat then, if you need to cook them.
Since this recipe is partially about empowering you to make easy meals, I am sticking with tuna. Canned chicken might be another one that works really well if you want to minimize the cooking time.
Chicken breast or chopped up leftover chicken would be great for a dish like this. If you have some ground beef, you can make some great beef dishes with this recipe as a template. Figure out what you have, finish reading this recipe, and then make your version of this dish.
Choose Your Own Adventure Sauce
We are going to make a basic, creamy white sauce for this tuna dish, but there is so much more to explore with this sauce. For making this sauce, I am going to explain what I am doing and give you some additional options so your final dish does not need to be the same as mine.

If you follow my recipe (down below) to the letter, you are going to end up with a great dish. If you consider some of the alternatives in your choose your own adventure sauce, you might end up with something you like even better!
Let's Make a Roux
A roux is a fat mixed with about an equal proportion of flour. It is that simple. We are using butter for our roux, which is very common, but other fats like oil or meat drippings can be used. The options are endless, but really just needs to start with some kind of fat and all-purpose flour.
By heating my stove-top to low, I can melt the butter. Once the butter has been gently melted and is liquid in your pan, the flour can be slowly mixed in. By mixing in the flour and gently bringing the ingredients together, you are going to make a paste-like substance and this is a roux.
To be honest, I might usually use a bit more butter, but I did want to watch the calories a little on this one and make this a bare-bones recipe that gave you more options. Most of the traditional roux recipes call for equal parts of butter and flour. If that is your preference, do that! So, if you want, you can use 3 Tablespoons of butter or even four, but I would leave the amount of flour the same, as that will act like the thickening agent we want.
There you have a roux! I use butter, but you could use something like an oil or meat drippings. This is the very base of our recipe, but the real fun part comes next.
Let's Make a Bechamel Sauce
From the point you have a roux, you have a decision to make. What flavor do you want your sauce to be? For our Homemade Skillet Tuna Helper recipe, we are going to make a basic white sauce or bechamel, but you will have other options.

Bechamel sauce is one of the five French Mother Sauces. Sounds fancy, right? We have used it in our Mac and Cheese recipe and our Cauliflower Au Gratin recipe. Don't let that intimidate you, as it is super easy to make and once you know how to make it, you are going to have so many options open up to.
To make a bechamel, you take our warm roux over medium-low heat and add in milk. Add the milk in slowly and use a wooden spoon or spatula to incorporate the roux. Usually, I just add a bit of milk and then put the measuring cup down and mix the milk. Then, add in a bit more and mix more.
Keep on gently adding in all of the dairy and mixing it all together. The goal is to incorporate our flour/butter mixture into the milk. Once all the milk is all added, I turn the temp up to a medium (to medium-high) and continue to mix. We want this to heat up, but our biggest worry at this point of the cooking process is scalding the dairy. Keep on mixing!
Right around the time that your mixture starts to bubble, you will also notice it start to thicken. Don't stop mixing! When it gets to the consistency of a thicker gravy or sauce, you know it is done and you can start mixing in other ingredients, but you don't need to make this with milk. There are other options.
Other Sauce Options
Instead of cream, you could use chicken, beef, or vegetable broth or stock. The sauces will thicken just the same and will give you a nice base for making a chicken skillet helper, beef skillet, or vegetarian dish. Really, there are so many options and the instructions are pretty much the same.
Even if you went with milk, you have some extra cool things you can do with that. Once your sauce is done, add in a cup or two of shredded cheese. You are steps away from making homemade mac and cheese if you add 2 cups of shredded cheddar cheese into your bechamel and mixing it in. Then, just add in your macaroni and there you have something that is already way better than what you could get from a box.
Or you could use Swiss cheese, gorgonzola cheese, or feta into your bechamel. Use the flavors that you like and the options can really be limitless.
Vegetables For This Skillet Dish
I used can corn and peas, but the options here are pretty limitless, as well. The one caveat on my instructions for veggies is that I am using ones that have already been prepared. If you are using a fresh vegetable, such as carrots, broccoli, or cauliflower, you will want to either saute or sweat them in a pan with some oil or butter before you start cooking.
This dish is really meant to be a throw-together dish that is easy to make and fresh (not canned or frozen) add a delightful twist into the equation. Just cook on your stove top them for a little bit while your pasta water is heating up and your are cooking your noodles.
If you are using canned or frozen veggies, just open them up and dump them in when the time is right. Lol.
Spices, Spices, Spices
In this recipe, we are only using salt and pepper… and that is all you need! Spices are great, but salt and pepper can usually go a long way in adding flavor to a dish. Since this is a basic recipe, we are sticking with salt and pepper.
With a recipe like this, just a few small spice changes can change things up. Many people use a little grated fresh nutmeg when making a bechamel sauce. That isn't really my favorite for a dish like this, but maybe a pinch or two of cayenne pepper would work well! I love that flavor in my skillet dishes. Adding parmesan cheese on top, chili powder, or any other seasoning can change this up.
Check out your spice rack and see what you have! There are any number of spice combinations you could use. In one of our alternate dishes, we might use beef broth and ground burger. If you went that route, maybe you add Mexican spices, like chili powder, cumin, and paprika.
You have many options when it comes to spices you can use in this dish, but all you need is salt and pepper.
A Note About What Pan To Use
I ended up using a cast iron pan that I use, but I have made this in all sorts of pans. Just make sure it is big enough to hold all of the ingredients. We are talking about 4 servings of pasta, along with a couple cups of sauce and a bunch of veggies.
It can get a little messy if you have a skillet that is too small. Go with at least a 12-inch skillet for comfortable cooking space.
Homemade Skillet Tuna Helper Tips
This recipe has so many ways to change it up! Reread this post for some great ideas on how to make a recipe that is great for you.
Use frozen or canned veggies for the easiest results and if you use fresh veggies, make sure to sweat or saute them before use.
When making a bechamel sauce, make sure to stir the dairy in your skillet to prevent scalding.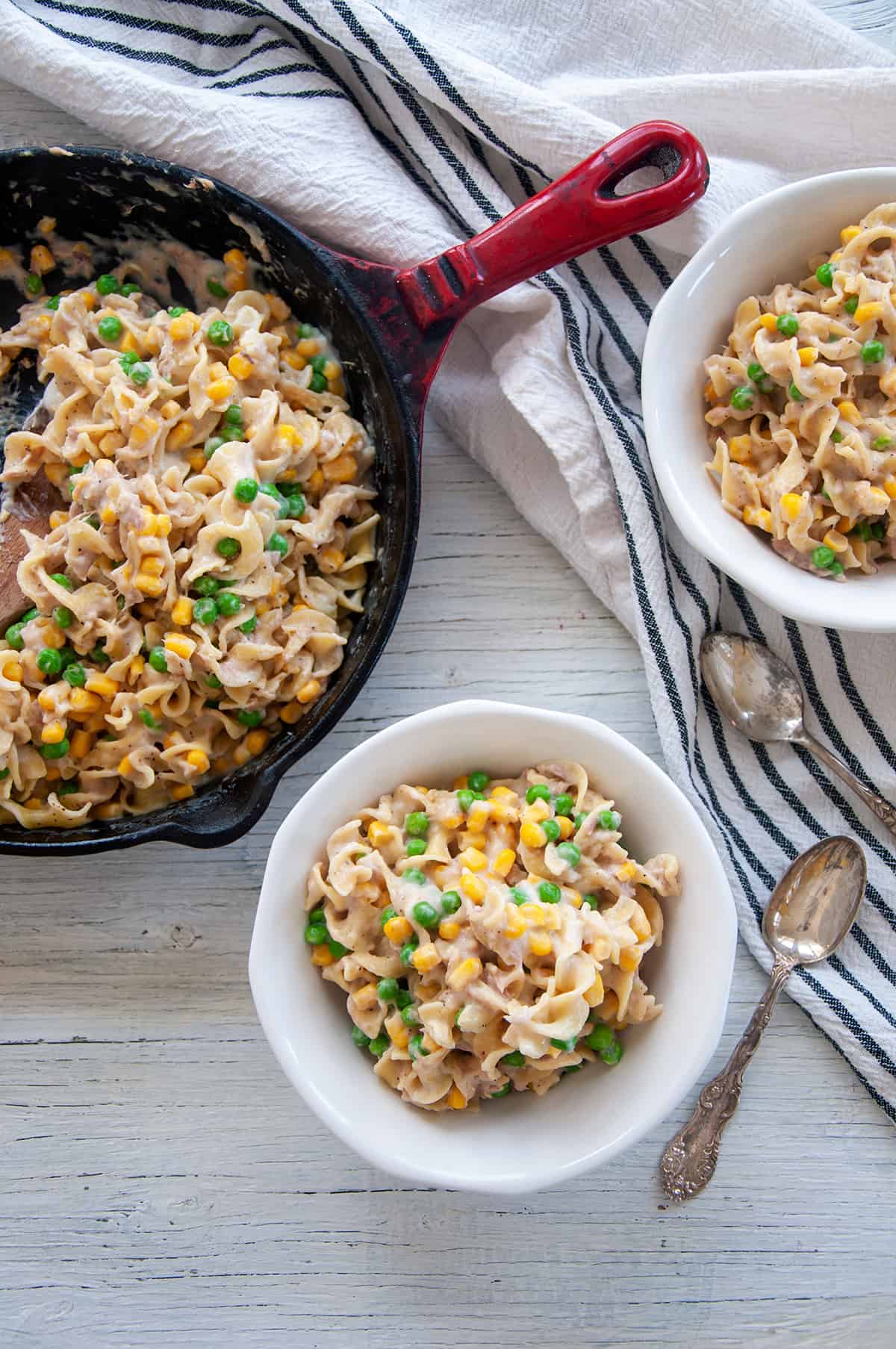 Products I Used In This Recipe
Print
📖 Recipe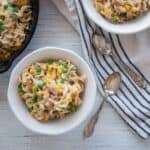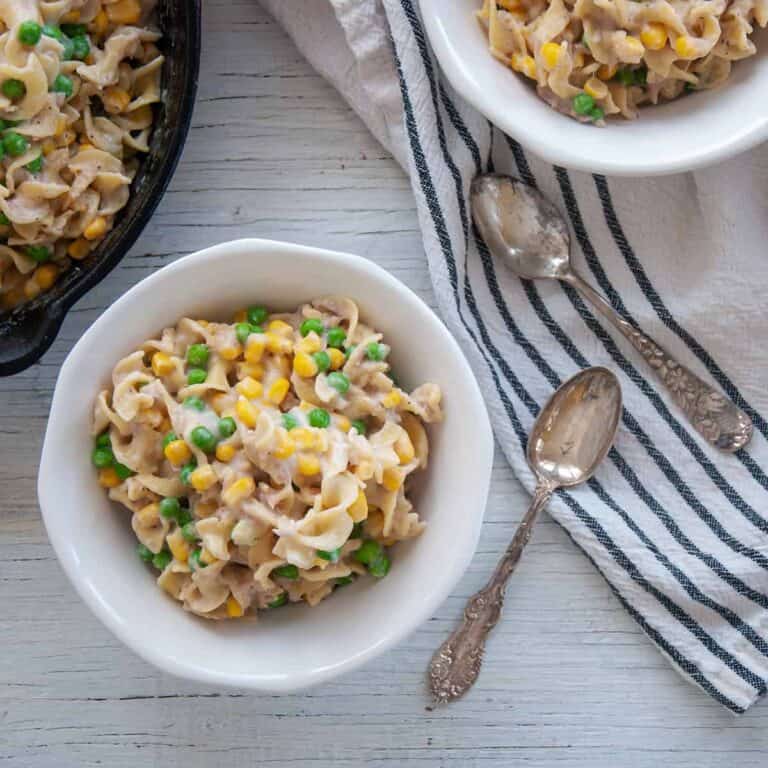 Homemade Skillet Tuna Helper Recipe
Author:

Ben Myhre

Prep Time:

10 minutes

Cook Time:

20 minutes

Total Time:

30 minutes

Yield:

4

servings

1

x

Category:

Easy

Method:

Skillet

Cuisine:

American
---
Description
This Homemade Skillet Tuna Helper Recipe is easy to throw together and provides a healthy, tasty, simple homestyle dinner. Get out your pantry staples for this quick and delicious skillet dinner.
---
8 ounces

egg noodles, cooked and drained

3 tablespoons

all purpose flour

2 tbsp

butter

2

cups 2% milk

1

Can corn, drained

1.5 cup

frozen peas, thawed

1

can tuna
Salt & Pepper to Taste
---
Instructions
In large skillet, heat butter over medium low
Once butter is melted, slowly mix in flour to form a paste like substance.
Add in a little of the milk and try to incorporate flour * butter mixture.
Continue adding milk and mix well.
Turn heat up to medium to medium high and continue stirring to prevent scalding.
When sauce starts to bubble, you will also notice it thickening.
Once the sauce is about gravy-thick or sticks well to the back of your mixing spoon, add in the cooked noodles.
Mix the noodles well.
Add in vegetables and tuna.
Mix well
Salt and pepper to taste.
---
Nutrition
Serving Size:

¼ skillet

Calories:

327 cal

Sugar:

5 g

Sodium:

210 mg

Fat:

10 g

Saturated Fat:

5 g

Unsaturated Fat:

2 g

Trans Fat:

0 g

Carbohydrates:

40 g

Fiber:

4 g

Protein:

19 g

Cholesterol:

40 mg
Did You Make This Recipe?
Swell! It always makes me happy when people give my recipe a try! If you liked it, let me know in the comments section below and maybe give it a rating. This kind of feedback helps me become a better cook and also helps me out. If you share it on Pinterest and Facebook, it would be appreciated. Of course, I would love for you to sign up to get updates via email from the banner on this page. Thanks for joining me!