Ever wondered what a summer's day tastes like? Well, wonder no more! This Honey Blueberry Mojito is like bottling sunshine, blue skies, and laughter into one refreshingly cool cocktail.
And the best part? It's a breeze to whip up! So grab your shaker, muddle up those mint leaves, shake it up, and prepare for the ultimate summer experience. You're just a sip away from paradise with this Honey Blueberry Mojito. Let the good times roll!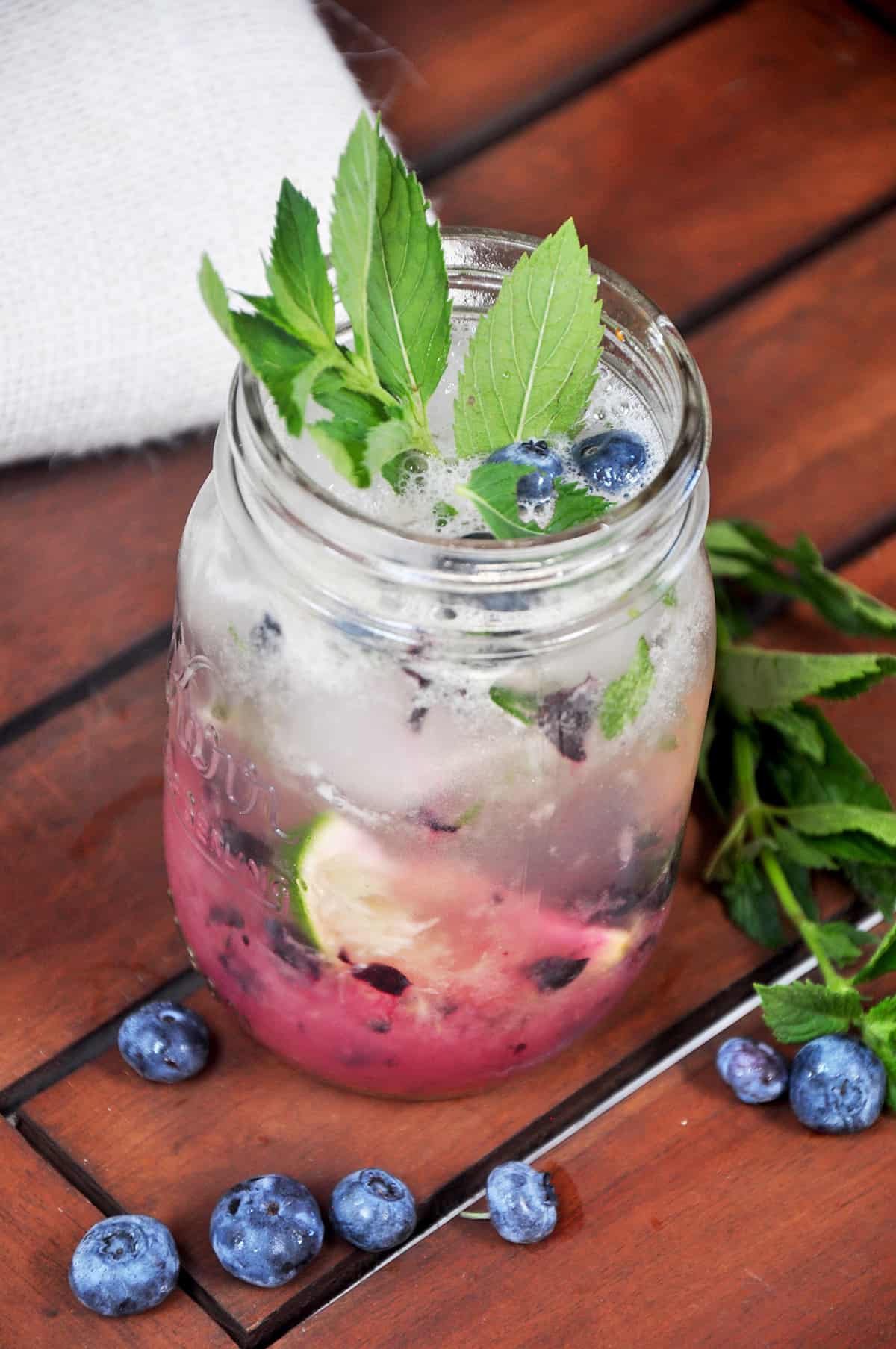 🌿 What makes this recipe special?
This Honey Blueberry Mojito isn't your run-of-the-mill cocktail and has some special twists. It starts with that sweet bit of honey. Who said mojitos have to be all about sugar? We're stepping up the game, adding a golden touch of honey that makes each sip a moment to savor.
Then we have fresh blueberries. They're not just for pancakes and work great in a cocktail. They add a pop of color and a fruity flavor that turns a simple drink into a showstopper.
And let's not forget the magic of muddling! Muddling the mint leaves and lime together, then adding the honey and blueberries... oh boy, that's where the magic happens.
The muddling releases all the aromatic oils from the mint and lime, blending beautifully with the blueberries and honey. It's like a mini flavor explosion in your glass! And that, my friends, makes this Honey Blueberry Mojito a truly special treat.
If you are looking for something a bit more traditional, check out this classic Mojito recipe. This blueberry cocktail is perfect alongside this Grilled Blackened Shrimp or these Indian Inspired Lamb burgers with Mint Yogurt Sauce. No matter what you drink or eat, treat yourself!
Jump to:
🍯 Ingredients
Many of the same suspects as a traditional mojito, but you will need a few more things. Here is what you will need.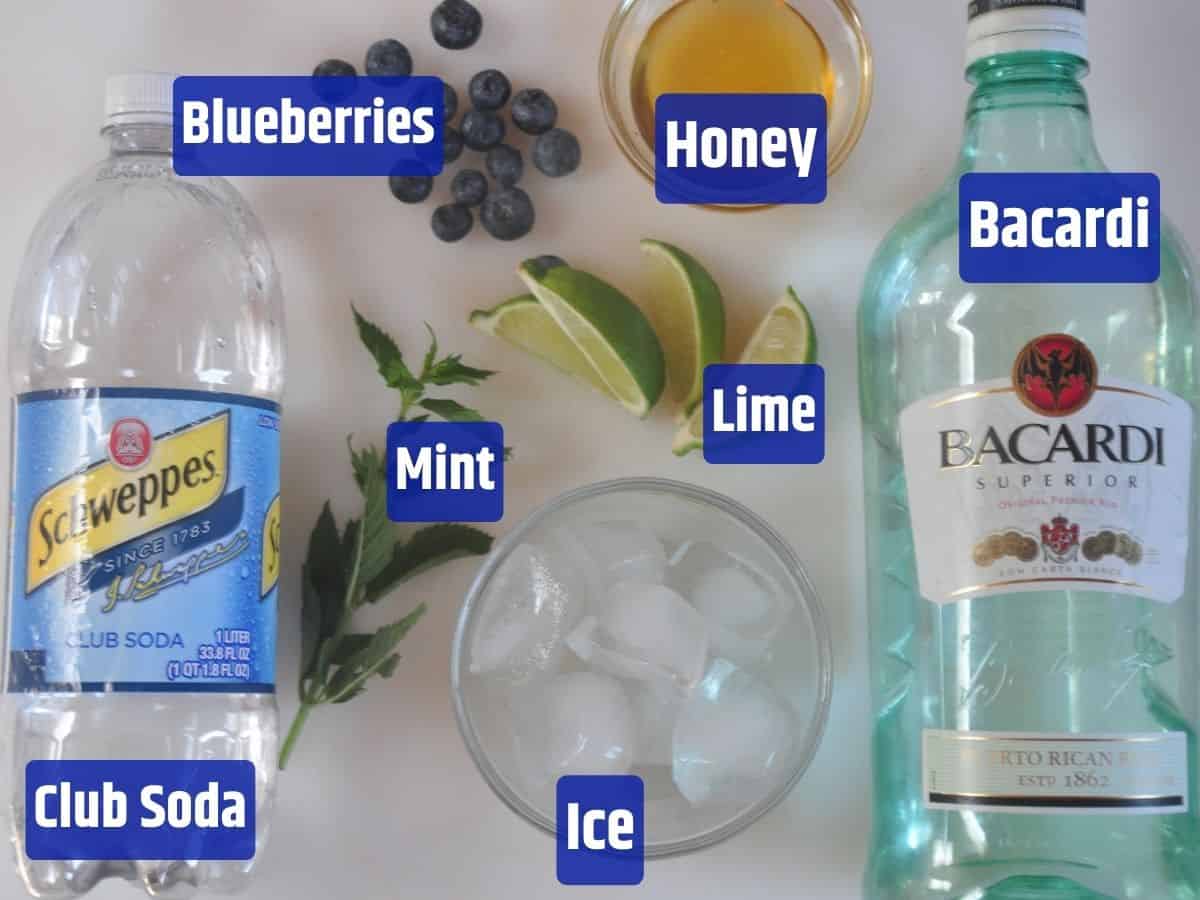 Club Soda
White rum
Lime
Fresh blueberries
Honey
Mint leaves
Ice (I used 8 large cubes)
See the recipe card for quantities.
🍲 Instructions
Kick things off by prepping your lime - cut it into four neat sections lengthwise. Grab your shaker, it's where the magic starts.
Pop the lime sections into the shaker along with the golden honey, juicy blueberries, and fragrant mint leaves. This is the stage where the flavors start to mingle, and we make sure they really get to know each other by muddling them well.
Once everything is well-muddled, it's time to invite the white rum to the party. Add it to the shaker along with some ice. Now here comes the fun part - shake it!
Give it a good, vigorous shake for about 15 seconds. That's enough to wake up all those delicious flavors and get them really singing together.
Now, pour the entire content of your shaker into a highball glass. Don't leave anyone behind! Top it off with some Club Soda for that bubbly finish.
Add a few blueberries and a sprig of mint for garnish and there you have it! A vibrant, refreshing Honey Blueberry Mojito, made by you, ready to be enjoyed. Cheers to that!
🤷 Substitutions and variations
So, you're looking at this Honey Blueberry Mojito recipe and wondering, "What if I don't have all the ingredients?" No worries! Let's talk about some simple swaps that can still make a pretty awesome drink.
Let's say you're fresh out of blueberries. Not a problem at all! You could use raspberries or strawberries instead. They'll give your mojito a different twist, but hey, that's the fun of mixing drinks, right?
No honey in the pantry? It's cool, we've got you covered. You can use agave nectar or even plain old sugar. You might miss that rich, floral note from the honey, but your mojito will still taste amazing.
What about the white rum? Good question. You can replace it with vodka if you'd like, or even go non-alcoholic with some extra club soda or sparkling water.
Remember, recipes are like road maps. You're the driver, so feel free to take a few detours and make this Honey Blueberry Mojito your own. After all, it's all about having fun and enjoying the drink. Cheers!
🎓 History tidbit
Did you know blueberries have been around for a really long time? I mean, we're talking thousands of years!
These little blue powerhouses are actually native to North America. Native Americans enjoyed these tasty treats before the first European settlers arrived.
The Native Americans didn't just munch on them fresh - nope, they were super creative. They dried blueberries in the sun to create a kind of jerky that could be stored for the winter. They even used blueberries in medicine and made dye from the blueberry plant.
But the blueberries you buy from the store today? They've only been around for about a hundred years. A farmer named Elizabeth White and a USDA botanist called Frederick Coville worked together to cultivate highbush blueberries at the turn of the 20th century.
So next time you pop a blueberry in your mouth, just think about its long, fascinating history. It's not just a fruit, it's a little bite of the past! How cool is that?
❓ FAQ
What exactly is a Mojito?
A Mojito is a traditional Cuban cocktail typically containing five key ingredients: white rum, sugar, lime juice, soda water, and mint. It's a refreshing drink that's loved worldwide, especially in the summer months.
Can I make a Mojito without alcohol?
Absolutely! You can simply omit the rum and add more soda water or even substitute with non-alcoholic sparkling cider. You'll still get that refreshing mint and lime flavor, just without the alcohol.
What kind of rum should I use for a Mojito?
Traditionally, a white rum is used in Mojitos. Brands like Bacardi are popular choices. However, you can experiment with different types of rum to find what suits your taste best.
Can I use bottled lime juice instead of fresh limes?
Fresh lime juice is generally preferred for its vibrant and natural flavor. However, bottled lime juice can work if you're in a pinch. Just remember, it may alter the taste of the Mojito slightly.
I don't have fresh mint. Can I use dried mint instead?
Fresh mint is key to a Mojito, providing a bright and refreshing flavor. Dried mint doesn't quite deliver the same punch. If you're out of fresh mint, you could use a splash of mint extract instead.
📝 Tips and tricks
I use Bacardi, but use whatever white rum you have!
Honey is my sweetener of choice for this, but you can really use anything.
Shaken is better, but if you prefer stirred cocktails, feel free!
🛠 Products used in this recipe
😋 Did you make this recipe?
That is awesome, and thank you so much for giving this Honey Blueberry Mojito recipe a try. If you could leave a rating in the comment area below, it would be greatly appreciated. This lets me know how I am doing and also helps others decide if they want to make this recipe. Most of all, thanks for visiting Ramshackle Pantry.
Print
📖 Recipe
Honey Blueberry Mojito - twisting up a classic cocktail
Author:

Ben

Prep Time:

2 Minutes

Cook Time:

3 Minutes

Total Time:

5 Minutes

Yield:

1

Drink

1

x

Category:

Cocktail

Method:

Mixing

Cuisine:

American
---
Description
This Honey Blueberry Mojito is such a refreshing twist on the classic cocktail. It is time to get out your summer brain and try this cocktail on for size.
---
½

Lime

2 Tablespoons

honey

¼

cup

fresh blueberries + a few for garnish

12

Mint leaves +

1

sprig for garnish

2

ounces

White rum (Bacardi)
Ice (I used 8 large cubes)
Club Soda
---
Instructions
Cut lime into 4 sections, length wise
Place lime into shaker along with the honey, blueberries, and 12 mint leaves.
Muddle until muddled well. Not muddled enough? muddle some more.
Add rum and ice.
Vigorously shake all ingredients for 15 seconds.
Pour entire content of shaker into highball glass.
Top with Club Soda
Garnish and enjoy
---
Notes
I use Bacardi, but use whatever white rum you have!
Honey is my sweetener of choice for this, but you can really use anything.
Shaken is better, but if you prefer stirred cocktails, feel free!
Keywords: Honey Blueberry Mojito