This recipe kicks a normie Cinnamon Roll up a few notches. First, we add that pumpkin. BAM! Then, we roll out some delicious and easy-to-make RumChata Glaze. BLAM! You love cinnamon rolls, but you are going to fall in love with this Pumpkin Cinnamon Roll Recipe with RumChata Glaze. Try the recipe today.
Pumpkin Cinnamon Roll Recipe with RumChata Glaze Summary
One thing I love about cooking is that sometimes it is so easy to take a traditional recipe and with just a few minor tweaks, you can make it something special. That is what we are doing today. It is Fall and we are getting our pumpkin flavors on with this roll recipe.
Also, I like an adult beverage on occasion, so we are getting our Rumchata on. By taking what we already are into (pumpkin and RumChata) and then mashing it up with a traditional Cinnamon Roll recipe, we make it a bit more awesome. If you have the time and inspiration to make cinnamon rolls from scratch, you should give this recipe a try. It takes just as much time as the traditional recipe and adds a neat spin on the classic.
What is RumChata?
RumChata is a tasty adult brand of drink. It is based on Horchata, which usually has cinnamon and rice in the recipe. Horchata has worldwide roots, but often is connected with Spain and Mexico. It sometimes contains alcohol and in this case, it does. Drinking RumChata on the rocks is great and is like drinking Fall flavors, but adding it to a cinnamon roll is something fun and special.
Making the Cinnamon Roll Recipe Dough
The glaze and filling for this cinnamon roll recipe is super simple, but the dough can be a little tricky. That is ok, however, as you have me to help guide you through the process. If you have made homemade roll dough before, this should be fairly easy.
Before you start with the dough, the biggest tip I have is to have some patience while rolling it out and cutting the rolls. To make cinnamon rolls that are even and easy to handle, making a consistent dough is important. Adding the pumpkin is the easy part.
To make consistent rolls, you want to make sure that your sheet of dough is a nice rectangle where the dough is of equal thickness. We suggest dimensions of 15 inches by 10 inches. We want 15 equally sized cinnamon rolls. Getting these dimensions on point might take a bit of work, but stick with it and you will make a really great pumpkin cinnamon roll recipe.
Pumpkin in the dough
This is as simple as adding the wet ingredient in the first stages of mixing the dough. If you follow the directions, this should be explained well.
Making the Pumpkin Filling
The filling is super simple to make. A little pumpkin, a bit more brown sugar, and a pinch of cinnamon. It really is that simple. One difference between a traditional cinnamon roll and this recipe is that we are adding pumpkin to the filling. This turns the filling from a dryer filling to a wetter filling and can impact how easy it is to add the filling.
When you spread the pumpkin filling across our rolled out dough, try and make it as evenly as possible. This will help make sure that we get even cinnamon rolls for this cinnamon roll recipe.
Rolling the Dough into Rolls
Take a little bit of time with this. We want to make our big roll to be as even as possible. Our dimensions are 15 inches by 10. When completely rolled up, it should be 15", meaning that you should roll from the long side.
When you are rolling this up into a long tube shape, you may have some of the wet fillings that comes out the end. That is ok, but try and keep that wetness away from the outside of the completed roll.
Making the outside wet just makes it a little more difficult to work with. I roll mine out on a cutting board and use a paper towel to remove any of the liquid that ends up on the cutting board. This separates dry from wet, which can help make the dough easier to work with.
Cutting the Cinnamon Rolls
I have tried to cut this with a knife and it just doesn't work well. If you have a spectacular and super sharp knife, it might work, but I would recommend using dental floss. Loop it around and cinch the roll into 15 equal parts. Don't be surprised if the first and last rolls are just a tad wonky.
RumChata Glaze for Cinnamon Roll Recipe
I promised this would be easy and it is. It is simple as melting butter, adding powdered sugar, mixing, and then adding a bit of RumChata.
Pumpkin Cinnamon Roll Recipe with RumChata Glaze Process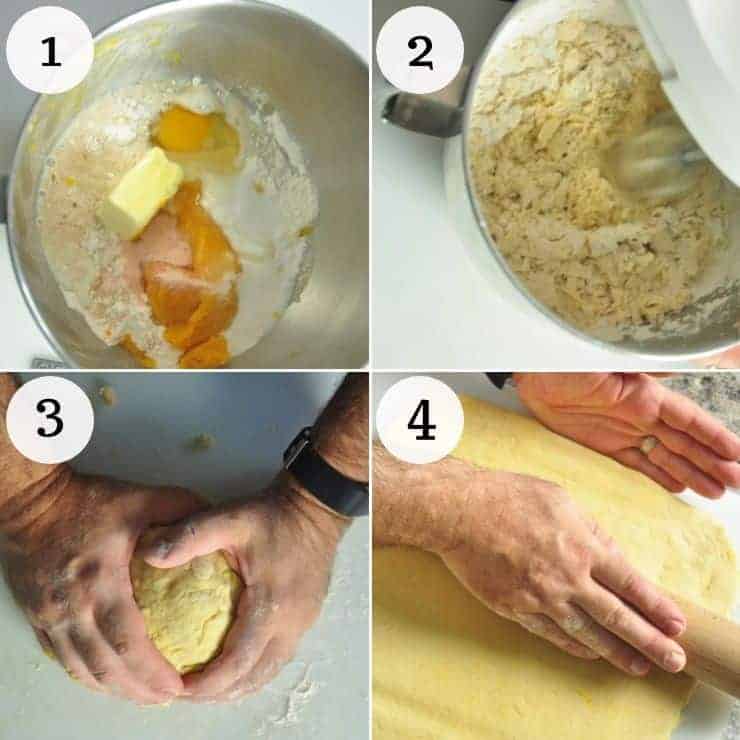 Adding dough ingredients to mixing bowl. This is with the first two cups of flour and without the last two cups.
Using a hand mixer to give an initial mix to the dough. It will be followed up with hand kneading or kneading with a dough hook.
Forming into a ball before the first raise.
After the first raise, we roll out the dough to a dimension of 15 inches by 10 inches.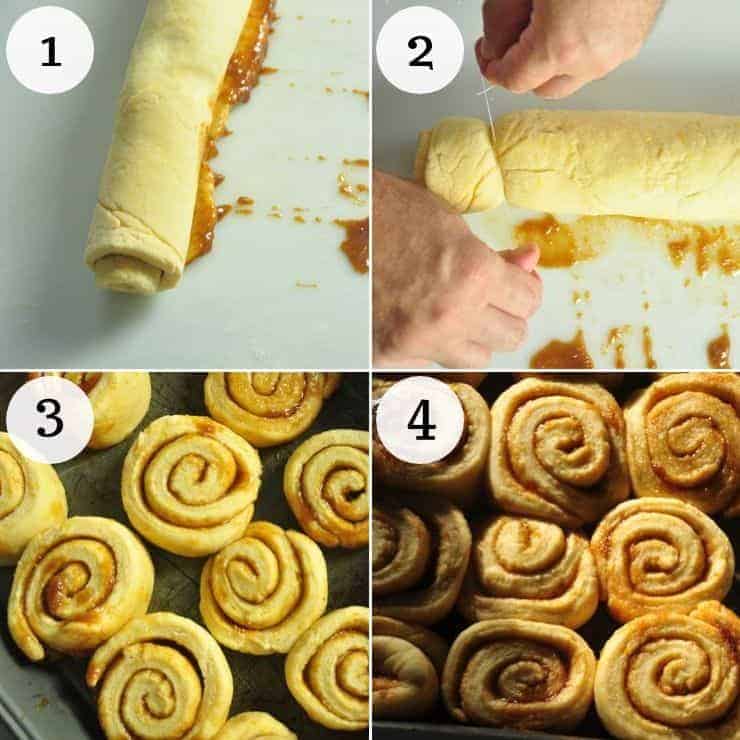 At this point, we have added the butter and filling to the rolled out dough and rolled it up (length-wise) into a tube that will be cut.
This is using the dental floss to cinch our rolls into 15 equal parts. If you need to, get out a measuring tape.
Rolls laid out in the pan.
Risen rolls before they are baked.
Pumpkin Cinnamon Roll Recipe with RumChata Glaze Tips Summary
Bread Dough works great for these, but all-purpose dough would be fine, as well.
have patience when rolling out the dough to help make everything even and as a rectangle.
Use dental floss to cut your rolls. I sometimes use two different strands just because the dry thread is easier to handle.
You can knead by hand, but using a KitchenAid bread hook is so nice for making the dough.
Products I Used in this Recipe
Did You Make This Pumpkin Cinnamon Roll Recipe with RumChata Glaze?
If you liked this recipe, you could do me a real solid by taking some time to let me know how it went in the comment section below and by sharing this recipe on Pinterest. I always appreciate hearing from you. If you want to see more from me, make sure to subscribe to get updates via email.
Print
Pumpkin Cinnamon Roll Recipe with RumChata Glaze
---
Author:

Ben Myhre

Prep Time:

3 hours

Cook Time:

30 minutes

Total Time:

3 hours 30 minutes

Yield:

15

rolls

1

x
Description
This Pumpkin Cinnamon Roll Recipe is a great take on the traditional breakfast roll or snack. We bring it one step further by topping it off with a delicious RumChata glaze that really makes this Fall treat something special.
---
4 cups

flour

½ cup

warm milk

¼ cup

pumpkin puree +

¼ cup

pumpkin puree for filling

4.5 teaspoons

yeast

⅓ cup

sugar

1 teaspoon

salt

1

egg

¼ cup

softened butter +

2 Tablespoon

Softened Butter

½ cup

brown sugar

1 teaspoon

cinnamon +

½ teaspoon

for top of rolls
For RumChata Glaze
⅓ Cup

Butter

2 Cups

Powdered Sugar

¼ Cup

RumChata
---
Instructions
Heat milk. 30 seconds in the microwave should do it.
In large mixing bowl, add 2 cups flour, salt, sugar, ¼ cup pumpkin puree, milk, yeast, ¼ cup butter, egg
Using hand blender, mix on medium for 1 minutes
Add 2 cups of flour and mix for another minute
Mix with bread hook medium for 3 minutes or knead for 10 minutes
In large buttered dish, add dough, put in warm place (I place in oven with light on), and rise for 90 minutes
Roll out dough so that it has rectacular dimensions of 15 inches by 10 and even thickness.
Spread 1 tablespoon of softened butter over rolled out dough
In separate dough, mix together ¼ cup pumpkin puree, brown sugar, and 1 teaspoon cinnamon to make filling.
Evenly spred filling over dough.
Lengthwise (from the 15" side) roll up dough and try to keep wet filling from spreading over outside of dough. You may have some leak out when you get to the end of rolling. It is ok, just wipe it up.
Using tooth floss, cut dough into 15 equal pieces. Ideally, this would be 1 " pieces.
In buttered 9 x 13 x 2 pan. Lay the fifteen cinammon rolls, 3 per roll
Place in warm place and allow to rise for 30 minutes. I use my oven and turn the light on.
After 30 minutes, remove the cinnamon rolls and preheat oven to 350 Farenheit.
Add rolls to oven and bake for 30 minutes.
With about 15 minutes left, start on RumChata glaze by adding ⅓ cup butter to a pot over medium heat
Once butter is melted, add powdered sugar and stir to prevent burning.
Add RumChata and stir until smooth
Remove from heat
When rolls are done, remove from heat and evenly pour RumChata glaze over rolls. If needed, use a rubber scraper to evenly spread.
Sprinkle cinnamon on top.
Serve!
Category:

Breakfast

Method:

Baking

Cuisine:

American
Nutrition
Serving Size:

1 Roll

Calories:

323 calories

Sugar:

26 g

Sodium:

167 mg

Fat:

10 g

Saturated Fat:

6 g

Unsaturated Fat:

1 g

Trans Fat:

0 g

Carbohydrates:

53 g

Fiber:

1 g

Protein:

4 g

Cholesterol:

24 mg
Keywords: Pumpkin Cinnamon Roll Recipe with RumChata Glaze