A simple and delicious Rustic Creamy Tomato Soup recipe. Whether you are a gardener and can pick beautiful tomatoes from your garden or have a source of great tomatoes, this simple soup recipe is for you.
From your garden to your belly, this easy rustic creamy tomato soup recipe has way more flavor than it should. Try this hardy soup recipe today!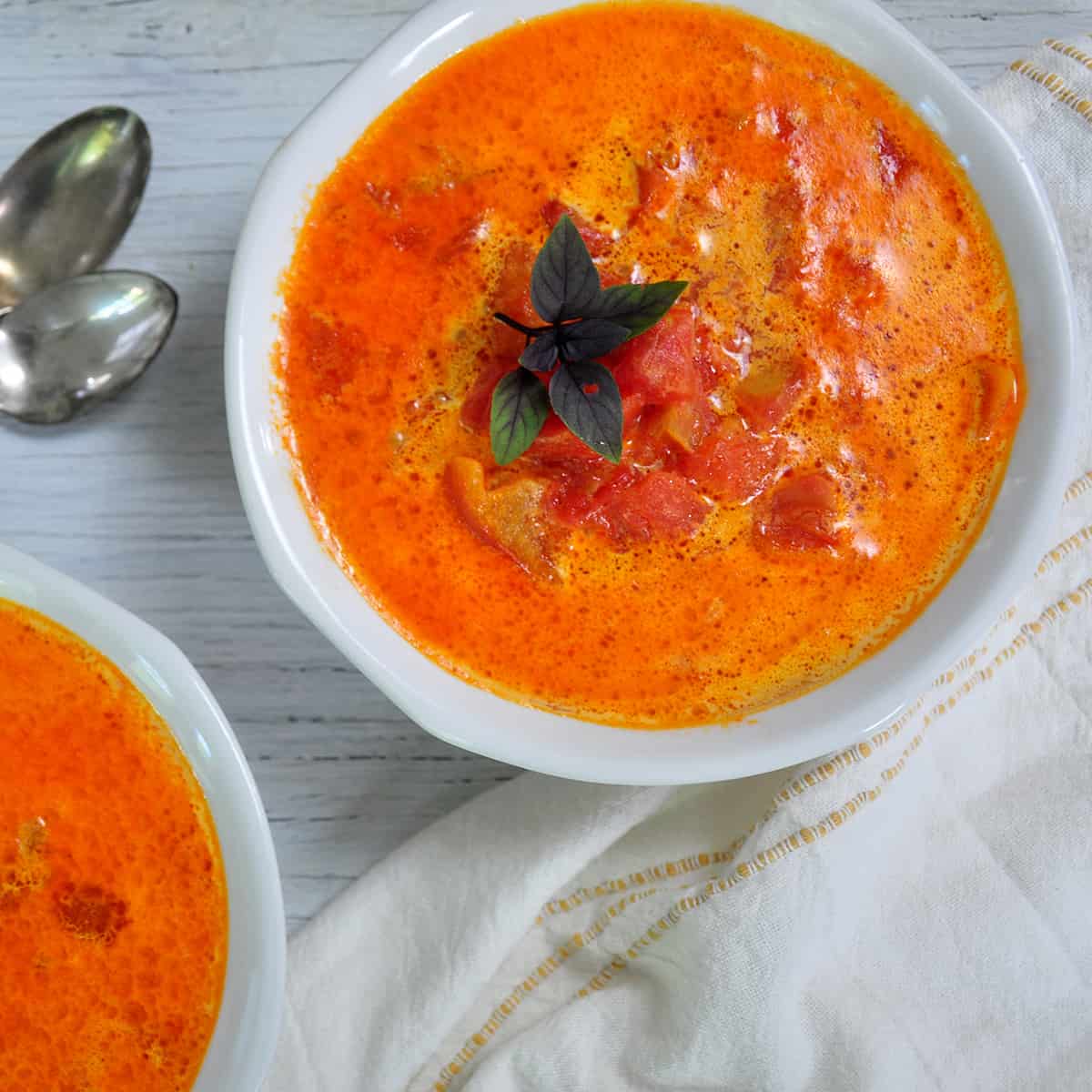 🍲 What makes this recipe special?
I have been making this simple tomato soup recipe for years, and is one of my favorites. Simple doesn't mean it lacks flavor, though!
This creamy tomato soup recipe is simple and straightforward. Whether you are using fresh garden tomatoes or making this in the middle of Winter as a comfort food, this soup will fit the bill. Besides the tomatoes, The butter and cream really help make this soup taste special.
If you are looking for other great soups, check out this German Knoephla Soup recipe, a warm Mexican soup in Calde de Queso, or this Easy Taco Soup recipe. No matter what you cook tonight, make sure to treat yourself.
Jump to:
🍅 Ingredients
Tomatoes are obviously the star of this recipe, but a few other ingredients help along the way. Here is the list of what you will need
Tomatoes
Butter
Salt & Pepper
Water
Baking soda
Heavy cream
See the recipe card for quantities.
What kind of tomato to use?
Some recipes, like my Traditional Pasta Sauce Recipe, are more meant for smaller tomatoes like Roma or garden tomatoes. I say use whatever you have on hand for this recipe.
I will use any tomatoes we have around for this recipe. From Roma to Big Boy... anything. Most importantly, you have some nice-looking fresh tomatoes.
🍲 Instructions
Really, all there is to it is taking some blanched and chopped tomatoes and simmering them with a bit of water and butter. After that, use a bit of baking soda in the mixture and add the cream.
Blanching and cleaning the tomatoes
This might be the most challenging part of the recipe if that tells you how easy it is. If you have never peeled a tomato before, blanching is one of the most popular ways to make it happen. Bring the water to a boil and then allow the tomato to sit in the boiling water for just a short amount of time.
Approximately one minute or until the skin of the tomato breaks open just a tad. Transfer the tomato to a bowl of ice-cold water to stop the fruit from cooking further.
Once cooled, you can usually remove the tomato skin very easily. Here is a video if you need some visual help. You also want to core the tomato after the skin is removed.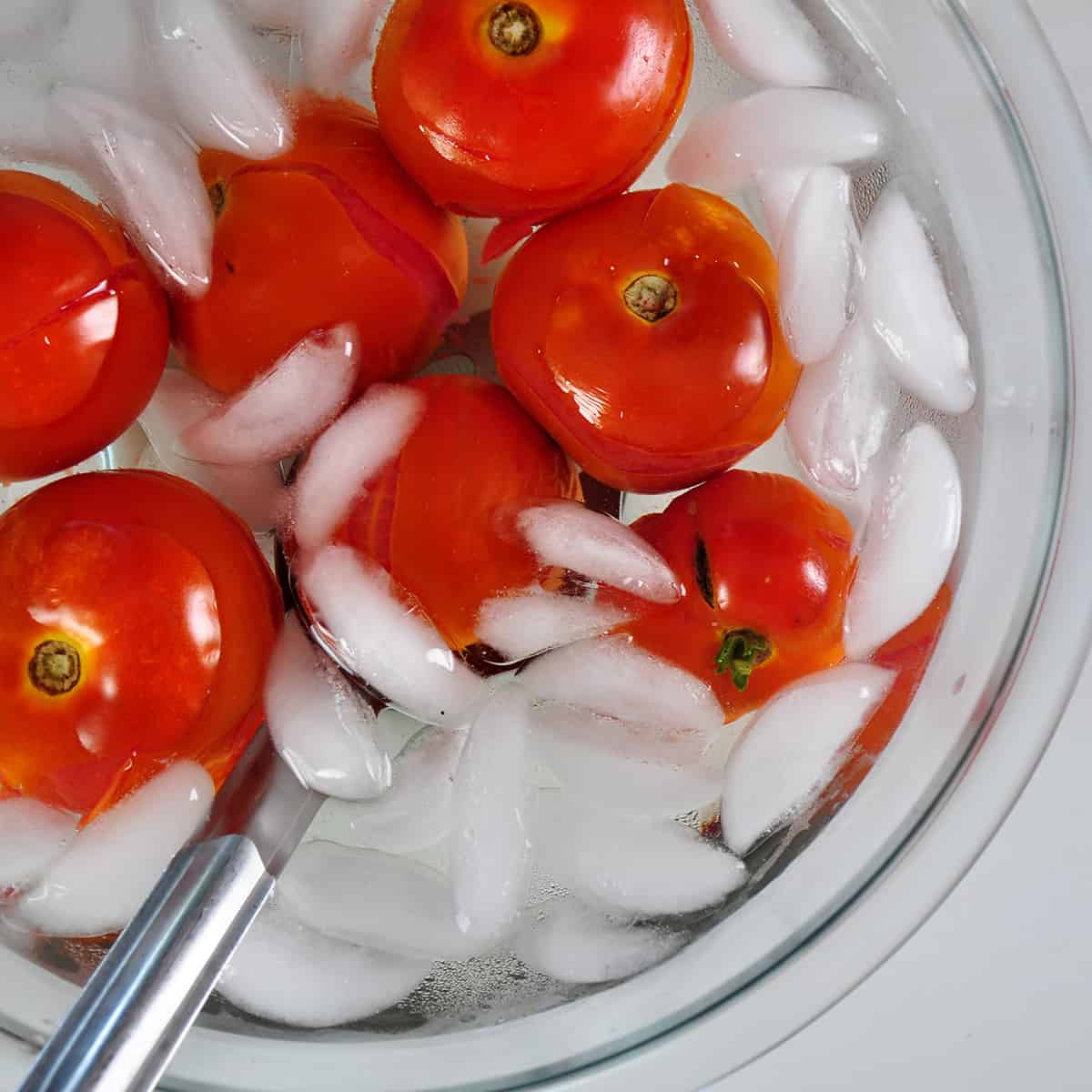 Adding heavy cream to tomato soup
I add cream to this recipe and think it adds a ton of comfort to the dish. One exciting thing about cream and tomatoes is that if there is enough acidity in the tomato, the cream might curdle in the dish.
To account for this, we add a tad of baking soda that tempers the acidity and prevents curdling. When you add the baking soda, your soup will fizz up. Just make sure to use a big pot and stir it after adding the baking soda.
🤷 Substitutions and variations
I love this dish the way it is, but there are a few ways this can be changed.
Use vegetable or chicken stock instead of water
I generally use water, but if I happen to have chicken stock or vegetable broth around, I might use that instead. It can add a bit of extra flavor to the soup, but there is plenty of flavors already.
Add fresh garden herbs
This soup is a great way to use fresh garden herbs to add flavor. Basil, thyme, or oregano would all be great additions to this soup. Just be careful about adding too much. The star of this soup is the tomato, and too much of one herb might overpower the recipe. If I add herbs, I would add them about half way through the simmering.
Smooth tomato soup instead of chunky
I love the idea of just being able to cut up my tomatoes and go. Many people (my wife included) like smooth tomato soup texture and this recipe can accommodate this. It may add 10 more minutes to the cooking time, but that is no big deal, right?
About halfway through the cook, I will use an immersion blender to blend the chunked tomatoes. I allow them to cook for a while to soften the tomatoes. They seem to blend better after a little bit of cooking.
I also allow for a bit more time on the cook after blending, as the immersion blender seems to incorporate a ton of little bubbles into the soup. The extra cook time allows the dish to smooth out a bit and the little bubbles to escape.
Can I skip skinning tomatoes for this soup?
Yes, but your end product won't be quite as good. Not that the skin is bad, but it doesn't cook into the soup and the skin ends up being little curlies in the soup. It doesn't make the soup taste bad, but I would say it can detract from the overall awesomeness of the soup.
📦 Storage
This soup will be good for three days if stored in the refrigerator in an airtight container. While I have not frozen this recipe, my inclination is to say that it would be just fine if frozen and eaten within three months.
🎓 Tomato History Tidbit
Tomatoes were introduced to Europe in the 16th century from South America. They were initially met with suspicion and were believed by many to be poisonous.
This is, however, mainly because they were served in lead bowls by the upper class. The acidity of the tomatoes leached the lead from the bowls and caused sickness among the rich. News traveled.
Tomatoes were considered poor people's food, as it was thought they were poisonous. It wasn't until the late 18th century that they began to be widely consumed in Europe.
❓ FAQ
How do I add cream to my tomato soup to make it creamy?
It is easy to make your tomato soup creamy, but there is a trick to it. Add baking soda to blunt the acidity and prevent curdeling. This will make your soup foam up, and add the cream at that point.
Can I freeze leftover creamy tomato soup?
Yes, it should store well in a suitable container for up to three months.
What herbs go well in a tomato soup?
Herbs that go well in tomato soup include basil, oregano, thyme, and parsley. You can use fresh or dried versions of these herbs. Other herbs that could be used in tomato soup include marjoram, rosemary, and tarragon. It's best to add herbs towards the end of the cooking process so they retain their flavor. You can also garnish the finished soup with fresh herbs for an added pop of flavor and color. Experiment with different herbs and see what you like best in your tomato soup!
Can I Use Canned tomatoes for tomato soup?
Fresh is better, but yes. In our house, we sometimes use a large can of tomatos when making an easier weeknight dinner.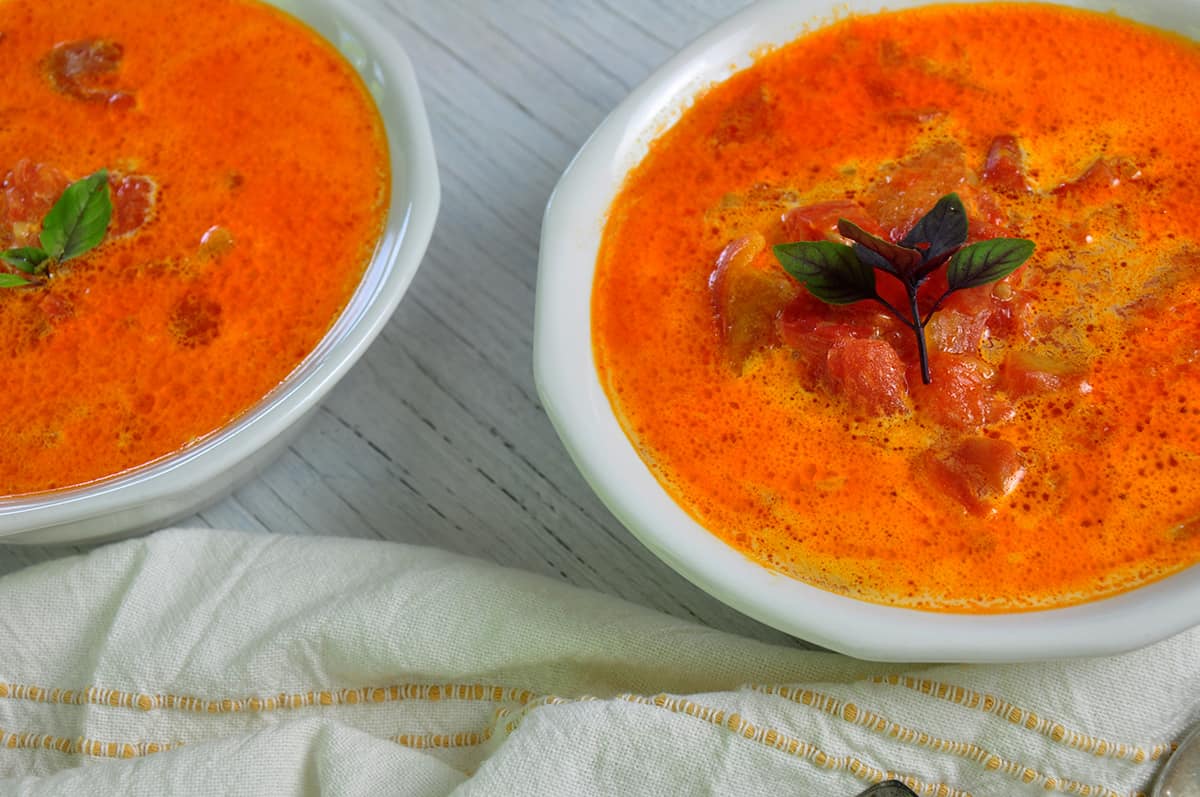 📝 Tips and tricks
The kind of tomato isn't as important as having nice, fresh tomatoes.
You don't have to peel the tomatoes if in a hurry, but it is recommended.
Add fresh herbs appropriate for tomatoes (oregano, basil, thyme) to the soup to enhance the flavor of your soup and make it a bit more your own.
Instead of adding water, try adding chicken stock or vegetable stock.
🛠 Products used in this recipe
😋 Did you make this recipe?
That is awesome, and thank you so much for giving this Rustic Creamy Tomato Soup recipe a try. If you could leave a rating in the comment area below, it would be greatly appreciated. This lets me know how I am doing and also helps others decide if they want to make this recipe. Most of all, thanks for visiting Ramshackle Pantry.
Print
📖 Recipe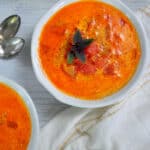 Rustic Tomato Soup Recipe
Author:

Ben Myhre

Prep Time:

10 minutes

Cook Time:

20 minutes

Total Time:

30 minutes

Yield:

2

Bowls

1

x

Category:

Soup

Method:

Simmer

Cuisine:

Traditional
---
Description
A super simple, fresh, and delicious rustic creamy Tomato Soup that will make everybody happy. Butter, cream, and of course, tomatoes, combine together to make this huge flavor profile with very few ingredients.
---
2

Pounds of Tomatoes

3 Tablespoons

Butter

1 Teaspoon

salt

½ cup

water

½ Teaspoon

baking soda

½ cup

heavy cream
salt and pepper to taste
---
Instructions
Blanch, peel, core, and loosely chop tomatoes
Melt butter over medium in deep soup dish
Add tomatoes and salt
Bring to boil and simmer for 10 minutes
Add water and simmer for 10 more minutes
Add ½ teaspoon of baking soda, stir. It will foam.
Add cream immediately and stir
Serve
Notes
The kind of tomato isn't as important as having nice, fresh tomatoes.
You don't have to peel the tomatoes if in a hurry, but it is recommended.
Add fresh herbs appropriate for tomatoes (oregano, basil, thyme) to the soup to enhance the flavor of your soup and make it a bit more your own.
Instead of adding water, try adding chicken stock or vegetable stock.
Nutrition
Serving Size:

2 cups (½ prepared dish)

Calories:

442

Sugar:

14g

Sodium:

1335 mg

Fat:

40 g

Saturated Fat:

25 g

Unsaturated Fat:

14 g

Trans Fat:

0 g

Carbohydrates:

20 g

Fiber:

5 g

Protein:

5 g

Cholesterol:

128 mg
Keywords: creamy tomato soup