This post may contain affiliate links. As an Amazon Associate I earn from qualifying purchases. Please read our disclosure policy.
Isn't it just heartwarming when we stumble upon a recipe that truly captures the essence of sharing and togetherness? This White Chicken Chili Crockpot recipe is precisely that dish!
Crafted with love and ingredients that meld beautifully, every spoonful promises creamy, flavorful comfort. Whether it's a cold evening or a gathering of loved ones, this chili is a testament to the idea that food can bring happiness.
So, let's embark on this flavorful journey together, and trust me, by the end of it, you'll be happy you did! This white chili is Fall crockpot comfort food at its finest.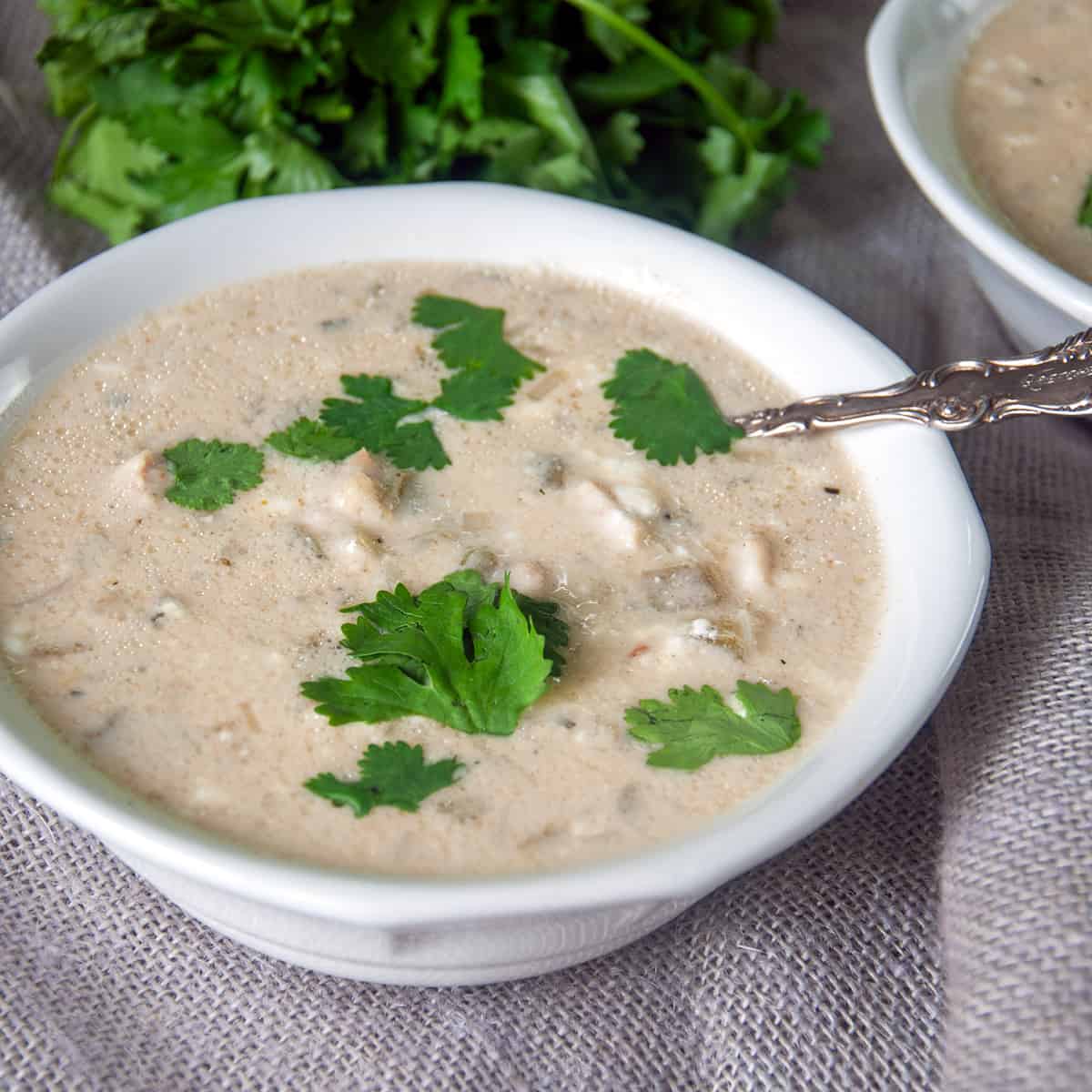 🥛 What makes this recipe special?
Oh, where to begin? This isn't just another chicken chili – it's a delightful dance of flavors and textures that come together in perfect harmony! The creaminess of the cream cheese, coupled with the heartiness of the Great Northern beans, promises a mouthful of joy with each bite.
But what truly sets this chili apart? It's the choice of chicken thighs, which stay tender and forgiving throughout the cooking process. Chicken breast is a great cut of meat, but it can easily become dry. Thighs are a great general purpose cut of chicken. And let's not forget those optional toppings, allowing each of us to personalize our bowls, ensuring every spoonful reflects our tastes!
Lastly, the beauty of this dish lies in its simplicity. Using a crockpot means sharing the experience of slowly simmered perfection without the constant hovering over a stovetop. It's a testament to the magic that happens when passion meets convenience!
If you want other crockpot recipes, check out this delicious Chili Con Carne, Easy Taco Soup recipe, or this great Slow Cooker Shredded Beef recipe. No matter what you make, make sure to treat yourself!
🐔 Ingredients
Chicken obviously goes in this, but it takes a medley of ingredients to pull this together.
Boneless, skinless chicken thighs
All purpose flour
Water
Cream cheese
Great Northern beans
Onion
Garlic
Canned green chilies
Chicken broth or stock
Salt
Cumin
Oregano
Black pepper
Paprika
Cayenne pepper
Heavy cream
Optional toppings: shredded Monterey Jack cheese, chopped cilantro, diced avocado, lime wedges, chopped green onions, tortilla strips
See the recipe card for quantities.
🍲 Instructions
Start by placing those chopped chicken thighs at the bottom of your crockpot. If at the bottom, they are ensured to be the first to cook.
Next, mix that all-purpose flour and water into a silky slurry and add it to the crockpot. Spoon the softened cream cheese over the top, creating a luscious layer of creaminess.
Lastly, pour in all the remaining ingredients (excluding the toppings, of course), ensuring a gentle stir to keep our chicken friends at the bottom. Set your trusty crockpot to low, and let the magic unfold over the next 4 hours. Your kitchen's about to be filled with aromas that speak of comfort and pure deliciousness!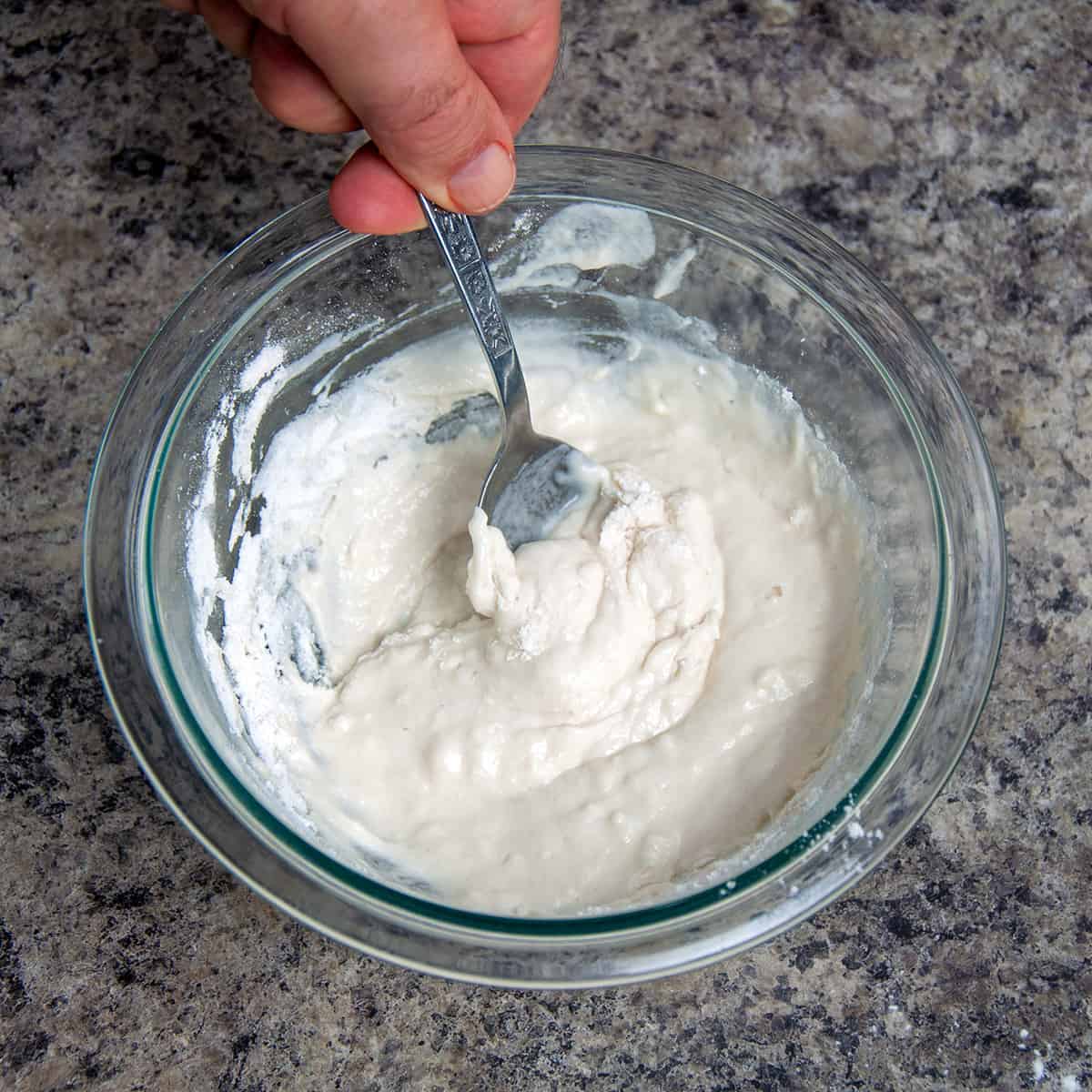 🤷 Substitutions and variations
Let's face it, sometimes our kitchens throw us curveballs. Run out of heavy cream? No sweat! In a pinch, milk gracefully steps up to the plate, adding its own twist of creamy goodness to our chili.
Chicken thighs are our star, but if you're feeling adventurous or they're playing hard to get, chicken breasts can join the party. Just keep an eye on the cooking time, as they might be a tad less forgiving. Or if you have left over chicken, you could probably shred it and add it at the end.
If you're looking to turn up the heat or add a new spin, consider tossing in a jalapeño or two, or perhaps some roasted red bell peppers for a smoky touch!
You can use other types of white beans like navy beans or cannellini beans. I experimented and Great Northern worked the best for me, but use what you have or like!
Remember, recipes are like guidelines. They're starting points, encouraging us to make them our own. So go ahead, play a little, and let your culinary creativity shine!
📦 Storage
You can save this chili for a different day. Seal in an airtight container, and leave in the refrigerator for up to 3-4 days.
Planning ahead for those "I need comfort food, stat!" moments? This chili freezes beautifully! Just transfer it to freezer-safe bags or containers, ensuring to squeeze out any excess air, and let it cozy up in your freezer for up to 2 months.
Whenever you're ready to dive back in, simply thaw in the fridge overnight and reheat gently on the stove. Presto! Instant comfort and joy, ready to serve.
🎓 History tidbit
I have to be honest that I could NOT find much of a history of this dish. When I search Google Books, the earliest result I could find was from the 1980s. It appears to be a South Western recipe that emerged in the late 80s and really came into prominence in the 1990s.
❓ FAQ
What's the main difference between white chili and traditional chili?
White chili, often known as "chili blanco," typically uses white beans and chicken, offering a lighter, creamier texture and taste. Traditional chili often incorporates red meat and tomatoes, giving it a heartier and more robust flavor profile.
How do I ensure my chicken remains tender in the chili?
The secret lies in using chicken thighs, as they are more forgiving and tend to stay juicy and tender during the slow-cooking process. If you opt for chicken breasts, monitor the cooking time closely to avoid overcooking.
Is white chili gluten-free?
It can be! The primary concern in this recipe is the all-purpose flour. Consider using a gluten-free flour blend or cornstarch as a thickening agent for a gluten-free version. Always check other ingredients' labels to ensure they're gluten-free too!
Can I make a vegetarian version of white chili?
Of course! Swap out the chicken for tofu, tempeh, or even additional beans. Vegetable broth can replace the chicken broth, and you're on your way to a delicious veggie-filled bowl!
📝 Tips and tricks
Use chicken thighs as it is a bit more forgiving in cooking time.
Can use leftover chicken. If cooked, add in the last hour
Can use milk instead of cream in a pinch
Consider adding optional toppings
Make sure chicken hits 165° Fahrenheit.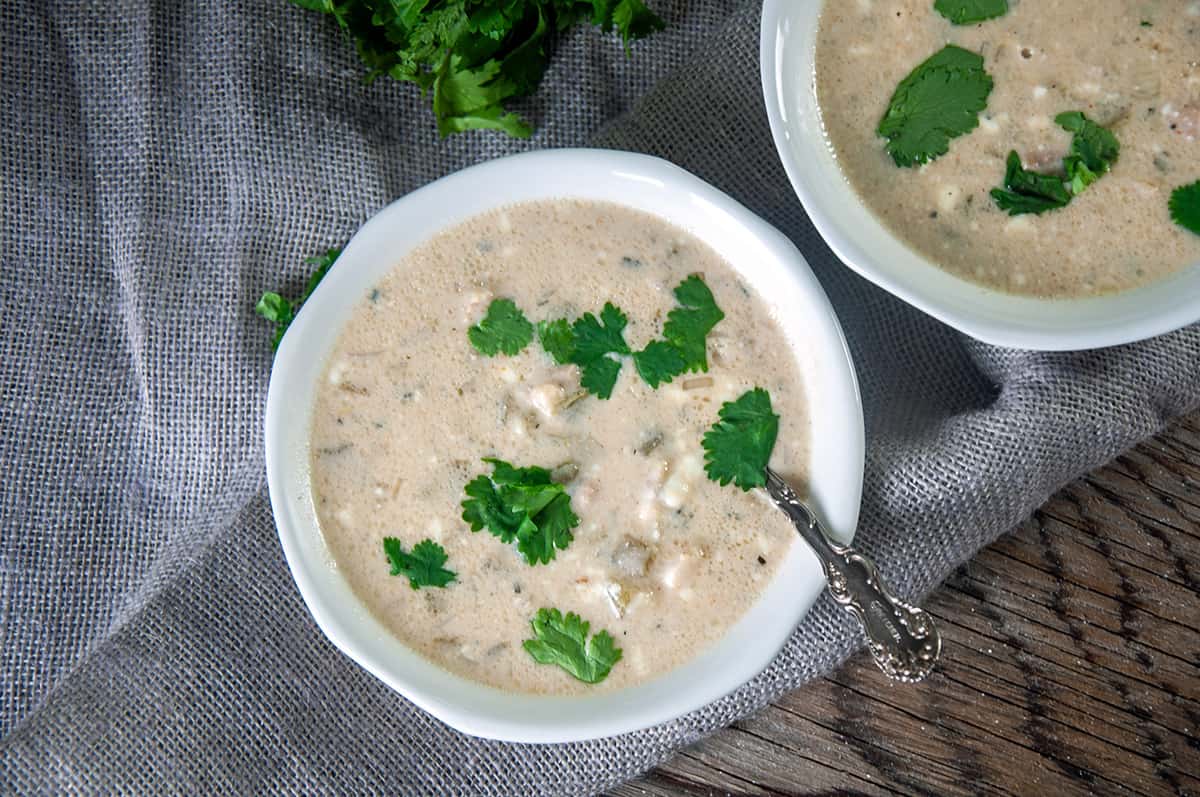 🛠 Products used in this recipe
😋 Did you make this recipe?
That is awesome, and thank you so much for giving this White Chicken Chili Crockpot Dinner recipe a try. If you could leave a rating in the comment area below, it would be greatly appreciated. This lets me know how I am doing and also helps others decide if they want to make this recipe. Most of all, thanks for visiting Ramshackle Pantry.
Print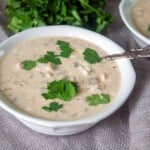 Crockpot White Chicken Chili
Author:

Ben

Prep Time:

15 minutes

Cook Time:

4 hours

Total Time:

4 hours and 15 minutes

Yield:

8

bowls

1

x

Category:

Soup

Method:

Slow Cooker

Cuisine:

American
---
Description
Discover our White Chicken Chili Crockpot Dinner: a blend of tender chicken thighs, creamy Great Northern beans, and zesty green chilies. Perfectly slow-cooked for maximum flavor, this recipe offers a comforting, rich taste that's sure to become a favorite. Easy to prepare and packed with wholesome ingredients, it's the ideal dish for cozy nights in or gatherings. Dive into this mouthwatering chili experience and elevate your home-cooked meals!
---
1 1/4

to

2

pounds

chicken thigh boneless skinless, chopped

1/2

cup

all purpose flour

1/2

cup

water

8

ounces

cream cheese, softened

2

15-ounce

cans Great Northern

beans

1

medium onion, diced

2

cloves garlic, minced

2

cans (4 Ounces each) diced green chilies

4

cups

chicken broth or stock

2 teaspoons

salt

1 teaspoons

ground cumin

1 teaspoons

dried oregano

1/2 teaspoons

black pepper

1/2 teaspoons

paprika

1/4 teaspoons

cayenne pepper (optional for added heat)

1/2

cup

heavy cream or half and half
Optional toppings: shredded Monterey Jack cheese, chopped cilantro, diced avocado, lime wedges, chopped green onions, tortilla strips
---
Instructions
Place chicken in bottom of crock pot.
Mix flour and water to a slurry and add to crockpot
Spoon cream cheese on top
Add rest of the ingredients(minus toppings, flour, and water) to crockpot and stir, keeping chicken at bottom
Cook on low for 4 hours, making sure chicken temperature is at 165° Fahrenheight
Serve and add any optional toppings to serving bowl
---
Notes
Use thighs as it is a bit more forgiving in cooking time.
Can use leftover chicken
Can use milk instead of cream in a pinch
consider adding optional topping
Make sure chicken reaches 165° Fahrenheit
Keywords: White Chicken Chili