The Classic Sazerac Recipe is so tasty and has so much character. It brings together Rye Whiskey and Absinthe in a New Orleans drink mainstay that is so darn delicious.
Get out your shaker and make this official drink of New Orleans!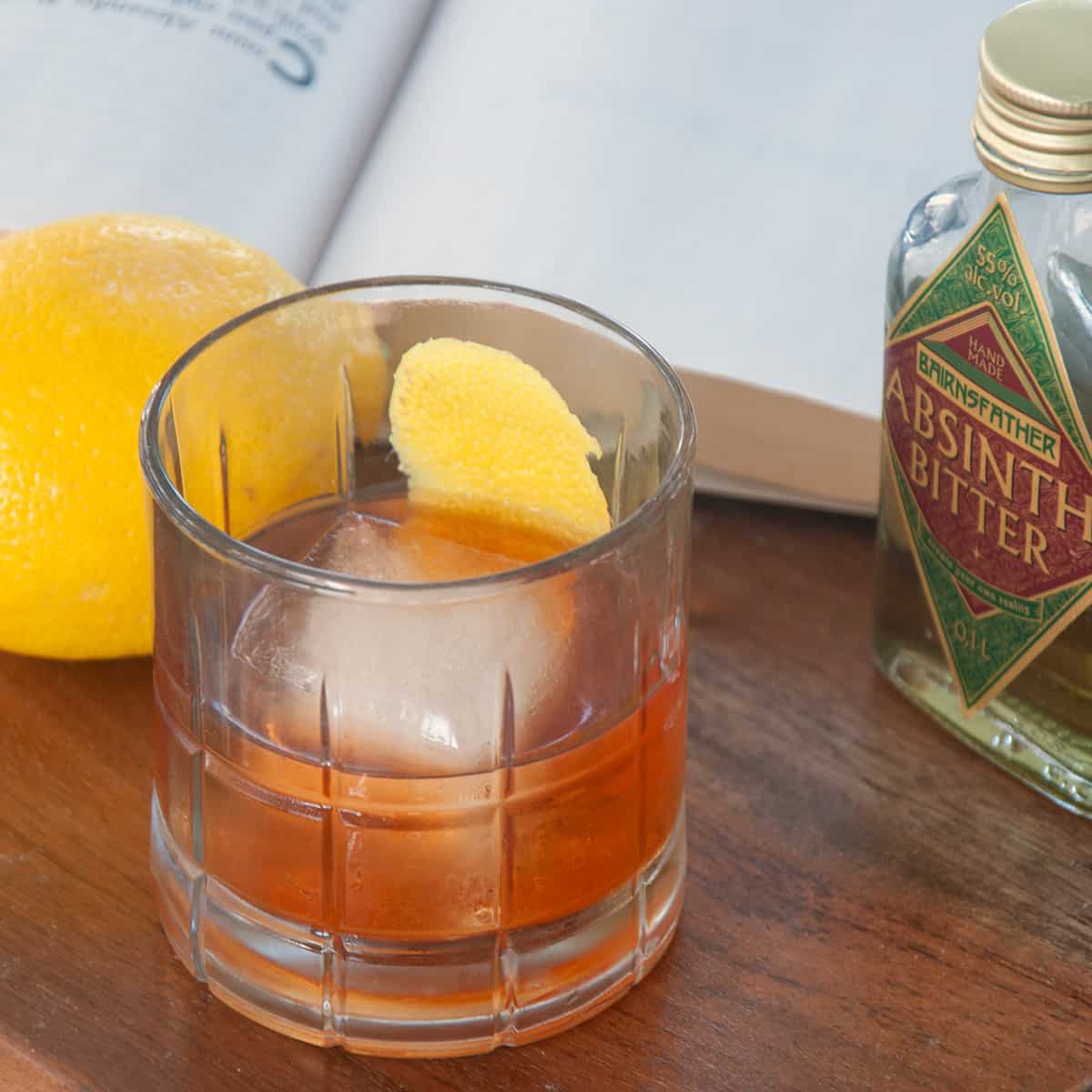 🥃 What makes this recipe special?
This New Orleans classic cocktail is really a simple drink to make, but it the ingredients can also become quickly unbalanced. With just a little patience and the right ingredients, you to can make a great cocktail with this Sazerac recipe.
If you are interested in some other great, exciting cocktails, give our Monkey Gland Cocktail, a traditional Old Fashioned, or maybe this Penicillin recipe. If you want some New Orleans food to go along with this, give this Baked Shrimp Po' Boy recipe a try.
Jump to:
🍾 Ingredients
This cocktail only needs a few ingredients, but they are somewhat specific ingredients.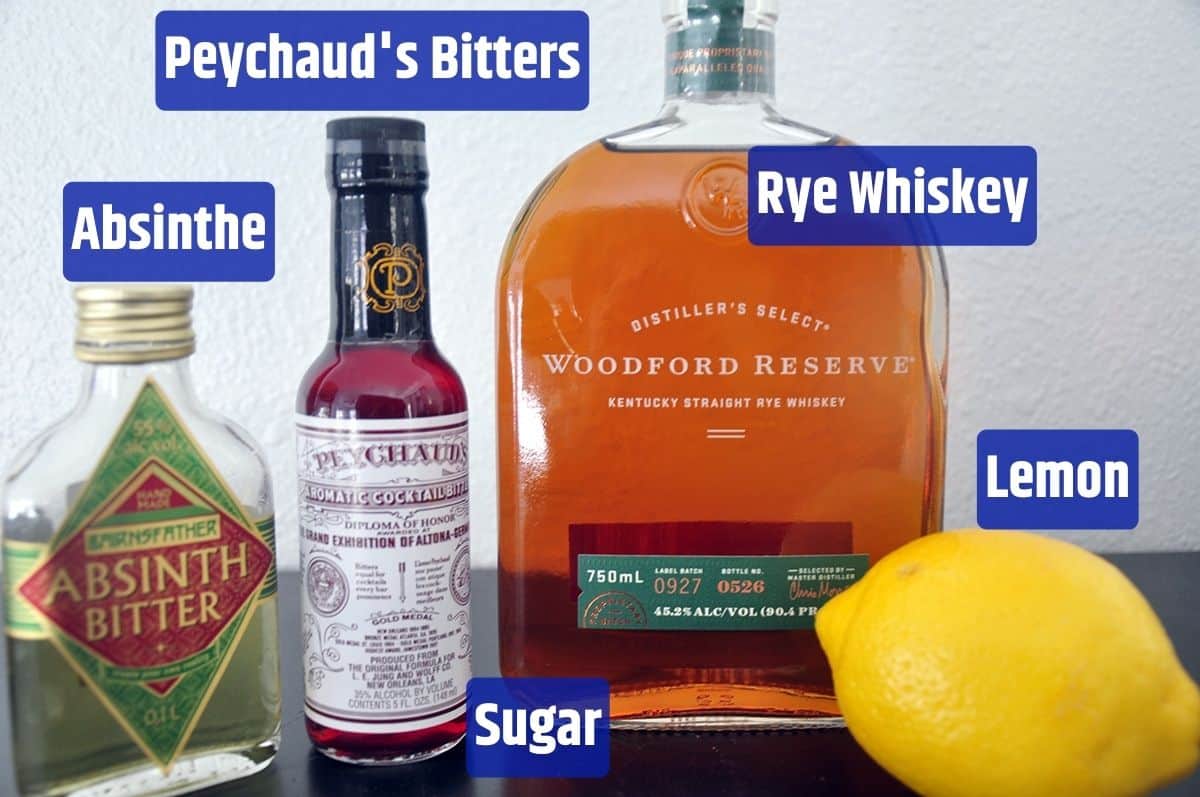 Sugar
Peychaud bitters
Rye Whiskey
Absinthe
Lemon Twist
See the recipe card for quantities.
The elements I bring into my cocktail are inspired by The Sazerac Company's recipe for a Sazerac, but my final recipe will not be the same. Mind you, The Sazerac Company has its origin as The Sazerac Coffee House, where the cocktail was first sold in the mid-1800s. It quikly became more of a Sazerac bar than a coffee bar. With that, let's explore the ingredients in a great Sazerac recipe a bit deeper.
Rye Whiskey
One of the main ingredients of a Sazerac cocktail is whiskey. While the original cocktail called for cognac, somewhere in the late 1800s, this was changed to rye, one of the most popular American spirits of the time.
So, that is what we are going to stick with. Use what you like, but since there are only a few ingredients, what you choose matters.
I am using Woodford Reserve rye but also have enjoyed the Sazerac brand rye whiskey. I think it is appropriate to switch that out to whatever rye you would like to use, and even a bourbon would be fine. Still, rye is a bit more traditional for this cocktail.
Peychaud's Bitter
Well, Peychaud's Bitters, of course. This brand is owned by the Sazerac Company and has been since very early on in the company's history.
I believe it was purchased in the 1800s. Long gone are the days when this has been made in the back room of a New Orleans apothecary and it is now a branded product.
Angostura bitters is a more widely known bitter, but for this cocktail, the bitter to use is Peychaud's.
Absinthe
Absinthe is a highly alcoholic, anise-flavored liqueur traditionally made by distilling neutral grain spirits with various botanicals, including grand wormwood, green anise, and sweet fennel. It is typically green in color, although it can also be colorless or amber, and has a strong, licorice-like flavor.
Absinthe is best known for its association with bohemian culture in the late 19th and early 20th centuries, particularly in France, where it became a favorite drink of artists and writers, including Pablo Picasso, Vincent Van Gogh, and Ernest Hemingway. It was also notorious for its alleged hallucinogenic effects, although these claims were largely based on misconceptions and exaggerations. Also... the Sazerac cocktail.
Absinthe was banned in many countries, including the United States and much of Europe, for much of the 20th century due to concerns over its alleged psychoactive effects and links to moral degeneracy. In response, many recipes went to Herbsaint, which is also an anise flavored liqueur, but without what they saw as the bad stuff.
However, Absinthe has since been legalized in many countries and is enjoyed as a specialty spirit by connoisseurs and cocktail enthusiasts. It is now legal in the US, and I suggest just picking up a bottle for this cocktail!
🍲 Instructions
First, take a lowball glass and fill it with water and ice. Set it aside.
Add one teaspoon of sugar (or one sugar cube) to a shaker or mixing gass and put in 4 healthy shakes of bitters. Muddle it and then fill the shaker with ice and add the rye. Put this aside.
Now empty the lowball glass. Add a splash of absinth (about a teaspoon) and swirl it around the cup to coat all the edges.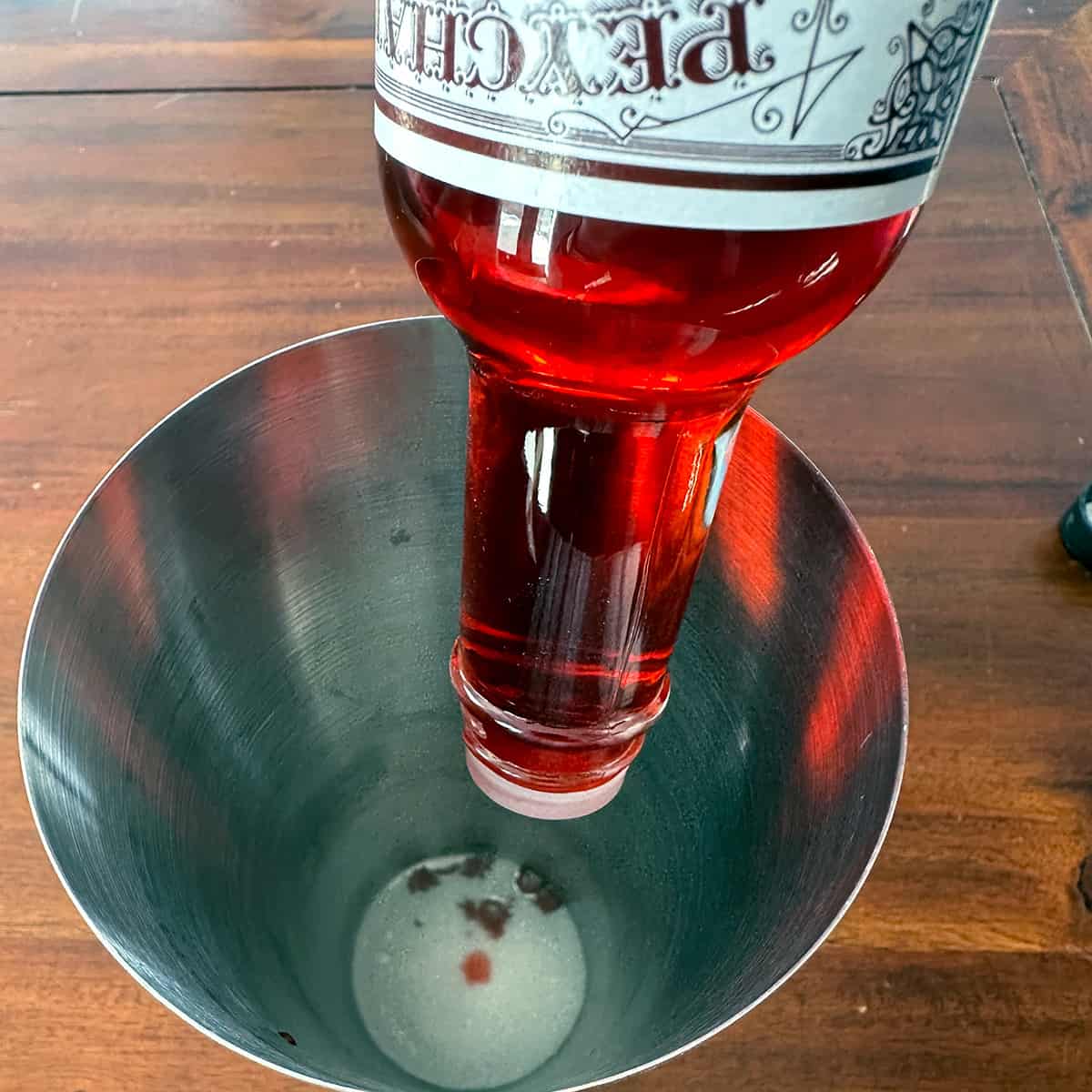 Using one lemon peel, express its essence into the drink and wipe the edges of the glass. Leave the garnish in the drink and serve!
🤷 Substitutions and variations
There are a few ways that this can be changed up.
Rye Whiskey- I have told you what I use, but that doesn't mean you have to. Use the rye whiskey of your liking. Heck, even use bourbon.
Absinthe - there are many different brands of absinthe. Use what you have or what you like.
Sugar Cube - Traditionally, a sugar cube would be used and you can find a recipe for homemade sugar cubes here. You could also substitute a half ounce of simple syrup.
Chilled Glass - I use one method of chilling a glass. You could also just chill your lowball glass instead of using the ice water trick.
🎓 History Tidbit
Absinthe has been demonized throughout history. Jean Lanfrey and the absinthe murders played a big role in making the spirit illegal across the globe.
The man had two glasses of absinthe and proceeded to murder his entire family. This made the case for the evils of absinthe around the globe.
Never mind the seven glasses of wine, six cognacs, a brandy coffee, and two creme de menthes he had before the two glasses of absinthe. All of the other alcohol certainly had nothing to do with this terrible case of extreme domestic violence.
Can you read the sarcasm in that sentence? Because it was there.
And so, laws started passing and absinthe quickly became an illegal spirit in many countries, including the USA in 1912. Even after prohibition was repealed, laws remained in place. Alternatives, such as Herbsaint , were created to replace absinthe in some drinks like the Sazerac.
In the early 2000s, people came to their senses, and absinthe deregulation occurred in many countries. In 2007, the United States followed suit.
And now, we can all enjoy absinthe. Like any spirit, if you drink in moderation, it can be a great libation and allows for great cocktails such as the Sazerac.
❓ FAQ
What is a Sazerac cocktail?
A Sazerac is a classic New Orleans cocktail made with rye whiskey, sugar, Peychaud's bitters, and absinthe or Herbsaint. It is typically served in an old-fashioned glass that has been rinsed with absinthe or Herbsaint and garnished with a lemon peel.
What is the difference between absinthe and Herbsaint in a Sazerac cocktail?
Absinthe and Herbsaint are both anise-flavored spirits that are used to rinse the glass in a Sazerac cocktail, but they have different flavor profiles. Absinthe has a stronger, more complex flavor, while Herbsaint is milder and sweeter. Some people prefer one over the other, and some recipes call for a combination of the two.
Can I make a Sazerac cocktail without absinthe or Herbsaint?
Technically, yes, you can make a Sazerac without absinthe or Herbsaint, but it will not be a traditional Sazerac. The anise flavor is an important component of the cocktail, and the absinthe or Herbsaint rinse is a key element of the recipe. Some people may use other anise-flavored spirits as a substitute, such as Pernod or Ricard, but it will still be a variation on the classic recipe.
📝 Tips and tricks
Sugar Cubes work great for this recipe.
Swirl your absinthe around the glass to coat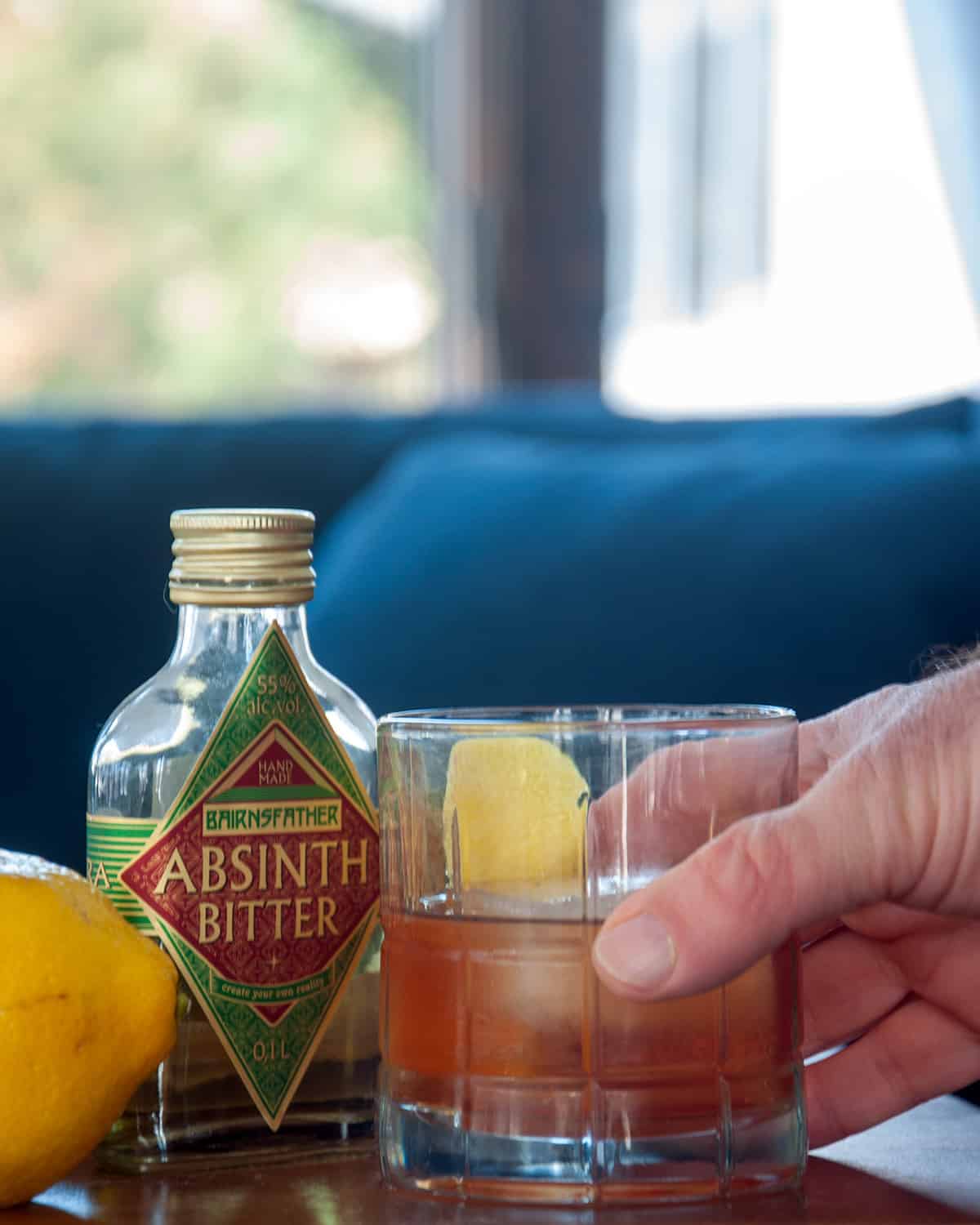 🛠 Products used in this recipe
😋 Did you make this recipe?
That is awesome, and thank you so much for giving this Sazerac Cocktail recipe a try. If you could leave a rating in the comment area below, it would be greatly appreciated. This lets me know how I am doing and also helps others decide if they want to make this recipe. Most of all, thanks for visiting Ramshackle Pantry.
Print
📖 Recipe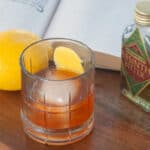 The Best Sazerac Recipe
Author:

Ben Myhre

Prep Time:

5 Minutes

Cook Time:

5 Minutes

Total Time:

10 Minutes

Yield:

1

Drink

1

x

Category:

Cocktails

Method:

Stir

Cuisine:

New Orleans
---
Description
How to make the best classic Sazerac cocktail. Celebrate New Orleans culture with this cocktail and drink an awesome drink tonight!
---
1

Sugar Cube or

1 teaspoon

of white granulated sugar

4

dashes Peychaud's bitters

2

ounces

Rye Whiskey
Splash of Absinthe (about 1 ounce)
Lemon Peel
---
Instructions
Fill an Old Fashioned Glass with Ice and cold water
In Shaker or separate mixing glass, place sugar
Add 4 healthy dashes of bitters
Muddle
Fill shaker with ice, add whiskey, and set aside.
Empty the glass filled with ice and water.
Add the splash of absinth, swirl around in glass to try and coat inside of glass
Mix whisky concoction with mixer spoon for about 10 seconds
Strain drink into glass
Express lemon peel into cocktail, wipe edges with peel and add as garnish
Enjoy
---
Notes
Sugar Cubes work great for this recipe.
Swirl your absinthe around the glass to coat
Keywords: Sazerac Cocktail