This post may contain affiliate links. As an Amazon Associate I earn from qualifying purchases. Please read our disclosure policy.
You wouldn't believe how easy it is to make pudding from scratch, but that might change today. We are going to make a delicious homemade Fresh Strawberry Pudding that is going to knock your socks off.
Not only is it easy to make, but this classic dessert tastes like a cross between sweet fantasies and strawberry dreams. Do I have your attention yet? Make this wonderful little treat today.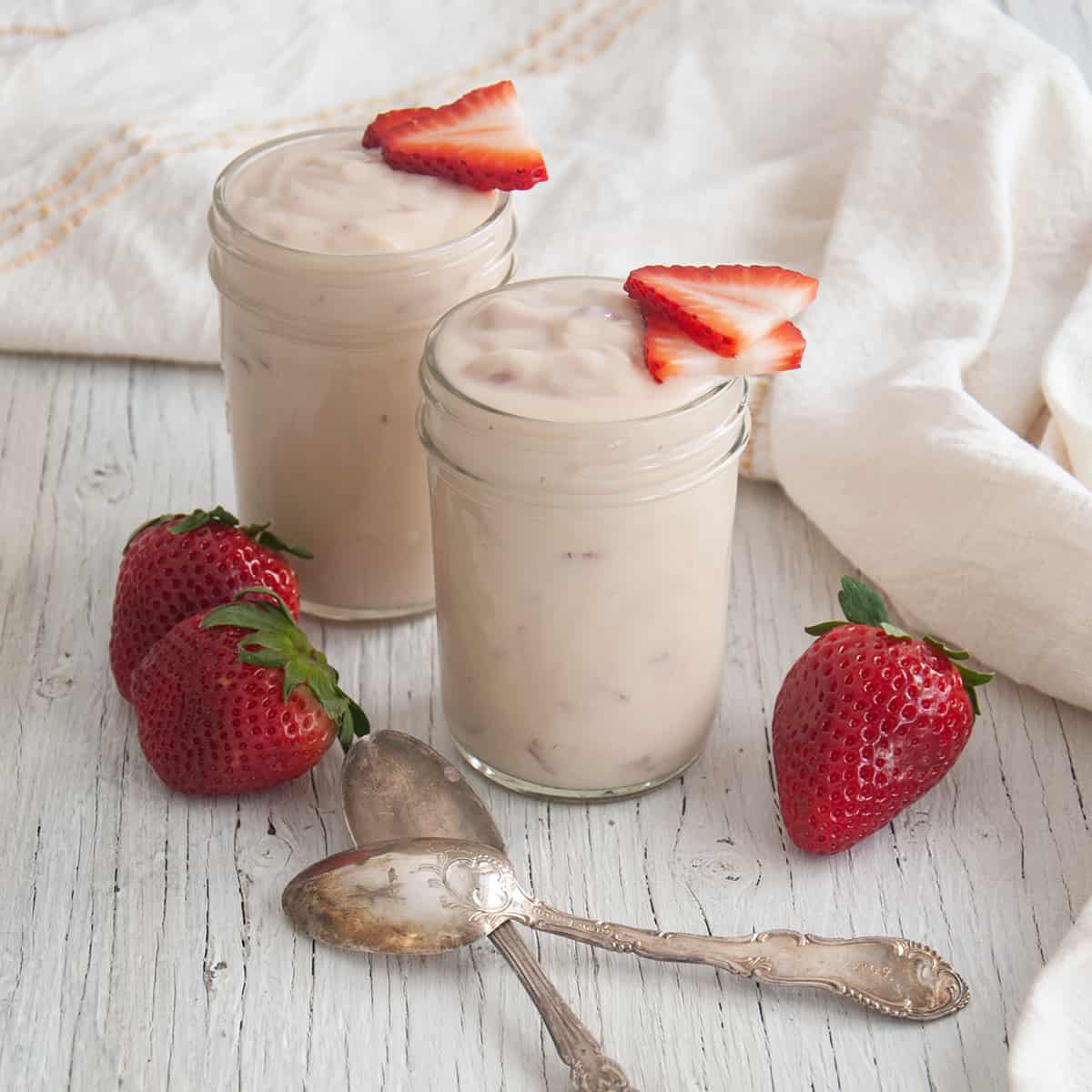 🍓 What makes this recipe special?
This recipe is a twofer! You get a fresh strawberry pudding, which is a unique and fun recipe to make.
In addition, you get basic instructions on how to make from-scratch pudding. The strawberries, while being the star of this dessert, could be replaced with other fruit or flavorings.
Fresh strawberries can be so tasty; trying them in different recipes, like this fresh strawberry pudding, is so special. Get out your strawberries and try this simple, tasty recipe.
A few other strawberry recipes we love are this Strawberry Rhubarb Cobbler, a Frozen Strawberry Margarita, or maybe even delve into raspberries with this Swedish Sticky Cake recipe. No matter what you make, make sure to treat yourself.
🍮 Ingredients
Strawberries are the star of this recipe, but a few other ingredients help make it a special recipe. Here is what you will need!
Corn starch
Sugar
Salt
Strawberries
Whole milk
Vanilla Extract
Egg yolks
See the recipe card for quantities.
Choosing strawberries
I would recommend picking nice, fresh strawberries for this pudding dish. I believe that great ingredients will make a great dish, and this is no exception. Here is a guide to choosing fresh strawberries if you need assistance.
If all you have on hand is a batch of strawberries teetering on the edge of freshness or frozen, I suspect this would also be a good dish for them. We will be coating the strawberries in dairy and sugar, which can help cover up imperfections of an imperfect fruit.
Choosing the number of strawberries to use
This was really the only part of this recipe that took a little time to develop. I found that the fresh strawberry flavor was a little difficult to impart to the pudding.
This took a few tries to narrow in on the number of strawberries I needed. I started too low on my first try. After a few more tries, I decided that one cup of minced strawberries was enough to get the flavor I wanted.
🍲 Instructions
This is such a simple recipe. Add in some whole milk to cornstarch to a saucepan and whisk together.
Then, add the rest of the ingredients and place over medium-high heat. Make sure to continue mixing to prevent scalding.
As this heats, the cornstarch, sugar, and eggs will start to do their magic and thicken. Continue stirring.
Once it hits a pudding consistency, remove it from heat. Place in a different container and refrigerate until cooled. Then, eat up!
💰 Economics of homemade strawberry pudding
Making homemade pudding is also the smart thing to do for your pocketbook. Let's remove the most expensive part of this recipe, fresh Strawberries.
The reality of this recipe is that once you have it down, it will unlock so many other flavors for you, and strawberries are just one small avenue that a person could take with homemade pudding. I didn't know the exact price for a thing of pudding, as I make it from scratch, but I found online that they cost about a dollar.
Then you still have to add milk. Without accounting for the strawberries in this recipe, the cost of the homemade pudding is much, much less than storebought pudding. The highest costs in this recipe would be the milk, 2 eggs, and one-third cup of sugar.
If you use homemade or storebought, you will still need milk. Two eggs are going to cost you roughly 20 cents. Is the sugar going to cost another 20 cents? The other ingredients are low cost and low volume, so let's say the rest costs you a dime. You are getting a superior product at half the cost for a base-level vanilla pudding.
However, we are adding fresh strawberries to the mix, which increases the price substantially. It really is unfortunate that fresh produce costs so much and that it is also an important part of a balanced diet.
That is the way the cookie crumbles! Suppose you were trying to save on costs with a strawberry pudding. In that case, I might try adding a tablespoon or two of strawberry preserves or jelly into the pudding to get a strawberry flavor.
Homemade pudding can be a great way to save money on your shopping bill, with the added bonus of making something special rather than dumping a box in a bowl. If you are inventive, you can take this basic recipe and experiment with flavors like cocoa, jellies, garden fruits, or fresh fruit on sale.
Time economics of homemade pudding
I have made boxed pudding in the past. It is easy, but not that much easier than making homemade pudding. The big difference is that you have to pay attention to your cooking ingredients while it is on the stovetop, which ends up amounting to 10 to 15 minutes.
It doesn't require dedicated attention, however. The main focus of your cooking attention during this time is stirring to ensure milk does not scald in your pan. Also, to pay attention until it becomes a pudding-like consistency.
🤷 Substitutions and variations
There are a few ways that this can be changed up.
Strawberries – Other fruit can be used! Raspberry is the first that comes to mind, but you could also try chocolate syrup, butterscotch, or any fruit that will mix into the dairy.
Jelly – Don't have fresh fruit? Try adding in some strawberry jelly or preserves.
Whipped Cream – Add some whipped cream to the top of your pudding and maybe a few fresh strawberries to make it a bit extra.
Dairy – Try using coconut milk or almond milk for a lighter dish.
📦 Storage
To store homemade pudding, first, make sure it has cooled down to room temperature. Then, cover the pudding tightly with plastic wrap, pressing it directly onto the surface of the pudding to prevent a skin from forming. Refrigerate the pudding for up to 3-4 days.

If you want to freeze the pudding, place it in an airtight container or freezer bag and store it in the freezer for up to 2-3 months. When you're ready to eat it, thaw the pudding in the refrigerator overnight, and give it a good stir before serving. Keep in mind that the texture may be slightly different after freezing and thawing, but it should still be delicious!
🎓 Strawberry history tidbit
One theory about how the strawberry came to be called a 'Strawberry' is that the fruit was mulched with straw, and the berries would pup up from the straw. Straw Berries!
Another theory about the origin of the name is that 'straw' came from 'strew' or 'strewn.' So, the berries were strewn about the ground.

No matter how these berries got their name, they are good. Another interesting tidbit about strawberries is that France's King Charles V started one of the first large strawberry gardens in the 14th Century.
❓ FAQ
Can I use frozen strawberries in fresh strawberry pudding?
While fresh strawberries are preferred, frozen strawberries can be used in fresh strawberry pudding. However, frozen strawberries may produce a more watery consistency when thawed.
Can I make fresh strawberry pudding ahead of time?
Yes, fresh strawberry pudding can be made ahead of time and stored in the refrigerator for several hours before serving.
Can I use a different type of milk in fresh strawberry pudding?
Yes, you can use different types of milk, such as almond milk or coconut milk, in place of regular milk.
Can I use a different type of milk in fresh strawberry pudding?
Yes, fresh strawberry pudding can be made ahead of time and stored in the refrigerator for several hours before serving.
📝 Tips and tricks
Learn how to buy great fresh strawberries
If strawberries aren't your thing, try other flavors
Whole milk for the win! That said, you can also use coconut milk or almond milk.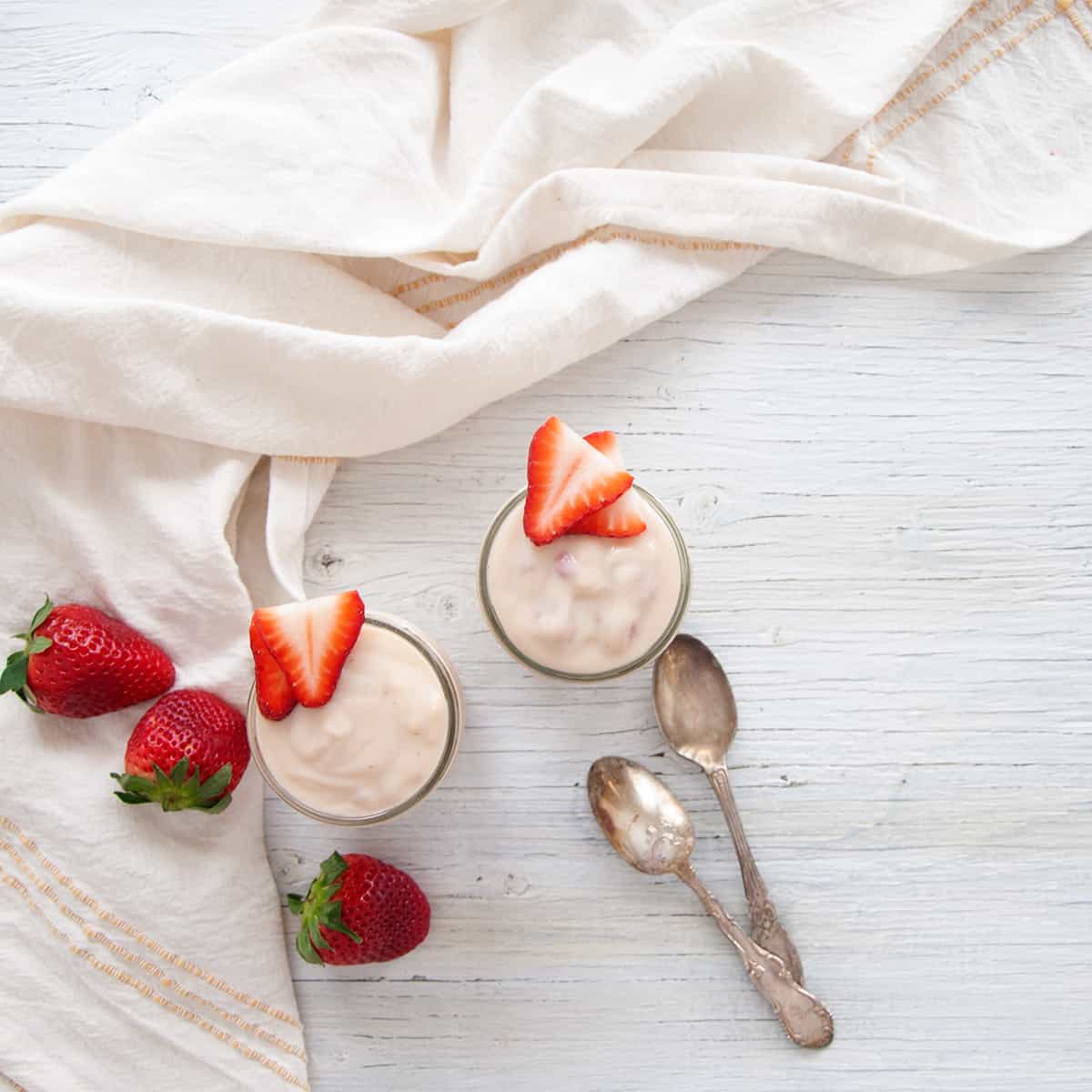 🛠 Products used in this recipe
😋 Did you make this recipe?
That is awesome, and thank you so much for giving this Fresh Strawberry Pudding recipe a try. If you could leave a rating in the comment area below, it would be greatly appreciated. This lets me know how I am doing and also helps others decide if they want to make this recipe. Most of all, thanks for visiting Ramshackle Pantry.
Print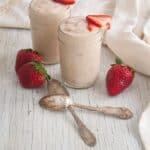 Fresh Strawberry Pudding Recipe
Author:

Ben Myhre

Prep Time:

5 minutes

Cook Time:

15 minutes

Total Time:

20 minutes

Yield:

4 cups

1

x

Category:

Dessert

Method:

Stovetop

Cuisine:

English
---
Description
Homemade pudding is too easy to make and this Fresh Strawberry Pudding Recipe is a great way to make a refreshing and beautiful little dessert. Eat this pudding and you are going to get all the comforts of a nice dessert and a flash of fresh berry flavors.
---
2 tablespoons

corn starch

1/3

cup

sugar

1

pinch salt

1

cup

strawberries, minced

2

cups

whole milk

2 teaspoon

vanilla

2

egg yolks
---
Instructions
Add cornstarch to medium sauce pan and then whisk in milk.
Add rest of ingredients and mix well.
Put on stovetop over medium to medium high heat and mix.
Continue mixing. The big risk here is scalding and continually mixing will help prevent this.
Once the mixture starts to bubble, you should notice it starting to thicken.
When about the consistency of a gravy or… well.. pudding, remove from heat and continue to stir for two minutes.
Put pudding into separate container and put in fridge to cool.
Serve.
Notes
Learn how to buy fresh strawberries
If strawberries aren't your thing, try other flavors
Whole milk for the win! That said, you can also use coconut milk or almond milk.
---
Nutrition
Serving Size:

1 cup

Calories:

200

Sugar:

25 g

Sodium:

94 mg

Fat:

6 g

Saturated Fat:

3 g

Unsaturated Fat:

3 g

Trans Fat:

0 g

Carbohydrates:

29 g

Fiber:

1 g

Protein:

5 g

Cholesterol:

104 mg
Keywords: Strawberry Pudding