Krumkake is a delicious Norwegian dessert that is half cookie, half-waffle, and all tasty. Today, I am going to share my Norwegian Krumkake recipe. Take a look at this beautiful cone treat that has art designs cooked right into it! Whether this is a part of your holiday tradition you just are hungry for a beautiful dessert, this Krumkake recipe is for you!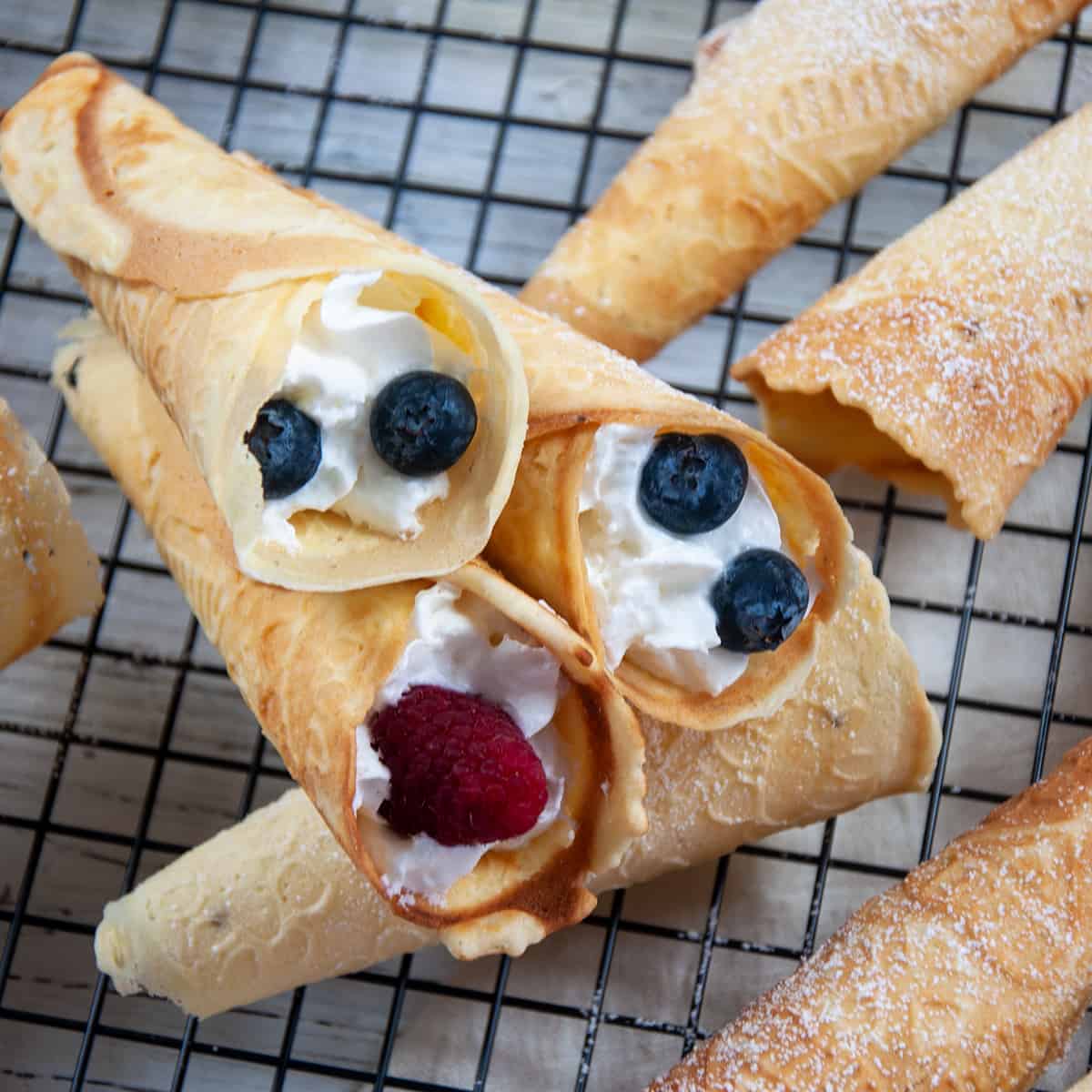 What Are Krumkake?
You probably already looked at the picture. Those are Krumkake. The word literally translates into 'Curved Cake', although I am not sure I would really classify this as a cake. They are crumbly like wafer cookies, but they are cooked like a waffle. It can be served alone, but it is often filled with whipped cream and topped with fruit or maybe even chocolate.
Like a waffle, it has a specialty iron that you need in order to make it. If you are reading this, there is a reasonable chance that you already have a krumkake iron or one was gifted to you. Today hopefully we will put it to good use!
If you don't have one, now is a great time to buy a krumkake iron (AFFILIATE LINK) or maybe you just want to learn about this Norwegian heritage recipe. Whatever your reason, today we are going to celebrate this delicious Norwegian dessert!
Krumkake Irons
As stated, you do need a special iron to make these cookies. That said, it is a gorgeous little cookie that is really fun to bring out during the Christmas season and share these treats with your friends and family. I feel that Krumkake can be part of a tradition and having an iron just means you are able to help build or carry on that tradition.
Originally, they were irons that were placed on the stovetop and you had to flip it over to cook both sides. Perhaps you have one of those, but there are modern Krumkake Irons that can be plugged right in, have automatic preheat and timers, and best of all, non-stick. I used a Cucina Krumkake Iron (Affiliate Link) in making our Krumkake.
Irons could be different sizes, different designs, different heating capabilities. That is ok.
The thing about your equipment is that you have to get to know it. Today, I am providing a recipe and process for you to make this delicious recipe, but part of making Krumkake is knowing and learning about your equipment.
Every krumkake iron is going to have differences that can affect your cook, so if your first cookies are not perfect, that is ok. For example, some recipes call for cooking just a few seconds on each side. For my iron, I don't need to flip anything, but it takes a full minute and thirty seconds to get a desireable golden brown crisp on my krumkake.
On my Krumkake Iron, I clocked the surface temperature anywhere between 330° Fahrenheit and 360°. My experience was that the hotter the iron was, the better. Allowing the iron to heat up by closing it between cooks really helped make sure I got that golden brown color I look for.
You should adapt to make sure your Krumkake is best for you and adapt your process so that you can best use your special snowflake of a krumkake iron.
Should you Purchase a Krumkake Iron?
This delicious Norwegian treat comes with a little bit of an investment in purchasing the iron. The case I would make for purchasing one of these Krumkake irons is that you are investing in tradition.
Perhaps it is a tradition from your family, but maybe it is a tradition you are trying to create. Whether you are Norwegian or not, these are beautiful little cookies and making them can be a fun exercise in cooking and enjoying the treats with your family or friends.
This is the krumkake iron I am using and it has worked very well, but find what you want to use and go with that. If you prefer the old style (that probably has some issues like sticking and heating), I commend you. For this recipe, I am using this new style iron to get the job done.
Batter Recipe
This batter is really simple. Just a few ingredients and once it is mixed together, the batter should be a consistency that might resemble creamy peanut butter. I mix the wet ingredients in one dish, then mix the dry in another, and then combine. There is nothing all that unique about this batter, except maybe cardamom.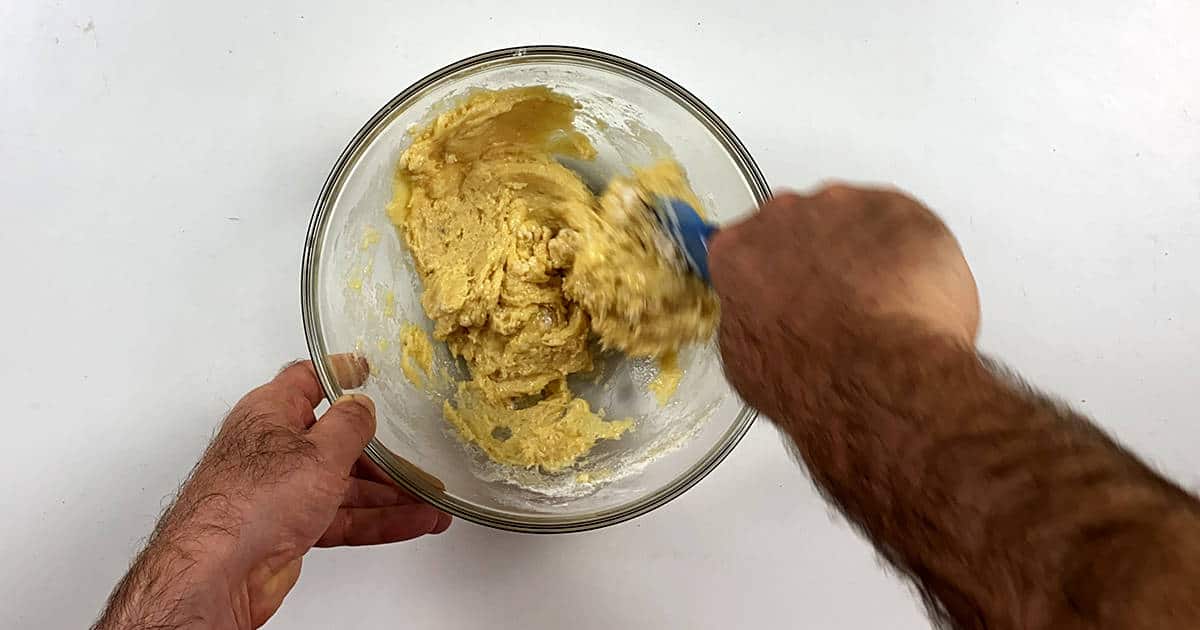 Do You Have Two Spots For Cooking?
The iron I use has two places for cooking Krumkake, but I would advocate using one until you feel very comfortable with your equipment. Yes, it is a time saver to cook two at a time! With your first batch or two on a new pice of equipment, I recommend using one.
This allows you to get to know the process and also to help you find your process in making these cookies. Once you have that down, perhaps you prefer to use both sides. It really is a time-saver, particularly if you are doubling or tripling the recipe for a large family event.
Shaping These Cookies
Once the krumkake are cooked, you then shape them into cones. Your iron should have come with a cone-maker, but you can order them separately online. All it is is a device that is cone-shaped and we wrap our waffles around.
After several seconds, the cookie will turn from something pliable and shapable to a hard cone. Your goal in that limited time is to wrap it around the cone device and make a krumkake! While you do have some time once they are cooked to get everything squared away, you also want to move quickly.
A note of caution that these cones can be hot during this time. The waffles right off of the iron can be a bit of a challenge if you are sensitive to heat. Perhaps you have a set of food safe gloves that can help. I had a friend recommend wrapping a few finger tips with tinfoil. You could keep a dish of cool water close to your station to cool down your fingers.
I do not need any of these things, but rest assured, it isn't because I am a tough guy. I have played a bit of hot potato a few times with these, but generally I have felt that the hot cookies were still able to be handled. If you feel otherwise, hopefully those tips can help make the heat a bit more bearable.
Do These Need To Be Cones?
No. If you want them flat, make them flat! It is that simple. I could see the case for leaving these flat, but the traditional way to make these is to turn them into cones. It does make them more portable and it has a holder for any filling you might want to add.
Cardamom in Krumkake
Cardamom is prominent in Norwegian baking and I find it so interesting, as it is not native to the region. I previously included cardamom in my Holiday Glogg Recipe and explored the connection in that recipe. Cardamom is related to ginger and has its origins in India.
Most likely because of historical trading routes, it found its way to the northern regions and they must have loved it. Supposedly, Norwegians consume 30 times more the amount of cardamom than an average person.
My Krumkake recipe has cardamom in it. If it is not a flavor you like, it can be something you can omit. That said, I feel like it adds a beautiful touch of flavor that helps make this already unique dessert just a tad bit more special. If you don't know where to find cardamom, check out your local grocery story (mine has it), or order some cardamom online(AFFILIATE LINK).
Fillings and Toppings
These cookies can stand on their own, but cones are just begging to be filled. So, we filled them and this is a great opportunity to make this recipe your own. We use whipped cream, fresh raspberries, and fresh blueberries for our krumkake, but you don't have to stop there.
Chocolate might make for a great topping along with whipped cream, as well. Perhaps you could mix fruit preserves into your whipped cream and use that for your filling. I do have a homemade Whipped Cream recipe, but one that I think would work really good for this is the Kahlua Whipped Cream we used in our White Russian Coffee Recipe.
Really, there are many opportunities here and if you can fit some kind of sweet goodness in the cone or dip the cone in it, it will probably work.
Origin and History of Krumkake
I had a tough time finding information on where this originated, but the one marker that really makes this recipe stand out is that it has a specialized iron. So, at whatever point in history that this started being made, they would have had the tools, free time, and resources to utilize and make these specialty items.
I did find this piece that The Smithsonian has record of , which is a krumkake iron from 1946. I was made in Minneapolis, MN by the company Nordic Ware, where you still can purchase old fashioned krumkake irons.
Krumkake certainly goes back farther than that, however.
I also found a recipe from the 1920s in an old cookbook, which dates it back a bit earlier. We know, however, that the krumkake goes back further than that.
Wikipedia has a picture of a krumkake iron from the 1800s, which brings us back a bit further. While I could not find much more prior to this, I think the 1800s seems like a reasonable time when treats like this became more common, as stovetops were becoming more commonplace inside the home.
If you have any information about the history of Krumkake, I would love to hear about it in the comments section below!
Krumkake Tips
Learn your equipment. Different Krumkake irons require different cook times.
Close your iron between each krumkake to help it heat back up.
Those krumkakes can be fairly hot when they are just off the iron. Just know that. It is like playing a bit of hot potato… or hot krumkake I suppose
While I filled with whipped cream and topped with fruit, explore your toppings!
These do get crumbly when eating. Enjoy the crumble.
These surely won't last long, but you can keep in a tight plastic container for several days.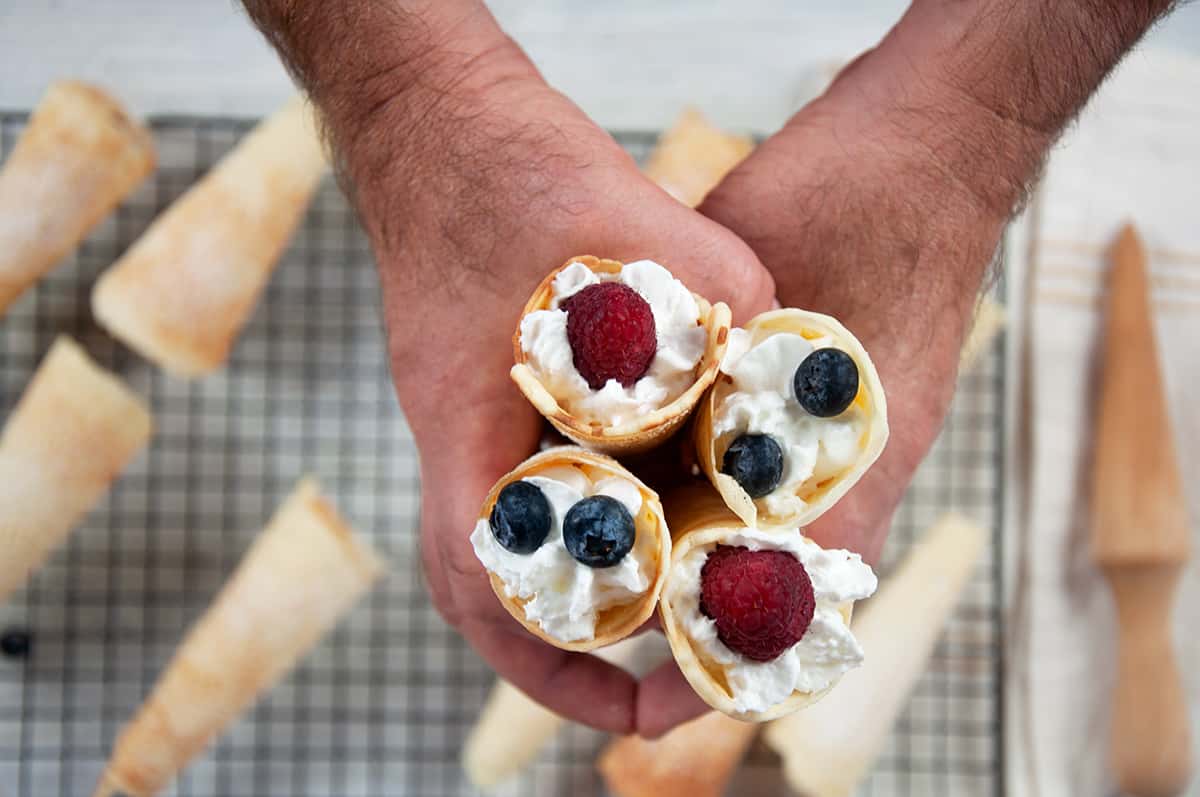 Products I Used In This Recipe
Did You Make This Recipe?
First, congratulations! You are embarking on a great Norwegian cookie tradition. Second, thank you so much for giving my recipe a try. If you could let me know how it went in the comment area below, it would be greatly appreciated. It helps let me know how I am doing. Also, share this on Facebook and Pinterest to help other people find this delicious and special cookie!
Print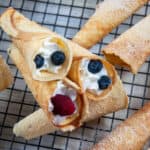 Norwegian Krumkake
Author:

Ben Myhre

Prep Time:

10 minutes

Cook Time:

30 minutes

Total Time:

40 minutes

Yield:

14

Krumkake

1

x

Category:

Dessert

Method:

Iron

Cuisine:

Norwegian
---
Description
The Krumkake is a delicious holiday treat that is versatile, tasty, and a great way to celebrate Norwegian heritage. Great for Christmas, Thanksgiving, or just a fun treat for your family.
---
¾ cup

of sifted all purpose flour

½ cup

sugar

1 tbsp

corn starch

¼ teaspoon

crushed cardamom

2

eggs

2 Tablespoon

heavy whipping cream

½ teaspoon

vanilla extract

4 tbsp

melted butter, but not hot
---
Instructions
Add flour, sugar, corn starch, cardamom to large bowl. Mix well.
In smaller bowl, beat eggs and then add cream, vanilla, and butter. Mix well
Add liquid mixture into dry mixture and combined until a smooth peanut butter like consistency
Preheat krumkake grill
Each Krumkake will require about 1 ½ tablespoons of batter. Add one to your Krumkake maker and cook until golden brown. For my tool, this is about 1:30 seconds.
Remove with fork and use Krumkake tool to form into cone before it cools down
Allow grill to heat back up, repeat until batter is gone
Sprinkle with powdered sugar. Fill with whipped cream and fruit. Eat!
Notes
Each Krumkake grill is going to be slightly different and can dramatically impact the cooking times. While for my tool it is 1:30 seconds, yours may be just 10 seconds needed on each side. Learn your Krumkake tools
While traditionally this is served as a cone, you can also allow them to be just flat.
You don't need whipped cream, powdered sugar, or fruit, but these do make them a tad bit more special.
The calorie count does NOT account for toppings.
If you are using cardamom, as the recipe calls for, and you are working with full pods, break each open individually and crush the seeds with a roller.
---
Nutrition
Serving Size:

1 cone

Calories:

100 Caloreis

Sugar:

7 g

Sodium:

11 mg

Fat:

5 g

Saturated Fat:

3 g

Unsaturated Fat:

2 g

Carbohydrates:

13 g

Fiber:

0 g

Protein:

2 g

Cholesterol:

38 mg